Blog Home
Forging the Future of Filmmaking in New Mexico
As the film industry expands in the Southwest, New Mexico leads the region as top destination thanks to competitive incentive and infrastructure programs.
June 29, 2022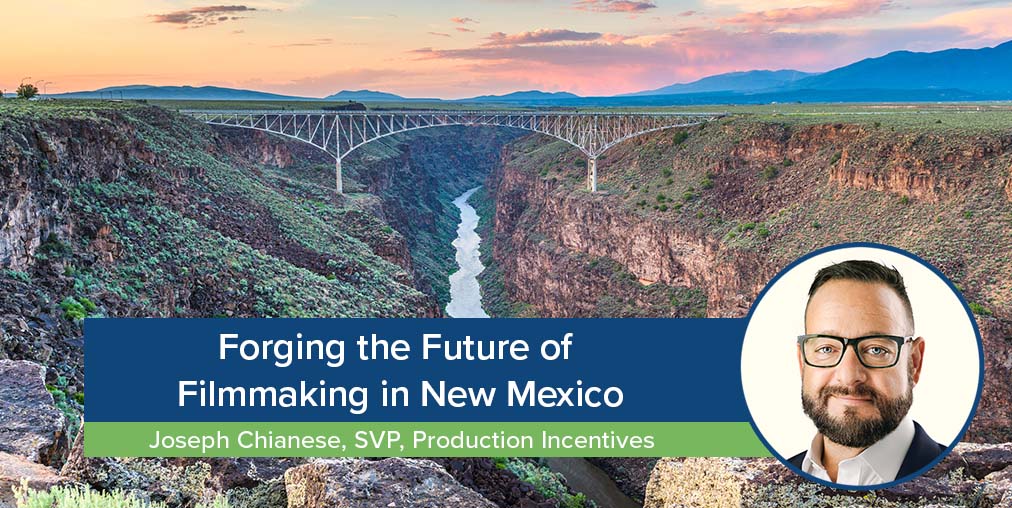 Are you scouting locations for your next project? Are you seeking lush forests? A snow-capped mountain range? An otherworldly expanse that could double as a Martian landscape? Look no further than New Mexico. A rising production hot spot in the US, the diverse locations are just one of the myriad reasons to consider this Southwest destination for your next project.
In 2019, Governor Michelle Lujan Grisham, a champion for the film industry, passed one of the most competitive film bills in the nation with a 25%-35% refundable tax incentive. Also built into the bill is an uplift that supports filming in rural areas. A long-standing workforce development program unique to New Mexico, the Film Crew Advancement Program, also adds another reason to consider the state – the program provides an additional incentive to help train and advance resident crew members.
Amber Dodson, Director of the New Mexico Film Office, understands the challenges of "making it" in the film industry after working in Hollywood for years. She came to New Mexico to start something different.
"New Mexico is an ecosystem for creative, disruptive, interesting, and progressive storytellers and content creators" she says, "We want to create an industry that supports everyone – all age groups, people of all backgrounds and creeds, to make a good wage, have a good quality of life, and a lifelong career that rewards them…a career they enjoy and provides a sense of pride."
Behind the New Mexico film boom
The availability of crew, locations, and production resources like costume houses and rental companies continues to surprise filmmakers newly introduced to New Mexico as a place to film. "New Mexico has the reputation of spaghetti westerns, but we can double for 100 different places around the nation, even globally!" Dodson says. "We're a film-friendly state with a deep appreciation for the arts. That's just our legacy here."
Not only are the residents and companies in the state welcoming of the film boom, they are also savy in the way the engage with it. "Businesses here know how to work with the film industry. They welcome the film industry," Dodson says, "People are happy to have their house used as a location. So, there's a savviness here – New Mexicans understand the positive economic impact this industry has on communities statewide."
'Independence Day,' 'Breaking Bad,' 'The Avengers,' and 'Better Call Saul,' are just a few Hollywood hits that were filmed in New Mexico. And the 20th Century/ABC hit series, 'Big Sky' Season 2 moved their production from Vancouver to New Mexico partially because of the tax incentives, access to more space, skilled crew, COVID protocols, and being in closer proximity to Los Angeles.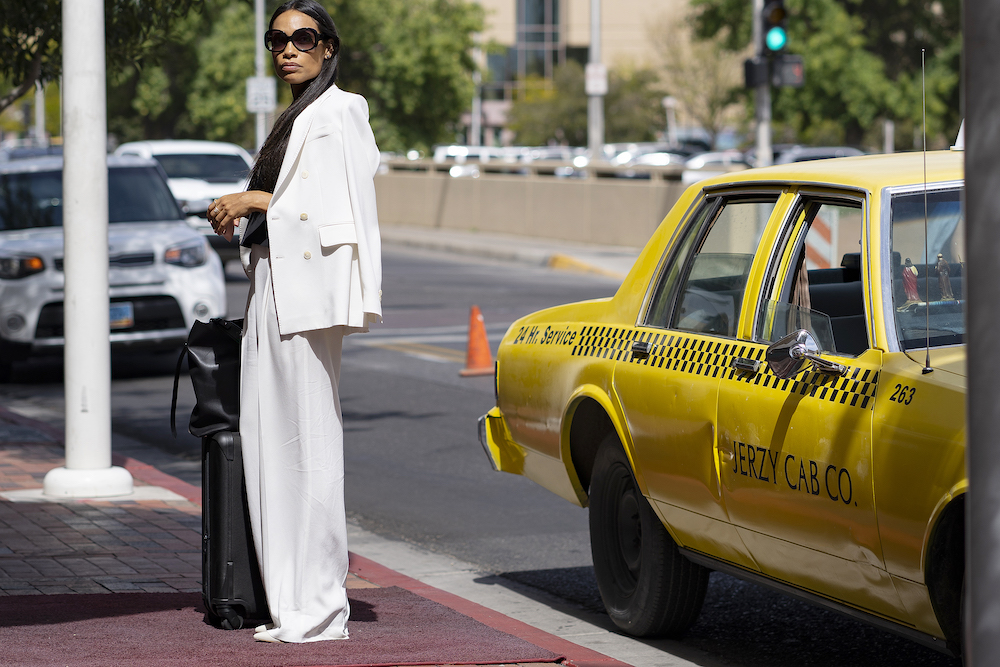 Rosario Dawson in 'Briarpatch' / USA Network
Studios also see the opportunity for the long haul. Netflix and NBC Universal have production bases in New Mexico and have committed to long-term contracts to stay. Netflix has nine stages with plans to double that number; their footprint in New Mexico will be one of their largest production hubs in North America.
Union hosts approximately 1,700 members with another 1,000 on overflow, and as Dodson explains, "That number is growing monthly because we're seeing a huge interest in people wanting to be in this industry, signing up for the overflow list and working toward membership. With the massive exodus of industry professionals moving here from California, Georgia, and New York, we're seeing a lot of people coming in from other jurisdictions and helping our crew base scale up quickly."
Benefits of filming in New Mexico
The eligible incentive spend in New Mexico is 25% to 35%. The uplifts include options such as making a TV series (some eligibility requirements), shooting in the rural zone, or utilizing a qualified production facility – various stages and movie ranches around the state. A comprehensive look at the state's incentives is available on our New Mexico incentives page; here's a summary of how few of the incentives work:
Qualifying TV Series: Productions will receive a 5% uplift for a qualifying TV series, meaning they have a minimum New Mexico budget of $50,000 per episode, and at least six episodes are intended for commercial distribution.

Rural Location Filming: Las Cruces, Farmington, and Gallup are some of the rural locations outside of the bigger cities, and productions receive an extra 5% uplift on all eligible spend in these areas. This uplift especially helps offset the costs if a production needs to bring in a crew or goods from the larger cities, like Albuquerque or Santa Fe. Another benefit of expanding into rural locations, your production can discover new locations that have never been shown on screen before!

Qualified Sound Stages

: Buildings intended specifically for filming purposes can be found throughout New Mexico. Productions can receive a 5% tax credit if they meet certain criteria when using these qualified production facilities. The full list is available

here

.
Film Crew Advancement Program (FCAP)
A renowned workforce development program, FCAP offers a wage reimbursement incentives to productions that hire and mentor New Mexico resident crew members. Certain qualifications apply, but this has been and continues to be a very popular, highly-effective workforce development program, helping to advance resident crew year after year.
Productions who hire from the FCAP program receive a 50% reimbursement of the qualifying participants' wages for up to 1,040 hours physically worked by the crew member. Additionally, if a participant is a veteran, there are additional benefits available.
Training New Mexico film crews
$40 million dollars from the legislature has been allotted to the upcoming Next Generation Media Academy, a soon-to-be established epicenter for film, TV, and digital media training. Whether students choose to be a gaffer, a costume designer, or another in-demand member position of a crew, students can hone practical production skills that can be applied to a range of career paths and begin working right away on a professional film set.
How the program works:
Module 1: Students complete Film 101 coursework at any of the participating existing film schools across the state of New Mexico. In this initial module, students will learn the basics of production and be exposed to all film departments and crafts – and find their preferred track.

Module 2: Students transition to the Next Generation Media Academy in Albuquerque and complete their training. The development and planning of the facility is currently underway and will feature a traditional soundstage, a volume stage, a motion capture stage, classrooms, and state-of-the-art equipment. During Module 2, students will take a deep dive into their chosen craft alongside faculty that are industry veterans.

Once training has been completed, students then move to Module 3, a paid apprenticeship where they specialize in their chosen craft on a working film set while accruing union hours. By the end of their paid apprenticeship, students will have the competency and relationships in the industry to secure their first professional job.
Dodson believes this model is the ideal learning environment for crewing up New Mexico film sets and can serve as an example for other states seeking to grow their film training programs. Not only is it a fast track to providing more crew members, but as Dodson says, "It fosters a spirit of mentorship that ushers in other New Mexicans into this great industry."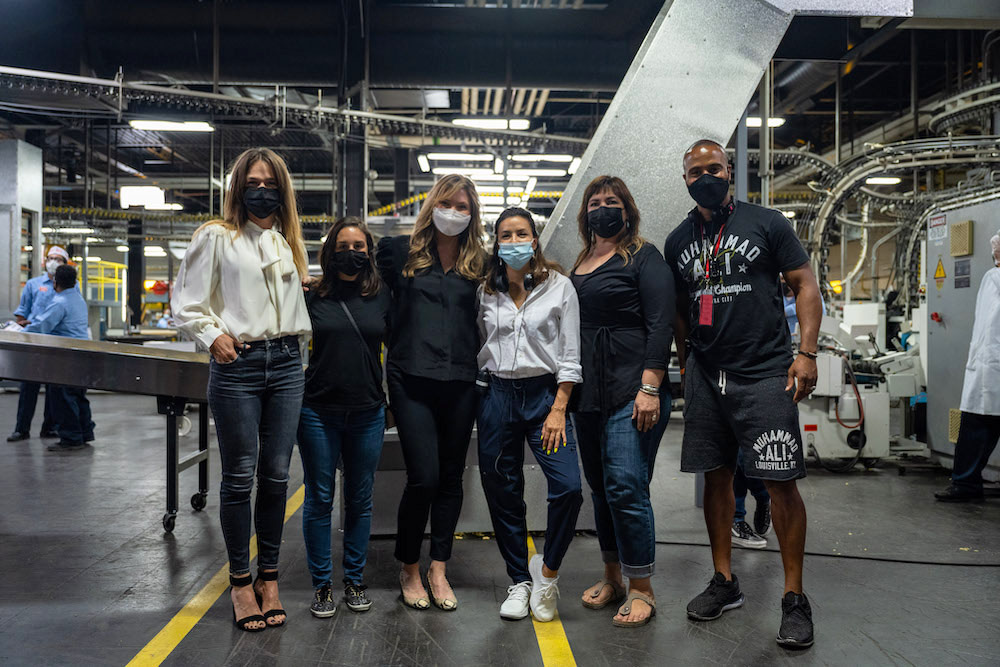 Eva Longoria (center) on set of 'Flamin Hot'. Also pictured: DeVon Franklin (far right), Amber Dodson (far left), Cabinet Secretary of Economic Development Alicia Keyes (center left), and NMFO Deputy Director Carrie Wells, (center right) / Courtesy of Amber Dodson
Dodson is a proponent of pioneering a new path for future filmmakers, saying, "We don't want to become another LA where it can be cutthroat with a relentless and often misleading perspective that there is a scarcity of jobs. We want to preserve our unique, friendly community that operates with a spirit of collaboration, generosity, and helping each other succeed – there's room for everyone."
'Better Call Saul' Production Designer and Art Director, Paula Dal Santo, is one of these community members who is giving back as a mentor and who Dodson eagerly calls, "just brilliant!" because of Dal Santo's desire to share her expertise with the next generation of New Mexico's crew.
To learn more about the Next Generation Media Academy, and other training programs around the country, watch the EP Master Series panel 'Solving the Crew Shortage,' available on-demand here.
Collaboration with Tribal Nations
Other avenues of collaboration can be found through the state-wide tribal liaisons that offer filmmakers the opportunity to work in partnership with the Native tribes. Speaking to the importance of this partnership, Dodson reminds us "Tribal lands have different requests and cultural sensitivities and typically productions are very respectful. We remind production teams that we expect respect and the honoring of tribal regulations and sensitivities – that you are a guest. There are a lot of beautiful, pristine locations on tribal lands here and [they are] very film-friendly areas."
The New Mexico film office offered a grant program in 2020 for Native filmmakers of New Mexico. A screening of the 20 Native film projects is slated for 2022. "Anytime we are marketing an opportunity, we make a concerted effort to reach out to the tribes, rural communities, and underserved communities," explains Dodson. "We're a majority-minority state and we take a lot of pride in that. I would dare say we might have one of the most diverse crews in the nation, if not the world, because of the nature of our state."
Camel Rock Studios, a former casino, owned by the Tesuque Pueblo, and the first Native-owned studio in the nation in the Santa Fe region, is consistently booked with major film and television productions that take advantage of the one-of-a-kind vistas and landscapes in the area.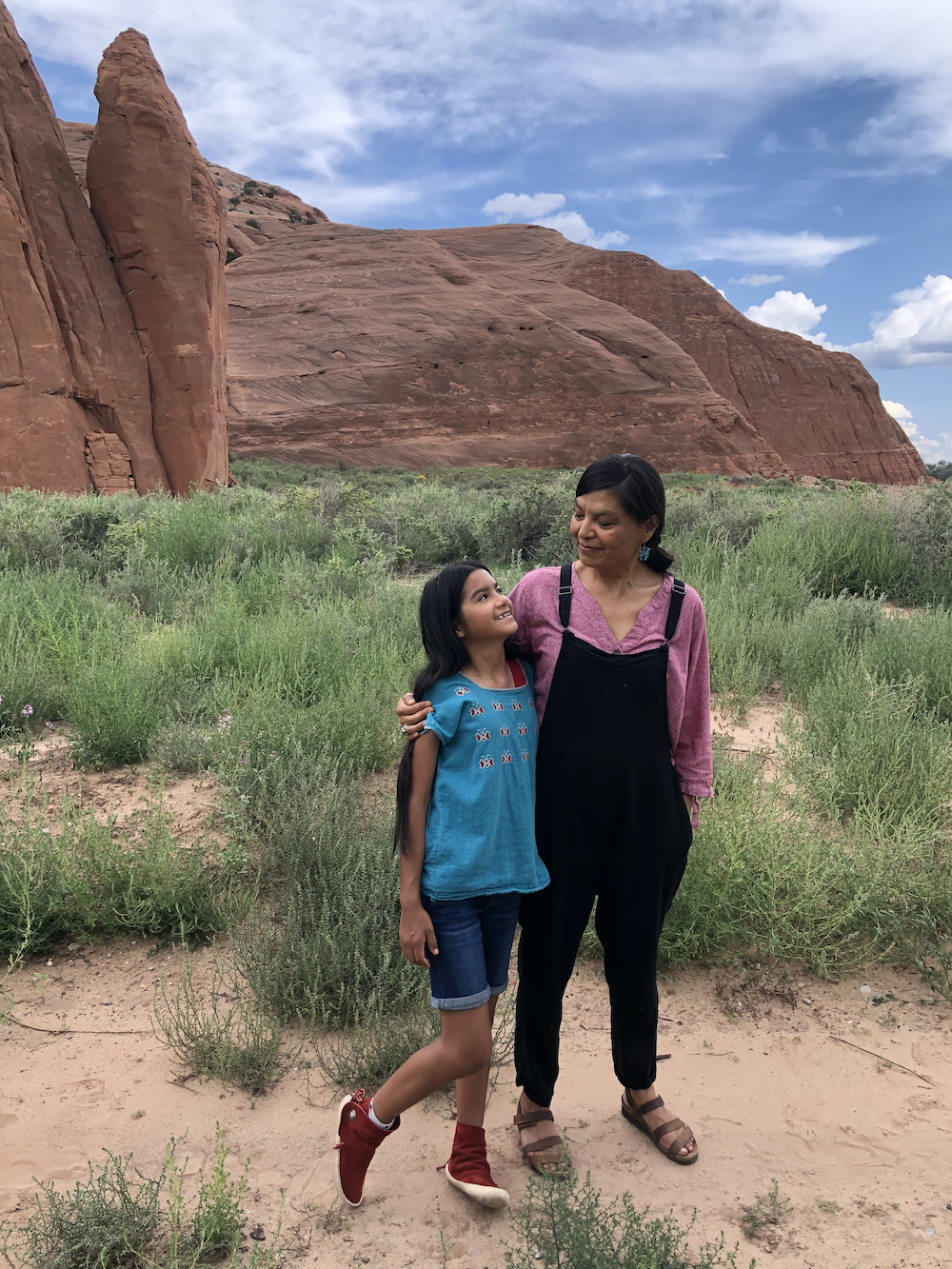 SILT (2021) / Photo by John Otterbacher
With the recent long-term commitments by the studios setting down roots with expanding soundstages, it's clear that New Mexico's film industry is on an uphill trajectory to be the next big filmmaking destination.
Dodson believes whole-heartedly in that dream, leading the NM film office to record-breaking production spend and forging the future of filmmaking, "We envision our talent, crew and filmmakers flourishing in New Mexico for decades to come, and others flocking here, to create a robust and sustainable ecosystem where exceptional, diverse content is made – from concept to completion – from the first pitch to post."
Reflecting on the often transient-nature of production, she says "We want to attract creators for the long-haul, and not just be a flash-in-the-pan location. That's what's exciting about the film industry in New Mexico right now – we have the incentive, the locations, the crew, the infrastructure, but maybe one of our most special assets is that we have so many people who are adept in storytelling, crafts, trades, arts, and technical vocations…and the film industry plays to all of those strengths. We are laser-focused on educating, recruiting and nurturing New Mexicans to be participants and vital members of this industry – it's a pathway to a great career in a beautiful state."