Blog Home
Operating a Loan-Out in Canada: A How-to Guide
What production workers need to know about setting up and operating a loan-out corporation in Canada.
October 31, 2023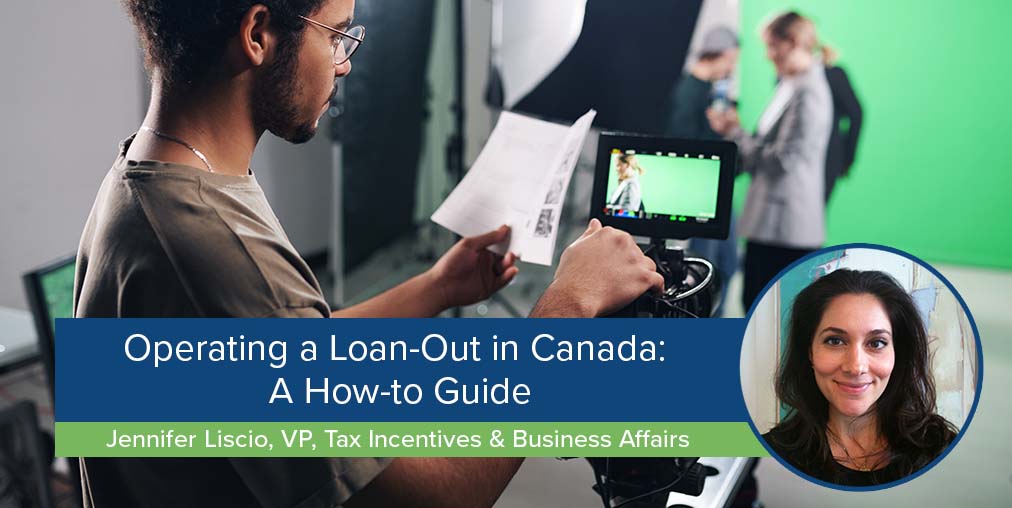 Canada's vibrant film and television production industry creates over 200,000 jobs each year. While many crew and cast members are hired by a production as an employee or a self-employed individual, others are hired through a corporation—commonly referred to as a 'loan-out company.'
In this post, I'll define what a loan-out is, how operating a loan-out works, and what the benefits are for both employees and productions. We'll also explore how to set up a loan-out and the tax and compliance responsibilities that impact loan-out owners.
Loan-out basics
A loan out-company is most commonly a single-owner company that exists to give individuals employed in short-term engagements enhanced tax benefits and better asset protection.
Typically, the individual selling their talent or services owns the company, serves as the president or CEO of their company and is the sole employee. 
Productions can claim tax credits for payments made to workers being paid through their loan-out company. However, productions can also lose those credits if that company isn't compliant. For this reason, being hired as a loan-out means the production is taking on risk, and choosing whether to employ individuals through a corporation is fully at the discretion of the production. In other words, it's within the production's right to decline a person's request to be paid as a corporation (a loan-out) and pay them as an individual employee instead.
Setting up a loan-out company in Canada
As with most legal things, the first step of establishing a loan-out corporation is to file some paperwork. There are two key steps you must take to get the ball rolling.
Step One: File Articles of Incorporation
Individuals can either file Articles of Incorporation with the federal government or the provincial government in the province where they and their company are located. Note: if you incorporate at a federal level, you must also register in the province where your company will do business.
Additionally, if you incorporate within a province and later work in a different province, you must register extra-provincially to do business in the new location.
To file, you need to provide an address for your corporation, as well as the names of the director(s). You must also determine how you want your company to be identified. You can either create a numbered company— meaning your company will be represented by a unique string of numbers assigned by the government—or  choose a company name. If you opt to choose a name, you must pay to complete a NUANS search to confirm the name is available.
Step Two: Prepare company formation documents
By law, all corporations are required to create company formation documents, also referred to as "minute book" documents. These documents define and record details about your corporation's operations, including officer appointments and share capital, among other elements.
Examples of minute book documents include but aren't limited to:
Corporate bylaws: A document that defines the regulations and basic rules of conduct for your corporation's business and affairs.

Shareholder Register: A document that provides a list of corporate shareholders and, at minimum will show 1) how many shares each one owns, 2) at what value, and 3) when they were issued.
A typical Shareholder Register will look something like this:

Shareholder and Director Resolutions: Documents that record and describe any actions taken by, or formal decisions made by, corporate shareholders and directors. 
In addition, some provinces require specific documents. For example, British Columbia requires all corporations to have and maintain a Central Securities Register. The register must be set up in a specific format, as defined in section 111 of the BC Business Corporations Act.
The key thing to know is: preparing and maintaining complete corporate records is not optional.
For more information on what documents your corporation may need, refer to the Government of Canada article on corporate records and obligations. 
What does it cost to form a loan-out company?
Fees vary by jurisdiction, but you can safely anticipate that it will cost between $200 and $400 to file the Articles of Incorporation. If you opt to use a company name, you'll incur an additional expense to perform a name search and clearance. That covers step one; then, you have to add in the time and expense to have your minute book documents created. There are also additional annual compliance filing requirements, which can come at a cost.
If you miss a series of annual filings, your company may be dissolved for non-compliance and you'll need to apply to have it revived, which can really cost you down the road.
When you're ready to set up a loan-out, it's important to make sure all steps are completed correctly, and nothing is missed. You can tackle the process on your own, or you can enlist the services of a company or law firm that can handle the full incorporation process for you.
Understanding how the fiscal year applies to loan-outs
Much like individuals who must file a T1 income tax return each year, loan-out corporations also have annual filing requirements. However, unlike individuals, loan-out owners can choose the start and end date of their company's fiscal year. Once set, the corporation is required to file a T2 corporate income tax return for the 12-month period leading up to and ending on the corporation's year-end date—known as the 'fiscal year-end'—on an annual basis. 
Here is how it works:
When incorporated, a company has no fiscal year-end. Rather, the year-end date is set when the company files its first T2 corporate income tax return with the Canada Revenue Agency (CRA). 

Taxes must be filed no more than 53 weeks from the date the loan-out was incorporated. Once set, the selected date becomes the company's fiscal year-end for all future filings. For ease of reporting, companies typically end the year on the last day of the month.
As an example, if a company chooses March 31 as its year-end, its fiscal period runs from April 1 to March 31 of the following year for all future filings, and that 12-month period will be covered on the corporation's tax return each year.
Loan-out tax filing obligations and deadlines
Corporations must file an income tax return within six months of the corporation's year-end date. Once filed, it typically takes CRA two to four months to issue a Notice of Assessment (NOA)—which serves as a 'receipt' for your loan-out tax return. How is that document used?
Proving tax compliance to a production
When a production hires a loan-out corporation, the corporation is required to prove compliance with fiscal filing obligations. The way this is accomplished is dependent on a number of factors.
Timeline for existing corporations
Existing loan-out corporations must prove tax compliance by providing two things: 
The NOA that was issued for its most recent T2 corporate tax return, and

The Schedule 50 that was filed with its most recent T2 corporate tax return
If a loan-out is up-to-date and compliant with its corporate tax filing requirements, a production's request for the "most recent" tax return refers to documents from the tax return that the corporation should have available, at the present time. Again, this will vary by corporation, at different times in the year, due to companies having different fiscal year ends.
It's important to understand how the requested documents correlate to fiscal year dates because it can be a bit confusing. To give an example, if a production requests documents for your "2022 year-end", you'd send documents that cover the 12-month period preceding the company's year-end date that occurred in the 2022 calendar year.
If you're able to provide an NOA and Schedule 50 for a tax year-end that falls within the acceptable date range, that's a wrap! You proved compliance to the production.
All corporations should be able to provide both of these documents, if they are up-to-date and compliant with their tax filing requirements.
Timeline for newly formed corporations
The only exception to the filing requirements is for newly incorporated companies, who may not have filed their first tax return yet. In this case, because it could take from to 18 to 22 months for a newly incorporated loan-out to have its first Schedule 50 and NOA, there are different documents that will be required. To briefly summarize:
Newly formed companies that were incorporated less than 18 months before being hired on a production can provide:
Articles of Incorporation: used to show that the company is up to 18 months old, and

Shareholder Register: always available, since it was created during incorporation. 
Between 18 and 22 months, loan-outs that have filed a tax return but don't have a corporate NOA can provide: 
Articles of Incorporation: used to show that the company is up to 22 months old, and 

Schedule 50 (that was filed with T2) or its Shareholder Register (available on day one)

NOA issued for the owner's personal T1 income tax return—only used when no corporate NOA is available.
If you are newly incorporated and there is a delay in receiving your NOA, it's not time to panic yet. Productions frequently provide a two-month cushion, which allows corporations to provide documentation from the prior fiscal year for 24 months. Beyond that point, your company's most recent NOA and Schedule 50 are required to prove compliance.
Submitting the right paperwork
Finally, there are a few helpful tips corporations should be aware of to ensure that they are providing all of the required information to productions, when submitting documents.
As mentioned, the production needs to be able to verify that the corporation has provided a Notice of Assessment (NOA) issued for a tax year-end that falls within the acceptable date range.
The first page of the corporate Notice of Assessment only shows the date that the assessment was issued, it does not indicate the tax year-end that assessment is being issued for. If a corporation only provides page 1 of the assessment, the production will not have the information it requires. Corporations should provide page 2 with their assessment, as this shows the date of the tax year-end being assessed.
Page 1 – not sufficient: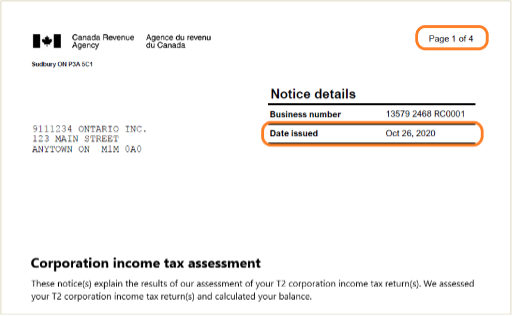 Page 2 – required: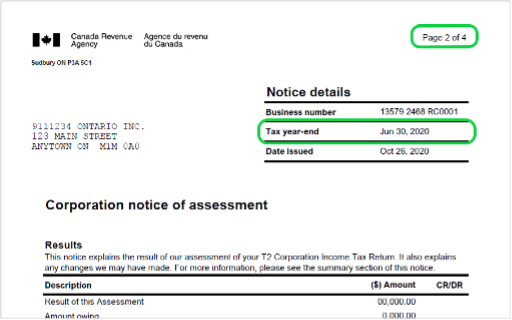 One other item to note is that CRA issues various "assessments" to corporations that all look fairly similar, such as sales tax assessments, payroll remittance assessments, etc.
None of these other assessments are acceptable documents, for tax credit purposes.
The document that productions require is the assessment for the corporation's income tax filing. You can identify this assessment because it will be issued to your corporation's "RC" account. And it will be issued for a "tax year-end" date.
Other assessments will be issued to another account ("RT", "RP", etc.) and will be issued for a different date or date range, such as "period covered" or "tax year".
Here are some examples that show how to identify these documents:


Operating a loan-out in Canada? Here's how EP can help.
When it comes to providing the right paperwork to productions, loan-outs have a lot they need to keep track of, but EP is here to help. We created EP Residency a secure, online solution to collect and manage records of Canadian residency for employees, individuals, and corporate loan-out service providers in Canada. When using EP Residency to submit documents to productions, the system guides you by showing the documents needed and alerting if anything is unacceptable.
Ditch the paper and save the hassle of providing physical copies of the same documentation for each show you work on—all of the documents uploaded to EP Residency are reviewed by EP's tax credit team, and once a document is approved, it can be used as backup for all future shows, for as long as the document remains valid.
For questions about the suitability of a specific document for tax credit purposes, or to learn more about EP Residency, production workers and production accounting teams can always reach out EP's tax credit team for help.