Blog Home
The Beginner's Guide to Pitching a Film
Tips on building 13 key elements of a winning pitch deck.
October 24, 2023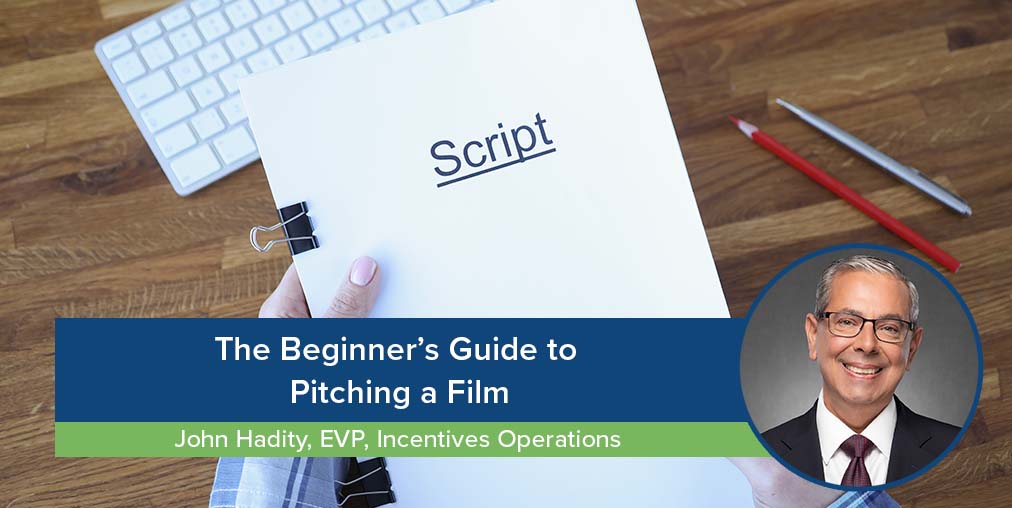 Every independent film project starts with an idea and ambitions to bring that idea to life. To get your project off the ground, you must first translate an idea into a vision that can be grasped—and, ideally, embraced—by financiers. But how?
In this article, I'll walk you through the process of creating your pitch deck, which will help you to clearly communicate your vision to investors and hopefully secure the financing you need to take your concept from the page to the screen.
Crafting a compelling pitch deck
To secure funding, producers often build what is called a pitch deck. Sometimes, pitch decks are erroneously referred to as a private placement memorandum (PPM), but it's important to understand the difference. A PPM (also called an offering memorandum) is a legally-binding securities disclosure document used by companies to comprehensively disclose all the material details of a funding opportunity related to a project, including the terms of the offering, the risks involved, and the financial projections of the issuer.
A pitch deck (also referred to as a 'package,' 'lookbook,' or 'proof of concept') is a document provided to prospective investors and distributors containing much of the same information, though not a legally-binding contract with the financier. It exists solely to illustrate the project intended to be made, the people involved in its creation, the production plan and projected budget, some comparable projects in the market, and what an investor might anticipate their financial participation to look like.
Putting together a persuasive pitch deck can be a tedious process, and doing so successfully requires a skill set all its own. Below, I'll detail the key elements that must be included in a comprehensive deck and explain the components and goals of each section so you can confidently begin your pitch.
Title Page
The title page simply includes the title of the project paired with an image that helps set the tone of the story you're hoping to share with the world.
Log Line and Synopsis
A logline is one to two sentences that express the key message of your story. It serves as a preview designed to entice readers to want to learn more. As an example, here's the logline for Academy Award Best Picture winner, 'Everything, Everywhere, All at Once': A middle-aged Chinese immigrant is swept up into an insane adventure in which she alone can save existence by exploring other universes and connecting with the lives she could have led.
Next, it's time to dive a little deeper with a synopsis—a short and sweet single-page outline that defines the key narrative that drives your story. Think of it as a Cliffs Notes version of your script, which highlights the beginning, middle and end of your story, and touches on critical plot points related to the rise and fall of your main character.
Why This? Why Now?
This is your opportunity to present a high-level pitch that compels action. Use this section to explain why the message you want to relay through your film is timely and important. Connecting with potential investors on a practical or emotional level can help you secure funding faster.
Chain of Title
This section of a pitch deck details the chain of ownership as it relates to a film. The goal is to illustrate a filmmaker's full ownership rights and to show that appropriate steps have been taken to secure all the necessary rights to make and distribute the film.
Having this information helps investors and distributors allay any fears they might be vulnerable to potential litigation that could arise as a result of ownership issues. It's important to be thorough because distributors can be held liable for a filmmaker's negligence. It will be important to note that at the time financing is closed, and checks are drawn, this proof of ownership will need to be presented as a condition precedent to financing, often accompanied with a legal opinion as to its accuracy and legitimacy.  For the deck, though, a simple list of bullet points will suffice.
Key Creative Team Bios
This section of the deck gives you an opportunity to flex your talent to help secure funds for your project. Here, you'll include brief bios and photos of all the members of your key creative team that are even softly attached to your project at this point in time. This includes your producer, writer, director, and other key players who will help bring your vision to life. Effectively showcasing their skills and experience, and highlighting successful past projects they've been involved in, can help you earn the trust of potential investors.
Tentative Production Schedule
This section allows you to provide potential investors and distributors with a loose idea of your film production timeline. This helps them determine whether your project is a good fit with their current commitments and gives insight into when investors might expect to be repaid for any contributions made to your project.
Budget and Financing Plan
You don't need a final budget fully fleshed out to submit a pitch deck, but you do need to nail down your budget in broad strokes. In this section, you'll detail how much money you anticipate needing and why. If you plan to use incentives, you can share that here. You'll also disclose your "minimum required financing", or MRF here—which is the minimum amount of money you need to have secured (i.e., "in the bank") in order to start drawing down on the cash to use for production.
Deal Structure Offered to Investors
Here's where you answer the question, 'What's in it for me?' for your potential investors. This section details recoupment provision details, including how shareholder proportions are handled (pro rata or pari passu) and whether recoupment happens before or after deferments. You should also explicitly state the structure of any proposed gross corridor revenue stream, which is the money your LLC can tap into prior to producers and financiers recouping through net profit splits.
Term of Investment and Dissolution of the LLC or Production Company
This section spells out copyright details that will be critically important if the production company or LLC should shut down at any stage of production. Here, you'll provide information on who will own the movie in the event of a dissolution, whether ownership rights will be shared and how ownership rights will be affected.
Domestic Distribution Plan
It's no secret that marketing can make or break a film, so it's important to have a solid promotional plan in place. This section gives you an opportunity to share your marketing plans for your project. This can include a festival launch or other key events or channels that are part of your promotional strategy. You should provide details on how, when and where you plan to release your project and in what format.
International Sales Strategy
In addition to planning for domestic distribution, it's important to nail down your goals for international sales. This section gives you the opportunity to outline any key markets you'd like to sell to and any international distribution objectives you're aiming for.
Comparable Films
This section is helpful for potential investors because it gives them the opportunity to compare your project to others that already exist and with which they might already be familiar. Comparable films serve as 'models' for your movie and give you a way to illustrate what the costs and profits may look like based on what we already know. As you select "comps," it's smart to use films that had average performance rather than smash hits, which tend to be outliers. Once you've determined which films you want to compare, you can pull reported box office numbers and budget information to build revenue projections.
Risk Disclosures
It's your responsibility to provide investors with disclosures related to any known risk of things that could go wrong. Often, these disclosures are boilerplate details focused on basic considerations, like the fact that the film may not reach profitability or that the project may not find viable distribution partners. Including this language helps you protect your project against legal action brought on by an investor claiming they were unaware of potential risks.
The power of a strong pitch
A well-written pitch effectively relays a creator's passion for bringing an idea to life, clearly defines the associated risks and rewards, and gets potential investors excited about the project. By ensuring you have all the basic elements outlined above in your pitch deck, you can proactively address investor and distributor questions, successfully define your terms, protect your production from potential litigation, and effectively secure financing for your film.