Blog Home
The Beginner's Guide to Equity Financing
Expert advice to help producers secure funding for their next project
July 15, 2021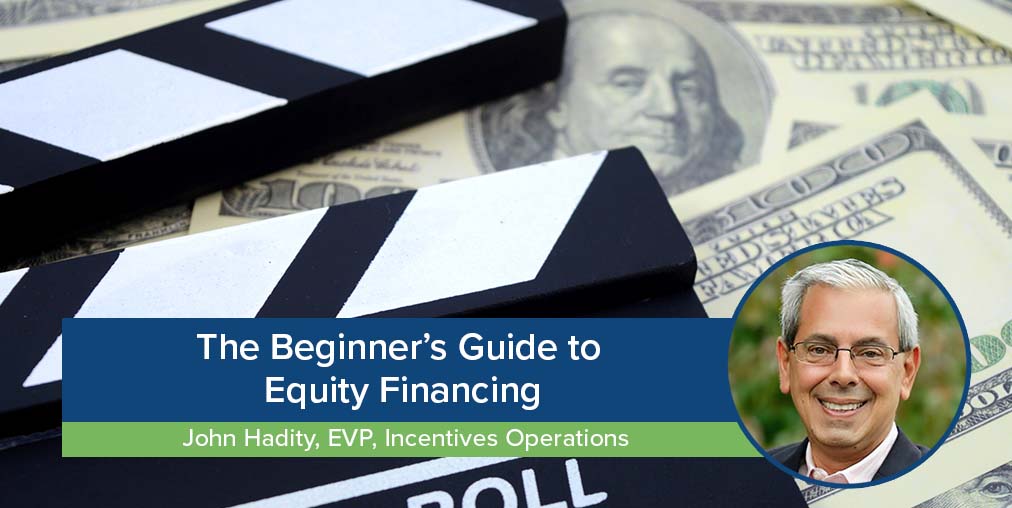 When raising funding for your film or television project, the number one question to ask should be: What are you giving away in exchange for the equity?
In the film business, when you secure outside investors for your project, it's important to keep in mind that you are giving away a piece of ownership to the rights of the project. Funding a film project is a high risk, high reward business, so you'll need to look for sophisticated investors who will typically want to know:
How will I get my money back?

When will I get my money back?
Keeping these questions in mind will help you map out your funding strategy, so you can identify the right investors for your project.
How is funding raised?
Funding a project requires doing your homework and preparing as much as possible ahead of time. That way, when you're pitching to investors, you have a clear picture of what you plan to make, why you're making it, and the project revenue streams.
The key document that you need to prepare first is often referred to as a prospectus. It includes all the pertinent information you'll need handy to book meetings with potential investors or simply to get a hard "no."
The prospectus sums up:
What is the project you're making

How you're going to make it
If you've never seen a prospectus, this example, courtesy of Producer Mary Jane Skalski, can help serve as your guide while you're developing one for your next project.
Ready to start your prospectus? Download our handy prospectus checklist!
Who should you pitch to?
Once you have your prospectus to sell the idea, now it's time to book meetings. Here's a helpful strategy to find the right investors to meet with:
Reach out to your immediate network first, especially friends and family. Not only could they be directly helpful in funding, but they also can expand your network by connecting you to an investor, organization, or business who might be interested in meeting with you about your project.

Identify the right people to talk to when approaching businesses and organizations. Have a clear understanding that the person you are talking with actually has the resources to invest, or the clout to make the decision. 

Find people who have a vested interest in your story. It helps to have a conversation with someone who appreciates the project you are making. For example, if your project is about Autism, you'll want to reach out to Autism-related organizations. Partnering with these organizations can also help you from a marketing perspective to spread the word about your project. The community connected with that organization might be more willing to support your project if they see that you're connected with the organization as well.

Seek out patrons of the arts. If you are going to a non-profit event, theater, concert, or artistic performance, look at the back of the playbill or sponsor packet. There you will find extensive lists of people who have invested in the arts and might be willing to invest in a film project as well.

Bring on an anchor equity investor who can partially fund your project. By having them on board, you can spark the interest of their colleagues who might be more willing to invest because of the connection. Sometimes actors or other talent will "soft" come on board a project as producers. You can then help leverage financing up front because they are connected to equity investors.
Ultimately, finding investors will be a tedious task, so stay focused on finding the right people who believe in both you AND the project.
What is the proper corporate structure to be used?
Once you have your investors on board, the next step is to set up an LLC for them to invest in, and create a legal and binding contract. If you don't have a proper corporate structure set up, then investors are really just giving a gift and are less likely to fund your project.
Typically, 50% of the LLC is owned by the producer and the other 50% is owned by the investors on a Pro Rata Parri Passu basis, meaning, on an equal basis and also dependent on their level of investment. The ownership percentage can change depending on how the LLC is set up initially by your lawyer.
When revenue comes from your project, here is how it might work:
If the budget for your project is $10 million and you have 5 investors who each put in $2 million dollars, then each investor owns 10% of the entire enterprise which makes up half of the LLC. So if $100 flows into the LLC in revenue, $50 dollars will get split amongst the 5 investors and the other $50 goes to the producer.
What documentation needs to be prepared?
When you bring more than two (2) investors onto your project through an LLC, you're selling securities, so you'll need a legal document that states the objectives, risks, and terms of the investment involved. This document is referred to as an Offering Memorandum or a Private Placement Memorandum. For help creating your own memorandum, be sure you use our memorandum checklist.
The Offering Memorandum needs to be seen by a lawyer with securities experience, and EP can advise on referrals.
Your lawyer then holds the checks and signed documents in escrow until the required minimum financing is raised.
For example, if you're making a movie for $10 million dollars, it's possible that you could set the required minimum financing to $7 or $8 million to get you through principal photography. Once you have a rough cut of the project, you can use that to pitch investors and raise the rest of your money to reach your finance goal of $10 million.
What are the terms for recoupment?
Financing your project is a long-term commitment, and it's pivotal to have a plan in place from the beginning that shows how you will pay it back.
Usually, any loans you secured will get paid back first, followed by the equity investors. It's not until these investors get paid back completely that producers will begin to see a profit.
An example of a typical term for recoupment could include the following steps:
When a project is making net proceeds, 100% of the money that flows back into the LLC will go back solely to the investors (although it is prudent to have the LLC retain a small portion first to recoup its operating expenses).
Once the investors recoup their full amount back, then that recoupment will begin to split where a certain percentage, for example, 80% will go to the investors and 20% will go to the producer.
This split can continue to change until the investors recoup the agreed upon percentage (e.g. 130%) that was part of the deal when the LLC was set up.
What is the exit strategy for investors?
As a project earns net profits, the producer(s) have an obligation to report consistently to the investors, and update them on the status of the recoupment plan. Once the investors have earned the agreed upon amount (e.g. 130%), the rights can be assigned to the managing members of the LLC, typically the producer(s), and then the LLC is dissolved.
If you're just beginning to secure equity financing or have already secured your investors, Entertainment Partners is ready to partner with you on your project. Our financing team is available to review your prospectus before you even begin pitching your project to investors, and we will also advise you on the best securities lawyers who can draw up the important documents needed for your LLC.
Do you have questions? Reach out to our financing team so we can help you get your cameras rolling and story told!
For a deeper dive into this and other finance options, be sure to check out our Master Series webinar on equity financing and our Beginner's Guide to Production Financing.