Blog Home
From Script to Screen: How to Create a Film & TV Production Schedule
Tips for creating your production schedule – and how EP's industry leading technology can help the process!
November 14, 2023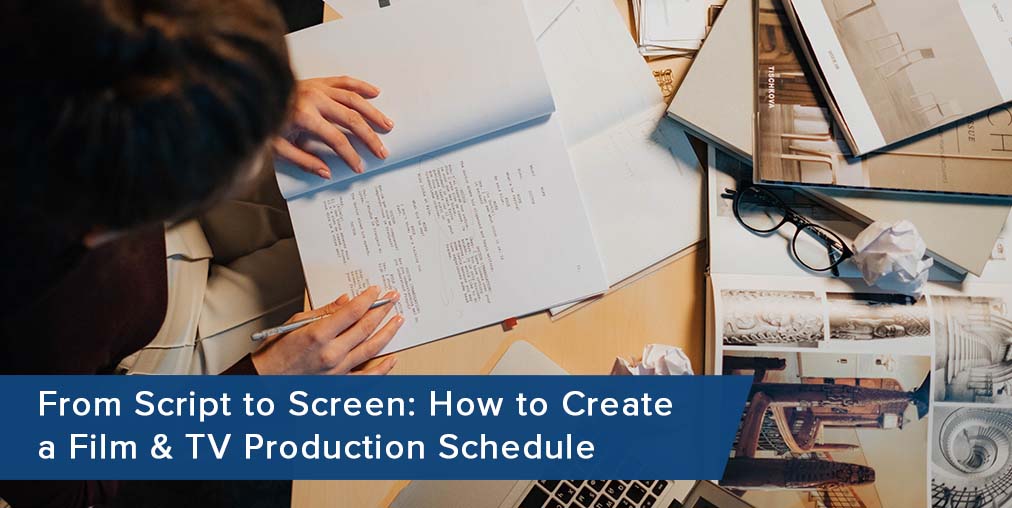 Managing the time, resources and budget to ensure a successful film or TV production is no easy task, but a comprehensive production schedule can help to set you up for success. 
Creating an effective schedule involves bringing together all the elements you'll need for your production into one comprehensive, chronological document that will allow you to successfully execute the director's creative vision. The schedule will act as a day-to-day roadmap for your production, and while it will evolve as your production progresses, it is worth taking the time to get as accurate a picture as possible from the start. 
Without a well-structured schedule, it's difficult to manage and coordinate your production efficiently, and the longer a production takes, the more it costs! A properly planned schedule can help to minimize your expenses by making sure the right people and resources are available at the right time, reducing costly delays and unproductive downtime. 
There are many things that need to be included in a shooting schedule to keep everything running smoothly, including scene details, locations, units, talent and crew, table reads, call, shoot times and break times, costume fittings, make-up logistics and more. There is a lot to account for, and you've come to the right place to learn how! Below we'll discuss tips – and technology – that you can use to get started on your production budget.
Break down the script
The production scheduling process always starts with a breakdown of the script: dissecting the script into individual scenes, cataloguing scene components such as characters, locations, episodes, and any other requisites essential for each specific scene to be filmed. This detailed breakdown of the script will also inform how you build your schedule, which is the foundation you will use to build your budget.
You can create 'breakdown sheets' with one sheet for every scene. These are meticulously detailed dissections of the script which allow you to work out the length of each scene and all the elements that need to come together to create it.
For the most accurate production schedule, use Entertainment Partners' industry leading software Movie Magic Scheduling. This digital production scheduling solution allows you to import your script and automatically break it down into individual scenes. You can then assign specific information to each scene, and assign scenes to specific shooting days.
Create a strip board
Creating a production board or 'strip board' gives you a birds-eye view of your film or TV show. This high-level strategic planning tool helps you to determine the overall order in which scenes will be shot, and will help you to manage resources efficiently. To accomplish this, you'll need to think about a multitue of factors, and the availability of all the elements you need for each scene – like locations, talent and equipment – to plan the best order in which to schedule them.
Wherever you can, map out scenes that share characters and locations, which will help manage the number of days on set for your talent, or how many days have to be filmed on location vs. on a standing set or sets.
You'll also want to think about external factors like daylight, weather, or anything time sensitive, as well as the availability of your talent, who may be working on multiple projects simultaneously.
Craft your production schedule
Where the production board looks at strategic planning, resource management and narrative consistency, the production schedule converts this into useable information.
Your production schedule guides talent and crew through the shoot and provides specific day-to-day details that are essential for production. As mentioned above, things like scene descriptions, addresses and detailed location information, characters, actors and extras needed for each scene, details of what time of day the scenes need to be shot, script pages, call-times, and estimated shooting times are all included in the schedule. 
This document will be the backbone of your production, so it's important to get it right. Allowing yourself enough time to create a detailed and thought-out schedule will help you to avoid chaos and costly delays. This could be anything from one week for a short film to several months for a Hollywood blockbuster.
Daily call sheets will be created from your master production schedule, so don't try to pack too much into each day. An overly tight daily schedule will lead to stressed and rushed crew and your production quality will be compromised.
It's also worth remembering that even though your production schedule is a technical and highly precise document, your crew and cast members are human. You'll need to factor in things like rests, meal breaks and downtime to ensure that they can do their best work for you. You'll also need to take into account any regulations around working hours, which will vary depending on which unions your crew and cast members are aligned with, and whether or not minors are being employed. 
Ready to start scheduling? Here's how EP can help.
A comprehensive production schedule is key to delivering the production you envision on time and within budget. 
Movie Magic Scheduling streamlines the process by allowing you to effortlessly compare scenarios, create detailed production schedules, design custom crew reports and more.
And when you're ready to create your budget, you can transfer elements of your stripboard directly into Movie Magic Budgeting to make sure your vision fits within your budget.
Ready to get started? Contact us today. We look forward to supporting your development journey and seeing your script move from the page to the set and ultimately to the big screen!