Blog Home
Meet the First Assistant Camera
A conversation with 1st AC Matt Sanderson ('Everything Everywhere All At Once')
September 7, 2022
Hidden in a dark corner of a film set, steady and focused with a video monitor in hand, you may find Matt Sanderson, one of the best 1st AC's (Assistant Camera) in Hollywood. While the spotlight is often on the actors Matt is pulling focus on, today we look to the man behind the camera, and everything that goes on behind the scenes for one of the most important jobs on set.
Sanderson studied film production at Chapman University in Orange County, CA, and after graduation, took a job editing videos at a news station in San Diego. Eventually, he would leave the newsstation to reconnect with friends from college who were working on the film, Junction, and his career path would forever change. Stepping into the 1st AC role for the first time, he met director and cinematographer, Aaron Platt, who taught him the art of focus pulling. "He [Platt] taught me how to pull focus in a way that's not the traditional way of measuring marks at a certain distance," explains Sanderson, "It was a method of just looking at the image and turning the knob to keep the image in focus, and just feeling it. Platt called it 'riding the lightning'."
Today, Sanderson works closely with renowned cinematographer Larkin Seiple. Recent projects together include 'Gaslit' starring Julia Roberts and Sean Penn, Childish Gambino's ''This is America,' and award-winning box office hit, 'Everything Everywhere All at Once.'
The 1st AC role: from script to locked picture
Achieving the cinematic visuals of a film or TV show is a layered process: gaffers painting with light, digital image technicians setting the color tone for just the right mood, and the 1st AC pulling focus to ensure that every scene is clear.
While pulling focus is one of the key 1st AC jobs during production, they also oversees a wide range of other tasks leading up to production.
After reading the script, Sanderson's first task is to coordinate with the Director of Photography (DP) on the type of camera package they are going to rent for the project. He sets up test days with the DP to ensure they are selecting lenses and cameras that fit the director's vision and the story. Then, it's on to camera test days for the makeup, hair, and costume departments to ensure everything translates correctly using the chosen lenses.
During prep, Sanderson will work on scheduling with the Unit Production Manager (UPM) or Line Producer. If the DP needs a Steadicam, Sanderson is the guy to book it. Split camera unit for the day? He's got that covered too. Sanderson also takes care of scheduling and hiring the camera crew, coordinating with the grips to ensure they have the human-power and gear to support the camera department's needs.
"I'm in charge of scheduling our crew, making sure we have all the operators and their assistants available, ensuring cameras are working, and lenses are changed" Sanderson says, "I'm helping the DP organize crew, cameras, and gear throughout production. And then, the nitty gritty of my day-to-day is as the focus puller for the camera." But like all good leads, he's got a right-hand partner, "I also have a solid 2nd AC. If I'm not available, I can trust them to manage the camera."
When production wraps each day, Sanderson and his crew will clean all the cameras and lenses, so they are prepped and ready to go the next day. During post-production, camera equipment is returned, and any damages, which are usually handled during production, are addressed with the camera house.
When visual effects are anticipated, Sanderson and his team will shoot lens grids as resources for the post-production teams. These are checkerboard-like distortion charts created with the lenses used during filming that allow VFX artists to understand how the lenses react at different focal lengths, or when zoomed.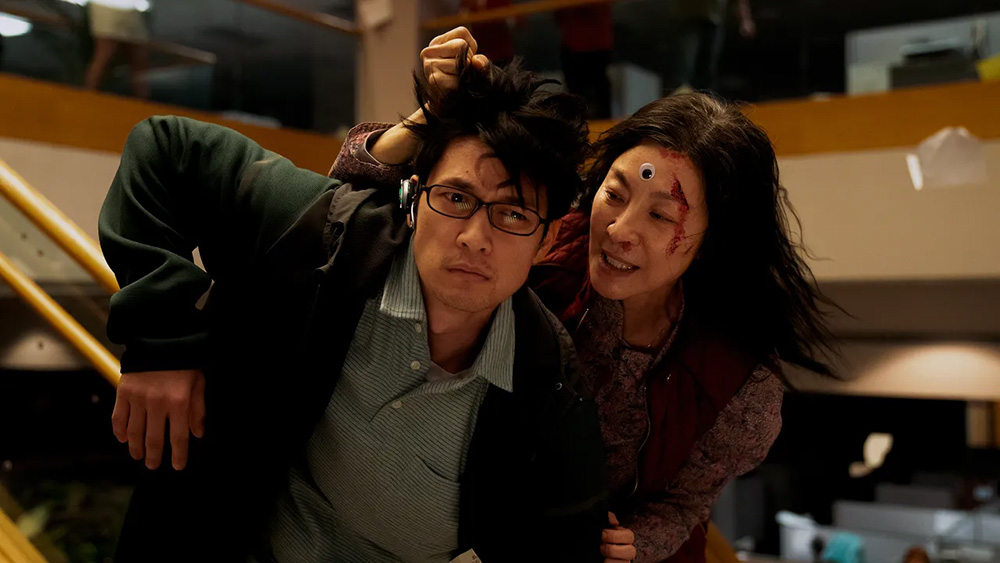 Harry Shum Jr and Michelle Yeoh in 'Everything Everywhere All At Once' / A24
While filming 'Everything Everywhere all at Once', lens grids were very important, as Sanderson explains, "We used a lot of different lenses for visual effects purposes. There were spherical and anamorphic lenses and different aspect ratios."
Finally, once the footage goes to post, Sanderson is prepped to answer questions from the editors about logs, ensuring they too understand the lenses used during production.
The art of pulling focus
When it comes to pulling focus, Sanderson is often hidden on set and may even be in a separate room with a remote monitor looking at a black and white image. After years of shooting music videos, he has found that harsh party lighting, especially red lighting, makes it difficult to see focus. So, he removes color altogether in order to pay attention to the most important part of the scene: the performer's eyes.
"I'm just staring at people's eyes," he says, "I'm trying to keep their eyes as in-focus as possible."
In film and television, it's not the lighting but an actor's familiarity with being on camera that can make all the difference. In his experience, the more an actor is familiar with the 1st AC role, the more aware they are of their own movements, and therefore are easier to pull focus on.
As Sanderson explains, focus pulling can play an important role in executing stylistic movements, adding to the drama of a scene. "I've worked with incredible people who are very artistic that let me play a little bit more with the focus, so you can snap things around with music and have some fun." Strong spacial awareness leads to a special kind of fluidity between the actor and the camera; he continues, "We don't always lay marks for the actors because we want them to be able to feel the space and just flow, and not have to be so rigid."
The relationship between the 1st AC and DP
When it comes to working with cinematographers, Sanderson has worked with some of the best in the business: Aaron Platt, Todd Banhazl, Kevin Phillips, and most consistently today with Larkin Seiple.
The relationship between the cinematographer and 1st AC is a symbiotic one, each a critical counterpart for the other. The 1st AC supports the cinematographer in selecting the best cameras and lenses to achieve the overall artistic vision for the narrative, preparing the equipment and switching the lenses throughout the day. As the cinematographer works to capture the perfect performance between the actors, the 1at AC is nearby, skillfully watching all the movements to ensure that the scene is perfectly in focus. The slightest error results in having to do another take, delaying the schedule and potentially losing valuable footage.
Both halves of this close-working partnership must function seamlessly on set, and once a perfect match is made, they tend to stick together.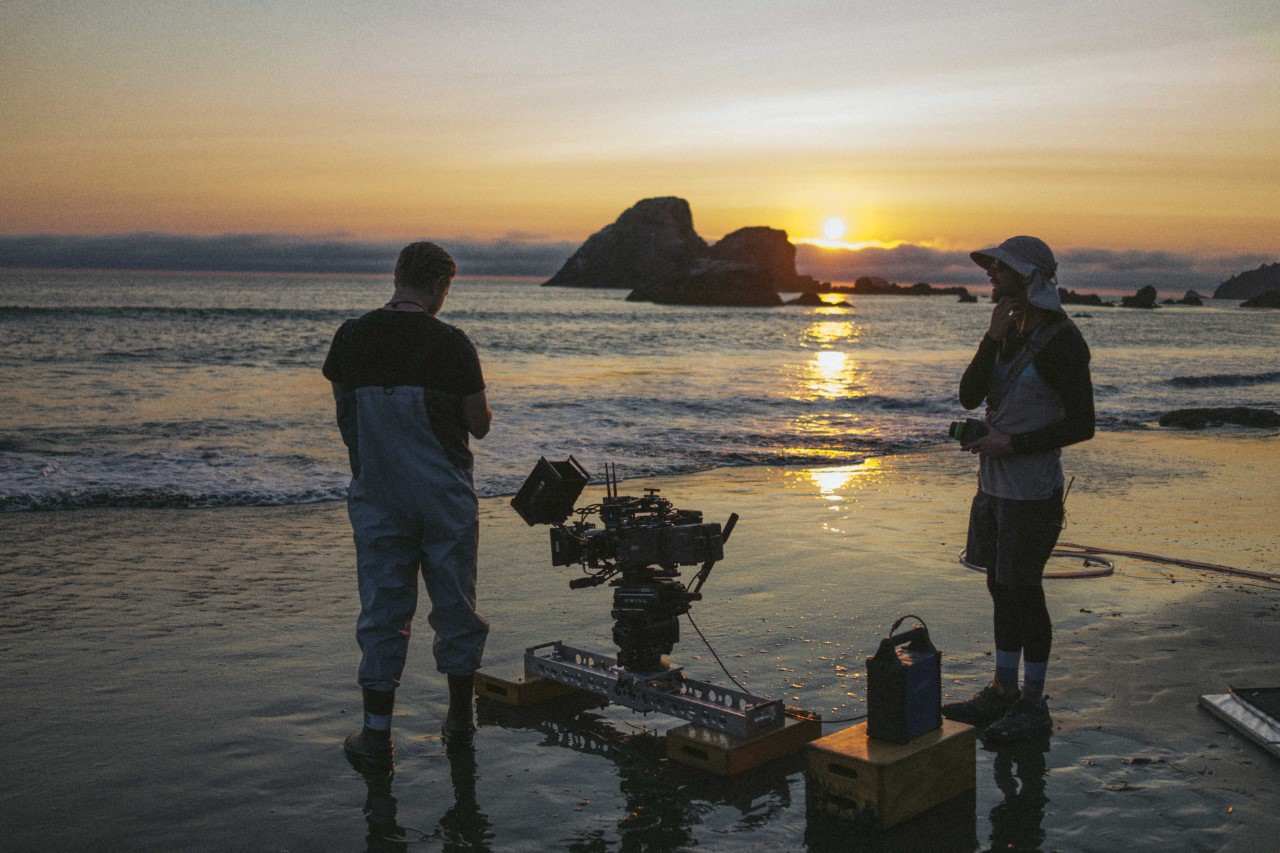 Matt Sanderson and long-time collaborator, Larkin Seiple / courtest of Matt Sanderson
How does the perfect match come to be? Sanderson's advice to those who are starting out: make connections. Sometimes it takes working for free, or on a low-budget project, to meet the right director or cinematographer. Once you make that connection, you may end up moving on with them to the next project, or gaining a reference. For example, Sanderson met Larkin Seiple by way of Assistant Director, Jesse Fleece, during the summer of 2011 while working together on a Tinie Tempah music video.
A long-time friend of Seiple's, Fleece referred Sanderson for another music video Seiple was shooting for Nickelodeon star, Victoria Justice. Soon after, Seiple brought Sanderson on again for 'Swiss Army Man' starring Danielle Radcliff. Now, 10 years later, they are still working together, and as Sanderson likes to put it, "We're like a family. We spend [the most] time with each other, except for our own families. Our wives are even friends! And most of all, we just work together so well."
How to be a successful 1st AC
The 1st AC position is part technical and part art. They carry an almost-sixth sense, allowing them to predict an actor's movements in the most subtle of ways. Sanderson believes the vital skills he's honed over the years include instinct, communication, and organization, but most importantly, a positive outlook on life. Crews spend such long days together on set that personality plays a key role in the creating harmony on set.
"I like to have a good time," Sanderson says, "And I think that helps in my ability to get things done. Sometimes we get kind of stressed out and you end up not having a good workflow. You mess up because you're stressed. And you can really bring down a set if you've got a bad mood."
The trick to bringing up a set and working with a solid crew? Sanderson believes, "Positivity is one of the reasons why I met Larkin. And even [met] my wife on set. Joy leads to meeting great people, and I still work with these people today because I just enjoy life and I try to bring good vibes from the first day on a project."