Blog Home
Meet the Cinematographer
A conversation with Dan Laustsen ('John Wick', 'Nightmare Alley').
April 12, 2022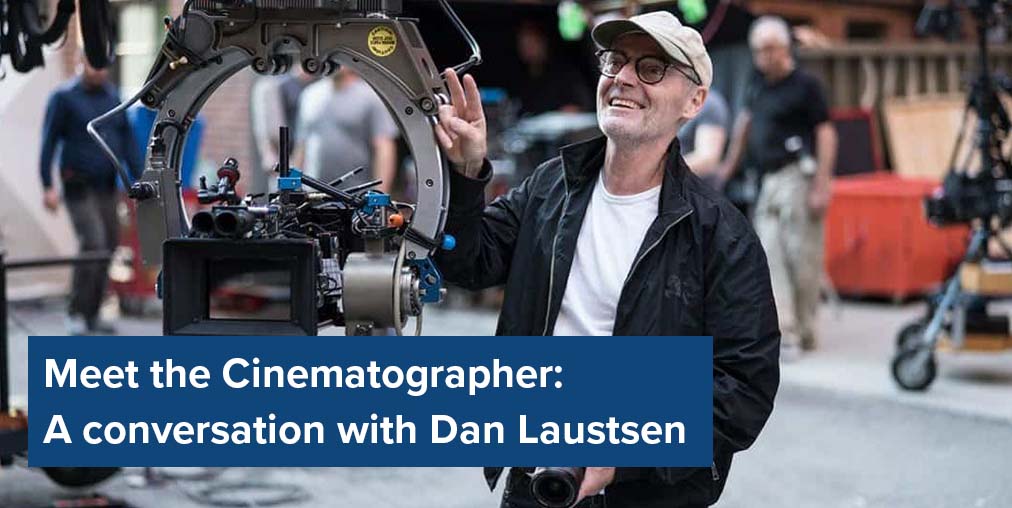 A great movie or television show doesn't just immerse us in its narrative with compelling characters and plots. They also draw us in through the visuals. The look of a project – shot composition, color palettes, lighting – is as important to the story as any other element. And one of the most important people central to helping realize the look is the cinematographer.
In order to better understand the intricacies of the job, we spoke with two-time Oscar-nominated cinematographer Dan Laustsen – a frequent collaborator of Guillermo del Toro ('Crimson Peak', 'The Shadow of Water', and 'Nightmare Alley') and Chad Stahelski (the 'John Wick' franchise) – who shared his thoughts with us about how to make it as a cinematographer.
What does a cinematographer do?
The overall responsibility of a cinematographer can be put rather simply. "We have to figure out how the movie should look," Laustsen explains. That's figured out foremost in collaboration with a director. "The cinematographer is helping the director to tell the story in a visual way and make the director's vision come true." During pre-production that happens through extensive conversations between both collaborators which lay out the visual grammar of an upcoming project. That can include studying existing movies for inspiration, creating a look-book (a book with reference images meant to evoke the visual mood of a film or TV show), as well deciding on color palettes, cameras, lenses, aspect ratios, and more.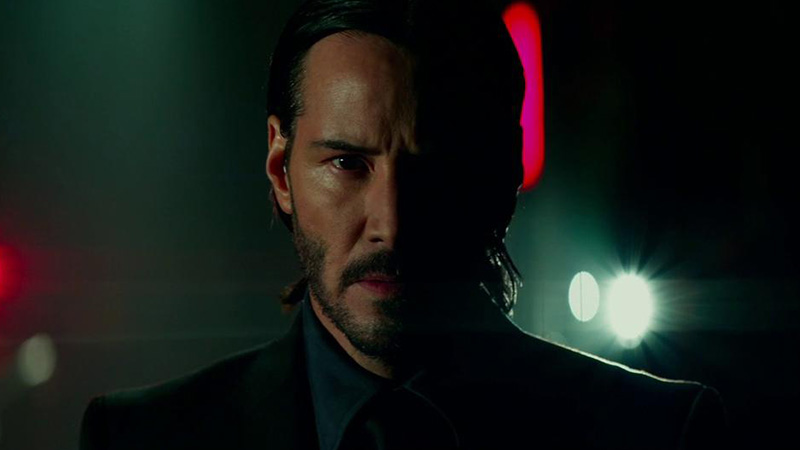 Keanu Reeves in 'John Wick: Chapter 2' / Lionsgate
Once production begins, cinematographers work together with their crew – including camera operators, gaffers, location managers among others – to shoot the film. Their responsibilities also include making sure a shot is properly blocked and lit before actors arrive to perform. That can sometimes can include coordinating with production designers, costume designers, and VFX teams, to makes sure their work doesn't interfere with the intended look of the project. Cinematographers also continue to work closely with directors during shoots, frequently consulting on shots before and after the camera rolls, and later checking dailies to ensure everyone is happy with what was shot.
Finally, during post-production, cinematographers have a less prominent roll as editors, VFX teams, and finishing teams get to work. They do, however, often work closely with colorists to ensure the final product that makes it to screen reflects the intended vision of both cinematographer and director.
How do you become a cinematographer?
Laustsen's path to becoming an Oscar-nominated cinematographer began in Denmark during the 1970s were he worked as a fashion photographer, with greater aspirations of becoming a National Geographic documentary photographer. One day, however, his older sister spotted a newspaper ad around 1976 for a local film school and asked him, "Isn't that something [for you]?" This is the question changed the course of his career.
Laustsen had never given movies much thought, but that didn't dissuade his sister. "Then she said, as all big sisters say, 'Don't be like that. Give it a try.'" So, he did.
Today, there are numerous means of pursuing a career in cinematography, thanks in part to the democratization of film. Anyone can pick up an iPhone and shoot. Still, film schools continue to provide value, as Laustsen found. "Film school is a very good way to go," he says. "It was three years where I was growing a lot."
For film school students, it's not just a matter of learning the technical and logistical how-to's. It provides a safe space to learn the way most of us do: mistakes. "You just have to learn and figure out what you want to do," says Laustsen. "You're allowed to [make] a lot of mistakes because you don't have to perform."
Laustsen believes that's critical for a cinematographer, at any stage of their career. "You have to find which way you want to go and follow your heart," he says, and that can't be done without pushing yourself and making mistakes that make you better.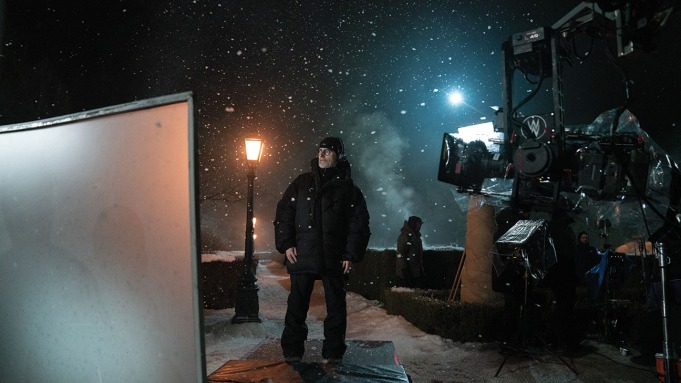 Dan Laustsen on the set of 'Nightmare Alley' / Searchlight
Film schools also cultivate collaboration and communication skills, as well as budding relationships with other aspiring filmmakers. Both are vital to a longterm career. The former ensures future creative partnerships are healthy and productive; the latter can pay off as fellow graduates advance their own career and can become valuable connections (or future collaborators).
Good relationships are what gave Laustsen his Hollywood break. After collaborating with director Ole Bornedal on the 1994 Danish film 'Nightwatch,' he was asked to remake it with Bornedal for Miramax. That led to a meeting with Guillermo del Toro and working together on 1997's 'Mimic.' Their schedules wouldn't allow them to work together again until 2015, but a shared aesthetic – colors, darkness, shadows – and a positive working relationship ensured it did happen. This partnership led to the impressive streak of 'Crimson Peak', 'The Shape of Water', and most recently, 'Nightmare Alley.'
What makes a successful cinematographer?
A successful cinematographer is one who best facilitates a director's visions. "You have to understand and support the directors," Laustsen says.
Communication skills are critical for a good cinematographer to understand how to be on the same page, and realize a director's vision. "It's important to have relationships where you want to tell the same story," he says. Take his ongoing collaborations with del Toro and three-time 'John Wick' director Chad Stahelski. "When I'm working with Guillermo and Chad, for example, we agree about the overall style of the movie and have discussions about how to do it," he says. "It's important to have those discussions."
Communicating and shared goals are also important for the extensive team that a cinematographer oversees – including camera operators, film loaders, gaffers, and others. "I'm a little bit old fashioned, because I have a pretty clear idea about what I like and where I want to go. But, of course, I need all the support I can get when I'm starting to make a movie," he says. Being able to communicate that goal is key, especially, as Laustsen admits, he's not a very technical cinematographer at a time when digital approaches are en vogue.
Dan Laustsen and long-time collaborator Guillermo del Toro
Listening, and putting ego aside, are also a hallmark of a good cinematographer. "You have to listen to people around you. Don't go around thinking you are the cleverest guy in the room. Be ready and open-minded," he says. "It's much more interesting to be driving the car together with the rest of the crew."
Lastly, a good cinematographer never stops learning, treating every experiences as they did in film school. "Don't be afraid to push yourself and make some mistakes," he says. Even Laustsen, an Oscar-nominated DOP, 40-plus years into a career does. "Sometimes on the drive home in the car, and all of a sudden I think, 'Oh, why didn't I do that?' Of course, then, it is too late." These moments of reflection are what keep Laustsen motivated. "Don't be too much on the safe side," he says, "because you're not going to learn anything if you're not pushing yourself."
That's not the only challenge, of course. "It's really hard work. It's long hours," he says, but it's never not worth it. "It is a very creative and fantastic job."