Blog Home
Meet the Editor
'Chucky' editors Randy Bricker and Shiran Amir on navigating the entertainment industry and how they landed their dream jobs
December 7, 2021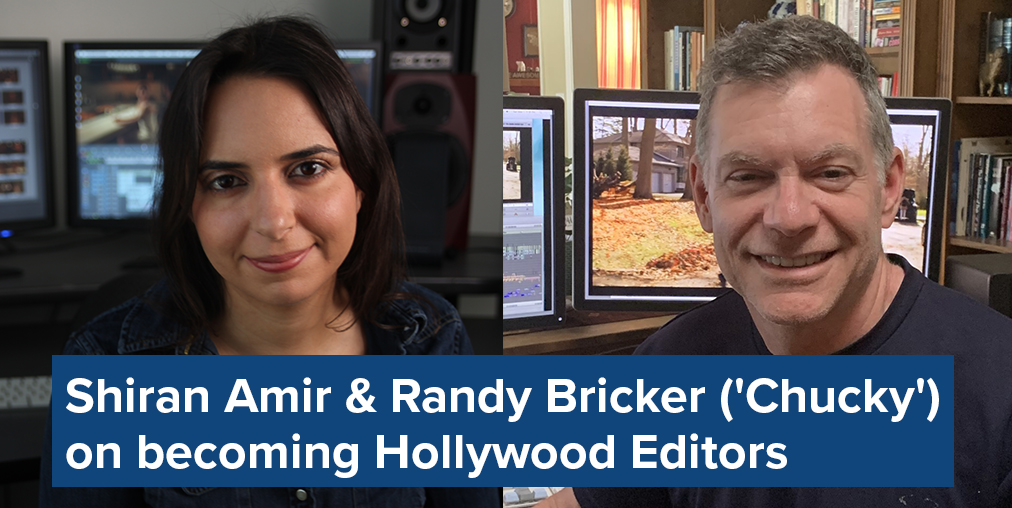 Director Joe Dante (Gremlins) once said, "editing is where movies are made or broken." When it comes to the narrative direction of a film or television show, the editor is almost as important as a director or screenwriter. They take the rough footage from set and shape it into something concrete. "It's like being a sculptor in the sense that you're presented with this block of clay and have to carve out something to make it look like a movie or a TV show," says Randy Bricker, a veteran editor who is behind the recent critically acclaimed Chucky series on Syfy, which was picked up for a second season thanks to its runaway success. We spoke to Randy and his co-editor, Shiran Amir, about what at an editor does and how to become a successful one.
What does an editor and an assistant editor do? 
An editor's work can begin anywhere between the start of production to the start of post-production. If present throughout production, an editor will typically receive dailies and immediately start cutting the footage in order to stay on top of it, and appraise the director of any concerns. If working at the end of the production or start of post, they take on all footage from the weeks of shooting to work towards an assembly cut, a very rough version of the entire film which serves as the foundation for the coming weeks of collaborating with the director towards the final product.
Working in parallel are assistant editors, who usually start work at the beginning of production, no matter what. "The assistant editor job is very work intensive," says Randy. Duties include organizing and prepping footage for the editor, troubleshooting hardware or software hiccups, and managing paperwork and continuity. It also involves dabbling in sound design, music editing, rough VFX and coordinating with other departments as the project moves towards finishing. On bigger productions, they can also be assigned the task of editing simple sequences.
Zackary Arthur and Chucky ('Chucky' 2021)
How do you become an editor?
Editing can be taught in film schools, but that shouldn't be exclusively where the trade is learned. Practical experience is essential. The democratization of filmmaking (thanks to powerful smartphone cameras and accessible editing software) has made that easier than ever. Anyone interested should take advantage. "If you want to edit, edit everything," says Shiran. "Shoot stuff from your phone and edit it. Edit more and more. Be creative. It's such a different brain muscle to assist than to edit."
With enough schooling, and/or practical experience, an industry foothold becomes possible – usually an assistant editor position. Randy, for example, started as an assistant in a commercial editing house, while Shiran began her career in reality television.
The earliest days of the profession can be eye-opening for the unprepared. "It's a very difficult and competitive profession. It's a lot of hard work," says Randy. It can be a feast and famine profession, too. "Sometimes you're really busy with just one job after another and then sometimes it's months and months between jobs."
Upward mobility – moving from assistant to lead editor – is also a challenge. Back when film stock was physically spliced and cut with machines slower than computers, mentoring was a common way to make that transition. "Because the machines took time, there was a lot of downtime that the editors could use to show apprentices things," says Shiran. As a result, they'd learn the tools of the trade, develop experience, and make connections that enabled career moves.
Now, however? "That kind of in-person shadowing doesn't really exist anymore unless you really do it on purpose," she says. That's partly because assistants' post-digitization workload can be prohibitive to having any time to be mentored. "It's gotten much harder for assistants to become editors in the sense that they have so many things they need to know how to do," says Randy. Many of those things are reflective of working in the 21st century – often being occupied with tech troubleshooting more than editing.
Shiran Amir, Editor (courtesy of Shiran Amir)
That said, some editors – like Randy – do allow assistants to cut. Some even still do hands-on monitoring. Shiran, for example, worked closely with frequent Marvel film editor, Dan Lebental, on an indie feature where he showed her the ropes.
Otherwise, mentoring can now be done indirectly. "I think one of the keys to learning is if you work with a bunch of different editors. Just to observe how they do their job, since they all do it a little bit differently," says Randy. Then, with further experience, a growing list of credits, and a big break? A lead editor role becomes possible.
What makes a successful editor?
A combination of talent, an innate storytelling ability, and hands-on experience will make for a successful editor. Beyond those elements, personality can also be an important component. Since editing requires a lot of solitary work, a compatible personality helps. After all, working alone for long periods of time isn't for everyone. "I don't have any problem sitting in a room by myself, trying to figure out how to put two shots together," says Randy. Shiran is no different. "I resonated with the kind of work environment where I just think. Let me be, and I create something," she says.
Randy and Shiran also both believe success requires having a long-term career game plan. It can be easy to become pigeonholed – if not outright stuck – in Hollywood. It can happen with what you edit, be it genre or medium. "If I continued on this trajectory and I became a reality editor, I could have very well ended up climbing the wrong ladder," says Shiran.
Countering that stagnation requires dutiful career maintenance, and does come with the risk of never transitioning from assistant to lead editor. "I got some advice from an editor, which was, you don't want to be a career assistant," says Randy.
Shiran has prioritized managing her career in that exact way, ensuring she never strayed from her path to becoming a lead editor. "I keep seeing people lose sight of what they set out to do in the first place," she says. What does it require to see that through? As Dan Lebental once told her, "It's the 'no's' that make your career more than the 'yes's,'" she says.
So, after several assistant gigs, she decided to say, 'No.' "I just stopped assisting altogether. I started collecting unemployment and I signed up to edit an indie film at home… just to earn my first feature film editing credit," says Shiran.
Those types of sacrifices aren't uncommon, but another quality editors have helps with that: passion. "It's important to keep that fire alive and to always be editing, even if you're assisting" advises Shiran, "so that in the back of your mind you're still going after that thing you set out to go after all those years ago."
The entertainment industry isn't for the faint of heart, but for those who choose this line of work, despite the challenges, it is the most natural place to be. "The only reason to work in movies is because you love movies and you can't imagine yourself doing anything else," says Randy.