Blog Home
Advance Your Production Career with the EP Academy
From production accounting basics to technology certifications, EP's online courses offer one-of-a-kind training for film and television crew.
May 18, 2023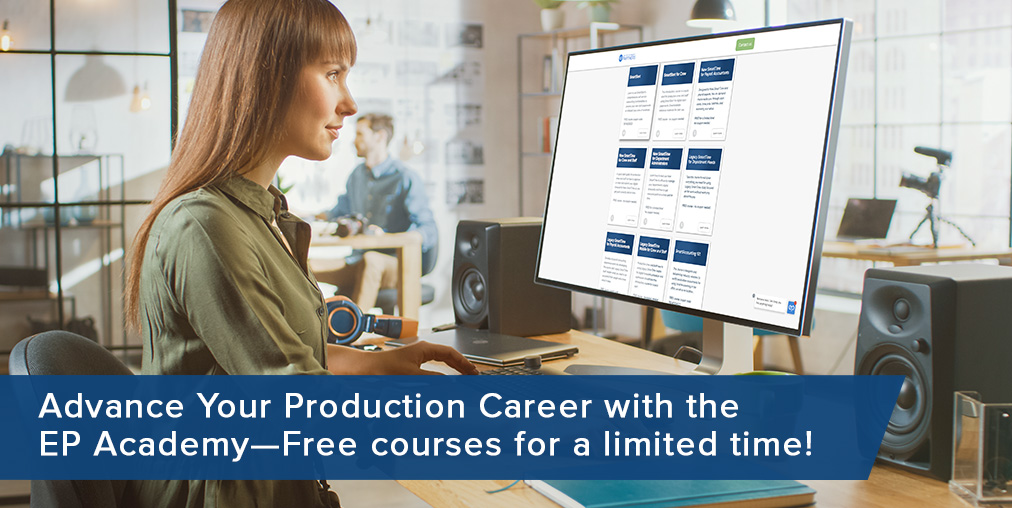 The content boom the entertainment industry is experiencing is one like we've never seen before, and it is not expected to subside anytime soon. Projections estimate that this uptick in production activity will continue through the next ten years, which brings with it a pressing need: skilled production workers.
Crew need to fill the roles to see all of those projects through, and already, the industry is wrestling with a labor shortage. Producers are stressing "it's tough out there," with crew shortages reaching a crisis point, at all levels, including the perennial struggle to find adequately trained production accountants.
The EP Academy was launched March of 2020 with the aim to solve that problem. "EP Academy is a place where people that are new to the industry, or even already within the industry, can come and learn how to use the tools of the industry in both finance and production technology. It's also a great way to learn how to start a finance career," says Kim Weddig-Tejada, Senior Director of Training and Support, who oversees this first-of-it's kind educational program for industry workers.
Learning the ropes of the job
"When people hear the words 'accounting' they immediately get turned off," says Joseph Chianese, SVP & Production Incentives Practice Leader at Entertainment Partners. Film schools are likely not filled with aspiring production accountants, on top of the fact that programs shining a light on the industry's financial professions are hard to come by.
"If you're starting an entry-level position, a lot of people don't know that production accounting roles exist in the industry," agrees Weddig-Tejada. That can be especially true in places outside the large industry hubs, like Los Angeles, New York or Atlanta. "There are a lot of states where filming happens, yet a lot of people that live there don't know that these exciting roles are out there waiting to be filled!"
EP Academy looks to not only raise awareness of the plentiful career paths available in production accounting and the production finance space, but also correct misconceptions that finance in the entertainment industry is boring. "How budgets get spent, and keeping track of that, is the crux of any production," says Chianese. "The process of it, it's pretty exciting! Because you get exposed to the magic of the movie industry," adds Weddig-Tejada.
Not only do you learn how to do the job, but you learn the tools that you'll be using."
EP Academy introduces novices and veterans alike to that magic through two course categories; "One we refer to as 'career courses' and the other one we refer to as 'product courses'," explains Weddig-Tejada.
The career track focuses on introducing students to the fundamentals of professions like being a production accountant or a payroll clerk. The product courses, on the other hand, focus on teaching the fundamentals of EP's proprietary technology solutions, such as Movie Magic Budgeting and Movie Magic Scheduling. And naturally, the two categories of courses are quite compatible. They're even often paired to great effect. "Not only do you learn how to do the job, but you learn the tools that you'll be using," Weddig-Tejada says.
That's especially important as part of the labor shortage is driven by challenges in training new workers to do the jobs. The ins and outs of the production accounting, for example, are not in textbooks or school programs. Rather, these nuanced details reside in the heads of experienced workers – many of whom are too busy to train someone on the job. What's more, geography can make it difficult for aspiring production accountants in, for example, Ohio, to learn from one in Los Angeles.
There, EP Academy helps too. As a fully online platform, its e-learning format is accessible to anyone, anywhere, at any time. Additional benefits are the fact that students can learn at their own pace, and access materials for up to a year after enrolling in a course. "You can go back and revisit the information as many times as you want. It's not a one-and-done situation," says Tyrone Robinson, Senior Manager of Learning Enablement at Entertainment Partners, who helped to launch the EP Academy program back in 2020. "The reference materials are super helpful, especially when you're working on a production. Say you've forgotten how to take a step or something, you could go back in and re-watch the video or reference the documentation."
The future of EP Academy
Since it launched, over 12,000 students have registered with EP Academy, across 20 different courses, with 93 percent reporting satisfaction with the experience and confidence in using the skills learned to advance their careers. And Kim, Tyrone and the training team are just getting started. More than 20 new courses are in the works, including classes on various roles and functions of payroll, additional technology from the suite of EP digital solutions, and more.
"I'd like to see The Academy become a type of trade school for these fields that you can't go to a traditional school for," says Weddig-Tejada. Potential partnerships with schools, job fairs and studios could help realize the ultimate goal of EP Academy. "We wanted to make sure we were helping the studios as well as individuals, to let them know 'here's a route you can take to get into the film industry', which is exciting! And to create that larger talent pool for people to go to when hiring."
Free EP Academy courses—for a limited time!
Ready to learn more about the EP Academy? Check out our list of available courses, and be sure to take advantage of our summer sale! Entertainment Partners is now offering on-demand EP Academy classes—including career development courses—at no cost for a limited time. 
Whether you want to move to the next level in your career, or learn a new skill, EP Academy offers industry-leading courses to help you get there. Simply visit the Academy, select your desired course and take the next step in your career today!