Blog Home
Meet the Production Accountant
From budgeting, to billing, to payroll, the financial powerhouse behind every production
May 18, 2021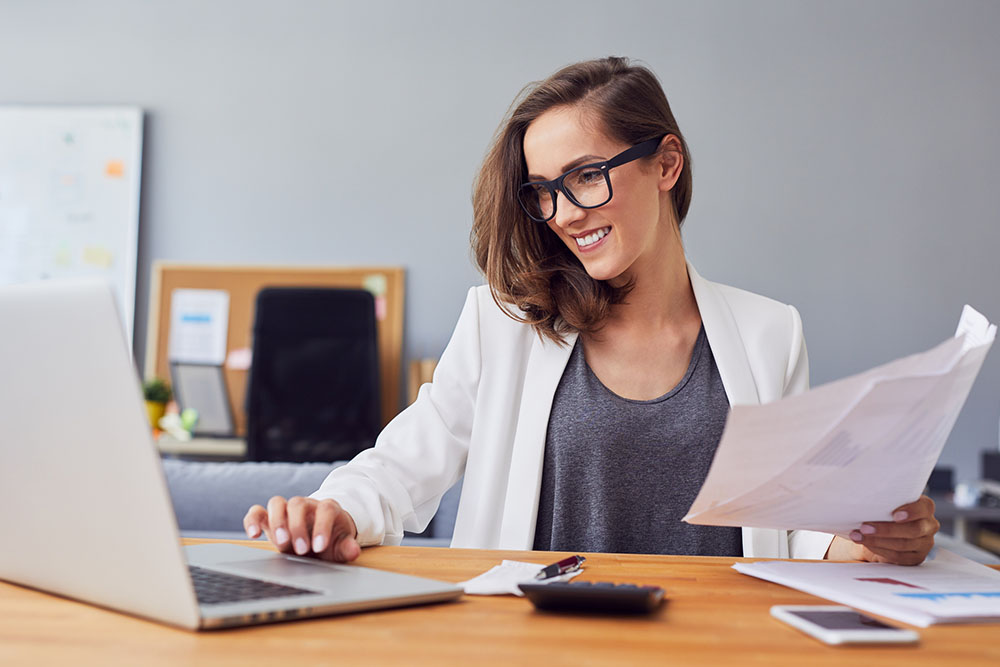 No film, television or streaming production can be made without money. And no creative project (be it film, television, animation, visual effects, or commercials) can be seen through till the end without someone keeping an eye on that money and applying the necessary financial controls: budgeting the money, tracking the production spend and production incentives, managing insurance claims, and most importantly, making sure everyone gets paid. That important job falls to production accountants. "It really is a nerve center of the production," says Michelle Berrigan, a first assistant accountant for Ruby Leaf Pictures ULC in Toronto, Canada.
Here's a look at the role and responsibilities of a production accountant, and the path to becoming one.
How Do You Become a Production Accountant?
It may come as a surprise to those who want to become a production accountant that an accounting or bookkeeping degree is not a necessity, although a knowledge of finances, or having a good mathematical inclination is very helpful. It is, however, a great opportunity for accounting and finance professionals to transition to a career in the entertainment world. As Bonnie Weis, a producer who started out as a production accountant, shared on a recent Master Series panel, "I love having people come in that have business backgrounds, who really want their creative side to come out. It's a great [career] path." Berrigan cautions, however, that those coming out of business school – or pivoting away from more traditional industries – may need to adjust their expectations of the film and tv industry. "It's so different from the corporate world," she says. "It has its own unique structure, terminology, tools and even schedule."
A transition into the film & television production accounting world can be helped by training with organizations like Entertainment Partners, which offers a certification program designed by industry experts, including courses such as Production Accounting 101 and 201, as well as courses for each of their digital solutions for production or finance management, like SmartAccounting and MovieMagic Budgeting. Also, many states, including California, Georgia and New Mexico, already have or are in the process of building production accounting training courses to offset the ever-increasing need of production accountants. In the UK, organizations like The Production Guild and the National Film and Television Society offer training, and for those in Canada, the Directors Guild of Canada also offers resources.
I love having people come in that have business backgrounds, who really want their creative side to come out. It's a great [career] path.
While a background in numbers may be helpful, it's important to remember that production accounting is very much a skill learned through an apprenticeship process. Berrigan says it's typical to start as a production accounting assistant, doing basic tasks like filing, putting checks in envelopes, and learning how to audit expense reports. During that time, trainees have the opportunity to job shadow and become familiar with the key elements of the job – such as leaning industry-specific software like the digital tools in EP's Production Finance Studio, what things cost (critical for budgeting) or what expenses belong in what stage of production.
In time, individuals advance through by gathering the knowledge, skills and industry relationships needed to earn their way up the production accounting ranks. When the initial job has been learned well enough, you can move on to become a third assistant, second assistant, first assistant and then, finally, a key/production accountant (head of department) or production controller. Within the world of production accounting there are also further specialist roles like payroll accountant, construction accountant, VFX accountant, and others.
What Does a Production Accountant Do?
What a production accountant does depends partly on what stage of production a project is in. During pre-production, accountants will often assist production teams with their preliminary budgets, usually created by a cost estimator like MovieMagic Budgeting. Then, after a green light is given, the key/production accountant helps fine-tune that budget, usually working closely with a production manager or line producer.
During production and post-production, however, is when the accounting team becomes the financial lifeblood of a project. Each role has different responsibilities during this period. An entry level production clerk wears many hats, maintaining file systems, handling mail, delivering cash to sets. A payroll accountant oversees approval and signing of start packets, then ensures the crew is paid on time. Second assistants manage day-to-day purchase orders and invoice processes. First assistants manage petty cash and per diems, set up vendor accounts, and assign purchase orders. Lastly, key/lead production accountants oversee all phases of maintaining financial records throughout production, working with unit production managers (UPMs) and producers, to stay "on time, on budget" and alerting them of significant variances.
What Makes Production Accounting Stand Out as a Career?
Working with numbers shouldn't create the impression that this is an impersonal career. On the contrary, the interpersonal nature of the job is one of the things Berrigan loves most about it. "When you're doing payroll, you get to know the crew because you're really dealing with them often," she says. "I [also] really like developing relationships with vendors and I've been able to cultivate some good relationships."
It can also be a great opportunity for new experiences. With the explosion of content in the U.S., and around the world, production accountants can find themselves working all over the globe. A production accountant can start in New York on one project, go to Georgia on the next project, followed by the UK, Australia, and more. The more locations you're exposed to, the more you will travel. The more people you work with, the more you will learn. The more you work, the more you will keep working, and production shows no signs of slowing down!
All of us [producers] know people who were accountants that became production supervisors, production managers, producers, [and eventually] became directors. The accounting department is a great way in.
And for anyone who is interested in learning about the film industry and growing their career, production accounting can be a great place to start. When asked about her start as a production accountant, Producer, Blair Breard, said this: "If you go in through the door of accounting, you will always find work. You will hear all the conversations, and you will learn about where the money goes. And all of us [producers] know people who were accountants that became production supervisors, production managers, producers, [and eventually] became directors. The accounting department is a great way in."
More than just a job, production accounting is a standout career because of the significance it plays in the business of production. "You have to be willing to be part of a team. It's a group effort," Berrigan says. Because even though being a production accountant may not feel as glamorous, perhaps, as being a crew member on set, it's no less a vital piece of making entertainment. "Your contribution is important because if accounting can't keep going, then the production can't keep going."
Ready to start your journey towards becoming a production accountant? Visit the EP academy today!