Blog Home
The Producer's Guide to Sustainable UK Studios
Learn how studios across the UK are taking positive steps to reduce their environmental impact.
August 18, 2023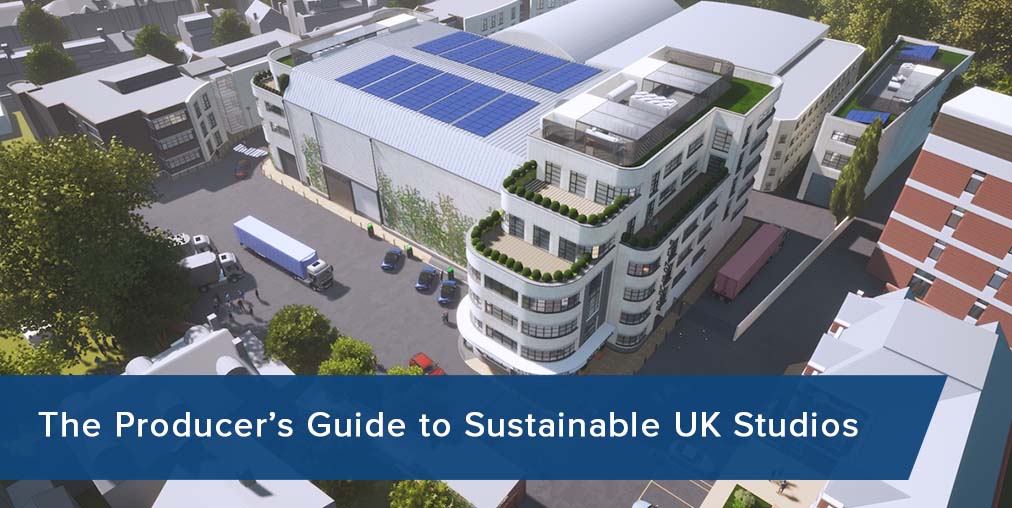 From the waste generated by cast and crew to the energy consumption used to light a set or run post-production, making film and TV has never been a particularly "green" business.
In fact, a report released in 2020 by the British Film Institute and other organizations found that on average, a major studio production generates 2,840 metric tons of carbon dioxide, or the equivalent of 11 one-way trips to the moon.
However, in recent years the industry has taken positive steps to reduce its environmental impact. One such step in the UK is the Studio Sustainability Standard, a voluntary standard for studio facilities which was launched by albert in 2022 and has now been adopted by several UK studios.
On top of this, many studios across the UK are thinking outside the box and coming up with creative ways to increase their green credentials. Here's our round-up of ten UK studios aiming to reduce their environmental impact.
3 Mills Studios
3 Mills Studios in East London – home to Wes Anderson's Isle of Dogs (Fox Searchlight Pictures), The Great (Hulu) and Killing Eve 2 (BBC) – is a zero-landfill studio that provides recycling services for its productions and tenants. Its energy provider is 100% renewable and LED lighting is used across the whole site. 3 Mills also has ample house power, so productions don't need to rely on generators. Tenants are encouraged to commute by bike where possible with increased numbers of covered bike stands available on site.
BBC Kelvin Hall
Kelvin Hall production hub in Glasgow was purpose built by BBC Studioworks. Sustainability was a key driver in its design with investment in environmentally conscious technology. The lighting galleries feature LED and low-energy lighting technology. The reduced heat generated by the low energy lighting has enabled the use of air-source heat pump technology for heating and cooling, and the ventilation plant has class-leading efficiency using heat recovery systems. The studio will reduce the carbon footprint of local TV production and fuel the growth of the sector by boosting local employment.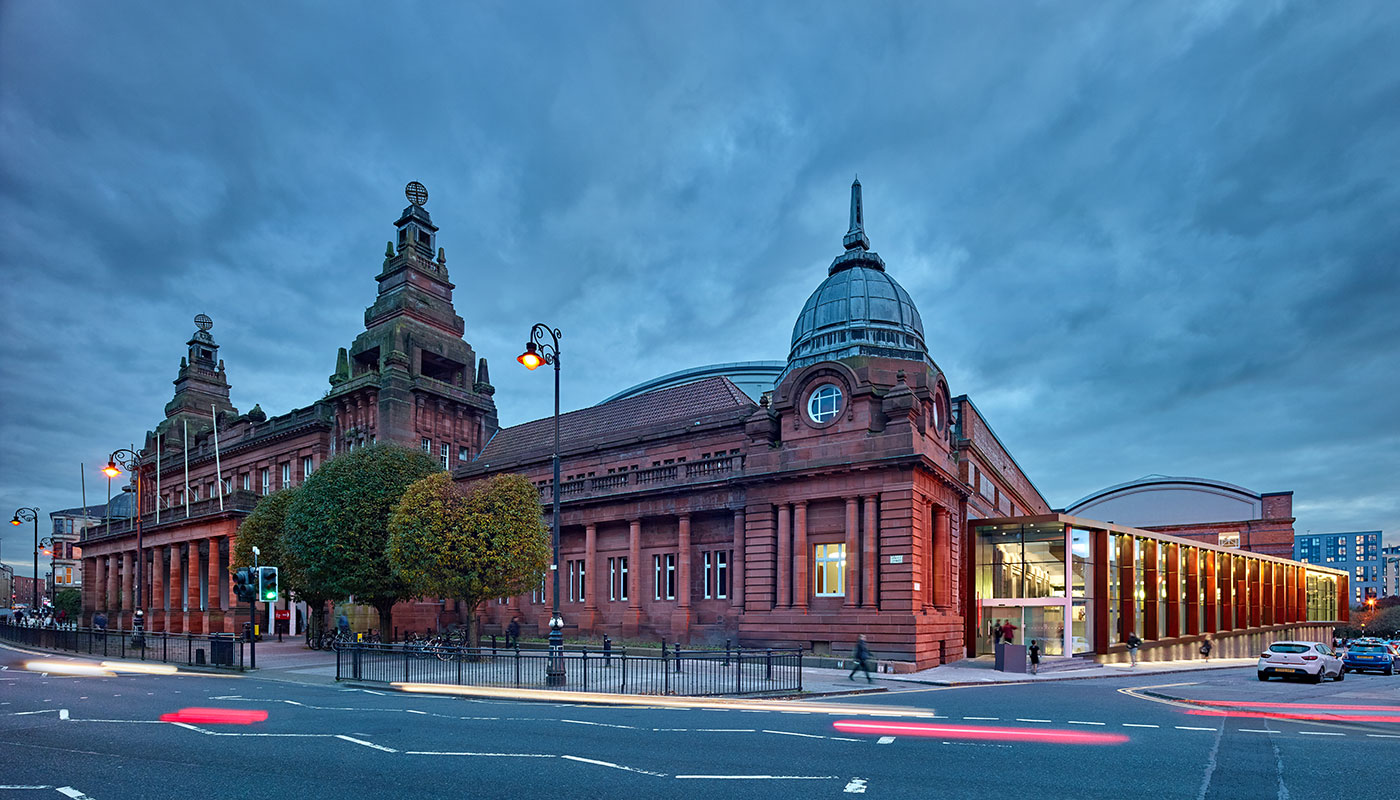 BBC's Kelvin Hall in Glasgow
BBC Television Centre
Television Centre (part of BBC Studioworks) has been commended as the highest-ranking studio facilitator in the BAFTA Sustainability Scheme. Its Television Centre studio achieved an overall sustainability rating of 83% (compared with an industry average of 59%). It has policies on energy consumption and waste (including zero waste send to landfill), 100% house power with a REGO-backed renewable tariff and a proactive approach to assessing and approving suppliers and using compliant materials. It also boasts 75% plant-based catering, staff sustainability awareness initiatives and local community engagement schemes.
Television Centre is home to many well-known favourites including Good Morning Britain, Lorraine, This Morning, Loose Women, The Graham Norton Show, Saturday Night Take-Away, Sunday Brunch and Peston.
Ealing Studios
Ealing Studios is the oldest studio in the world and has housed such UK classics as Bridget Jones's Diary (Universal Studios/Miramax), Notting Hill (Universal Pictures), Darkest Hour (Universal Studios/Focus Features), and Downton Abbey (ITV). Ealing Studios is celebrating its 120th year by planning a major expansion which will add more than 50,000 square feet of new facilities, including a purpose-built, net zero-carbon sound stage which it believes will be the first in the UK. The new development uses air source heat pumps and photovoltaic renewable technologies, by which it achieves 100% reduction in regulated carbon emissions.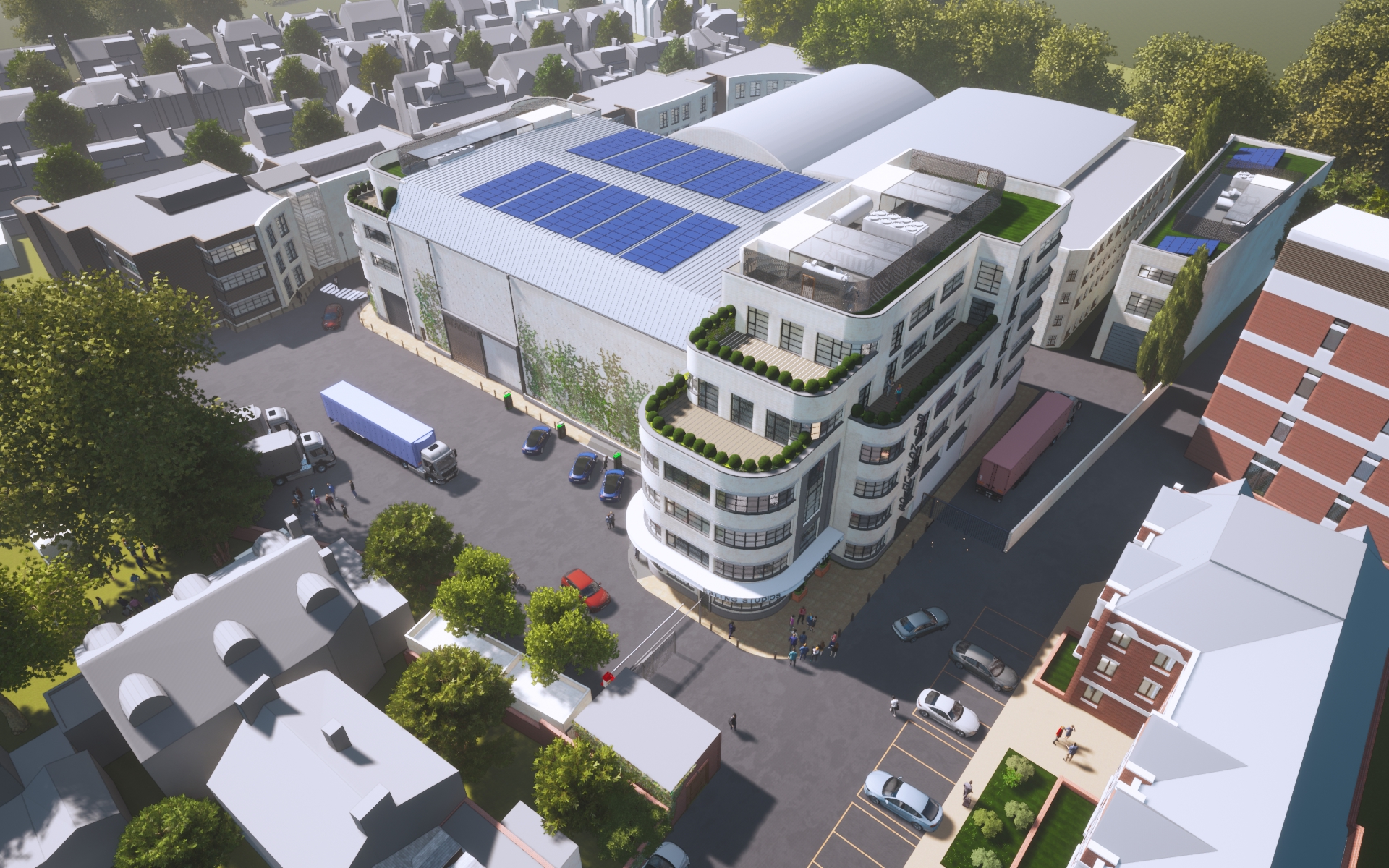 Ealing Studios' new development 
Elstree Studios
100% of the electricity at Elstree Studios, London, comes from renewable sources and 96% of waste is disposed of using regenerative schemes. Elstree is also introducing energy-saving LED lighting sitewide, replacing Halogen and fluorescent lights. Gas-heating boilers around site are being replaced with air pumps and an electric system, double-glazed windows have been installed on site and workshop roofs are being rebuilt to conserve energy. On-site catering uses compostable or recycled cutlery. Cycle racks are stationed around site and all clients and staff are encouraged to cycle or car share for their commute.
Elstree has more than 1,000 film and TV credits including HETV dramas The Crown (Netflix) and Gangs of London (Sky Atlantic/AMC).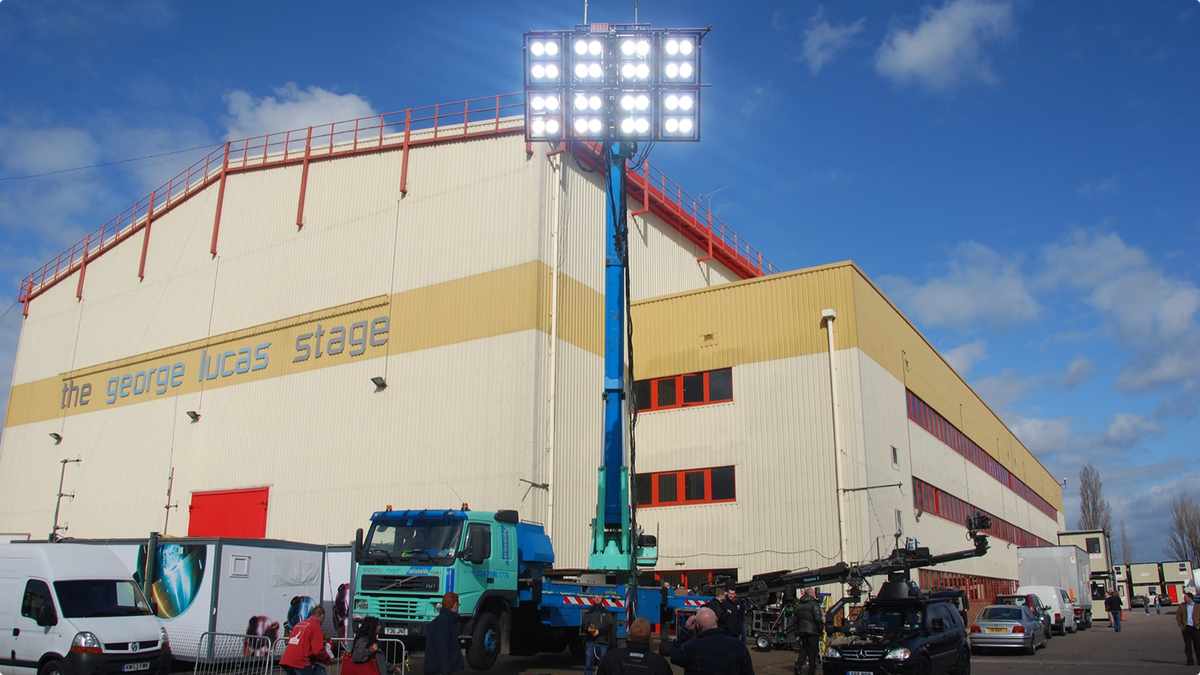 The George Lucas Stage at Elstree Studios 
Garden Studios
Garden Studios, London's largest studio complex, has committed to being Net Zero by 2030 through the SME Business Hub. It has sourced green energy since its establishment, but high consumption has, at times, required film productions to hire diesel generators. A power upgrade now means it has sufficient power to serve productions without the need for diesel generators. This has eliminated 20 tonnes of CO2 emissions or about 25% of the carbon footprint. The studio is trying to increase its capacity to generate solar-powered electricity and is currently in discussions with landlords. It has changed to a sustainability focused waste management company and is trialling food waste collection for anaerobic digestion. It has adopted a procurement policy with strict sustainability standards and its Code of Conduct and client onboarding documents encourage clients to follow suit.
IMG Studios
IMG Studios – which aims to be one of the UK's greenest production facilities – launched #GreenToScreen, its Carbon Action Plan to become net zero carbon by 2030. As part of the albert Creative Energy project, its entire Stockley Park building in Hayes is powered by 100% renewable energy. All four of IMG's studios, nine live galleries and more than 45 edit suites are powered by sun, wind, biogen and water. It has LED lights in its studios, electric vehicle charging points in its carpark and zero single-use plastic cups in its canteen.
TBY2
TBY2, part of Bottle Yard Studios in Bristol, was one of the first studios to be awarded the new Studio Sustainability Standard. It's a new £12m sustainably designed film and TV production facility, powered by a 1MWp rooftop solar array (believed to be the largest community-owned rooftop array in the UK, which can generate enough energy to power 250 average households per year) and the biggest rooftop PV system in the UK studio sector. TBY2 was the second-highest scoring studio for the new Studio Sustainability Standard and is one of five studios to have received a Very Good rating, the highest grade achieved in the group. The Bottle Yard and Bristol Film Office teams are committed to reducing the carbon output generated by activities on site at the studios and filming on location around the city. Their aim is to align the production sector's activities with Bristol's target to become carbon neutral by 2030.
Recent productions include The Girl Before (BBC/HBO Max), The Outlaws (BBC/Amazon Prime Video), and Becoming Elizabeth (STARZ).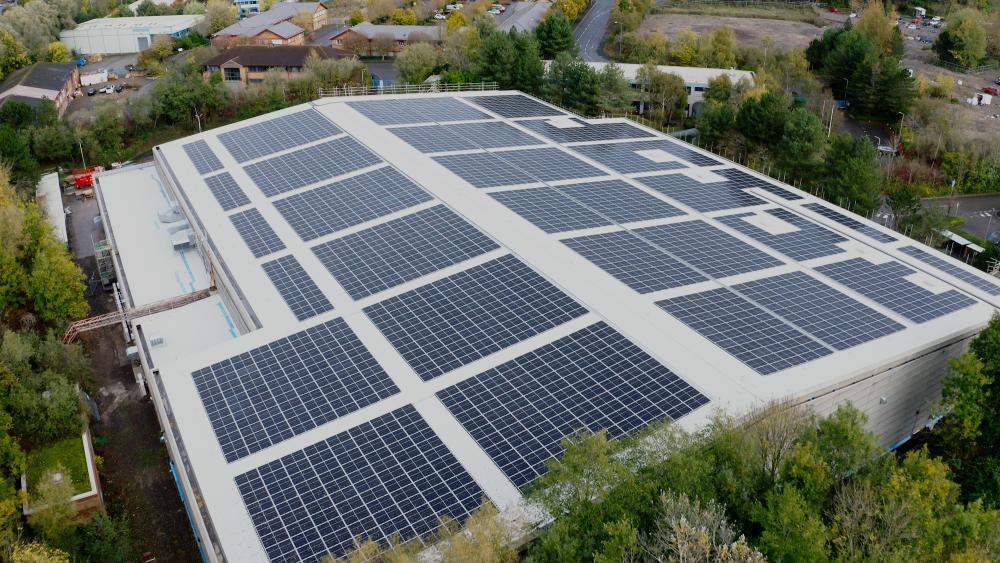 TBY2's 1MWp rooftop solar array
Pinewood
100% of electricity sourced by Pinewood is purchased from renewable sources. It also prioritises preserving the local environment. Its new studio facilities won an award in 2019 from the Chartered Institute of Ecology and Environmental Management. As well as creating 4.3 hectares of new species-rich meadows and 1.5 hectares of new native woodlands, Pinewood has introduced grass roofs on nine new film stages which not only recreate the meadows lost to the footprint of the new development, but also provide suitable habitats for Skylarks to nest, feed and raise their young. The green roofs were also an opportunity to benefit many other species of wildlife and invertebrates, especially pollinating insects such as solitary bees, butterflies, hoverflies, predatory wasps and beetles.
Pinewood boasts some of 2023's biggest credits, including Walt Disney Studios' Indiana Jones and the Dial of Destiny, The Little Mermaid and Ant-Man and the Wasp: Quantumania.
Warner Bros. Studios Leavesden
Warner Bros. Studios Leavesden – home to major blockbusters like Barbie, The Flash (both Warner Bros. Pictures) and Fast X (Universal Studios) – has implemented waste management and recycling schemes across the site to ensure that the maximum amount of material is sent for recycling and converted back into usable products and that the remaining waste is converted into energy. It has its own recycling centre on site where it separates a wide range of materials including paper, wood, metal, green waste and food waste. It has multiple EV charging points on-site and runs a cycle-to-work scheme for employees. 100% of electricity used on site is sourced from a renewable supplier. To support biodiversity, it has planted over 300 trees and new hedgerows on site and sown over 30,000 square feet of wildflower seed to attract pollinators and support the local ecosystem.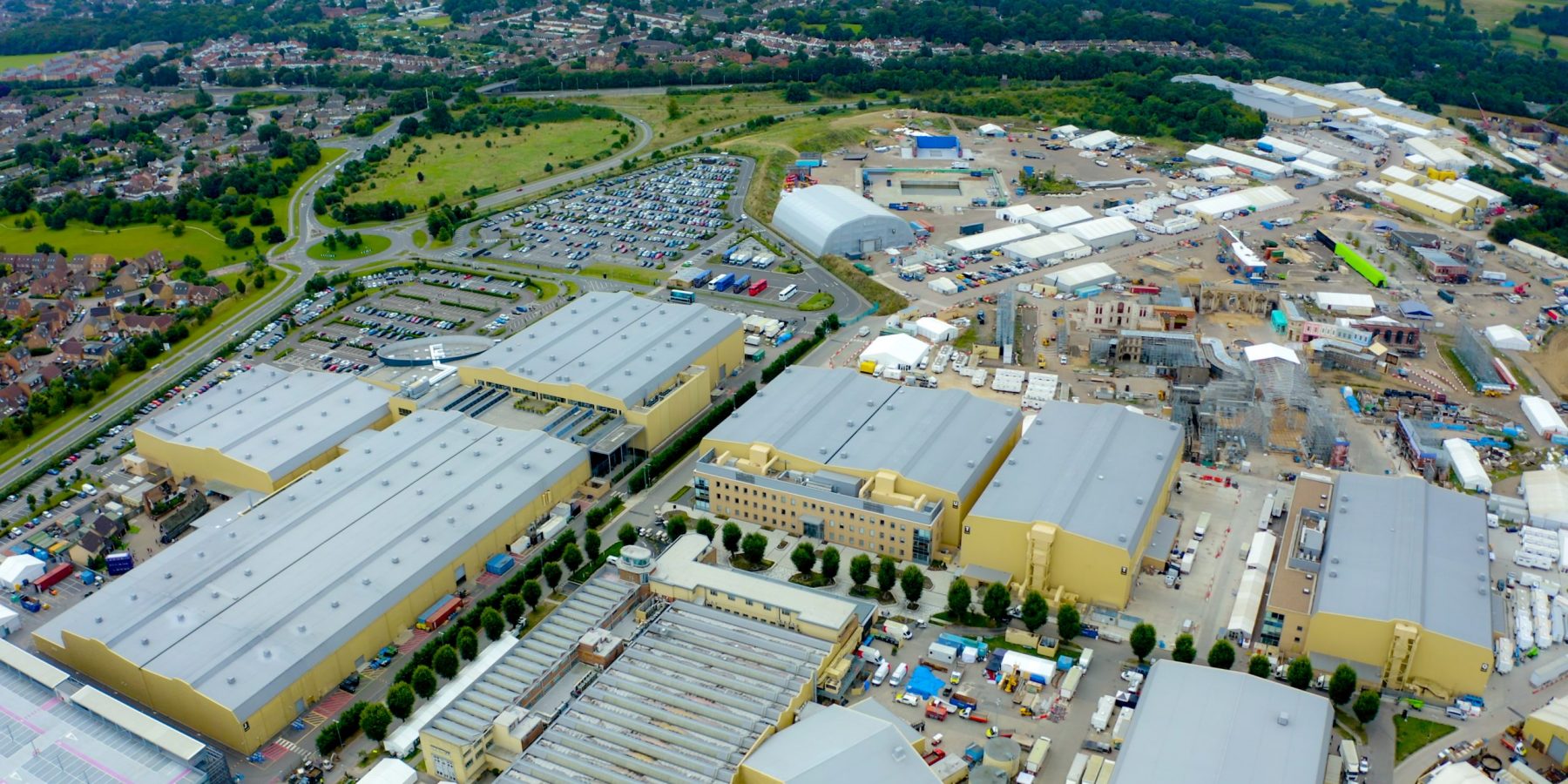 Warner Bros Studios Leavesden

Whether your production is big or small, the UK offers plenty of options for carbon-conscious producers who want to reduce their environmental impact while still making world-class film and TV.
Headed to the UK for your next project? From UK payroll to production incentives and the industry's leading production technology, EP can help you during every stage your project. Reach out to us today to get started!