Blog Home
Meet the Unit Production Manager
Carrie Holt de Lama ('The Bear') and James McAlister ('Power Book IV:Force') on how the UPM guides the filmmaking process
February 8, 2023
Behind every rolling camera are a crew, actors, and a location that was meticulously planned through the skillful coordination of a Unit Production Manager (UPM). Their role is to make sure that every production runs smoothly – from the hiring of crew members, to monitoring that every department stays on budget, to adjusting schedules when inclement weather arises.
Seasoned UPMs Carrie Holt de Lama and James McAlister stepped away from each of their respective production offices to share how they bring the artistic integrity of a production to life while keeping it on schedule and on budget.
Carrie is currently in prep for the second season of 'The Bear' (FX) and works primarily in Chicago, as does James, who just wrapped the latest season of 'Power Book IV: Force' (Starz) starring Joseph Sikora and Isaac Keys.
The many skills of a UPM
The UPM brings the right people together for the needs of the director or showrunner, setting the tone for the complete set experience throughout production. This tone impacts everything from the performances of the actors to how the crew members show up each day to set.
"One of the assets of a UPM is how they draw from the set of tools that they've honed in whichever department they came up in that led them to their current position. With that background, they can adapt, and problem solve based on that previous experience," James explains.
James McAlister first entered the film indsutry as as an intern at the Chicago Film Office. From there, he transitioned to locations working as a location scout, and eventually worked his way up to the position of location manager on productions including 'The Dark Knight' and 'Public Enemies.' With 30+ years of location department experience under his belt, James understands how to balance both the creative and logistical elements involved at the very earliest stages of a project and brings that experience to his role today as a UPM.  
Carrie Holt de Lama started out in theater, building large-scale video installations with the goal of pursuing a career in museums. But soon she found her passion as an independent producer; this brought her out to The LA Film Festival, which kickstarted her film career.
"I think one of my greatest assets is finding the right artists who can work together well. Finding a crew that will meld together with the right personalities is so important," Carrie says. When selecting the individuals who will crew her productions, personality and passion for their craft are top of mind. "I want everybody to care, because once everybody cares, you have a much better project and a better time!" she says, "So, I really am very precise about who I choose to be on my crew, because I want the best attitudes. I want the people who will always give 100% and who really want to make an excellent product."
Crafting the vision
The UPM is usually one of the first crewmembers to be hired on a project. They begin by reading the script to understand the story and needs of the project. As Carrie describes it, "When I read a script, I see the whole vision in my head instantly. I don't know if that's everybody, but for me, I see it." Working towards that vision, she explains "You end up being a bridge between creativity and production. Creatives write all these amazing things and then the production says what they can and cannot do based on budget."
Once the vision between the director or showrunner with the UPM is solidified, then the next step is hiring. When the crew and actors are finally contracted and the deal memos signed, then it's off and rolling with scheduling and budget.
The UPM works closest with the production accountant and line producer, who create the entire budget for the production including a plan to forecast potential roadblocks throughout production; once that plan is mapped out, the UPM puts it into action.
Navigating scheduling challenges
Scheduling is a significant part of the job for a UPM. An intricate dance between creative goals and production timelines, they must ensure important cast members and crew are available, all while keeping the budget parameters of a project in mind.
"I first look at the script creatively and ask, 'How do we give everybody what they want?'" says Carrie. "When it comes to scheduling, you can produce the best plan on how to do something. And then when you find the people that you want to do it with, oftentimes, everything that you originally planned gets thrown out the window because their schedule doesn't work with how you planned. Then, it's back to the drawing board to do another iteration."
Making multiple schedules is nothing new to the UPM. By the time a production begins filming, they may be on their 10th internal schedule as notes come in from tech scouts and production meetings. "It's constantly a work in progress," says James. "We'll put a schedule out right before a final production meeting and maybe another one before shooting, but hopefully, by then we're able to stay on track."
With COVID-19 impacting productions over the past few years, schedule changes were constant with conflicts arising left and right. Regardless of the circumstances, though, a seasoned UPM knows how to stay calm and pivot accordingly. As James explains, "You address the problems as they come up. If an actor gets sick, then you might have to double up on another day, which we've had to do a few times."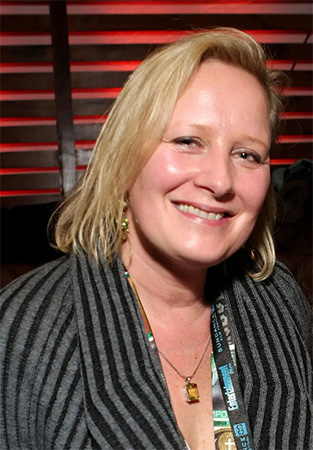 Carrie Holt de Lama, Unit Production Manager, 'The Bear' / gettyimages
On, 'The Bear,' the cast is considered an ensemble, meaning they are repeat characters that can't be replaced because they are an integral part of the story. As Carrie explains, "In season one for 'The Bear' we had the same dishwasher come every day. They might not even have a line, but you needed them to create the consistency of a small sandwich shop." Knowing this, it became imperative to organize the schedule in such a way to ensure all the ensemble cast members would be available for filming.
Another scheduling challenge often is connected to inclement weather. As James recounts, "We had an instance with lightning and then a tornado warning and had to find shelter in place until the whole storm passed. We lost probably three hours." When storms or other natural disruptions arise, it's up to the UPM to navigate how to get the production back on track and get the shots they need. "We did everything we could to finish the day, but we knew that we were not going to finish all of the shots we needed for the day" James explains, "and so we tacked on additional days to do some visual effects on a stage. This way, we didn't need to come back to that location which would have significantly increased our budget."
Balance budgeting and artistic integrity
Communication is a key function of the UPM position. They need to be consistently communicating with the director or showrunner and department heads, to know when things are worth spending money on and when it might be worth pushing back to protect the overall budget health of the project.
While 'on budget and on time' is always the goal, Carrie and James are dedicated to the artistic integrity of every project they work on because storytelling is their passion. This means balancing budget decisions with the line producer and accountant, while also helping the creatives, such as the director of photography or production designer, succeed in realizing their vision. As they have found, the UPM is often negotiating on how to make creative adjustments to reduce the budget of original designs, and sometimes in the end, those constraints can lead to better solutions and creative breakthroughs for the story.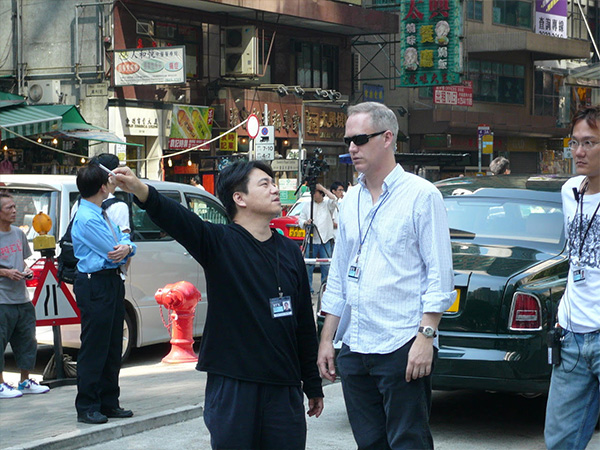 James McAlister on location in Hong Kong for 'The Dark Knight' / courtesy of James McAlister
What are some of the ways a UPM can help a production cut costs with subtle design changes? 
On his productions, James might recommend subtle modifications to the set drawings to help the production designer trim back on construction labor costs. He might also talk to the locations department and advise on picking a location where filming can take place on the first floor instead of the second, which wouldn't require additional wiring and labor.
Similarly, with the location's department, he may weigh in on choosing a location to utilize windows for natural light to save costs with the lighting department. The goal isn't to drastically alter any department's plans, but rather, recognize the small changes that can add up to significant savings.
Location, location, location!
Speaking of locations, choosing the right one can make or break a budget. The UPM is often tasked with working in partnership with the locations department to coordinate the right environment for the story while also sticking to the budget. Weather, logistics, and authenticity all play an important part in this decision.
For the filming of 'The Bear,' UPM Carrie Holt de Lama had to merge two locations into one. "We used a working beef shop for the pilot, that the story was based around, and they're only closed one day a week," she explains. "So, we had to buy out the restaurant, and we could only afford to do that for one week. As a result, we shot all the exteriors and then we shot three days at a different kitchen in a different location, but they merged beautifully. You can't tell the difference!"
Once the show was picked up for an entire season, Carrie took on the job of building an actual working kitchen set at the Cinespace soundstage. "The kitchen was so small and claustrophobic on the original set, so we added four inches from behind the counter on the set kitchen," she says. "But the biggest challenge was how to build a walk-in freezer! You can't have it live on set because it's cold. However, the sound stage is under sea level, so it doesn't drain properly. We worked with the studio, unions, and various tradespeople to help us put together a safe and working kitchen."
In addition, there were food challenges involved as well. Carrie had to oversee six celebrity chefs preparing food for the show, as well as the disposal of the food. "Some things you can donate, some things you just must trash, but you can't put it in the regular trash because it's all food," she explains. "You must have a special dumpster, so it gets picked up regularly, because otherwise you end up with rats. We made all the food that you see on site. It's especially important to us to be as authentic as possible. And I think people got a taste of Chicago culture – both the heart and grit of it."
Food, lighting, tornadoes, schedules, snow, budgets, locations! Guiding a production through what may seem like impossible circumstances sounds exhausting. But for a dedicated UPM like James or Carrie, they thrive in their role as the problem solver. With passion for stories and people, they are compelled to see a project through to the end. Both are relentless in their "get it done" mindset as they guide productions through uncertainty and obstacles, ready for what may come along the way.