Blog Home
Meet the Rigging Gaffer
A Conversation with Adam Harrison ('Black Panther: Wakanda Forever,' 'Top Gun: Maverick,' 'Spider-Man: No Way Home')
April 4, 2023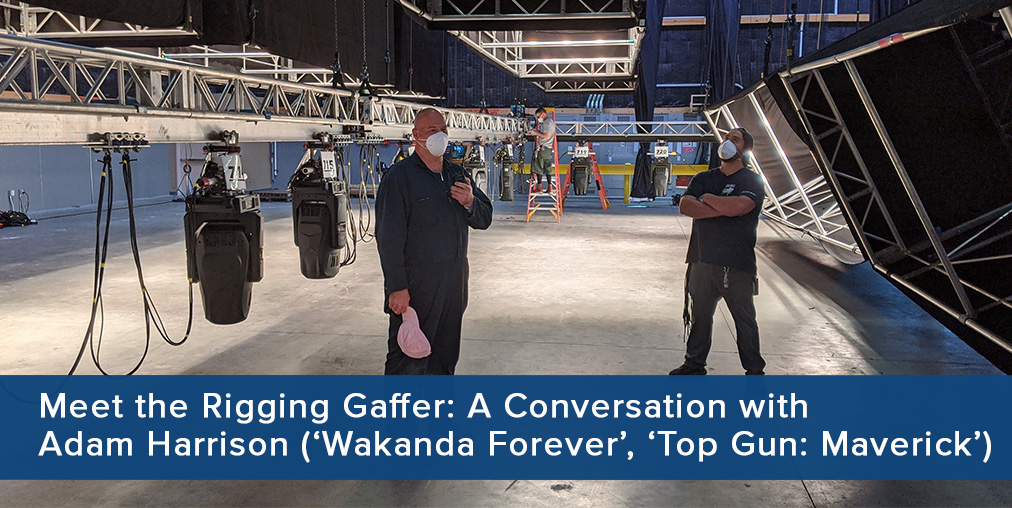 Some may consider lighting to be the most technically challenging medium to work with. For those who master it, lighting is what brings the set of a film or television show to life. Lighting has the power to determine a timeline, set the mood, or accentuate a character. And if you follow the cables, you will find a rigging gaffer like Adam Harrison and his team controlling it all.
In the last 30 years, Harrison has worked on an impressive repertoire of films, including 'Top Gun: Maverick' (Paramount Pictures), 'Black Panther: Wakanda Forever' (Marvel/Disney), 'Spider-Man: No Way Home' (Sony Pictures), and the upcoming, 'Captain America,' and today we get a closer look at how he helps brings the set alive through lighting.
What is the role of a rigging gaffer?
A rigging gaffer designs and oversees the execution of the electrical and data systems for a movie set. The rigging gaffer will work hand in hand with the gaffer and lighting programmer to generate lighting, electrical, and data plots based on the director of photographer's conceptual vision. Under the direction of the gaffer, the rigging gaffer hires and manages a team of rigging, data, and fixture technicians. The team is responsible for installing all the cable, electrical distribution, and data equipment so that electricity and the network data can flow safely from the power source to the lights.
"It's up to me to determine the electrical and data requirements for lighting and the power requirements for other departments, like special effects, and then, create a timeline for installation, all while balancing the costs for the producer," explains Harrison.
A rigging gaffer not only provides power for the sets, but they are also charged with coordinating any interaction between lighting systems with other departments to ensure a seamless experience on screen. For example, the rigging gaffer will determine the types of systems needed for a helicopter searchlight effect, whether it be outside across multiple city blocks, or when the action transitions inside to a set on a soundstage.
Harrison works with several different departments to create lighting elements, and oftentimes, it's a complex process. For example, on 'Wakanda Forever,' the tribal council set is engulfed in flames during a dream sequence. The special effects team not only had the set filled with water, but also brought in a large amount of fire that grew as the scene went on. "It was critical to protect the cast and crew from any interaction between the water and our power, but we also had to coordinate the lighting effects for the fire elements. We intermixed real flame with our lighting fire effect fixtures which then was incorporated into the final visual effect elements overlaid on top for a seamless on screen crescendo," explains Harrison. It took about a month of coordinated effort across multiple departments from the initial discussion to the installation of the rig, to the shoot day. Harrison says, "Those interdepartmental interactions are what makes my job so satisfying."
What is a rigging gaffer's role in pre-production?
In pre-production, the main role of the rigging gaffer is to plan and budget the lighting designs created by the gaffer. There are certain lighting elements and effects that need to be incorporated to bring that vision to life. The key is "understanding the bigger picture to help the creative process move forward by providing flexibility," explains Harrison.
That creative process often incorporates lighting to set a mood or to indicate a time period. While filming 'Terminator: Genisys' (Paramount Pictures), Harrison used lighting to help distinguish between four different decades. "Every decade had a different lighting look and different colors. It didn't necessarily have to say 2049, you could just see, oh, there's a green bluish light. That's the future, right?"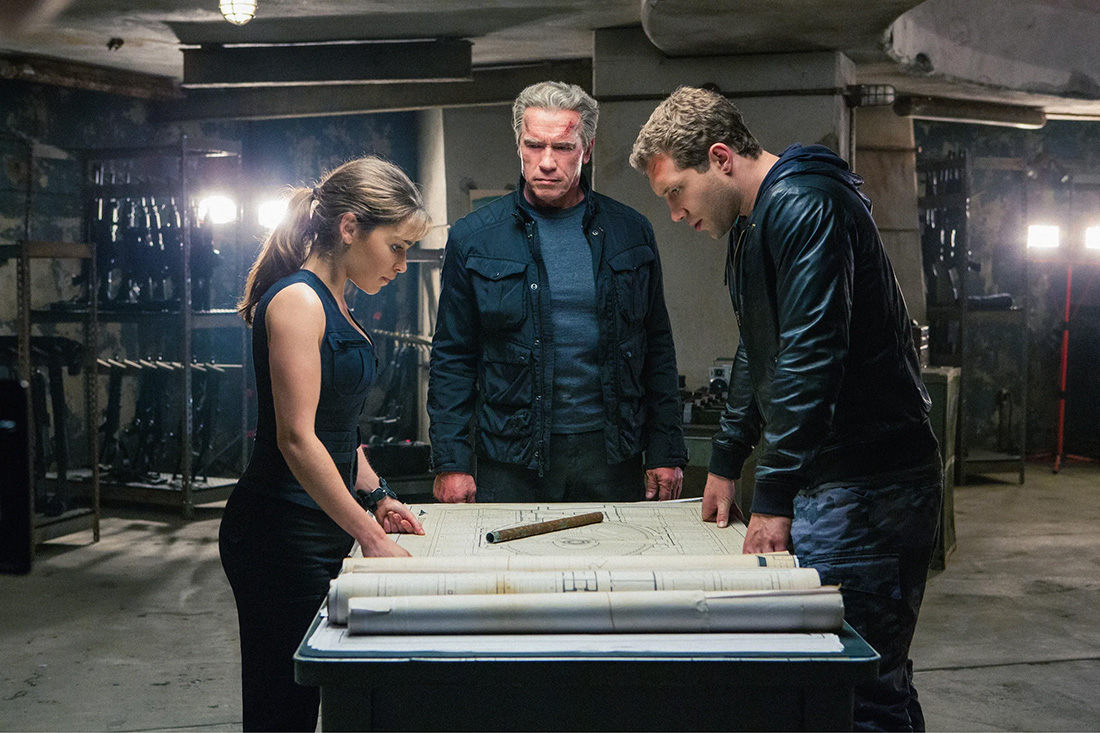 Terminator Genisys / Paramount Pictures
After learning the vision and storyline, Harrison then consults with tech scouts and the art department drawings to map out the location and topography of the scenes. Harrison uses Google Earth's satellite images to get a closer look at the exact locations and its surroundings. "I want to see what the physical boundaries of the set might be, like whether we might be shooting a river that's in a valley, so I can determine what the resource demand is going to look like for that particular set," says Harrison. Shooting a nighttime car chase, for example, might entail planning and rigging lighting for an entire five to eight city blocks. The location determines the complexity of the lighting and the size of Harrison's crew.
Upon reviewing set locations and the number of scenes, Harrison then organizes a team of technicians. On more complex projects, Harrison has had teams working simultaneously in different cities, states, and countries. "The most I've done was 40 to 60 riggers a day for four weeks, and they're not all on one set," explains Harrison, "So I might have four or five teams going at one time in particular locations."
What is a rigging gaffer's role during production?
Before the production crew arrives, the rigging gaffer oversees the installation of lighting systems, troubleshoots for any problems, and makes adjustments to finalize the lighting design. Working on set with lighting, electricity, and data system requires flexibility and impromptu problem solving.
On the set of 'Black Panther: Wakanda Forever' rigging underwater scenes proved particularly challenging for Harrison because of the safety hazards involved. "Sixty percent of the sets had water in them. It was people underwater or people walking around in four feet of water," describes Harrison, "Any time somebody gets in the water, there's electricity, right? Those things should never mix."
On set there were 40-ft. water retention tanks that required submersible pumps. Each of these 480V pumps drew an electrical current of almost 1000 amps per phase, on start-up. Harrison reached out to multiple vendors to find the appropriate ground fault circuit interrupter (GFCI) to minimize the threat of electrical shock. "When I couldn't find the quantity of safety equipment that met our spec., I contacted the United Rentals power division. We worked together to design and build custom panels that worked for the magnitude of our sets. Coming up with a solution to protect the crew, actors, and the equipment certainly made for a lot of sleepless nights. Every day we spent shooting in and around water always had me on edge. It's a lot of stress to carry that burden," explained Harrison.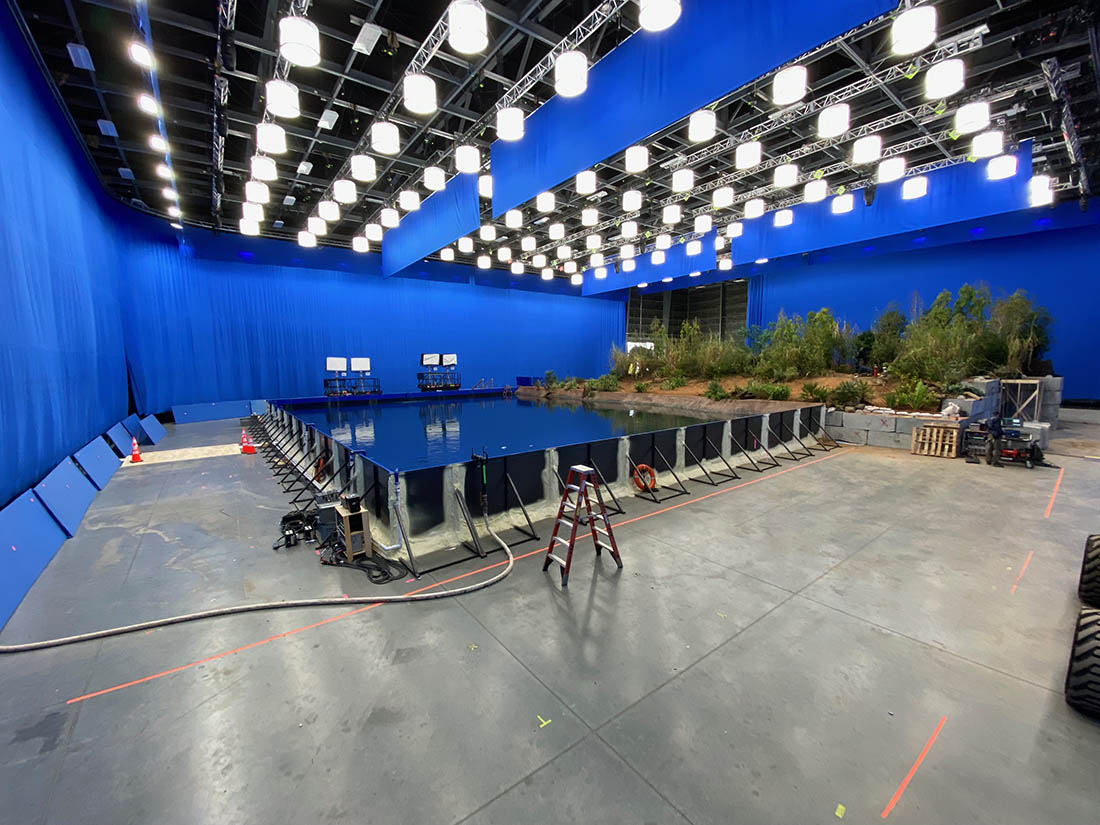 Lighting the set of 'Black Panther: Wakanda Forever' / Courtesy of Adam Harrison
In other fast-paced action scenes, Harrison had to install a large amount of lighting to allow for shooting at a high frame rate. The standard rate of shooting is 24-30 frames per second, yet Wakanda's action scenes were shot at 500 frames per second. "I had to build a system around that need and change the lighting from [what is required for] regular speed. Then, we considered how we were going to manage that data requirement with certain lights," explains Harrison.
Harrison's involvement with the ICLS
During the Covid-19 shutdown, Alan Rowe of Local 728 reached out to Harrison requesting written protocols on how to work in a pandemic. "And so, I, along with about six others on the rigging side, started writing protocols on how we would rig things if we had to be six feet apart." Harrison wrote protocols specifically for the lighting and rigging departments with the objective of justifying how production could still function with state and county Covid regulations in the workplace. Without these approved protocols film production would have ceased.
Harrison participated in various weekly Zoom meetings with national and international filmmakers to review Covid-19 updates and discuss how the pandemic was impacting their work environment and work morale. The meetings gave Harrison the opportunity to network with leaders in the industry and other well-known gaffers whom he had admired throughout his career.
Continuing with that momentum, those virtual meetings eventually became lighting industry round tables on how to advance in the industry, with topics like workplace challenges, best practices, and organizational leadership. "You're trying to communicate these skills from your experience, and share it with the greater industry, which is so crucial!" says Harrison. What started out as a local project became, for many gaffers, a global platform to share their best practices in lighting. This was the birth of the International Cinema Lighting Society (ICLS).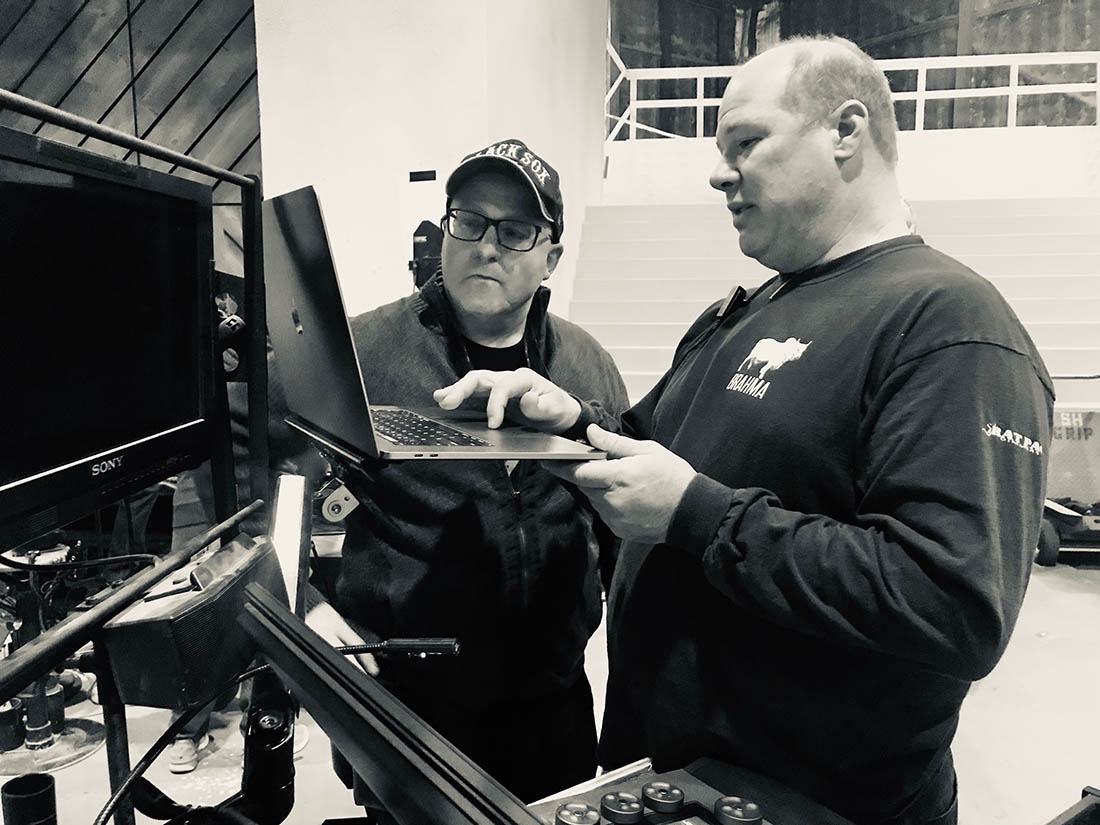 Mike Bauman and Adam Harrison on the set of 'The Tragedy of Macbeth' / Courtesy of Adam Harrison
The ICLS has been a great resource for gaffers, rigging gaffers, and lighting console programmers alike. The organization consists of over 200 members and 70 corporate sponsors, manufacturers, and equipment vendors. It has created a platform for members to interact with vendors and give feedback on products known within the electrical community. "These were interactions and relationships that originally you could only get in live trade shows a few times a year depending on where you were in the world," says Harrison.
Advice for gaffers on the rise
Being a rigging gaffer requires excellent communication, leadership, and creative problem-solving skills under challenging circumstances. Success as a rigging gaffer may involve dedication but Harrison suggests passion is also necessary to stay in the game: "In order to do this job and be on set, you have to want it. You must have a passion for it and be with people with that same passion."
Harrison has had that passion since an early age. Inspired by visual art and motion pictures, Harrison used his family's VHS camcorder to shoot home pictures and make his own short films. He interned at a local commercial production company and quickly learned the process of filmmaking. In 1997, Harrison moved from Houston to Los Angeles to pursue his dream of working in the film business.
Since then, he has focused on improving in the craft of lighting and its technical challenges, and dedicated himself to excelling in his career. When he embraced the idea that failure was both inevitable and necessary to grow, opportunities started coming. "I started to climb the ladder and I suddenly realized I'm in a room with some of the best lighting technicians and learning from them!"
Interested in other filmmaking roles?
Browse through similar behind-the-scenes roles, like Script Supervisor, First Camera Assistant, Set Decorator, and more!