Blog Home
Meet the Script Supervisor
A conversation with Rachel Connors Phillippe ('The Marvelous Mrs. Maisel,' 'Only Murders in the Building')
November 15, 2022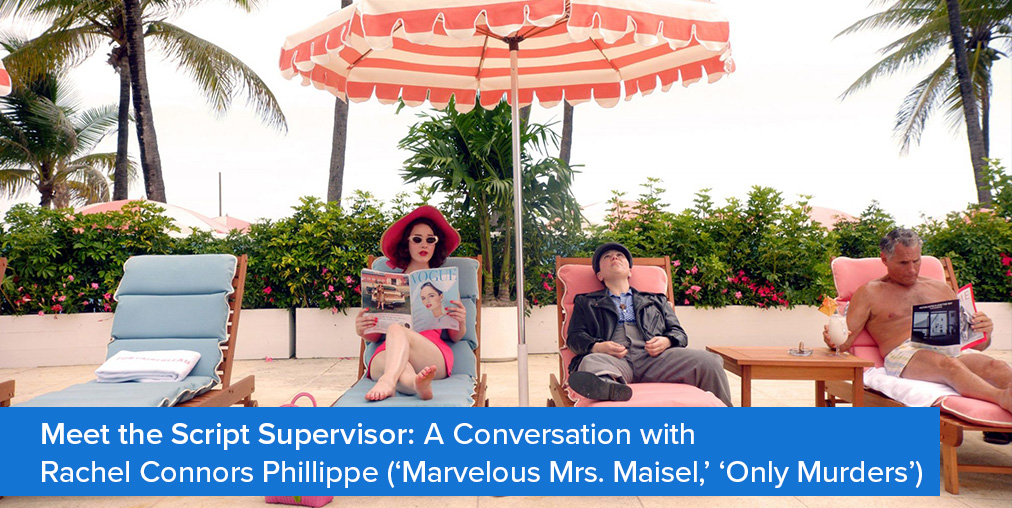 If you were to walk onto a hot set (a term used when cameras are rolling), you would find script supervisor, Rachel Connors Phillippe, near the director and a video monitor, making notes in a binder with an old-fashioned pencil.
We recently had the fortune to sit down with Rachel, most recently known for Amazon's, 'The Marvelous Mrs. Maisel' starring Emmy Award-Winning Rachel Brosnahan, and Hulu's, 'Only Murders in the Building' starring Steve Martin, Selena Gomez, and Martin Short.
A department of one, the script supervisor is a single crewmember who impacts everyone on set. As Rachel explains it, eavesdropping is her superpower. Tuned into the conversations happening around her, she takes notes, proactively shaping the authenticity of a scene. She listens in on the director and DP discussing coverage patterns, how a shot is going to be edited, and even the tone of the actor in a specific scene.
"My role is to make sure that what appears on the script page appears on the screen so that the dialogue is spoken as scripted, and that the action is captured as scripted. And within that, overall, I'm also the person keeping an eye on continuity," Rachel explains.
Her notes are all in service of getting to the heart of what the filmmakers actually need, keeping in mind two crucial questions, 1) What are they using a scene for and 2) What does this piece of the story serve? These questions ensure that the editors have the correct coverage throughout filming. If there's a shot that's working for part of the sequence, but falters at another point, she jumps into problem-solving mode, "maybe we're just having a hard time with a prop, or an actor is struggling with a line, or we have a technical issue," she says. Keeping the bigger picture in mind, Rachel helps the director identify the problems and weigh in on possible solutions.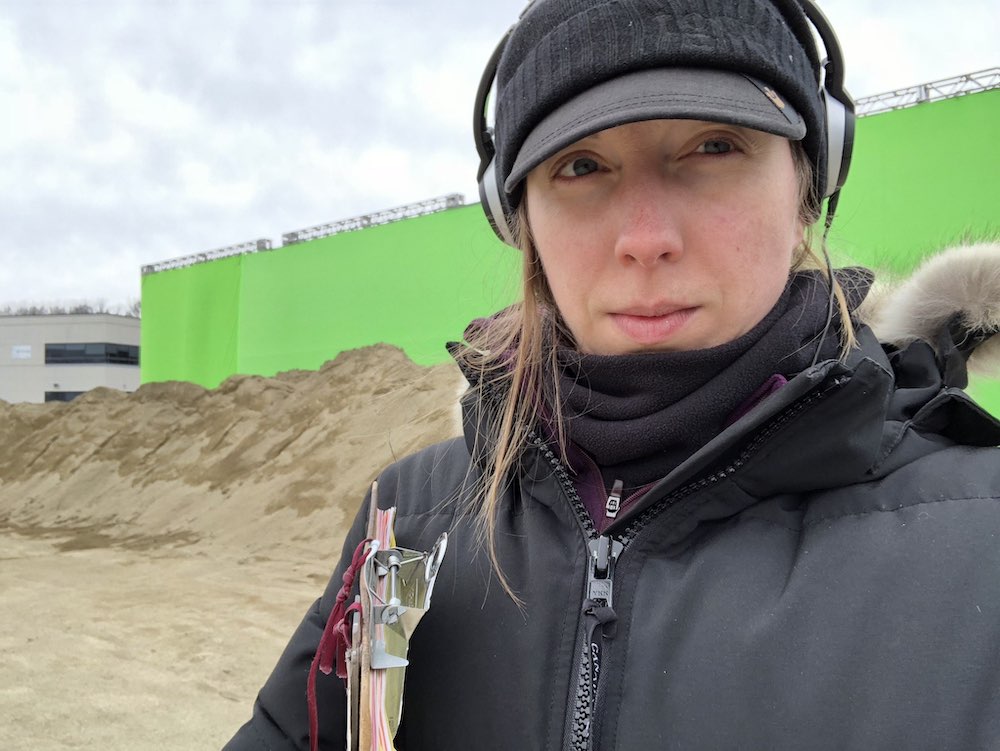 Rachel Connors Phillippe on location for 'The Code Pilot' / Courtesy of Rachel Connors Phillippe
Managing continuity
In addition to keeping the heart of the story intact, continuity is another crucial part of her role. The slightest detail can make or break a scene!
Because scene sequences are typically shot out of order, Rachel is tasked with remembering what happened weeks prior, to ensure both the physical and emotional elements match seamlessly in the editing room. If an actor walks onto a scene with a coffee cup, Rachel will note which hand their cup was in, how full it was when they sipped from it, and when and where they put it down. She also needs to preserve the emotional arc. Was the character anxious coming into the scene? Why?
Rachel communicates these nuances to the director and actors prior to shooting the scene again, so the continuity matches.
Food scenes can also be some of the most challenging for continuity. On 'The Marvelous Mrs. Maisel' when the entire family was seated at a dinner scene, Rachel recalls, "We have an amazing prop department and they are all over it, but it was a little intimidating. The first couple of takes I had 11 principals who were all speaking, all eating, and all passing food in different directions all the time. It tested me, and it made me better. But it certainly was daunting."
Fact checking is another part of the job of managing continuity. This is especially important on period projects. Typically, the research department will cover most of the historical accuracy on a show, but Rachel adds that "there are definitely times on set where we'll have to double check."
On the historical drama 'The Marvelous Mrs. Maisel' Rachel recalls one scene where one of the cast members had to make a call on a payphone and pull out the correct change to pay for it. Rachel had to quickly research how much a phone call cost in 1961 to maintain historical accuracy. It was ten cents.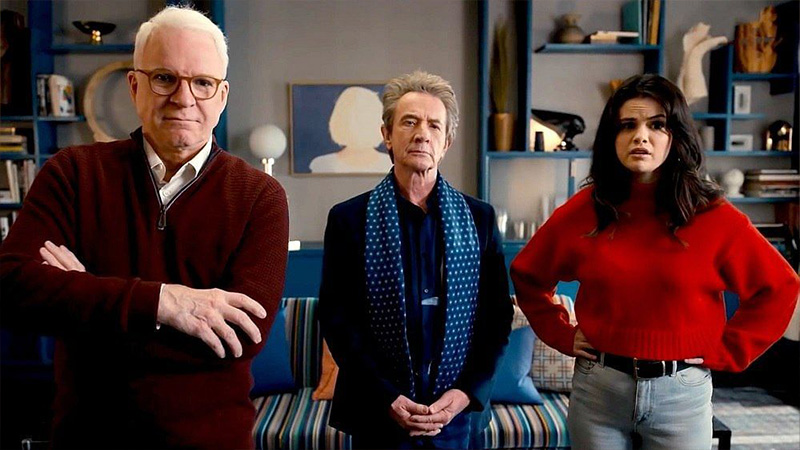 Steve Martin, Martin Short and Selena Gomez in 'Only Murders in the Building' / 20th Century Fox Television
Contemporary productions also have their fair share of authenticity challenges, like revising pop culture references so they won't feel dated in a decade. On her newest show, 'Only Murders In the Building,' clues that being in one episode may pay off in another episode, later in the season. "That's a challenge because they're not always clear," admits Rachel. An actor may take her cell phone and stick it in her pocket, so I learned on that show to ask, 'why is she sticking it in her pocket?' and 'what do we need to know?'. You find out five episodes down the line, it's because that phone was recording the whole scene, so it's a significant detail."
A day-in-the life of a script supervisor on set
Working in television gives Rachel scheduled hours so she can be a mom, but it's also faster paced than working in feature films. Revised script pages may not be available until right before shooting. This adds to the pressure of her job, making it more difficult to follow the story arc and determine what elements are important or not.
When Rachel receives the script, she breaks it down by designating how many pages each scene will be and determines (with the help of the writers) the date and time of the scene in the timeline of the story. This organization helps her track hero props, makeup, and costumes.
"I'll coordinate with wardrobe or makeup if there's an element in a sequence that needs to degrade in a certain way, like a black eye or a shirt. It's nice to touch base with those departments ahead of time so we can be in sync. Then when we're on set and I see it, I know that we're in the right place".
The same goes for other departments, "When a certain prop note comes up in a rehearsal from the director, like an actor needs to be holding a newspaper, but it's not something that's scripted, I might either use the assistant director (AD) or the prop person, depending on my relationship with those individuals, and make sure they have it on hand."
This level of detail and forward thinking is what makes Rachel Connors Phillippe skillful at her job.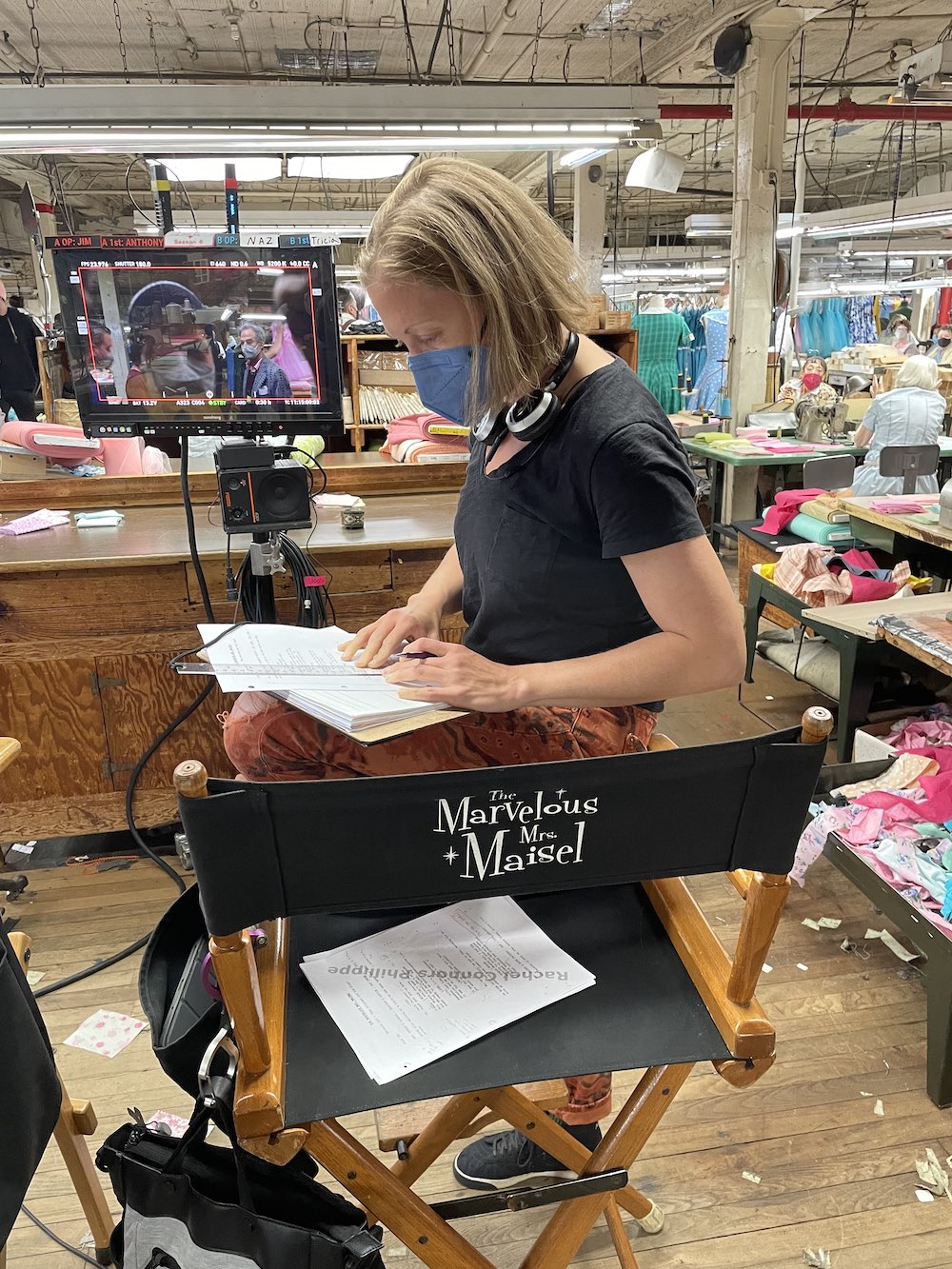 Rachel on set for 'The Marvelous Mrs. Maisel' / Courtesy of Rachel Connors Phillippe
In advance of each shoot day, Rachel will review continuity photos and stills to re-familiarize herself with scenes coming up. "I log everything we shoot for the day. I'm the only one on set tracking the sequence of what we've shot; which camera rolls, and when sound rolls. I'm generating notes that describe every shot and compiling the camera information, like the lens size and any specific notes on individual takes. My responsibility is to determine whether a take is complete or incomplete. I also track where things didn't match or moments when a director loved how a line was performed."
At the end of the day, Rachel scans her hand-written notes and submits them to production. Overnight, the footage is downloaded, sorted, and sent out to the editors. As early as the next morning, the editors are already cutting the work from the day before. That's why Rachel is extremely detailed with her notetaking. The voice that connects what's happening on set to post-production, it is the script supervisor's thoroughness that clarifies and prevents misunderstandings.
Becoming a script supervisor
Rachel credits her diverse background working in every film department to her success as a script supervisor today.
Her love of storytelling began in high school working in theater. Later in college, she dual enrolled in both education and filmmaking at Boston University, taking classes in editing, writing, cinematography, and lighting. After graduating, she started out in the camera department and worked her way up as a camera operator and then as a DP.
Still unsure of which department to specialize in, and with pending union offers to join the IATSE Local 600 (International Cinematographers Guild), Rachel connected with the NYU and Columbia film programs to work on student films and continue expanding her on-set experience and network. She worked as a grip, electrician, boom operator, costume supervisor, and prop supervisor. "The only thing I hadn't done was script supervising," she says, but soon after working all those roles, she finally interviewed for just that, a script supervisor role on an indie feature. She quickly fell in love with the position and has never looked back.
All these positions paid off for Rachel, because as a script supervisor she explains, "I often have contact with every department on set during my workday. So, understanding how everyone works and communicates helps."
Because of her editing experience, she says "I watched how footage was cut together. I have more of an understanding of what it looks like on set to what it looks like as a final product. Editing informs me on the types of coverage we need."
"I also took a lot of acting classes," adds Rachel. "Not so much to be an actress, but to understand the process on the other side. Acting helps me determine the best time and methods to communicate with the actors when I have a note to give, because everyone takes direction differently."
Training the next generation of sript supervisors
In recent years, shooting with two cameras simultaneously has become the norm, along with cutting out rehearsing and going direct to shoot. These changes, coupled with constant script revisions, can be a lot for one person to handle. Currently in the US, script supervisors don't have assistants, but that could potentially change in the future. Canada and the UK do hire assistant script supervisors, and the US may not be far behind.
Rachel is a proponent of educating the next generation of script supervisors when her schedule allows, "It's a hard position to train for because it's so singular. During my career, I've been lucky enough to mentor people, but often I'm not allowed to bring them to set for various confidentiality and budget reasons."
While aren't many formal training programs to learn the art of script supervising, Rachel recommends these programs and organizations to start:
While on-set experience is best, Rachel advises reading these books that helped expand her knowledge about the position:
In addition to these resources, Rachel believes the best way to learn is by shadowing a script supervisor on set. "Watching someone work is immensely helpful," she says, "because you can observe so many personalities and how to deal with them. A book can't teach you about how to conduct yourself on set."
While script supervising is a niche position, there's always opportunities to gain on-set experience and meet people on student film projects or indie shoots, much like how Rachel first started out. Explore film schools or your local film commission on this map and see what opportunities could be in your own backyard.