Blog Home
Meet the Production Coordinator
A conversation with Tim Smith ('The Good Doctor,' 'Okja,' 'Blair Witch')
May 30, 2023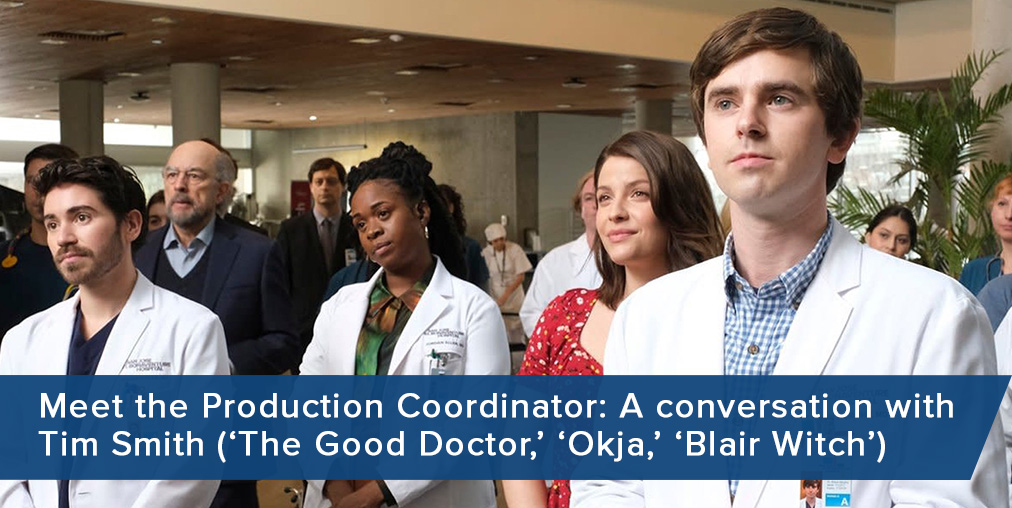 Imagine what happens behind-the-scenes on a film set: the cinematographer setting up a shot, an actor rehearsing lines, a director blocking a scene. The one who you may not picture, however, is the person coordinating all these moving parts: the production coordinator. 
Tim Smith is one of these talented logistical masterminds, overseeing all the details that go into making sure that everything, and everyone, is in the right place at the right time. Twenty years into his career, Tim Smith's credits include 'Okja' (Netflix), 'Blair Witch' (Lionsgate Films), 'Bates Motel' (A&E), and most recently the television series, 'The Good Doctor' (ABC), and today we get a closer look at his dynamic role as a production coordinator.
What does the production coordinator do?
As the point of contact for the entire production, production coordinators act as the liaison between department heads, crew members, and actors. "We're the hub. All sorts of information flows through us and gets disseminated appropriately to the different departments, so that everybody can remain on schedule and on task," says Smith. 
The creative side of production may get all the glory, but as Tim Smith demonstrates, it's the administrative roles that determine if production truly goes smoothly. The duties of a production coordinator go beyond publishing script updates and call sheets or ordering supplies and equipment. "If the show needs something done, you must get it done. You're on call 24/7," says Smith. 
Tim Smith and his team carefully balance all the needs of the crew in a timely manner, while still making sure they are in line with the requirements of the production company. "We touch base with every department daily. It's just the nature of our business," he says. "You have to ensure everyone's got their job done and doing what they need to do to get things moving."
As a production coordinator, Smith works with producers and production managers in getting approvals, requesting permits, and signing off on memos. While working with the creative departments, such as costumes, Smith ensures that cast members arrive on schedule to fittings so that alterations can be done on time for principal photography.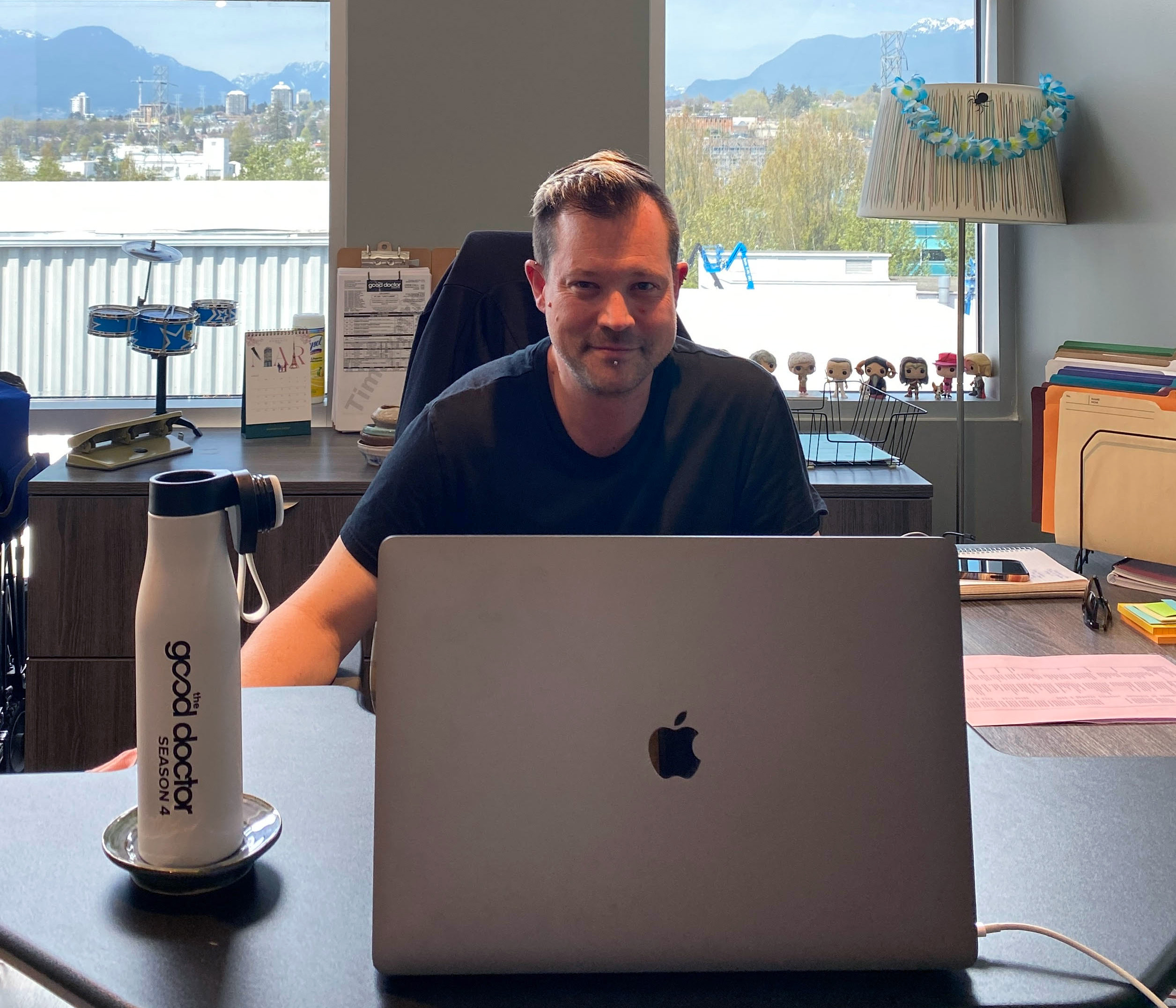 Tim Smith / Courtesy of Tim Smith
And when other requests come in, such as when the grips and electricians need special lighting equipment, or the camera crew needs lenses or rain spinners, Smith is always there coordinating to get the proper tools needed for the job. He also works closely with unions as he is responsible for ensuring actors and crew employment contracts are signed and submitted.
Working in this fast-paced environment is not for the faint of heart; 8–16-hour workdays, meeting everyone's demands, and high levels of engagement make production coordinators the unsung heroes in filmmaking. Smith has the right attitude for the job though: "I like the hard hitting, 'go, go, go' with production. I like that constant nature of not knowing what's coming, but you must be prepared to deal with it."
The facilitator of smooth transitions
A production coordinator normally handles the logistics of the production crew, paperwork, and equipment. What sets Smith apart from the typical coordinator, however, is his expertise in handling international travel and immigration accommodations. With projects shooting in multiple locations throughout the world and crew members from various countries, it is Smith's duty to facilitate the smooth transition of equipment and crew members from one point to another in a safe and timely manner.
While filming the sci-fi adventure 'Okja,' Smith helped transition equipment between three different countries (South Korea, New York, and Canada) and crew from all over the world, which required establishing production offices in all three locations. "It's a lot of moving parts of people and equipment, and you want that continuity to spread across the different filming venues," says Smith.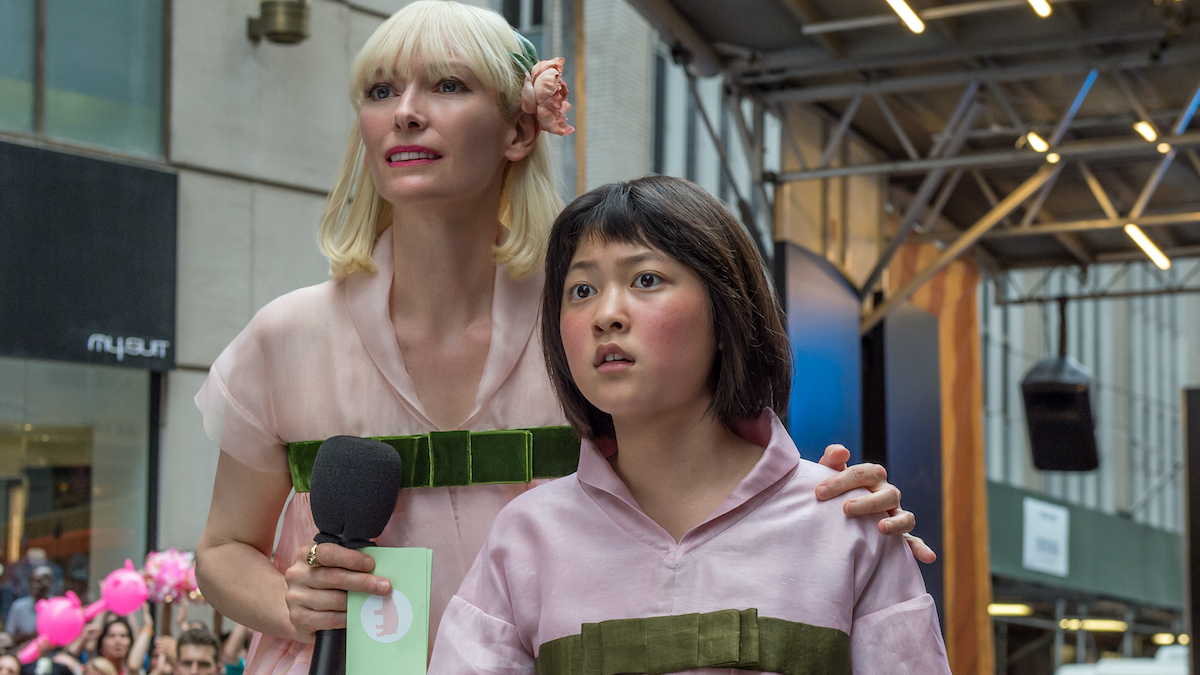 Tilda Swinton and An Seo Hyun in 'Okja' / Netflix
Although Smith's projects have taken him across the globe, many of his productions have been based close to his home in Vancouver, Canada, which is also one of the largest film and television production hubs today, coined the epicenter of Hollywood North. 
In his latest television series project, 'The Good Doctor,' much of the filming takes place in Vancouver and greater British Columbia. "Television tends to hire a lot more local people," says Smith. "You do get some of your keys that come from out of the country, but pretty much everybody else on our crew, aside from writing staff, are local here in Vancouver." 
Travel restrictions during the COVID-19 pandemic proved to be particularly challenging for Smith, mostly because actors had to be quarantined before arriving on set by a specific date. While filming 'The Good Doctor,' the government of Canada closed its borders to international travelers from the UK. This presented a significant obstacle when the show's lead actor, Freddie Highmore, who is originally from London, travelled back home for the holidays. Smith and his team had to quickly scramble to get Highmore and his wife tested for COVID-19 and on a flight from London to Amsterdam and then bypass travel restrictions by flying them from Amsterdam into Vancouver. There was a tight deadline as Highmore and his wife had to quarantine before filming, otherwise production would have shut down.
The partnership between a production coordinator and their team
Behind a successful production coordinator is a hard-working crew of production assistants. 
With so many hours spent in production and working with various departments, Smith points out how important it is to have a good team. "You need to get along with these individuals because you're spending more time with them than you're going to spend with your family, and you're packed into an office together." 
Building and maintaining a team are some of Smith's greatest skills; he has worked with some of the same assistants and other members on his team for up to 15 years. A team with mutual respect and a strong work ethic makes a hard day's work easy to conquer. "While I'm the person in charge, I need to rely a lot on my crew as well," says Smith, "I'm there to help answer their questions and make sure that we can get everything done."  Building a rapport with fellow colleagues can never be underestimated, especially when working together on a project like a multi-season television show can last several years.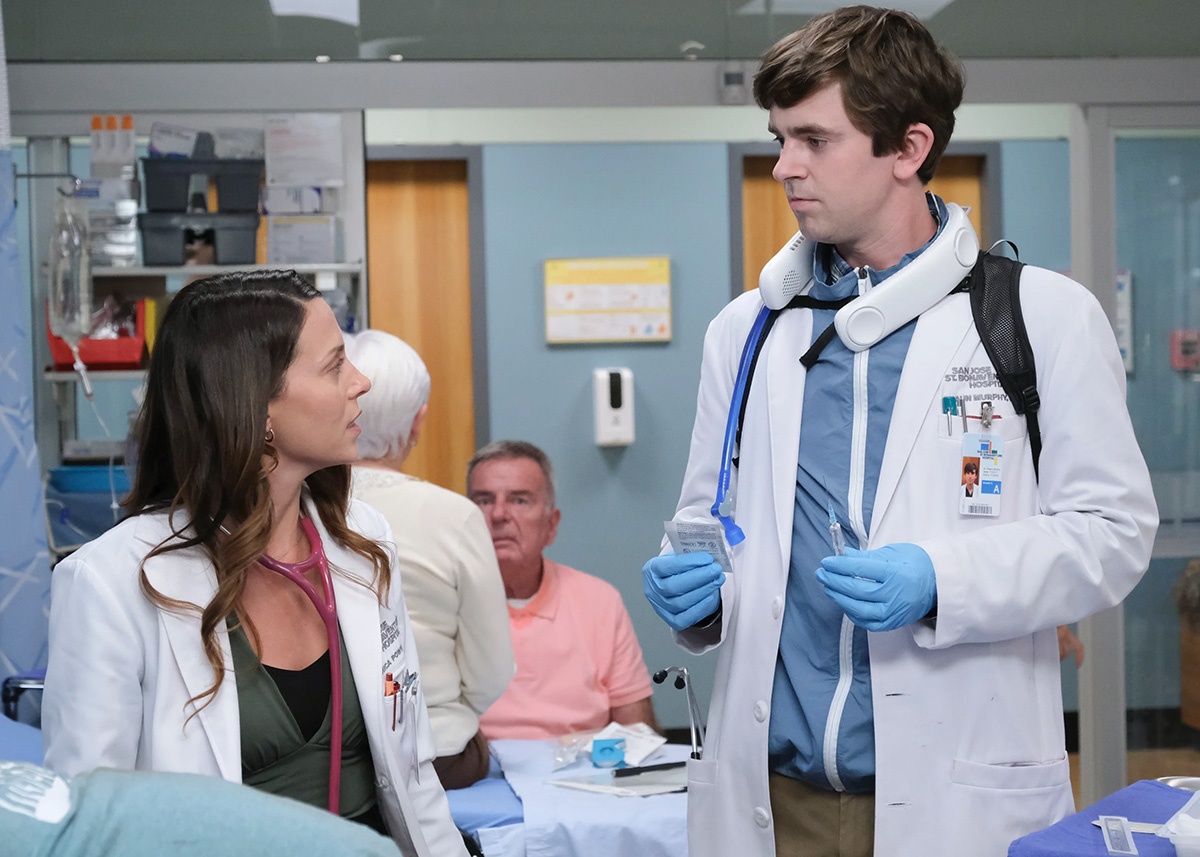 'The Good Doctor' / ABC
Becoming a production coordinator
For those who want to get into the film industry by becoming a production coordinator, Smith advises to be proactive in finding every small opportunity, whether it's responding to a job posting on a filmmaking Facebook group or reaching out to your contacts. "You've got to get your foot in the door," advises Smith, "And then, networking and being personable gets you further along in the industry."
Smith originally attended the University of Saskatchewan with plans to become a doctor, but ultimately followed the passion that was a personal hobby–his love for films. "I'd always been an avid collector and watcher of movies and I loved it" recollects Smith, "and getting into film at the University, I just couldn't get enough!" 
Through his personal network, Smith landed the position of trainee production coordinator for the TV series 'Corner Gas' (CTV). He would go on to become a production coordinator for the Ryan Reynolds and Amy Smart film 'Just Friends' (New Line Cinema), and the Showtime series, 'The L Word.'   
Pursuing a production coordinator position in Vancouver requires belonging to a union and working at least 90 days in the industry before applying for membership. But that doesn't guarantee anyone a job. While the head of the production department at the union might have everyone's contact information, Smith advises, it's the connections you make in the industry that will get your info passed on to the right people. In some cases, Smith shares, he finds new recruits through old contacts and past colleagues.
Three skills of a successful production coordinator 
A successful production coordinator must possess an arsenal of both hard and soft skills, and the ability to handle various tasks simultaneously under high pressure. The three most essential skills of a great production coordinator, according to Smith, are: 
Organizational skills: As the central hub for all production information, the job of production coordinator requires diligence and strong attention to detail to receive, interpret, and share vital information with the appropriate people at all levels of the production. Not to mention ensuring all paperwork is taken care of. Having the right personality can also be an advantage; "you definitely need to be the sort of type-A perfectionist" says Smith.

Interpersonal skills: Whether it's a grip, an actor, or an executive producer, members of the production will come to you with needs; as the production coordinator, it's your job to provide solutions. While strong communication is an essential skill to success at the role, the key is to remain level-headed while doing so. "It's very important to stay as pleasant as possible at all times because it can get very stressful," advises Smith. 

Team building: It takes time to develop rapport with a team of people, but once it's established, a strong team can make every workday more productive. Building strong relationships with people you can trust, as Smith has done with many of his long-time colleagues, has helped him achieve success in his career. "The most important thing for me, when it comes to working in the industry, is having a good team with me, making sure that my first and second assistants are good people," asserts Smith.
Interested in other filmmaking roles? Browse through similar behind-the-scenes roles, like Script Supervisor, First Camera Assistant, Set Decorator and more!