Blog Home
Meet the Producer
From concept to the red carpet, the producer is there to keep the production moving forward
June 15, 2021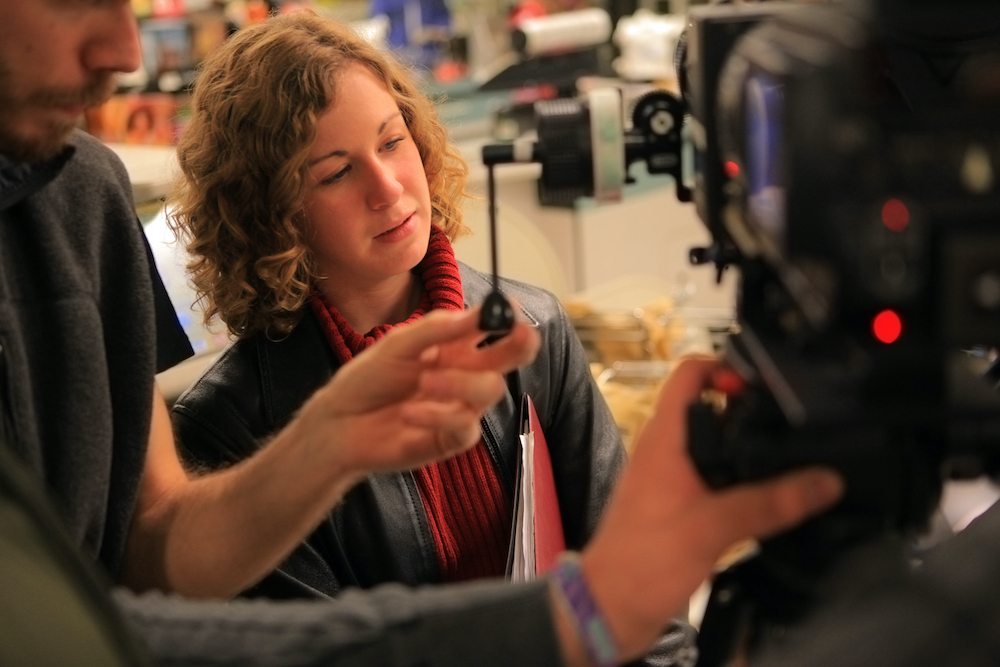 "And the Oscar goes to"…. When a movie wins Best Picture at the Academy Awards, it's a producer who often makes the acceptance speech first. That's because if a production – be it film or television – has something like a military general, it's the producer. There are few roles that touch every part and stage of a project like a producer. "You are kind of the center of the juggernaut," says Alexis Alexanian, who has produced independent films like 'Tape', 'Tadpole', 'Pieces of April', and 'Maggie's Plan'.
Here's a look at the role and responsibilities of a producer and what paths can be taken to become one.
What Does a Producer Do?
Producers enter "the juggernaut" early. "Traditionally, the producer is [there] at the very beginning trying to put the major pieces together," says Alexanian. It starts with seeking out promising material for a project, whether it's an original script or acquiring adaptation rights to books, articles, podcasts, and more. Producers will then draw on existing connections with talent (director, writer, cast) to attach them to the project, then pitch it to studios and/or financiers.
Financing is a key component of the production process, especially for the independent producer. The key financing components a producer needs to draw from consist of equity, debt, pre-sales, and production incentives. Equity is the sale of interests in a film or TV project in exchange for funding for the project. Debt is when a lender gives the Producer(s) money in exchange for a promise to repay the debt over time (in the overall financing formula, you want to keep the debt component as low as possible). Pre-Sales are commitments from distributors to purchase (distribution territories) before a production is completed, and producers use these pre-sales as collateral for loans to finance their projects. Production Incentives are subsidies (e.g., rebates/grants & tax credits) awarded to Producers who film in certain cities, states, and countries (hiring locally, spending locally, and promoting tourism, economic stimulus, and job creation in that location). These incentives not only benefit the Producer(s) but are beneficial to the respective city, state, or country's economy. Similar to pre-sales, producers use production incentives as collateral for loans to finance their projects.
Entertainment Partners also offers the financing of pre-sales and production incentives to producers to meet their budgeting needs. Please refer to EP's production incentives pages for more information about production incentives offered domestically and internationally.
Once a green light has been given, most subsequent major decisions go through the producer. They weigh in on negotiating contracts, casting and crew, location scouting, budgeting and production incentives (which could subsidize up to 50% of a productions' budget)as well as script changes and scheduling, Line Producer or Production Coordinator's vendor and equipment plans, as well as what key creative partners the director wants.
The goal is to get everything in place so above-the-line talent can work freely, with minimal worry about logistics. Then, once production starts, a producer sees that through by helping everything run smoothly – with a special focus on keeping things on time and on budget. During post-production, the producer will share thoughts on edits, advertising, distribution, and public relations.
How Do You Become a Producer?
There are "creative" producers and "financial" producers, and there is no definitive path to becoming a producer, but there are reliable ones. Education is one way, as some producers have pursued literature and business college degrees to enable them to tackle the creative and/or financial aspects of the job. Film programs are another route, offering the benefit of hands-on filmmaking experience, formative creative relationships (which can be carried forward as careers advance) and easier access to internships.
Even without a formal education, an internship with an established producer, agency, or production company is a common entry point (along with other positions like reader or runner). From there, training upwards looks much like Alexanian's early career trajectory. "I earned my stripes as an assistant production coordinator, took a test to be in the union, and then became a production coordinator," she says. From there, many find themselves on the path towards becoming a unit production manager or line producer and eventually a producer. In addition to "production coordinator," many producers learn the process from the bottom up, starting as a Production Accounting Clerk or Production Assistants and advancing to Production Accountants (aka Key Accountant or Production Controller). Entertainment Partners offers many courses as part of the EP Academy, including Production Accounting 101 & 201, SmartAccounting 101 & 201, and more, to help train people in the field of production accounting. If you're interested to learn more about this career path, check out our article Meet the Production Accountant!
There is, however, an alternative way, one Alexanian took after her production coordinator role. Having learned many of the day-to-day logistics of filmmaking, she channeled her entrepreneurial spirit and began producing independent films on her own. That step, in fact, is one some go straight to – leaping past education and paying dues – by producing their own short films or small feature films right out of the gate.
What Makes a Great Producer?
Given how many people producers interact with and manage, the job is made considerably easier (for all involved) if a producer is able to work and communicate well with others. Understanding people – their personalities, needs, work habits – is also critical. "I say I have a Ph.D. in behavior science," jokes Alexanian.
Psychological know-how compliments a producer's ability to navigate deals and enable fruitful collaborations. It can also assist producers in hiring those who are best suited to help them, as well as how to delegate to them. "Part of [the job] is hiring the right people and supporting yourself with the right people," says Alexanian. Once psychological insight has helped the selection of collaborators, it can help determine who should do what. "A lot of it is communication around defining roles and responsibilities."
A great producer, perhaps above all else, is well suited with a love for storytelling. Not just because a tough job like producing requires a passion to sustain you, but because that love also translates to understanding storytelling. The love of storytelling, in turn, allows producers to identify good material and help bring it to the screen. Which allows producers to, perhaps, one day stand on the stage of Academy Awards, holding a statue with pride.."I'd like to thank the Academy…"