Blog Home
Innovations in Production Incentives
How emerging local initiatives are driving productions to new jurisdictions
April 27, 2021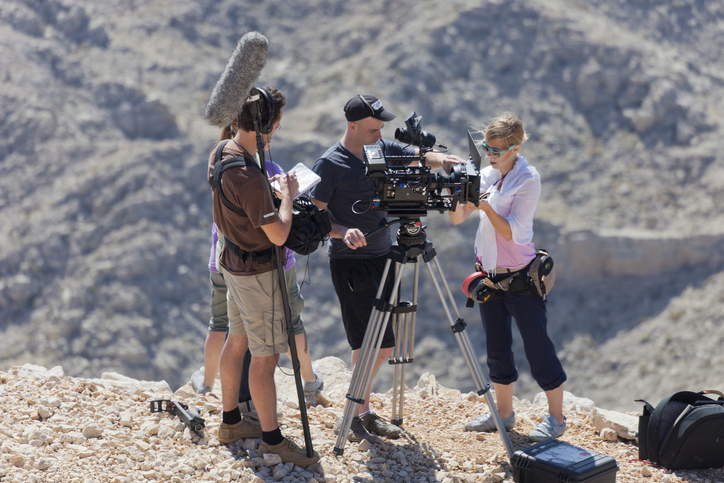 Production incentives are becoming a critical part of the film and television financing formula, for both large studios and independent producers alike, impacting business decisions and local economies in new and exciting ways. While many regions have acted as major hubs for filming over the past few years, a growing number of locations are offering new production incentives, and should be strongly considered.
Innovation comes in many forms, and that includes production incentives. After all, they are always changing! Whether it be rebates, grants, or tax credits, production incentives are all unique and impactful in the various ways they can be utilized. And due to the powerful impact incentives can have, it is important for filmmakers to be aware of where these changes are occurring, and how they can help in financing projects up front.
I was recently honored to moderate a virtual panel as part of the Sundance film festival, joined by industry leaders and film commissioners from Utah, Kansas City, Oklahoma, Texas, New York, Florida, and Minnesota who are making strides in their local municipalities to build out robust tax incentive programs that foster a dynamic filming environment to attract independent and studio projects alike.
These important changes are designed to boost the local economy, support the increased demand for content, and help film professionals get back to work in safer, less densely populated cities.
Throughout our discussion, these representatives shared great insights, highlighting benefits and nuances of their jurisdictions that locals know and love, yet may go overlooked by filmmakers unfamiliar with their locations.
Locations Can Double for Each Other
Often, many smaller cities can take on the role of multiple locations, given the varied landscapes available beyond the coasts. Tava Sofsky, Director of the Oklahoma Film and Music Office, notes, "We have 12 ecoregions in Oklahoma... some of America's most diverse."
Virginia Pearce, Director of the Utah Film Commission, emphasizes, "You can have that city core, but you can be in the mountains, salt flats, or Red Rocks in an hour," and Stephane Shannon, Kansas City Film Commissioner, shared of her jurisdiction, "We're doubling for locations like New York, Ohio, Kentucky, and Los Angeles."
The diverse terrains are just the beginning, according to Pearce, who suggests leaning into untapped funding opportunities, "You can capture an additional 5% [on top of the 20% standard tax incentive rate] if you hire a certain percentage of Utah talent or crew, or shoot in a rural area."
Commissions Aid in Resources and More
Local film commissions are a wealth of resources who can help you find talent. According to Brian Gannon, Director of the Austin Film Commission, "If you call the film commission, there are a dozen ways to save additional cash on your production." Shannon agrees, "If you want to use a local artist from the Kansas City area...like a painter, ballerina, or other artist...or do a testimonial on your Kansas City experience, you can get an uplift;" she further adds, "We want to celebrate with you, and come to your screenings and events. We are right there with you."
Commissions help you get connected even with local investors and brands who might have a vested interest in your project.
Knowing that these cities want to help is a real incentive to embrace the excitement they have for productions. Sofsky suggests, "The local community liaisons, whether there is a film office or not...it's just really creative, we're so collaborative. Maybe that first question is about incentives, but don't forget about the lower cost of living...we are all wanting people to reach out to us, we just want to pave the way and open doors...we know people on all levels…Commissions can help guide you on how to get more of a percentage back."
Sandy Lighterman, Film and Entertainment Commissioner for Miami Day County in Miami Florida, echoes this point "Commissions help you get connected even with local investors and brands who might have a vested interest in your project."
And if your budget is low, it's definitely worth asking the city for help. According to Tim Clark, Director of the Buffalo and Niagara Film Office, "If you can't really afford certain costs, we'll get very creative about providing municipal services like street closures...and sometimes we'll do it at no charge if we can use existing police personnel without bringing in people on overtime."
As more productions move to smaller cities for incentives, the industry is experiencing an uptick in film stages being built at rapid speeds. Clark shares his experience first hand, "[I'm seeing] a proliferation of sound stages… we're just building them like crazy here," and reports that, "Commissioners around the country are getting calls [from producers asking] how much stage space is available."
New sound stages are also popping up in middle America, like Oklahoma. Sofsky notes, "People here…local investors coupled with local professionals…saw an opportunity with the demand for more content…so we have two new sound stages."
Lower Costs and Lower Risks Also Benefit Local Economies
In addition to tax incentives encouraging productions to move, Shannon explains "[There are] hidden savings in rural areas… low cost of living, the fees for pulling permits is lower, hotels and restaurants are lower than Chicago, LA, or New York." Philip Gilpin, Executive Director of the Catalyst Story Institute, agrees, "You're getting your incentive on a cost of life discount… and that's so important for these smaller locations, especially in the smaller and indie film budget range under $5 million dollars."
Filming in smaller cities is also now considered safer, in light of COVID-19, explains Clark. "People are looking for a New York tax credit, but without the density of the city, so we are getting a lot of calls [from producers] to find a safe place and feel better about being distant from one another."
Giplin points out that filming in smaller cities is also helping to boost the economy after so much job loss due to the pandemic; "That instant influx for jobs, hotels, and restaurants… I don't know a quicker way to bring in more money with the least amount of time…you don't need to build a factory or do all these things that [in] other industries might take two years to ramp up…I'm excited because as soon as these films start filming, it's going to spark excitement."
In a terrible time, [filming] has been a silver lining that the production industry has been able to funnel money into small towns.
Gannon agrees, "In a terrible time, [filming] has been a silver lining that the production industry has been able to funnel money into small towns."
Lighterman sees the entertainment industry as a pivotal pillar that is holding up the foundation of our economy, "People now see this [entertainment] industry as a new vertical, a new emerging industry like oil and gas. Film and music are renewable resources that are not going to go away."
With the increase of productions filming in smaller cities, crewing up locally is another important issue. While resources have not always been plentiful in lesser known jurisdictions, compared to the major filming hubs on the coasts, as productions move inward from the coasts, smaller jurisdictions are working to build up local, talented crews. Gilpin shares that in the midwest, "We're working on crew academies and PA schools," and in Oklahoma, Sofsky says, "[We have] two new film training academies and they've been pumping out entry level crew like production assistants...that are already on films here."
Industry professionals, legislators, and cities across the US are working together to create thriving production communities and industry resources, and building a brighter future for entertainment. If you are looking to start your next project, consider all of the benefits that a smaller filming jurisdiction has to offer.
To learn how lesser known US cities and their film commissions could offer the best funding opportunities to get your next project made, the full panel is available on-demand now at TheProductionCommunity.com.
For additional resources on production incentives, visit our production incentives page or click the Contact Us button.
Panel Guests
Philip Gilpin | Executive Director, Catalyst Story Institute. Board member, Upper Midwest Film Office
Sandy Lighterman | Film and Entertainment Commissioner, Miami-Dade County, FilmMiami
Tava Sofsky | Director, Oklahoma Film and Music Office
Virginia Pearce | Director, Utah Film Commission
Brian Gannon | Director, Austin Film Commission
Stephane Shannon | Kansas City Film Commissioner
Tim Clark | Director, Buffalo and Niagara Film Office
Andrew Peterson | Executive Director, FilmNorth