Blog Home
Atlantic Canada Expands Film Incentives in 2022
Enhanced production incentive programs attract industry to Newfoundland & Labrador, Nova Scotia, and Prince Edward Island.
August 16, 2022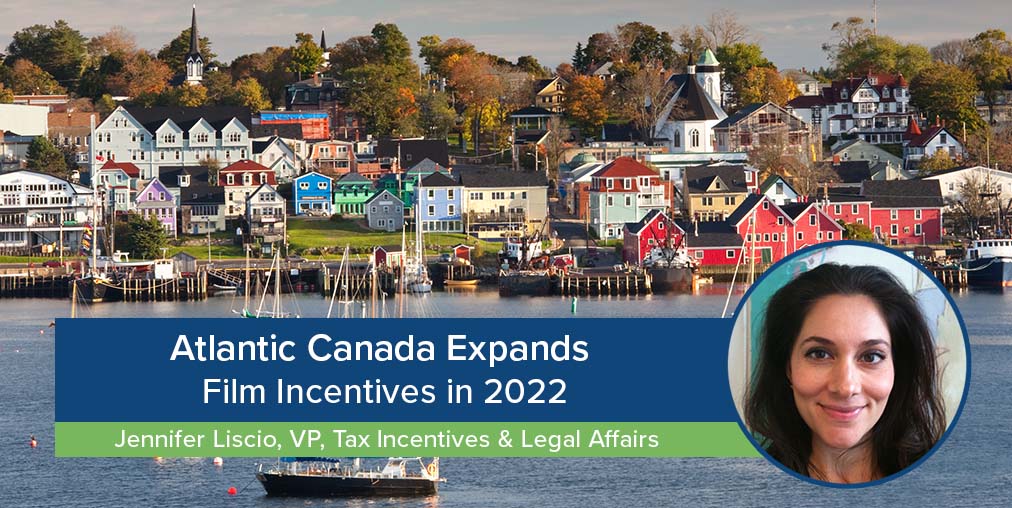 Many Canadian provinces offer fully refundable film and television tax credits for qualified expenditures. Most producers are aware of incentives in 'the big three' - Ontario, Quebec, and British Colombia – but there's more to explore. In a recent panel discussion, I was joined by local experts to provide details on lesser-known up-and-coming film incentive programs in three provinces along the East Coast of Canada: 1) Newfoundland and Labrador, 2) Nova Scotia, and 3) Prince Edward Island.
Watch the Master Series webinar, Production Incentives Update: Atlantic Canada
Film and television incentives in Newfoundland and Labrador
Laura Churchill, Development Officer at the Newfoundland and Labrador Film Development Corporation, has spent more than two decades working with local incentive programs. She shared with us why her province is a great place to film and updates us on what's new in Newfoundland and Labrador.
The appeal of filming in Newfoundland and Labrador
"Newfoundland and Labrador is known for its dramatic vistas," Churchill says. "We boast 17,000 kilometers of coastline, which includes everything from dramatic cliffsides to beautiful beaches."
Disney recently selected a particularly magical spot in Newfoundland to portray the fictional island of Neverland. Producers will also find a convincing stand-in for working-class South Boston or picturesque seaside towns that mimic coastal Maine.
Newfoundland and Labrador investments in production infrastructure
Responding to the need for qualified crew, Newfoundland is putting funds toward opening a film school, which will offer training programs for entry-level above-the-line, below-the-line, and post-production positions. "Our government recognizes that accessing enough crew can be tough, and we're moving at lightning speed," Churchill explains. "We invested $11 million and will have 100 new graduates coming into the local crew base every year to fill that gap."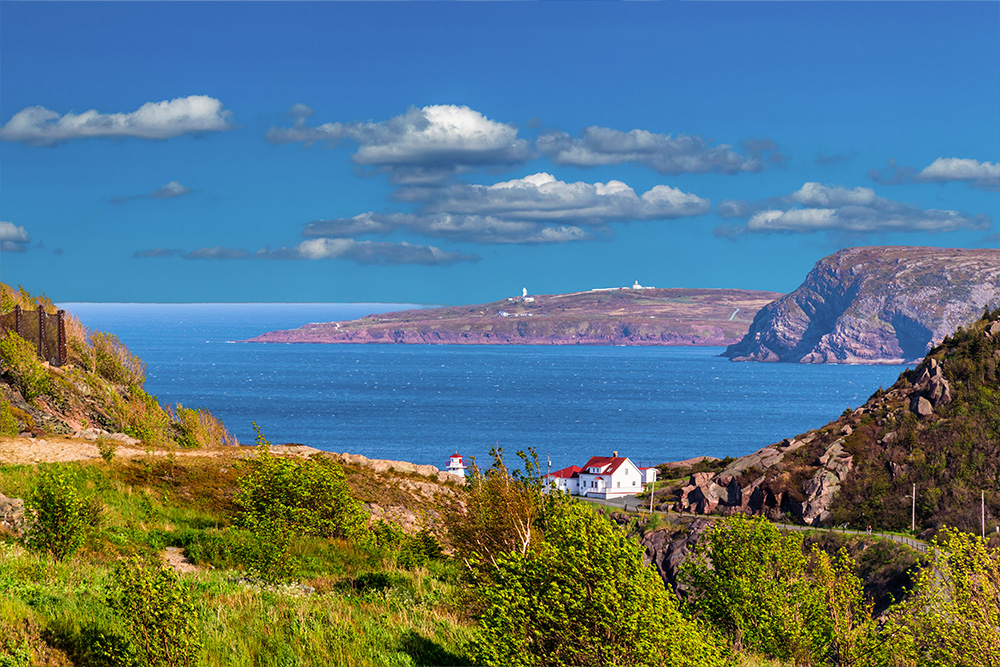 St. Johns, Newfoundland
Newfoundland and Labrador tax incentive program
Churchill says, "Our extremely supportive government recently announced a 30% all-spend tax credit." The program is new, so details are still being ironed out. But, Churchill explains, "We're open for business and ready to have conversations with anyone interested in shooting here."
Productions can claim labor and equipment costs, as well as accommodation and transportation costs as eligible expenses. Since building local production infrastructure is a work in progress, the area offers flexibility to those taking advantage of their tax credit. Churchill explains, "If productions can't find the people or equipment they need in Newfoundland or Labrador, eligible resources utilized from a neighboring island will be considered qualifying expenses."
Visit the NLFDC website to stay up-to-date on emerging details of this up-and-coming program.
Film and television incentives in Nova Scotia
Laura MacKenzie, Executive Director of Screen Nova Scotia and Chair of Creative Nova Scotia's Leadership Council, also joined the panel to discuss exciting production infrastructure enhancements and new additions to her jurisdiction's competitive film incentive program.
The appeal of filming in Nova Scotia
MacKenzie says, "We can play the northeastern seaboard very well, and we play Maine for Stephen King projects all the time. Our south shore has beaches and fishing towns that are incredibly picturesque."
While many productions choose Nova Scotia because of its unspoiled coastline and beautiful beaches, sand and sun are just the beginning. Additional landscapes provide abundant geological diversity – including top golf courses, ivy league colleges, dense forests, historic towns, and old western towns. Parts of Nova Scotia can also easily double as San Francisco or New York, while local vineyards make a great Napa Valley.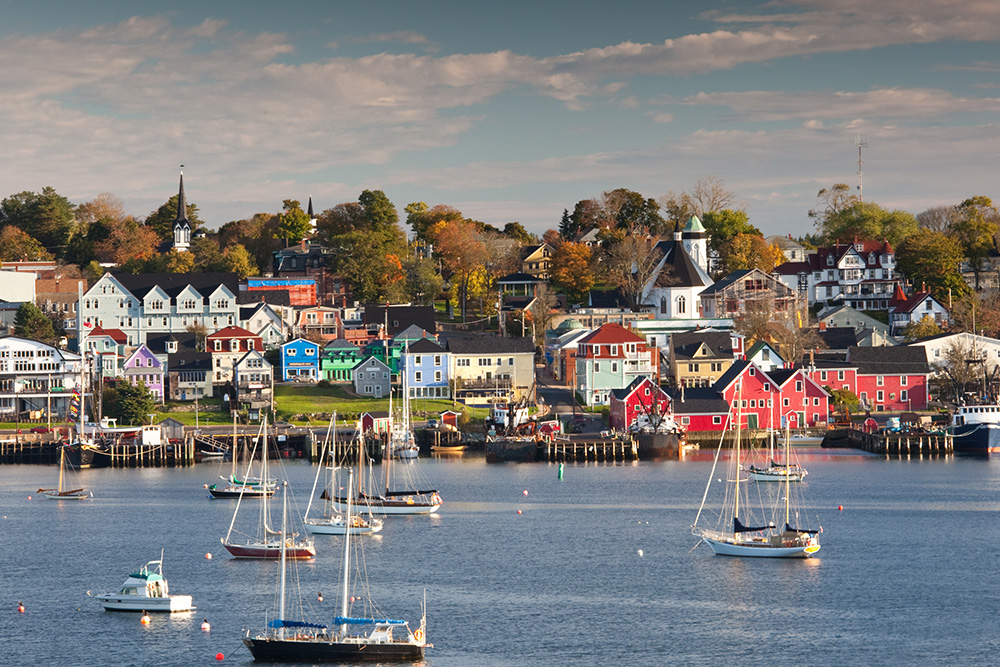 Lunenburg, Nova Scotia
Nova Scotia investments in production infrastructure
Under the leadership of Nova Scotia's Premier, Tim Houston, the jurisdiction's project cap was raised from $4 million to $10 million. Government backing empowers local leaders to ensure Nova Scotia incentives and benefits are as competitive as possible. MacKenzie says, "We've been able to bring a lot more productions to Nova Scotia thanks to that support.
In March 2022, the Premier announced a $23 million investment in Screen Nova Scotia. $8 million will go toward building a soundstage. The remaining $15 million will go toward a direct funding program for Nova Scotia-based productions, which will help build out crews to supply the new studio's demand.
Go to the Screen Nova Scotia site to learn about everything the area has to offer to productions.
Nova Scotia tax incentive program
The area's film and television incentive fund has two different options, known as "streams." Stream I applies to local productions, and Stream II applies to guest productions, including international productions. Here, we'll be focusing on Stream II.
The guest production base rate is 25% of all eligible Nova Scotia costs. At least 50% of all Head of Department (HOD) positions must be filled by Nova Scotia residents to qualify. However, productions can use eligible substitutions defined in the guidelines on page 8 of this document.
Productions can earn additional funding for shoots when: 
A majority of principal photography takes place in Nova Scotia 

50%+ of all principal performers, actors, and stunt performers are Nova Scotia residents

Principal photography takes place in Nova Scotia for at least 30 days

The production meets at least three of the eight eligibility criteria

listed on page 9
MacKenzie adds, "Any non-Nova Scotia company [can] access up to 30% or 31% without much challenge." And even more important for producers? Funds are uncapped. MacKenzie explains, the Nova Scotia incentive is "...a rolling, bankable fund. As soon it becomes over-committed, funding gets increased, so no eligible projects are turned away." Producers must submit an application before the first day of principal photography to be eligible for this incentive.
Visit the Nova Scotia Production Fund site to see full program guidelines and eligibility criteria.
Prince Edward Island provincial tax credits
Rob Riselli, Executive Director of Film PEI, also joined the panel to share details about new programs launching on the island and its generous new tax incentive program.
The appeal of filming on Prince Edward Island
Riselli calls Prince Edward Island (PEI) "a natural beauty," complete with stunning shorelines, fishing and farming communities, and centuries-old buildings and churches. Much like its neighbors, local landscape diversity makes PEI a versatile spot for filming, and the friendly community makes the island a great place to work.
Prince Edward Island investments in production infrastructure
As a leader at Film PEI, Riselli is committed to the organization's goal of supporting and encouraging filmmakers at all levels by providing the space, resources, and infrastructure to inspire excellence in film, video, and new media projects.
One of the organization's key objectives is focused on mentorship and training. Riselli says, "We're launching an entry-level training program that's very unique, and we're proud of that. Our pilot project film skills development program will train people on junior production positions."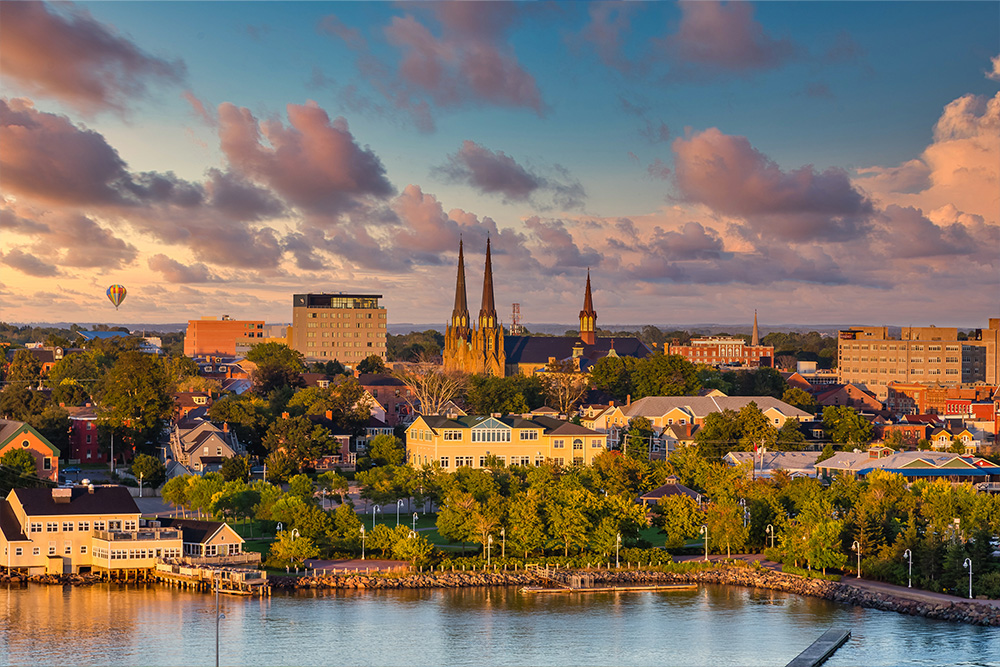 Charlottetown, Prince Edward Island
Prince Edward Island tax incentive program
PEI is in a building phase, and the area has strong government support. Additionally, Riselli says, "We're learning from what Newfoundland and Labrador and Nova Scotia have done. We're engaging with provincial leaders to build out our program."
A new all-spend rebate program with a 32% base was just announced last year. Eligible projects that meet specific criteria (listed here) can earn a rebate of up to 35%. Riselli says, "Our deeming eligibility is quite generous. Innovation PEI administers our fund and will work with productions. We'll also cover up to 75% of labor cost for entry-level crew." He adds that the credit also covers post-production costs. Applications must be submitted before principal photography begins.
Visit the Prince Edward Island government site for more information on their local film production fund.
How EP partners with productions to set rhem up for success
EP's tax incentive expertise serves as an unmatched resource for productions filming in Canada. As the leading provider of film and TV tax incentive administration, EP services jurisdictions across Canada, handling hundreds of tax credit claims each year. "We have a wealth and breadth of experience that producers can rely on" says Sarah Westman-Liu, Manager of Business and Product Development. "We know the ins and outs. We handle setup and everything from start to finish, so you can focus on production."
Productions in Canada also benefit from EP's technology solutions – SmartStart and Residency – which make it easy to digitally onboard crew members, gather and securely store residency documents, and track qualifying labor costs and spend in individual provinces.
Most importantly, EP's knowledge helps productions optimize incentives so they can utilize funds to boost their budget and makes sure everything is in place to get refunds back into producer's hands in the shortest timeframe.
Ready to get started with Canada's Provincial Tax Incentives?
Check out our incentive map to get an idea of what kind of incentives are available to you, then get in touch with the tax incentive team at EP. Whether you're in the exploratory stage, or further along in your production plan, we can prepare a detailed estimate of incentives in various jurisdictions, and help you compare and determine the most lucrative opportunity for your project.