Legal & Compliance Home
Proposed Changes to the UK Pensions Act Could Impact Production Budgets
Reintroduced bill seeks to give UK government the power to extend pensions auto-enrollment to young and low-income workers to better protect them in retirement.  
October 12, 2022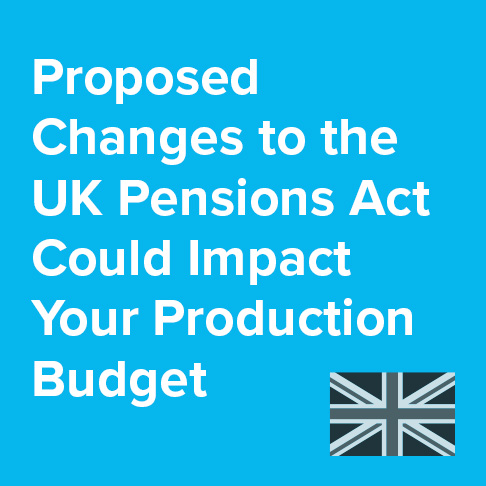 On July 20, 2022 the UK Pensions (Extension of Automatic Enrolment) Bill 2022-23 was reintroduced to Parliament.
The bill seeks to give the UK government the power to extend pensions auto-enrollment to young and low-income workers to better protect them in retirement.
Who's currently eligible for auto-enrollment?
In the UK, employees must be automatically enrolled into a workplace pension scheme if they are:
Aged between 22 and 66 (the state pension age); and

Earning more than £10,000 a year 
Once enrolled, employers must meet the minimum required contributions on the employee's behalf, which is currently 3% of every pound earned above £6,240 (employees must pay 5%).
Employees can opt out of their pension scheme by completing an opt-out form, which they must obtain directly from their pension provider. Employers cannot opt employees out on their behalf.
What could change?
The bill seeks to amend Sections 3 and 5 of the Pensions Act 2008 to:
Extend pensions auto-enrollment to jobholders aged between 18 and 21; and

Remove the £10,000 earnings threshold
These changes aim to ensure that people in lower-paid work (including part-time workers) and people who start work at age 18 are better protected in retirement.
Notably, the bill wouldn't automatically make these changes law. Instead, it would give the Secretary of State the power to make these changes law through new regulations when they see fit.
What would this mean for productions?
According to the Department for Work and Pensions, extending auto-enrolment to those aged 18-21 would result in an additional 910,000 young workers participating in a workplace pension scheme.
While auto-enrollment has clear benefits for individuals – such as greater financial security – it could have a significant impact on production budgets.
With UK film and HETV production spend forecast to hit £7.7B by 2025, the industry is facing an acute skills shortage; according to research by ScreenSkills and the British Film Institute, as many as 20,770 additional crew may be needed to meet this unprecedented demand.
One of the ways the industry is looking to combat this issue is the introduction of new training schemes and initiatives, many of which – such as Film London's Equal Access Network and ScreenSkills' Apprenticeship Program – are targeted at young people.
Against this backdrop, the extension of pensions auto-enrollment to those aged under 22 could have a particular impact on the film & TV industry, with the additional cost to productions, affecting their bottom line.
Next Steps
The bill is currently scheduled for its second reading in the House of Commons on October 28, 2022. It still has a long way to go before it becomes law, so change – if any – won't come for some time.
Keep an eye on the EP Legal and Compliance page for updates. In the meantime, contact EP if you have questions on production budgeting or payroll.