Blog Home
The UK Invests in Virtual Production as Content Boom Continues
The UK is doubling down on Virtual Production infrastructure; learn how and why they're leading the charge to bring this new industry pillar to the forefront.
January 10, 2023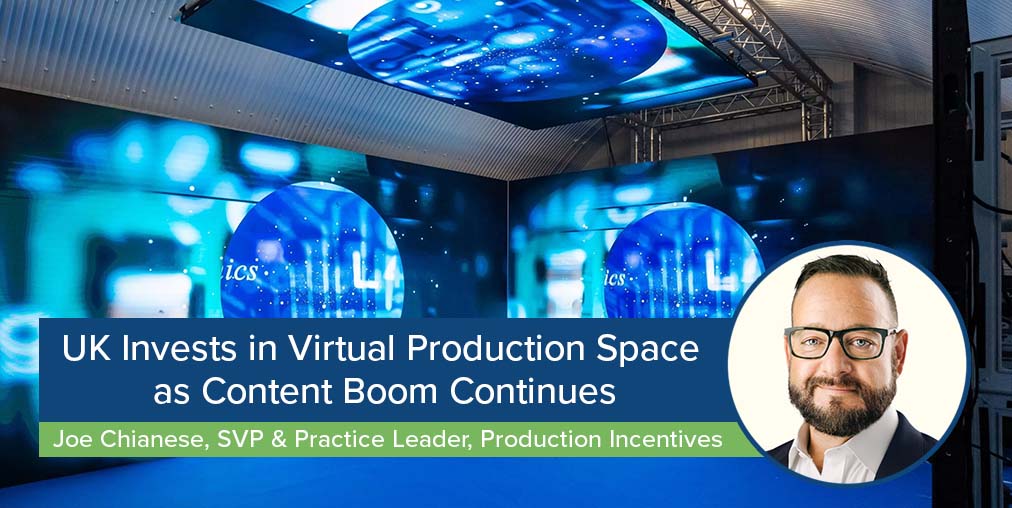 The public's insatiable demand for new film and television content, combined with global crew shortages, have inspired industry thought leaders to get creative as they map the future of the entertainment industry. Add incredible advances in visual special effects and technology, and it's no surprise that the concept of "Virtual Production" has graduated from a 'cool idea' to a 'necessary development.'
First thing's first: What exactly is Virtual Production?
Though the definition continues to evolve, Virtual Production (VP for short) has become synonymous with production techniques used to expand what's possible on set. Most Virtual Production projects combine two key things: motion tracking and capture and LED volumetric filmmaking.
How do VP stages work?
Motion capture, also referred to as mocap, isn't new. But it has evolved and advanced a lot over time. With today's version, producers can use a combination of software and technology to encode human motion into 3D graphics in real-time.

LED volumetric filmmaking is the art of using massive screens set up in a crescent shape along the back of a stage. These mega high-definition screens display virtual locations, allowing producers to be anywhere and to jump locations with ease. Volumetric filmmaking gives complete creative control to producers and their teams, while eliminating all the logistical hurdles involved in traveling to multiple locations.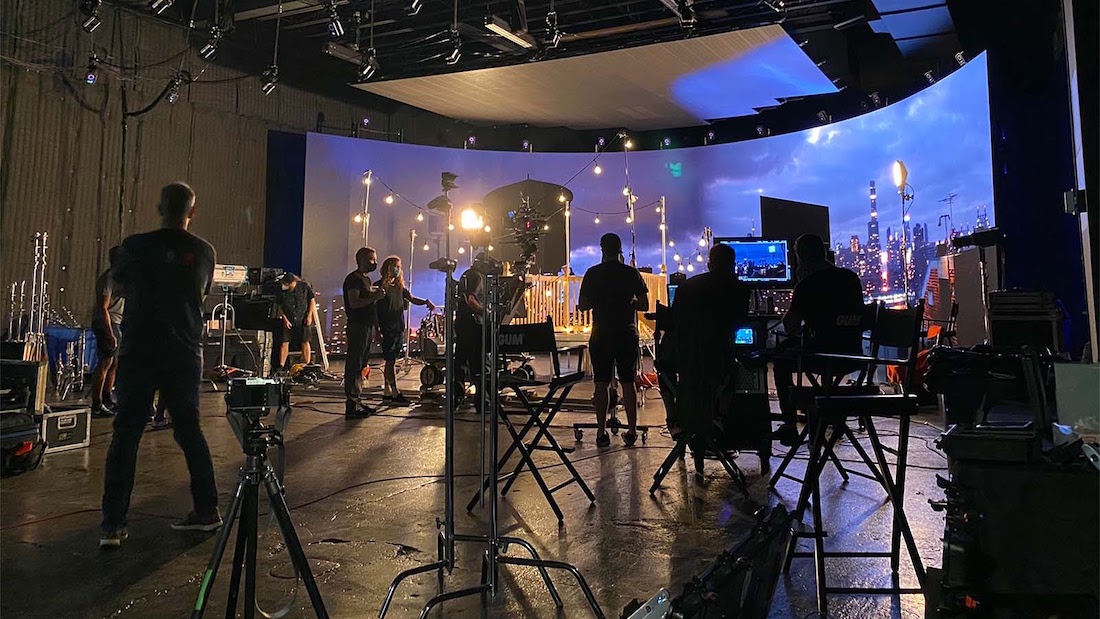 Film crew on Virtual Production stage / Gum Studios
Virtual Production techniques bring a whole new meaning to the term 'movie magic,' and the industry is abuzz. The UK is now building a hub that makes modern Virtual Production tools more accessible to all.
Why the UK is investing in Virtual Production
This evolution in film presents an exciting opportunity to build a whole new entertainment industry vertical. When the UK saw rising demand, it quickly embraced the initiative and put plans in place to move it forward.
Three key drivers have led Virtual Production to gain significant traction in recent years:
1. Global crew shortages have production teams desperate for solutions.
Labor shortages have impacted many industries for the last several years, and production is no exception. No matter how incredible a script is, a lack of qualified crew members can threaten to derail any project. So how does Virtual Production help reduce crew shortage issues? For one, in-person crews can be much smaller on virtual sets, and this results in cost savings, smaller carbon footprints, and safer work environments.
Additionally, thanks to cutting-edge studios, most technical Virtual Production roles can be performed remotely. The concept of geographic limitation in relation to hiring goes out the window, meaning producers can bring in the most qualified person for the job. Opening up the talent pool benefits both creatives and producers.
2. COVID-19 complications made in-person filming more difficult and expensive.
We're all tired of talking about it, but COVID-19 continues to affect productions. From increased safety protocols and testing requirements, to cancelled travel plans and re-thinking logistics to accommodate all the extra precautions.
A Virtual Production soundstage offers some reprieve. Since they are a controlled environment, equipment can easily be cleaned and sanitized between uses. Scenes can be shot separately, and scheduling can be simplified. And eliminating the need to bring large casts together simultaneously helps mitigate COVID-19 risks. Having fewer people in the studio at a time also saves money on everything from labor to testing and supplies.
3. Technology evolved, bringing new opportunities to artists and creators.
In the real world, producers are limited by physical environments and what can be crafted by hand. With Virtual Production, the only limits are imagination and artist capability. With the help of LED screens and Artificial Intelligence computing, we've reached a point in history where technology has introduced new abilities into the filmmaking world. These tools can be used to combine live-action footage with computer graphics in real-time, making it possible to create just about anything an artist can render.
With these motivating factors at play, the UK is eagerly championing this new method of filming.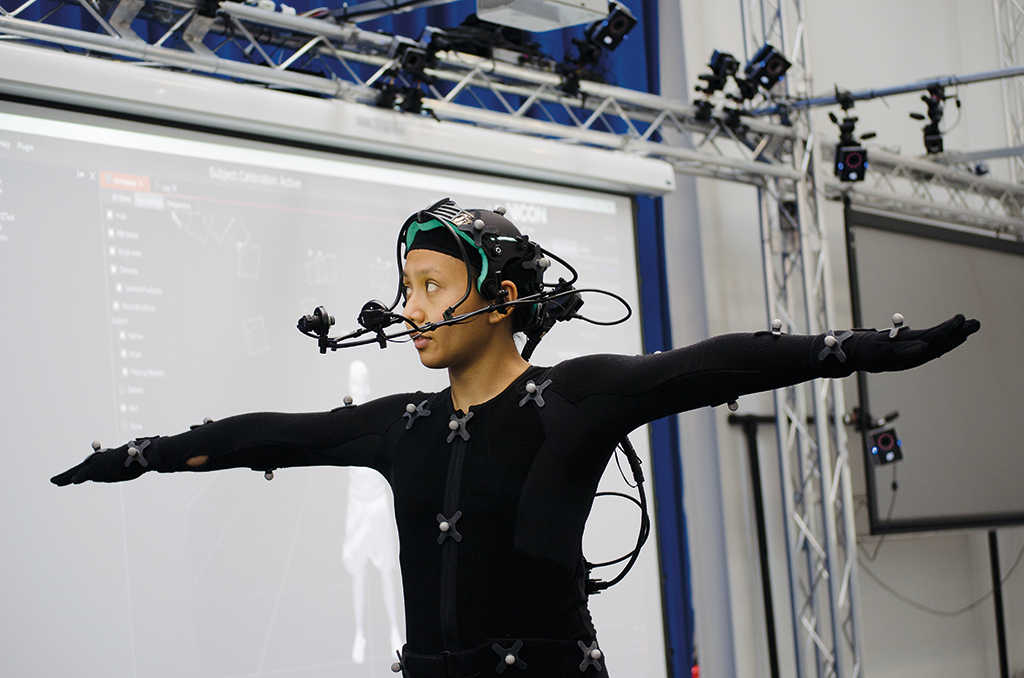 Actor wearing Vicon motion-capture suit
How the UK is investing in Virtual Production
Multiple initiatives designed to support the growth of Virtual Production as a critical pillar of the nation's production infrastructure are running simultaneously across the UK. Here's what's happening today:
Constructing and opening VP stages across the UK
State-of-the-art studios are popping up from Manchester to London as the UK positions itself as a global leader in Virtual Production. VP studios are outfitted with large-scale stages, which are fitted with the massive LED screens used for volumetric filmmaking, as well as mocap tools. Ryan Beagan, the Vice President of Virtual Production at Warner Bros., describes these massive sound stages as a "canvas that the creator paints on."
As an example, talent-led film and TV group, Film Soho, is set to launch the first permanent facility virtual production studio in central London. The studio contains a 10-meter by 5-meter (approximately 33-foot by 16.4 foot) LED wall and is expected to open by the end of 2022. The wall is powered by Extended Reality (xR) technology, which displays real-time backdrops and visual effects on-set with the help of a game engine.
Some of the many benefits of these stages are: 
Most Virtual Production stages are in or near a major city, so access to resources is never a challenge.

Massive LED screens allow producers to replicate any environment in the world.

Centralized shooting locations offer convenience and eliminate massive costs associated with traveling to remote or rural filming areas.

Digital tools are much more cost-effective and accessible to projects of all sizes, empowering producers to embrace creativity and think outside the budget.
Perhaps best of all, these changes contribute to drastically reduced carbon footprints.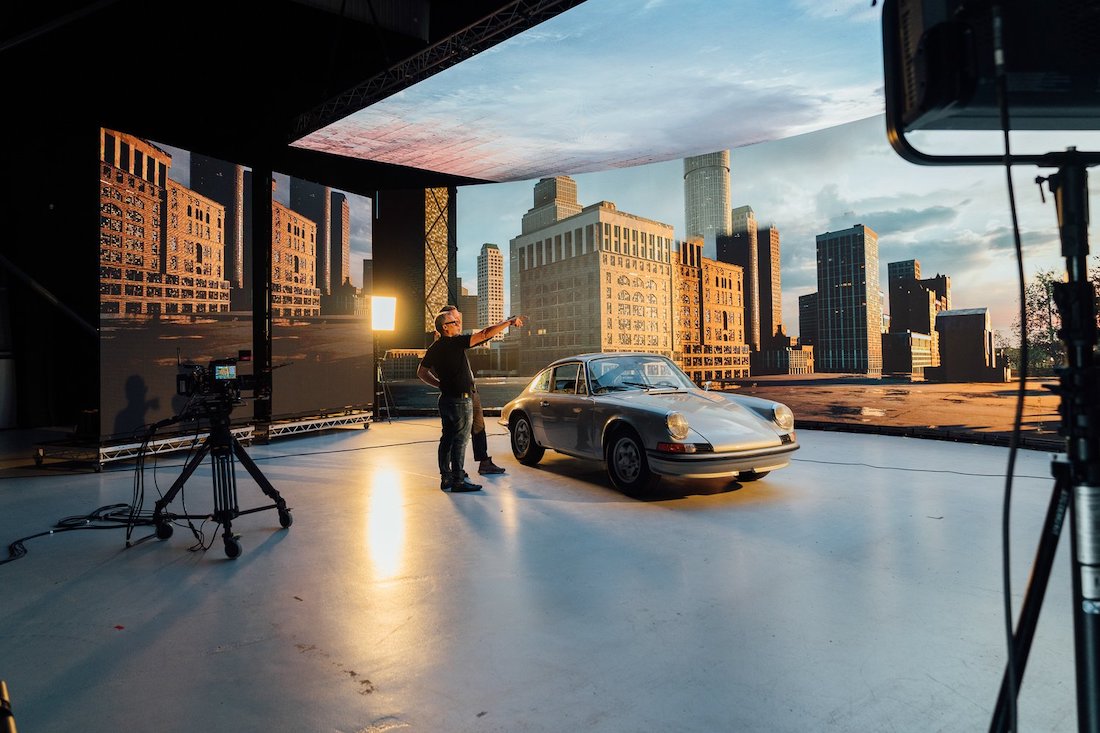 Virtual Production Studio by 80six
Developing first-of-its-kind Virtual Production crew training programs
ScreenSkills, the UK's industry-led skills body for the screen industries – film, television, VFX, animation, and games – is focused on identifying skill gaps, quality-marking professional pathways, and developing national standards for training in high-tech roles in Virtual Production.
ScreenSkills CEO Seetha Kumar said: "As with developments in any new tech, it is critical to have national standards because we need a highly professional Virtual Production workforce, supported by high-quality training provisions which are based on a common understanding of the skills needed." 
Dedicated to meeting the industry's priority needs, ScreenSkills is currently designing training programs specifically tailored to get crews up to speed on how to operate in virtual production spaces. Many of the folks who know studio tech have primarily operated in a post-production world – working at a desk, not on set. With Virtual Production in the equation, that's subject to change.
These Virtual Production training programs are designed to make sure there's a continuous flow of VP talent while building foundational knowledge and expertise, so crews are ready to evolve along with technological advances.
ScreenSkills' detailed crew training programs will be used to set a national standard for what Virtual Production training will look like across the UK. They're working in partnership with the Department for International Trade (DIT) and the Department for Digital, Culture, Media, and Sport (DCMS) to ensure the UK is a global center of excellence and a leader in Virtual Production innovation.
The future of Virtual Production presents endless opportunity in the UK and beyond
Annabel Martin, the Director of Operations at Film Soho, says we're "… on the precipice of huge change, altering filmmaking as we know it. It's a hugely exciting time for us as a company to be involved in this new era of filmmaking."

ScreenSkills CEO, Seetha Kumar, agrees. He says, "We want to help build knowledge and confidence about the expertise, what works, and why, so that the UK remains at the forefront of innovation and has the right people to continue making great film and television."
Ready to Explore? Enlist the Help of EP's Expert Incentive Team.
With access to cutting-edge VP tools, diverse locations, and a variety of lucrative tax credits and funding opportunities, productions have a lot to gain by taking their next project to the UK. When you're ready to start dialing in details on your next UK project, lean on EP's in-house team of production incentive experts. We'll help you navigate all your funding options, identify the best locations and resources for your project, optimize your incentives, and maximize your budget. Our team handles all the paperwork and logistics, providing comprehensive support from greenlight to wrap.