Blog Home
The Producer's Guide to Virtual Production Space in the UK
A comprehensive overview of virtual production studios which are available to film and TV productions filming in the UK.
July 21, 2023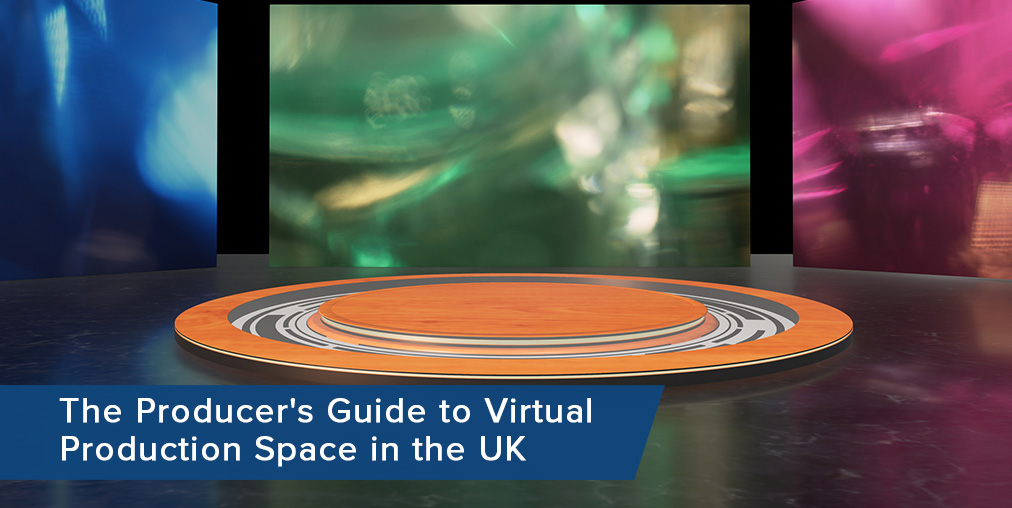 UK productions are spoilt for choice when it comes to studio space. As well as state-of-the-art green screens, underwater tanks and sound stages, the UK offers a plethora of virtual production ("VP") studios, which have caught the eye of major film and HETV productions. 
VP uses computer-generated imagery (CGI), augmented reality, motion capture and other technologies to create realistic environments and effects on a virtual set. The technology allows several different location scenes to be created in one controlled environment, which is not only cheaper, easier and more environmentally sustainable, but also allows for a director's vision to be more accurately brought to life.
In contrast to visual effects, which are typically added post-production, virtual environments and effects are generally captured on set, on camera and in real-time. This allows actors to react realistically to their surroundings and gives creative teams greater control over how a final scene will look. Combine this with rapid developments in artificial intelligence (AI) both on and off screen, and we have almost certainly entered a new era of film and TV production. 
To utilise VP, filmmakers need to be able to construct sets from LED-panel walls that display real-time backdrops and visual effects with the help of a game engine. This requires specialist studio space with state-of-the-art technology and trained crew who can bridge the gap between creators' imaginations and what can be delivered on set.  
Luckily, this is where the UK excels, with a number of VP stages and studios available to productions.
Warner Bros V Stage
Warner Bros Studios' V Stage is one of the largest VP stages in Europe, offering 24,000 square feet of total space, 2,000 LED screens and 92 motion capture cameras. Bespoke to the facility is an additional 5,544 square feet of LED panels with eight sections that work independently of one another.
One of the first productions to utilise this state-of-the-art stage in Leavesden was House of the Dragon, HBO's prequel to Game of Thrones, which harnessed VP to bring to life the mythical world of Westeros.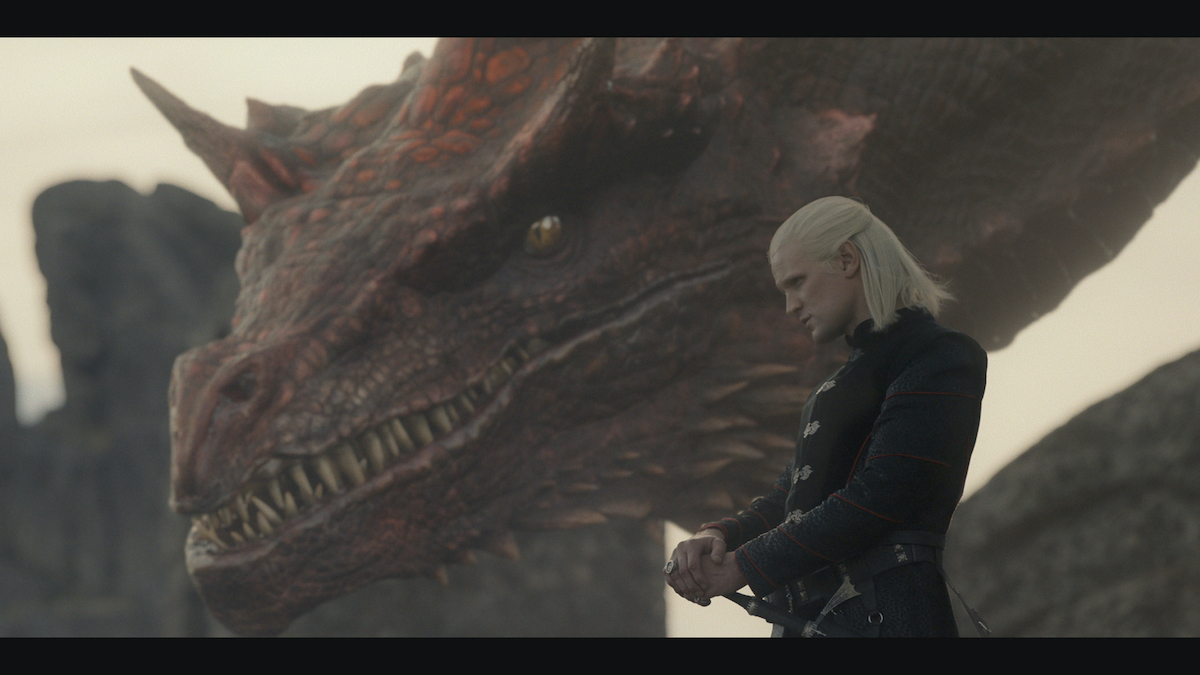 House of the Dragon (photograph by HBO)
ILM StageCraft Stage
Hot on the heels of ILM's existing StageCraft setup at Manhattan Beach Studios (used for Disney's Emmy Award-winning series The Mandalorian) came its UK sibling at Pinewood Studios.
The new UK stages improve on the original ground-breaking LED volume developed for The Mandalorian. They are larger, utilising substantially more LED panels than ILM's original stage, and they offer higher resolution and smooth wall-to-ceiling transitions, resulting in better lighting on set and more in-camera finals.
ARRI X CT
Based at ARRI's UK headquarters in Uxbridge, this hub offers 7,620 square feet of studio space with a 3,692 square foot LED wall. Equipment package deals are available from ARRI Rental, just next door.
The LED volume at ARRI Stage London consists of a main 'in vision' curve, two mobile side screens, a dynamic height-adjustable ceiling, and a back curve. The wraparound configuration can be programmed to display 360-degree imagery that even when not in frame casts dynamic, integrated lighting effects onto the performers and the screens being shot.
The facility has been used for HETV projects such as Sky Studios' The Rising.
Garden Studios
Garden Studios and Anna Valley have teamed up to create two stages as part of the central London 300,000 square foot studio complex in Park Royal. Garden Studios opened its first LED volume stage in 2020 and has since hosted over 80 productions.
For the second stage, Anna Valley has built a ROE BPV2 semi-circular volume in a 7750 square foot sound stage. The volume comes with an OD4 ED ceiling (mounted on a motorised hoist so it can be lowered, raised and tilted up to a 45-degree angle) and a pair of OD4 LED totems provide additional lighting sources.
Productions can also use the dressing and green rooms, production offices, kitchens and on-site parking at Garden Studios, as well as its in-house content creation, script advice and storyboard review services.
MARS Volume by Bild
Opened in Summer 2021, Bild Studios' 15,069 square foot facility in Ruislip, London has the option to create a 270-degree in-camera LED screen up to 126-feet x 18-feet, and a 1,894 square foot out-of-camera ceiling LED screen.
MARS Volume is London's premier VP facility dedicated to technical precision, designed and run by experienced workflow specialists Bild Studios.
80six
Based in Berkshire, 80six is a leading video technology company providing high-end equipment and world-class technical services for VP, film & TV drama, live entertainment, broadcast, e-sports and corporate events.
80six's revamped 11,743 square foot facility was expanded last year and has already hosted a variety of film and TV projects highly commended for their use of VP, including Man vs. Bee (Netflix) and Rowan Atkinson's latest show, Fireworks, a groundbreaking VP short film shot entirely within 80six's LED Volume.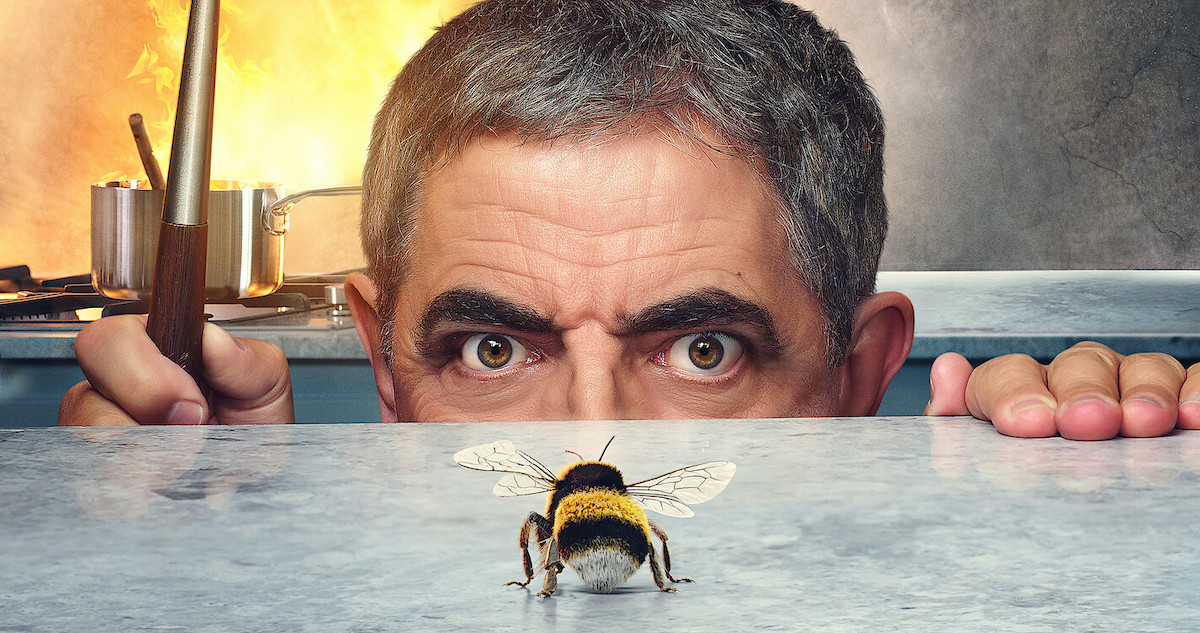 Man vs. Bee (photograph by Netflix)
Dock10
Dock10 is the UK's leading television facility. Based at Media City in Manchester, VP technology is offered across all 10 of Dock10's state-of-the-art studios, with spaces from 1,000 to 12,500 square foot.
The industry-leading 4k UHD-ready virtual studio capability seamlessly combines physical, virtual and augmented reality in real time, together with live data. Cameras can be pointed in any direction across the whole of the studio to deliver a continuous on-screen set. Using the latest real-time rendering, you can see how each shot will look as it happens either live in the studio or via secure remote viewing.
More infrastructre to come
And the UK isn't stopping there. A number of new VP spaces are also under development: 
Great Point Media has invested in a

£6m VP hub (Seren Virtual Productions)

at Great Point Seren Studios in Cardiff, Wales, which is set to be available for use by productions from Autumn 2023.

LAMDA

will become one of the first drama schools in the UK to offer VP technology training to students in a new state-of-the-art studio. They'll invest in VP and motion capture technology in ultra-modern studios, where there is an industry-wide skills gap.

Studio Ulster

is a unique £72m investment in a large-scale VP studio complex in Belfast, Northern Ireland. The so-called 'movie lab,' which was approved as part of the UK government's commitment to growing the creative industries, will specialise in real-time content production techniques, using CGI, augmented reality and motion capture.
Studio Ulster is one of four new VP "labs" in development across the UK, which together will form the largest VP research and development network in Europe.
The creative possibility that comes with the creation of so many cutting-edge VP facilities across the UK is an exciting prospect. Investment and development in this area can only maximise the creative industries and, moving forward, continue to secure the UK's position as a global leader in film and TV production.