Blog Home
The Future of Film and Television Production
Virtual stages, remote production offices, and other advances in technology drive the evolution of entertainment
January 4, 2022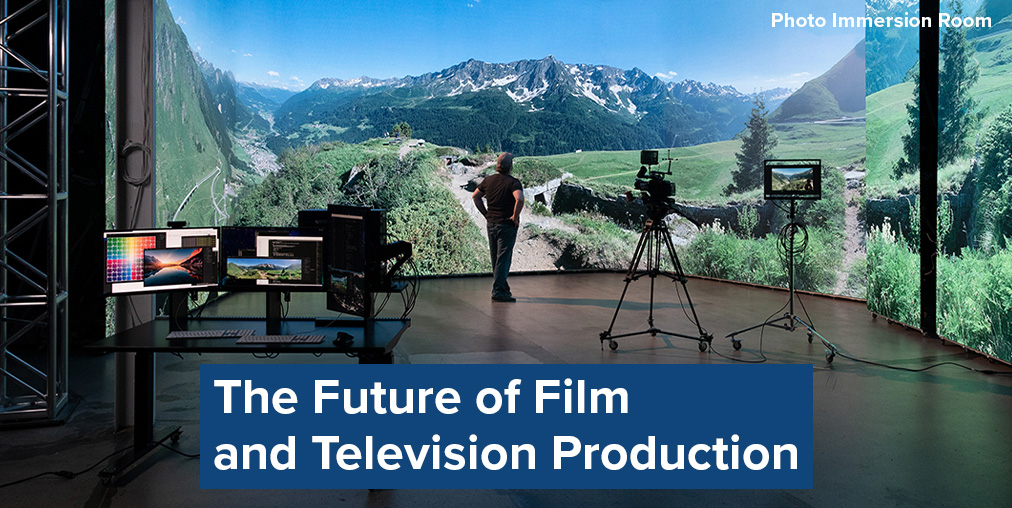 In recent years, the landscape of film and television production has changed, largely in response to tech innovations as well as the new safety and health regulations driven by the COVID-19 pandemic. There is a booming demand for new content, a massive expansion of streaming services, a transformation in where and how we work, and advancements in technology such as virtual production sound stages, which are now viable – and in-demand - alternatives to on-location shooting. Thanks to innovation, we are entering a new age of entertainment, which begs the question: what will the future of production and production finance look like?
Entertainment Partners recently organized a panel at the American Film Market 2021 Online convention to explore just that concept, because the tech-driven changes the industry underwent during the pandemic are not temporary. "I don't think it's a boom or bust," said Tom Ara, an entertainment transactions lawyer at DLA Piper, during the AFM discussion. "It's an evolution." That evolution will be to the benefit of celebrating storytellers, said Glenn Gainor, Head of Physical Production, Amazon Original Movies at Amazon Studios, in the same discussion. "Finally, I think we're in a place where technology is allowing the empowerment of stories to be told, many of those stories that couldn't have been told otherwise."
Here's a look at several examples of what that evolution may look like, along with insights shared by the esteemed panelists who participated in our AFM 2021 panel.
The Work-From-Home Revolution Isn't Going Away
The pandemic changed not only how we work, but how we communicate for work. Video chat services have become necessary and ubiquitous in every industry, enabling remote collaboration. Cinematographers prepared shoots with camera operators over Zoom, directors consulted with editors via Skype, production accounting teams spread across the globe, navigating multiple time zones and sharing of sensitive budget and PII information thanks to secure technologies like Movie Magic Budgeting, New SmartTime and others, powered by Entertainment Partners.
In the future, working together online may subside as the pandemic eases, but remote work is likely to become a more permanent option offered by employers. As it does, we may see a mirror of the hybrid models that are already taking hold in post-production: work split between in-person and home, utilizing localized filmmaking tools and those in the cloud.
The future of production isn't just about technology and new financial perks. There will be human advantages as well. Remote capabilities turn the whole world – not just industry hubs – into one giant talent pool. As the industry experiences labor shortages – especially in production finance – and is putting a greater focus on diversity in hiring practices, the opportunity to bring in workers from anywhere in the world will be a game-changer. 
That will have an additional benefit as well, says Amazon's Gainor. "The traditional theatrical motion picture model had to adhere to maximizing as many theatrical screens as possible, and it had some challenges. Today we're at a precipice (i.e., with streaming and other technologies) where those are able to tell more stories like never before. And as we all lean into the disciplines of diversity, equity and inclusion, we're going to see more fantastic stories from different perspectives and points of view"
Prepare for More Advanced Remote Filmmaking
Remote technology hasn't just impacted how production communicates; it has impacted how productions work. We may soon see a time in which a video production can be directed by a creative team in multiple locations. For example, technologies like Solo Cinebot and OpenReel have made it possible to operate robotic cameras remotely. Remote directing has also become possible with solutions like QTake, which can allow individuals to watch a live stream of what's being shot on set, or Evercast, which has seen editors remotely screen share cuts with their directors.
Granted, most A-list directors in the industry are likely to remain on set. But for smaller productions – especially commercial ones – these are valuable resources that won't just offer future productions reductions in travel time, costs, and more, but introduce an entirely new way of producing in parallel with traditional methods.
The Location Debate: Will Virtual Productions Dominate?
Before the pandemic, virtual productions (VPs) were becoming a promising new way of shooting. Thanks to their remote and COVID-safety compatibility, they have converted many in the last year. Involving sound stages with LED walls on all sides, and game engine technology (Unity, Unreal) that renders digital landscapes onto them, virtual production stages can make it appear as if actors (along with props and set dressing) are on locations that don't exist. What's more, they do so in a way that's more cost effective than green screen and CGI, since when the camera moves, the environments on the LED walls do too.
There are additional financial benefits as well. Because VP stages can automate cinematography with pre-sets for camera angles and lighting, production time (and therefore costs) can be reduced. The cost of location shooting can be reduced – or eliminated – as time goes by. "As we build up our libraries of various sets that we built for any of the stages, those turn into opportunities to do virtual tech scouts," says Chris Cox, a VP producer at Pixomondo. If a sci-fi movie needs scenes set on Mars, they no longer have to scout real-life desert locations. They can simply scout existing VP environments.
We have the chance after COVID to step back and revaluate filmmaking as a whole and say, 'How do we want to reboot this? What is the best path forward?'
Virtual production also can spring up in non-traditional industry centers that offer enticing incentives, while boosting local economies. "There's less restriction on where the hubs can be, now that anyone can be anywhere with virtual production," says Cox. For example, Jennifer Loren, Director of the Cherokee National Film Office, says their VP soundstages in the Oklahoma area have seen a positive reception because of that. "We have seen a huge influx of projects that maybe once were not interested in coming to the center of the United States for film production," she says.
VP sound stages also provide a much-needed alternative for productions at a time when shooting stages are limited. "There's just a shortage of space," says DLA Piper's Ara, who has helped clients acquire over a million square feet of studio space over the last year. "We're all in a place where we're seriously competing for resources," says Yolanda Cochran, SVP of live action production at Nickelodeon.
That same competition – driven by the current content boom – is also inspiring many states and countries to provide some relief. The acceleration of production has sparked a concentrated push to build new infrastructure and offer impressive incentives, establishing these locations as attractive alternatives, ready to meet demand. While VPs are a high-tech solution to the immediate problem of location scarcity, some advantages of in-person on-location filming will never be replaced. Just as the tradition of practical effects must be balanced with CGI, VPs may too blend the experience of creating film and television.
Wherever production may go, equipped with the industry's most experienced and connected team of in-house incentive, financing, and tax experts, and production incentive tools, Entertainment Partners can guide productions to navigate the challenges of competing for locations and further help meet producer needs.
Competition for locations may subside, although to what extent remains to be seen. But the sense that some things have yet to be figured out is what makes the future so thrilling. "It's a really exciting time," says Edward Hanrahan, Director of Virtual Production at William F. White International. "We have the chance after COVID to step back and revaluate filmmaking as a whole and say, 'How do we want to reboot this? What is the best path forward?'" We can't wait to find out what the answers will be.