Blog Home
Mission: NOT Impossible
Production incentives give producers options, increase infrastructure development and jobs promoting diversity, equity, and inclusion
October 20, 2021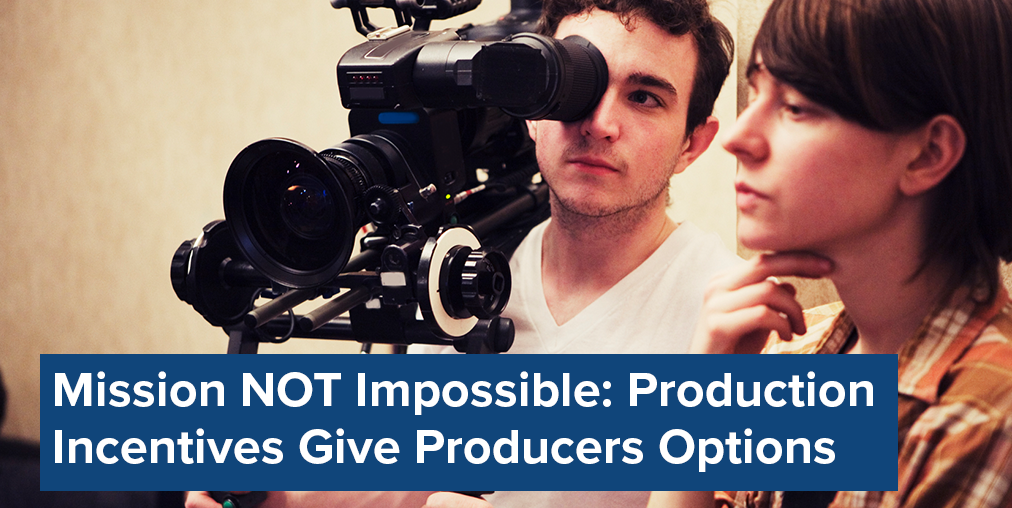 Production incentives have long been a powerful way for states and countries to help stimulate their economies by encouraging the entertainment industry to spend and hire locally for their productions.
However, in the wake of the pandemic, the financial stakes have never been higher. During 2020, lockdowns saw many businesses and workers stop working, creating an economic slowdown many are still trying to pull themselves out of.
Fortunately, the entertainment industry has played a critical role in financial recovery due to the major economic impact production has wherever it goes. As discussed in a recent Master Series episode, according to an Olsberg SPI report, productions can spend as much as $10 million per week on a shoot, 67% of which is in non-production sectors. Furthermore, as a consistently labor-intensive industry that generates millions of jobs, states and countries can benefit tremendously from courting productions as the industry continues to undergo the massive content boom, due to – in part – the rise of several streaming services.
Globally, Jurisdictions Take Action to Support Entertainment
It is little cause for surprise that in the last year, we have seen positive reception of production incentive legislation that introduces or increases funding, and extends or eliminates "sunset dates" (i.e., legislative dates for which incentive programs will expire). Numerous jurisdictions have made concentrated efforts to create compelling incentives to vie for the attention of productions. California, for example, generated news when Governor Gavin Newsom signed a bill to provide the film and television industry with an additional $330 million in funding (more on that in a moment). However, there isn't enough money or funding in California to keep every production in the state. This has created an opportunity for other jurisdictions to step up and become shooting location alternatives.
Some US jurisdictions have modestly – but still significantly – nudged up their available annual funding, like Montana ($10M to $12M), Colorado ($2M to $9.25M), and Oregon ($14M to $20M). Other states have made dramatic leaps, like Oklahoma ($8M to $30M) and New Jersey ($70M to $100M).
Other US jurisdictions have also made incentive changes, like Arkansas, which added 10% as well as a $4M annual transferable tax credit for qualifying expenditures, and Minnesota, which introduced a new 25% transferable tax credit with $5M of annual funding. In addition to these locations, there was a significant change to the Massachusetts Film Production Tax Credits, which was signed into law by Massachusetts Governor Charlie Baker. The sunset clause on the Massachusetts Tax Credits has been ELIMINATED, making the incentive program permanent. The one other change to the law raises the percentage from 50% to 75% of principal photography days in Massachusetts (or spend of entire budget in Massachusetts) in order to qualify for all incentives (25% payroll + production tax credit + sales tax exemption, with no caps per year or per project.) However, suppose a production does not meet the % test. In that case they will still qualify for the 25% Payroll Tax Credit, which covers all ATL, all BTL, regardless of residency.
In international jurisdictions, we are seeing changes as well! In Italy the local incentive saw an increase from 30% to 40%, and São Paulo Brazil introduced a new incentive in the form of a rebate worth between 20% to 30% of local spend. In Canada, Nova Scotia added $23.6 million to the Nova Scotia Film and Television Production Incentive Fund, nearly doubling the fund to $48.6 million, and Prince Edward Island increased their rebate rate from 25% to 32%-35%. Australia also recently introduced an additional federal incentive (Incentive Offset - 13.5%), along with additional funding or modifications to the Australian regional incentives (Queensland; 10% Post, Digital and VFX Grant, Victoria; $33M, and New South Wales; $175M – over the next 5 years).
Increased Funding Leads to New Infrastructure and Diversity Hiring
All of these changes resulting in significant development of stages and infrastructure, especially in Canada and the UK. Production incentives aren't just about economic recovery. They're also about funding infrastructure – such as sound stages – to further lure the entertainment industry and create a consistent Hollywood-alternative, as places like Georgia have. Many US jurisdictions are spending money to make money. By investing in infrastructure to better position themselves as an appealing destination, they are ensuring productions will have what they need to complete their work. For example, Oklahoma recently built two sounds stages (one in Oklahoma City, the other in Tulsa). The importance of infrastructure is also why $150 million of the newly added $330 million funding in California was earmarked for the creation of more sound stages.
Changes in production incentive legislation haven't been motivated by purely economic interests, but also social responsibility. As the industry pushes to improve diversity, equity, and inclusion (DEI), US states are helping by incentivizing producers to hire a more diverse crew base. New Jersey was one of the first states to offer an additional credit for diversity hiring, and California's recent soundstage funding requires a diversity hiring plan. Oregon is also among the states, like Illinois, which introduced diversity reporting requirements as part of their incentive programs.
The collective result of all of the above is a promise of change for everyone: economic recovery for states and countries, money saved for production, and greater diversity in the industry workforce.
To stay up-to-date with changing legislation and production incentives, visit our production incentives site and utilize the industry's leading team of production incentives experts and tools.