Blog Home
10 Notable Female Canadian Filmmakers
Celebrating Women's History Month and the power of female storytelling
October 26, 2021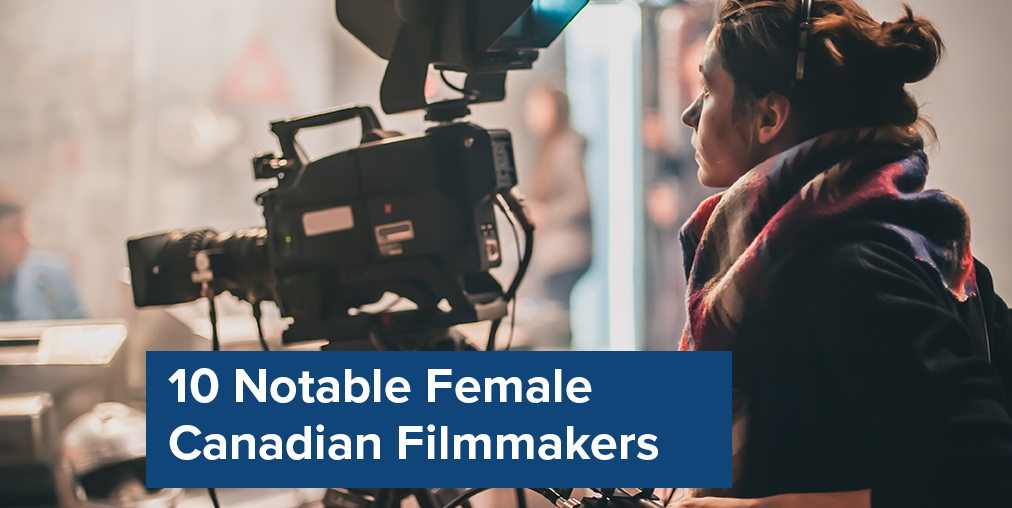 October is Women's History Month in Canada, a time for celebrating and acknowledging women and girls who are contributing to the fight for a more inclusive and accepting society. To commemorate this occasion, Entertainment Partners is proud to recognize outstanding female Canadian creators for their talent in bringing stories, and notably indigenous stories, to life through creativity in film. Telling these stories as a female, especially in a traditionally male dominant industry, is remarkable. These examples, among many others, are what will encourage all women and girls to use their voices to break down barriers to create a more welcoming environment for all.
Costa Brava, Lebanon (2021)
The drama Costa Brava, Lebanon follows a family who leave their hometown of Beirut due to the government's failure to find solutions for the excess waste in the region, in hopes of building a utopian existence in the mountains of Columbia. Through the inspirational work of director, Mounia Akl, this feature won the NETPAC Award at this year's Toronto International Film Festival (TIFF), an annual film award presented by the Network for the Promotion of Asian Cinema to honor the best film from Asia.  
About the Director: Mounia Akl is a Lebanese filmmaker focused on directing and writing. Her previous work includes drama and fashion films, television series, and she is best known for her short film, Submarine, which debuted at multiple film festivals, including the Canes Film Festival, the Toronto International Film Festival (TIFF), and the Dubai International Film Festival. In addition to filmmaking, she has also taught film directing at Northwestern University and screenwriting at Columbia University.
Yuni (2021)
Yuni is a drama depicting an Indonesian female high school student and her personal struggles growing up. After the young girl rejects a proposal from a man she barely knows, she begins rethinking her life and her choices after she hears a myth that if you have rejected two proposals, the possibility of marriage disappears. She struggles to find balance in navigating her personal life, passions, and growing up in society built on arranged marriages, until she meets Yoga, who lends a helping hand.
About the director: Kamila Andini is Indonesian film director, scriptwriter, and producer. She has spent her career telling important stories about Indigenous people and their culture through film, including the upcoming, Yuni, which won the Platform Prize at the 2021 Toronto International Film Festival (TIFF); awarded to films of "high artistic merit that also demonstrate a strong directorial vision."
Night Raiders (2021)
Director, Danis Goulet's, apocalyptic and post-apocalyptic fiction follows the story of a mother who joins an underground band of vigilantes to rescue her daughter from a government power. With the focus of the film on a Cree mother-daughter relationship and their fight against the government of a dystopian future, Night Raiders, acts as symbol for the struggles of Indigenous peoples globally.
About the director: Danis Goulet is a director and screenwriter born in La Ronge, Saskatchewan, who now resides in Toronto. In her dedication to creating unsurpassed content, like Night Raiders, Goulet pursues authenticity through steps like attending language immersion camps in order to return to her roots and learn the language of Cree. Her work has been screened internationally, including at Sundance, the Berlin International Film Festival, and the Toronto International Film Festival (TIFF).
Beans (2020)
A popular drama at this year's Toronto International Film Festival (TIFF), and based on true events that took place in 1990 Quebec, Beans, follows a dispute between two Mohawk communities and the government as they fight to protect an ancient burial ground from future developers.
About the filmmaker: Tracey Deer is a Mohawk from Kahnawake, Quebec. A screenwriter, film director, and newspaper publisher who began her career with documentaries, Deer has since expanded her work to include fictional television as well. Deer has worked with CBC, the National Film Board (NFB), and numerous independent production companies in Canada. She also chairs the board of directors of Women In View, a non-profit that promotes diversity and balance in Canadian media content.
Brother, I Cry (2020)
Jessie Anthony's film, Brother, I Cry, stories the life of Jon, a young First Nations man who struggles with drug addiction. As Jon tries to avoid the problems from his past and change his life around, he looks to the strong females in his life for guidance, including his mother, sister, girlfriend, and unborn daughter.
About the writer/director: Jessie Anthony is a Haudenosaunee woman from the Onondaga Nation and currently lives in Ontario, Canada. A graduate of the Indigenous Independent Filmmaking Program and Motion Picture arts program at Capilano University in Vancouver, Canada, she is also involved with 'Women in Film' in Vancouver, where she works as the outreach coordinator for the writers Indigenous Women's Screenwriting program.
Audrey's Story (2019)
A documentary short about an Indigenous woman who was found dead in Ontario in 1972 and whose death was ruled an accident, Audrey's Story, chronicles the reopening of the death investigation at the insistence of her family and friends, highlighting the flaws of the current justice system and how often crimes are overlooked, especially when it comes to minority groups.
About the writer/director: Michelle Derosier is an Anishinaabe from Migisi Sahgaigan First Nation in Northwestern Ontario. In her professional life, she is a writer, director, and producer and her content has been screened internationally at Sundance, Traverse City, and ImagineNATIVE.
We Can't Make the Same Mistake Twice (2016)
We Can't Make the Same Mistake Twice is a documentary about a 2007 court case in which activists argued a human-rights complaint against the Canadian government's inadequate funding of services for Indigenous First Nations children, living on reserves or in the Yukon.
About the writer and director: Alanis Obomsawin is an 89-year-old Abenaki American Canadian filmmaker, known for her documentaries and passion for education and teaching others through filmmaking. She has received numerous international honors and her work was showcased in a 2008 exhibition at New York's Museum of Modern Art.
Falls Around Her (2020)
Shot on the Atikameksheng Anishnawbek First Nation reserve near Sudbury, Ontario, Falls Around Her, is a drama about a world-famous Anishinaabe musician. She returns home in hope to refresh and take a break in her career, but encounters difficulty when her personal life and fame collide.
About the writer and director: Darlene Naponse is an Ojibway woman from Atikameksheng Anishnawbek, Northern Ontario. She is a filmmaker, writer, and director whose many works have been shown internationally, including film festivals like Sundance. In her personal life, she is an activist, particularly passionate about social, environmental, youth advocacy, and political activism.
Rumble: The Indians Who Rocked the World (2017)
A documentary acknowledging the countless indigenous musicians who played an essential role in the development of music in the United States, especially through rock guitarist, Link Wray's song "Rumble", Rumble: The Indians Who Rocked the World recognizes the importance of Native American roots in popular music despite the mainstream absence of Native culture in American society.
About the director: Catherine Bainbridge is a Canadian director, writer, producer, and co-founder of Rezolution Pictures, an Aboriginal-owned film and television production company based in Montreal, known for developing award-winning projects that focus on the Native cultures in Canada. 
Angry Inuk (2016)
Written and directed by Inuk filmmaker, Alethea Arnaquq-Baril, this documentary follows the lives of the Inuit, a group of people located in Arctic regions in Canada and Alaska, and the importance of seal hunting in their culture. It focuses on the significance behind seal hunting as sources of revenue for the people, while also touching on the negative impact it can have on their lives.
About the writer/director: Alethea Arnaquq-Baril is an Inuk director and producer from Iqaluit, Nunavut, Canada, best known for her works on the Indigenous Inuit peoples. Through her various features, including Angry Inuk, Arnaquq-Baril is able to represent the life and culture of the Inuit people. She is also the founder of Unikkaat Studios, a production company focused on creating all Inuktitut-language films representing Inuit culture.