Blog Home
How to Protect Your Production from Residuals Penalties
Find out what triggers residuals late fees and nonpayment penalties and learn about proactive steps you can take to avoid them.
September 27, 2022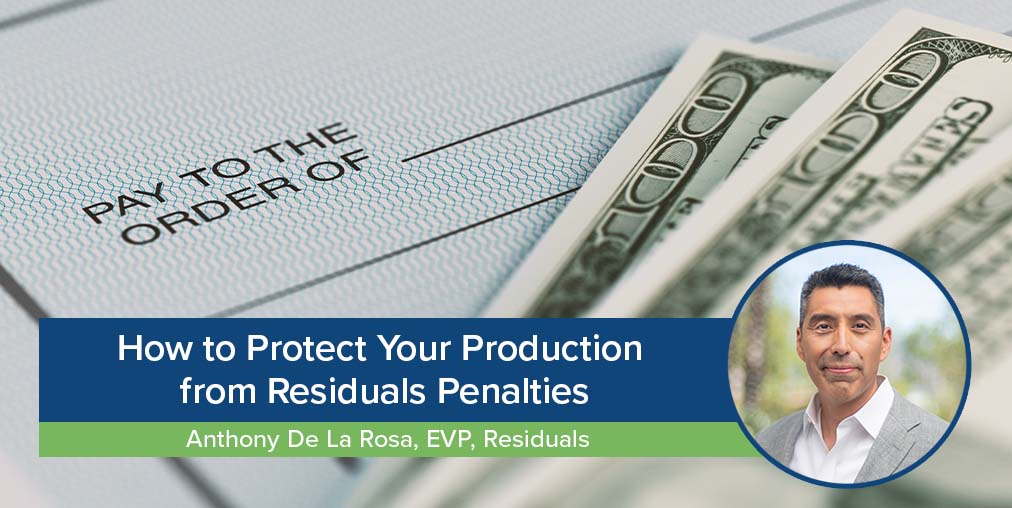 Residuals are union-negotiated compensation paid to actors, film or television directors, and others involved in making TV shows and movies. Residuals payments are calculated based on specific rates and must be paid on schedule, as determined by guilds, and late or missed payments can trigger massive production finance liabilities. Below, I'll explain how and why residuals penalties can wreak havoc on your production – and teach you how to avoid them.
Before we discuss nonpayment consequences, let's go over some basics.
How residuals are calculated
Residuals rates are determined by entertainment industry unions called guilds. The 'big three' are the Directors Guild of America (DGA), the Writers Guild of America (WGA), and the Screen Actors Guild - American Federation of Television and Radio Artists (SAG-AFTRA). Payment amounts are determined based on specific criteria defined by the guilds listed above.
Many factors can impact how residuals are calculated, including:
The performer or talent's role (e.g., actor, stunt-person, writer, director)

The project's made-for market (theatrical release, television, SVOD, etc.)

Where the production is airing (syndication, network TV, new media, etc.)

The project's final runtime and budget

Terms of the contracts in place on the production's release date
Productions must calculate residuals by considering all the relevant factors, applying applicable guild percentage rates, and appropriately dividing the money among the eligible talent working under each guild.
Calculating residuals is highly complex, particularly since variables are subject to change. For example, if a project is released in one format and is later moved to another (i.e., a theatrical release gets added to the Netflix content library), residual calculations and payment amounts must be adjusted. There are also many nuances, like different guild rates for new content on new media (streaming services) versus historical content on new media. Guild rates also change every few years when agreements are re-negotiated. As a result, performing accurate calculations requires expertise, and there's lots of room for errors that can lead to penalties.
What happens when you incur a residuals penalty?
When it comes to penalties, everything is based on the premise of accuracy and timeliness.
Productions take on a lot of liability because they're on the hook for residual payments even if their project loses money. As a safety net, some guilds require what's called a 'residuals bond' to be put in place before principal photography begins. In this case, a production sets aside upfront funds that'll be used to pay future residuals. When there's a bond in place, guild members are guaranteed to get paid residuals, even if the production entity runs out of funds.
If a production neglects to pay some or all of its residuals on time, and there's no bond in place, an escalation process is put in motion. Here's what that process looks like:
Step 1: Residuals Penalty Claims
When a production misses a residuals payment due date, the applicable guild sends a claim letter detailing how their penalty fees will be assessed. Just to keep things interesting, each guild handles late penalties a bit differently.
Here is a breakdown of residual payment deadlines and interest assessment criteria by guild:
WGA: Interest is accrued starting 60 days after a residuals payment due date if the production fails to pay. Late penalties are assessed at 1.5% per month.

DGA: Payment is due immediately upon the residual due date, with no grace period. Interest is assessed at 1% per month on past-due amounts.

SAG-AFTRA: Productions have ten business days to pay residuals after the due date. Interest is assessed based on the original due date at 1% per month on past-due amounts.
The timelines detailed above define when a late payment becomes a missed payment. These deadlines apply to payments in their entirety as well as to underpayments. For example, let's say someone on your accounting team miscalculates a residual, and talent is underpaid. In this instance, the guild that the talent belongs to can charge interest on the portion of the residual that was underpaid. Why? Because that portion of the payment is now considered late.
If a payment is missed altogether, the entire amount is subject to interest fees, and while 1% seems low, it adds up quickly when you're signing talent contracts worth millions of dollars!
If a production receives a penalty claim and no payments are made, the escalation moves to step two.
Step 2: Guild Arbitration
Arbitration is a legal proceeding that operates under a collective bargaining agreement between a guild and a production. Rather than going through a traditional court, guilds and producers select and hire a third-party arbitrator to handle residuals cases. These hearings require legal counsel for representation and result in an arbitration award or a settlement by the parties.
At the conclusion of the hearing, productions may owe late fees and their share of the arbitrator's fees, which are used to cover the cost of the arbitration hearings.
If arbitration occurs and the offending production continually fails to pay residuals on multiple titles pursuant to the arbitration award, a guild can prohibit the guild talent from working for the production. However, productions rarely make it to this stage.
Residuals penalties can pose serious financial consequences for your production if you find yourself in the throes of this process
How to protect your production from residuals penalties
No producer wants to deal with late fees, penalties, or litigation. Luckily, there are plenty of proactive steps you can take to avoid these issues.
First, it's important to make sure your initial residuals calculations and payment due dates are accurate. Productions that work with EP's team of residuals experts have access to tools and processes designed to simplify this process.
We use reliable data and smart algorithms to analyze your talent roster, their guild memberships, and your content market and platform details to make sure all your residuals payments are accurate and on time. Our team also stays up-to-date on guild rate and regulation changes, and we handle all the paperwork and compliance involved in residuals management – leaving you to focus on creating great content.
Our automated payment processing system also manages ongoing residuals payments on your behalf, to meet all due dates. Our goal is to keep you as far away from penalties and litigation as possible. However, if issues do arise, our team will help you set things straight as quickly as possible. For example, if a residuals miscalculation leads to an overpayment, meaning talent accidentally received too much residual money, we'll help you get things sorted. Guilds have nothing to do with this type of reconciliation, but EP will help you navigate a process called recoupment, which is your best bet at recovering overpaid funds.
From initial budgeting to processing residuals payments in perpetuity, we've got you covered. Learn how the EP Residuals team can support your next project today.