Blog Home
Residuals and the Streaming Model
How residuals apply to historical content on new media platforms.
May 24, 2022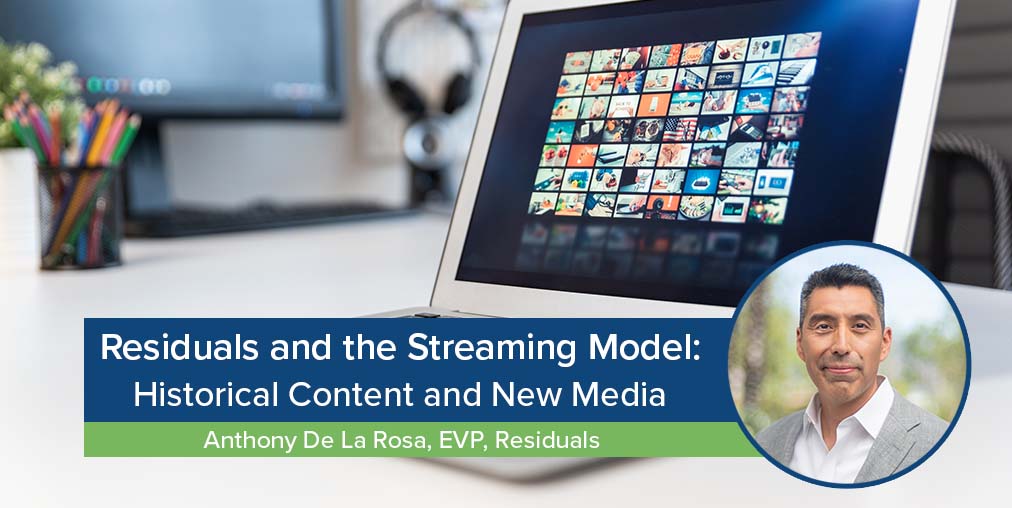 A robust streaming platform is made up of content that appeals to everyone - from widely celebrated new series to quirky independent films. And, of course, feel-good favorites from years gone by. Public forums buzz over the content itself, but we rarely talk about all the work happening behind the scenes to bring beloved content into our living rooms.
To build successful content libraries, unsung heroes of the residual teams must accurately predict what will resonate with viewers and forecast what it will cost to procure desired content for their platform. These teams are also responsible for setting up content, accurately calculating residual payments, and ensuring those payments are ready to be distributed in perpetuity. Long story short, there's no room for error in this critical role.
How do residuals apply to historical content on different types of new media platforms? Let's dig in.
New media residual basics
'Historical content' refers to any media (movies, television shows, or series) that is not brand new. More specifically, content produced in or after 1971. 'New media' refers to three types of on-demand streaming platforms:
Subscription Video On Demand (SVOD) – A category of new media which require viewers to pay a monthly fee to access their content. Examples include well-known streaming platforms like Netflix, Hulu, Amazon Prime Video, Apple+, and others.

Ad-Supported Streaming Programs (ADSS) – Rather than charging a monthly subscription fee for access, these platforms make money from ads that play before, during, and after streamed content. YouTube is a great example.

Electronic Sell-Through (EST) – A media distribution method where consumers pay a one-time fee to download a digital media file to their device. For example, buyers may purchase a single episode of a TV show or a digital movie from a platform like Amazon or Vudu.
Residual rate calculations for historical content on new media platforms are primarily determined based on two things: 1) which guilds have signatory rights to the content and 2) what type of platform the content is being consumed on. We'll explore how both parts of this equation impact rate calculations as we go through the setup process.
Setting up historical content residuals
The process for setting up residuals is the same for historical content and new content. The key steps are:
Determine which guilds have signatory rights to the content

Collect production and payroll paperwork

Analyze documents and perform calculations

Input talent calculations into the system and generate a residuals report
Residual teams must complete each step listed above in its entirety before moving on to the next step, and must complete all four steps before any payments can be made. We'll focus on steps one through three for the remainder of this post.
Step 1: Determine which guilds are signatory
Three major guilds set residual rules, rates, and regulations for historical content - the Screen Actor's Guild (SAG-AFTRA), the Director's Guild of America (DGA), and the Writer's Guild of America (WGA).
Your residuals team must determine which guilds are entitled to receive payments in order to accurately calculate residual costs. Step one in this process is figuring out which of the three major guilds have signatory rights to the content.
To find a production, you can visit the major guild signatory databases:
If a guild has signatory rights to a piece of content, the title will populate in the search results. A word of caution; if you're not sure about spelling or punctuation, try multiple options or type in a broader search term to make sure you don't miss anything. The responsibility for getting it right falls to each production's residuals team - so it's critical to be thorough.
It's also important to know that one, two, or even all three guilds can have signatory rights on a single piece of content.
Step 2: Collect production and payroll paperwork
When it comes to historical content, locating these important documents can mean hours of sifting through file boxes and binders of paperwork. That being the case, the setup process can take a significant amount of time. At EP, we do everything in our power to digitize and streamline residual setup. Our system utlizes crew rosters, payroll data, and other securely stored digital documents to make the process as quick and painless as possible.
No matter which guilds have signatory rights, production teams need to gather the following documents to set up historical content to receive residual payments:
Picture or series title and episode number or title

Principal photography date

Product length

Primary shooting location(s)

Made for market (new media, theatrical, etc.)

Main title and end credits

Guilds applicable for residuals (including all U.S. and foreign guilds, and non-union)

Any special agreements related to residuals negotiated between producer and guild(s)
In addition to the items on the list above, residual teams must track down a few other vital documents for each signatory guild:
SAG-AFTRA: Final Cast List – This guild-official form includes specifics on who worked on the project, each person's role type, pay details, and tax identifier information.
DGA: Deal Memos for the Director and Crew – These documents include personal identification data and details on what each cast or crew member worked on.
WGA: Writer Payroll Information and WGA Notice of Tentative Writing Credits – ⁠This guild bases residual split percentages on subtle details, such as whether the credit uses the word "and" or an ampersand. This seemingly minor difference actually changes the amount of money each writer receives, so it's critical to have this document in order to make sure your payments are set up properly. Despite what the name implies, tentative writing credits are an official guild document, and will allow you to ensure accurate payouts.
Here are examples of different ways WGA splits residual allocations: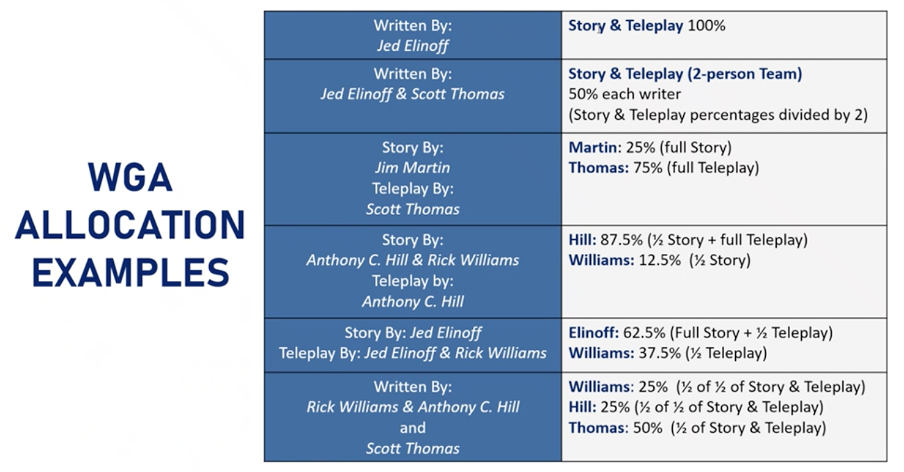 Step 3: Analyze documents and perform calculations
New media residual rate calculations are complex, in large part because they vary significantly based on the type of new media platform where the content will be streamed or sold. As mentioned earlier, there are three primary types of platforms. Due to market and project type variables, calculations will depend on fixed payment or percentage of receipts.
What happens if residuals are over or underpaid?
Any time you add a new piece of media content to your library, you must accept the liabilities that come along with it. When it comes to residuals, those liabilities include things like missed payments and inaccurately calculated rates that result in over or underpayments.
Let's say, for example, your team sets up a residual payment incorrectly, and as a result, an individual is overpaid. When this happens, your team must go through a process called recoupment to try and get that money back. Guilds don't assist in this process. It falls on production companies to manage issues that arise as the result of a residual payment error - so it's always best to ensure accurate setup to avoid these issues from the outset.
A better way to manage residuals
With a high level of complexity and constant change, it makes good sense to have a team of experts to help you navigate the world of new media residuals. Especially given that payments are set up in perpetuity! Our team is ready, willing, and able to help, whether you're setting up new content, adding historical content to your library, dealing with over or underpaid residuals, or just need a better system in place to manage the process.
Our SmartResiduals system takes the headache out of setup, minimizes human error, and eliminates busy work. In tandem, our team of experienced analysts use our collective decades of experience to provide guidance on residual setup, calculations, and payments - and to answer any questions you have along the way. As the entertainment industry's largest residual payment processor, we've seen it all, and you can be confident you're in good hands with EP.