Blog Home
Meet the Steadicam Operator
A conversation with Brian Freesh ('Babylon,' 'Gaslit,' 'American Ninja Warrior')
August 8, 2023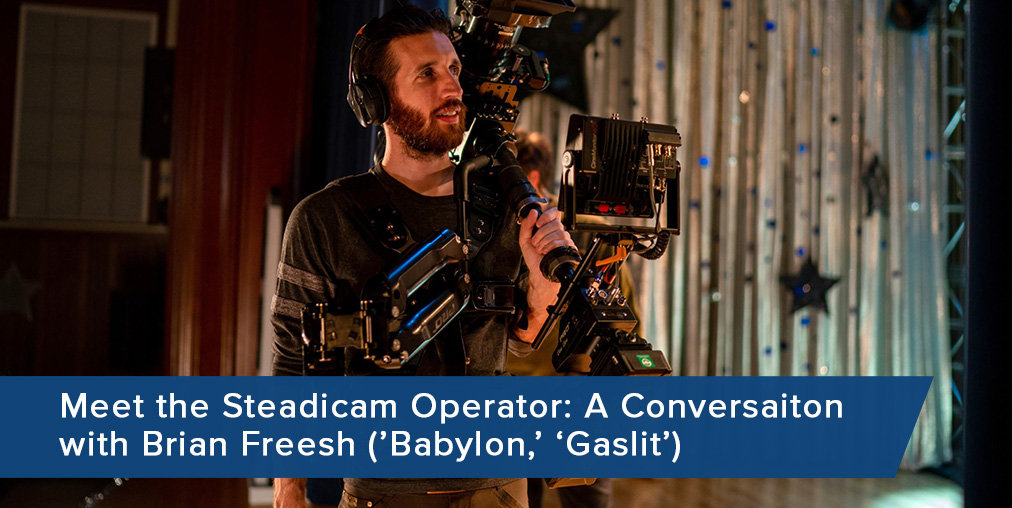 Imagine the film 'Rocky' without Balboa's iconic run up the Philadelphia Art Museum's flight of stairs, or 'The Shining' without the Danny's Big Wheel tricycle traveling the eerie corridors of the Overlook Hotel.
These iconic scenes were made possible with the help of the Steadicam, a groundbreaking tool that revolutionized filmmaking in the 1970s. Prior to its introduction, smooth camera movement was limited by the range of movement of cumbersome dollies and cranes, while significant freedom of movement was limited to the shakiness of hand-holding the camera.
An innovative camera stabilizing system, the Steadicam combined the mobility of handheld with the smoothness of dolly shots, "on paper anyway, your mileage may vary!" Freesh added with a laugh. It isolated camera movements from the movements of the camera operator's body and captured motion in a fluid, yet controlled manner. Directors quickly adopted the Steadicam for fast-paced and emotionally driven scenes and, as a result, it quickly evolved to be an indispensable part of the storytelling process.
Today we spotlight veteran Steadicam operator Brian Freesh, exploring the functional elements of Steadicams and how this tool forever changed the craft of filming. With 15 years of professional experience under his vest, Brian Freesh has contributed to all types of sets, ranging from major motion pictures to music videos, commercials and television shows. His work has been featured in Childish Gambino's Grammy Award-winning music video 'This is America' and the TV special 'Miley Cyrus: Backyard Sessions' (Disney+), as well as Damien Chazelle's 'Babylon' (Paramount), Channing Tatum's 'Dog' (United Artists), and television series 'Gaslit' (Starz) and 'American Ninja Warrior' (NBC).
The visual language of film
"I always liked magic as a child, and to me, special effects in movies were the same thing. Camerawork and editing are magic; you're doing one thing but you're making it look like it's another thing," shares Freesh.  
From the age of 6 years onward, Freesh dreamt of becoming a filmmaker. He pursued his passion and studied visual effects at the Savannah College of Art and Design (SCAD), but after visiting a professional film set, Brian decided to switch his major to film to focus on studying camera operating which eventually led him to taking a Steadicam class.
"When I put the Steadicam on, I fell in love immediately. I didn't want to take it off, but I easily wore out in under ten minutes and didn't realize it. My professor had to tell me to put it down," shares Freesh. Nineteen years later and he still hasn't been able to put the camera down.
So, what makes Steadicam so different from other camera platforms?
Unlike other camera platforms, the Steadicam is physically connected to the operator's body by a harness, or vest. The other two main components of the Steadicam, the arm and the sled, isolate the operator's movements from the camera, allowing for dolly-like smoothness with the freedom to move anywhere.
The camera's ability to move freely and change direction within a space offers a more engaging and intimate experience for viewers. In his own work, Freesh embraces this connection with a more expressive style of camera movement: "The subjective camera goes with the energy of the scene and tells the story the way it feels, as opposed to objectively showing you what is on camera. I tend to [have] more of a subjective camera style. I try to feel what the actors are feeling, and I react to them that way."
Brian first began professionally working in music videos and some of his projects to date include Florence and the Machine's 'Delilah,' Pink's 'What About Us,' and Childish Gambino's 'This Is America, Beyoncé's 'Lemonade.'
Surprisingly, music doesn't come easily for Freesh, "I've never been musically talented, nor do I listen to much music, so when working on a music video it's difficult for me to flow with the music, or even know where I am in the song. But I do understand emotions, and the artists always connect to their songs deeply, so I react to the artist, and how they feel in the moment. Dancers also tend to be deeply passionate, so there is a lot for me to work with when choreography is at play and free to interact with the artists on my own and can just improv a camera performance. I also use movement and emotion when there is a specific camera move, as there are opportunities to adjust my pace, or slightly alter the angle. These little unplanned touches add some in-the-moment magic to a shot."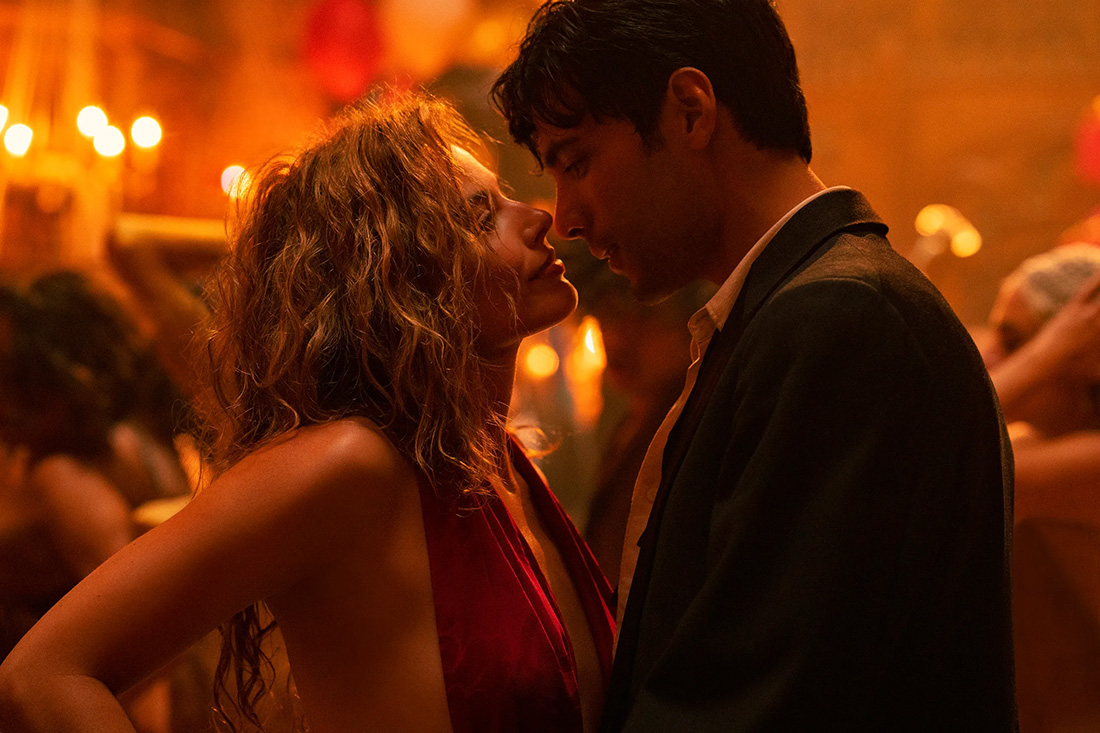 'Babylon' / Paramount
The role of a Steadicam operator on set
The main responsibility of the Steadicam operator is to execute the Director and Cinematographer's visions, which aren't always the same and must both be carefully considered to execute the best plan possible.
"Sometimes they tell me what they want exactly, and I try to figure out how best to execute that vision. And other times they come for advice, to ask me what the best angle is for a particular shot," explains Freesh.
On 'Babylon,' Director Damien Chazelle designed all the Steadicam shots ahead of time, and even timed them to specific lengths for Freesh to execute exactly. "Damien is very aware of what Steadicams are capable of, and he designed some amazing shots," says Freesh. "On that one, I was mostly there to execute his vision to the best of my ability."
Some directors, on the other hand, look to Freesh and the camera crew for creativity and guidance on how best to design a shot: 
On 'Wander Darkly,' writer/director, Tara Miele had a lot of specific shots in mind, but left it up to Freesh, Carolina Costa (cinematographer), and the rest of the crew (specifically key grip, Adam Kolegas) to execute: "We all had discussions ahead of time to decide on the best tool to use, and then when the shot came up, we were ready with a plan in place. That usually was immediately thrown out the window for a better idea, but having an initial plan as a base was important. My favorite was a particular shot that we talked about for weeks and we discussed Steadicam, with or without superpost, Trinity, Ronin, dollies, jibs, combinations of those, and more, only for me to realize when we got there and looked at it for the first time, the shot was best served with a very standard Steadicam setup!"
The Steadicam operator may be hired independently but they work alongside many creatives and crew members to execute a plan. I'm having very important conversations, not only with the director and cinematographer, but also with the first AC, boom operator, set decorator, gaffer, key grip, dolly grip, actors, and many other crew members," says Freesh.
One important connection Freesh highlights is with the dolly grip and the Steadicam operator: "Having a great dolly grip is crucial to not bumping into another human or a piece of furniture, and not stepping off the edge of a stage. Dolly grips understand camera movement in three-dimensional space. They're the eyes in the back of your head, even predicting the direction you're going."
Working alongside the focus puller (or 1st AC) is just as important, as it often requires well-planned choreography of moving around the set. As part of the camera team, the focus puller maintains the focus of a shot in progress and predicts the movement: "When you have a specific shot design, it's important to be able to walk through it with the focus puller and lay down marks for the actors and for the Steadicam. You must be able to have open communication with the focus puller and understand each other's needs."
Filming near the talent also gives Freesh an intimate connection with them, as well as an opportunity to capture the essence of their character in a scene: "The actors are some of my closest teammates. I'm putting them in the best light and from the best angle. For those few minutes it's magical–it's just me and them in my world."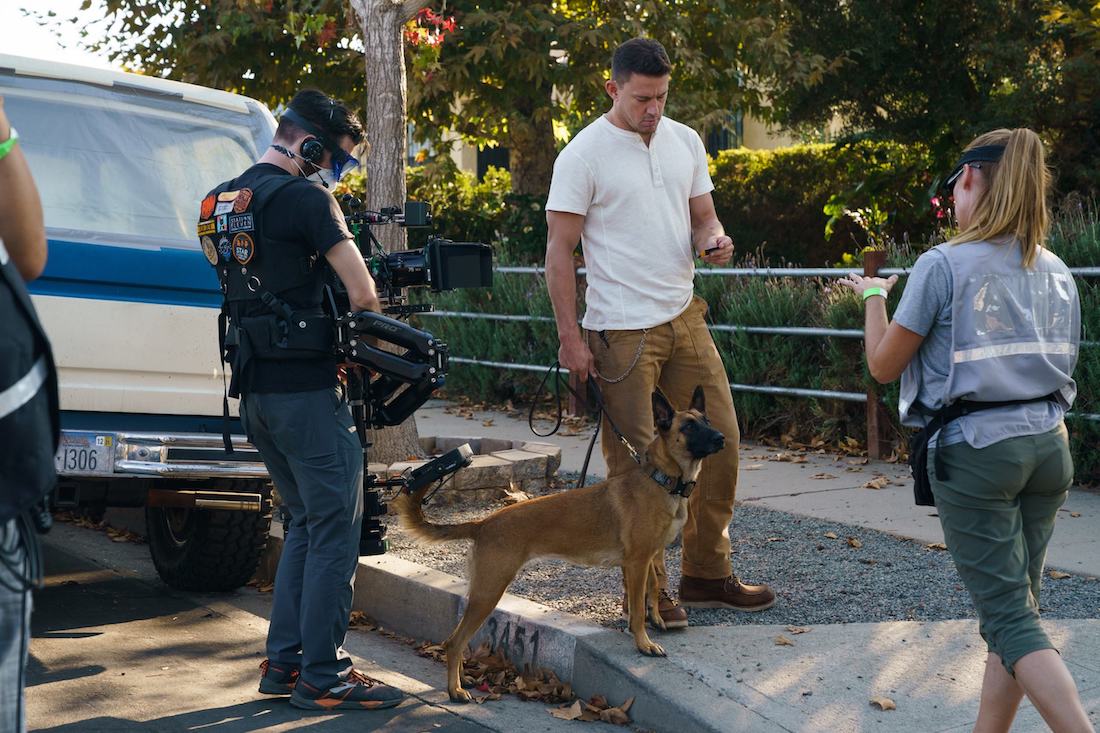 Brian Freesh on the set of 'Dog' / Courtesy of Brian Freesh
Brian's advice for future Steadicam operators:
Steadicam operation is a specialty that requires dedication, commitment, and resources. "It takes a lot of money to get into the field because you can't just rent a Steadicam somewhere since the kit has to be customized to each individual," explains Freesh. Each Steadicam operator finds their own equipment with a unique collection of features and comfort, and they tailor their own kit as a result of their specific style of operating, ensuring a perfect fit and maximizing their filming ability. Before buying, however, Freesh recommends that you seek out local operators to learn from, practice with, and maybe even get the chance to try on their gear: "The Steadicam community is by-and-large warm and welcoming and incredibly helpful," says Freesh.
But even with the best equipment, working as a Steadicam operator is a specialty that requires a lot of dedicated training. Brian echoes the advice of his friend and early mentor, Peter Abraham, "It's like learning a musical instrument– it takes a couple of months of practicing every day JUST to become decent," explains Freesh. And just like playing an instrument, controlling Steadicam equipment requires a certain finesse. Steadicam operators must juggle many elements of the camera such as hiding their footsteps, keeping the horizon, and overall controlling the rig.
How to find success as a Steadicam operator
First, take a workshop and work at being a good camera operator. "To be a strong Steadicam operator, it hardly matters how good your horizon is if you don't know how to use a camera to tell a story visually, or how to communicate and work effectively with your team. If those foundations are in, then it's all about practice. Practice those skills and practice all the skills you learn at your first workshop. Always be actively learning and growing," explains Freesh.
Freesh acquired his skills and became fluent in technical and troubleshooting knowledge while working at the film department at SCAD. That background helped him gain new opportunities and, in addition to the hands-on experience, gave him a technical understanding of camera equipment.
Second, be physically prepared. Operating Steadicam equipment is a physically demanding job that requires stamina and strength. Operators must be in good physical shape as many shots are taken while moving quickly or even running. And with equipment weighing up to 70 pounds or even more, operators must have the stamina to endure long days of filming. "The difficulty of Steadicam operation is endurance. How long you can hold the camera depends on the type of shot, like if you're running, it's going to be harder to hold it as long!" says Freesh.
Third, learn to empathize with the characters. "Understand the story and have empathy for the characters I tend to feel the character's emotions and often I'm reacting to them," explains Freesh. "Because of this, it is important to me to form a bond with the talent. It's rare that I don't become friendly with them, even if it's only for a day or just one shot." 
Want to learn about other behind-the-scenes roles?  
Be sure to check out the other Spotlight interviews and leave us a comment on Facebook, Twitter, Instagram, or LinkedIn telling us what role you'd like to see next!