Blog Home
Illinois' Film Scene Grows to New Heights with Expanded Tax Incentives
For over 100 years Illinois has supported the film industry and thanks to recently passed legislation, the state stands to attract bigger productions and create thousands of jobs.
February 15, 2023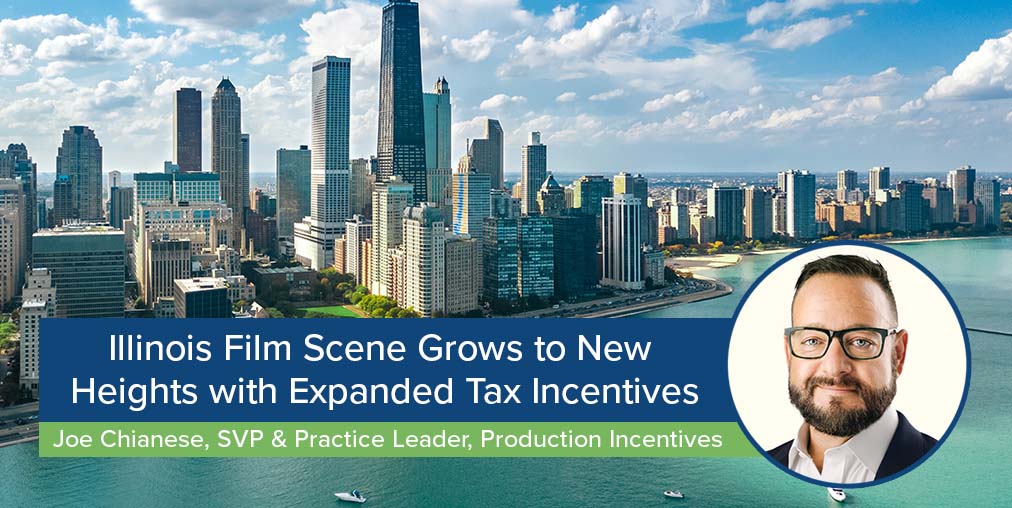 Hollywood might be the place most often associated with stardom and red carpets, but Illinois in fact claims the birthplace of filmmaking. Silent-era star Charlie Chaplin made some of his earliest films, 'Johnnie' and 'The Masquerader,' in Chicago in 1914. Throughout the early part of the 20th century, Chicago, Illinois, was also home to a vibrant African-American film scene, started by photographers capturing their experience through a documentary lens.
Illinois has continued to build on that filmmaking legacy. Featured on the big screen for more than 100 years, iconic Chicago films include 'Home Alone', 'The Blues Brothers', 'Ferris Bueller's Day Off',  and most recently Christopher Nolan's, 'The Dark Knight,' and Matt Reeves' 'The Batman.' On television, Chicago continues to shine in the NBC dramas 'Chicago Med,' 'Chicago P.D.,' and 'Chicago Fire,' as well as the FX dramas 'Fargo,' written by Noah Hawley and produced by the Cohen Brothers (which was one of the first productions to serve as a model for working safely during the pandemic in 2020) and the recent hit show 'The Bear' which begins filming its second season February 2023.
In addition to films and television, Illinois is home to a large ad agency scene with commercial production and post-production companies dating back decades. Today, roughly 80% of applications for the Film Production Services Tax Credit are for Television production.
Chicago's cinema history and recent production growth has proved to be the catalyst for more competitive tax incentives, designed to create high-paying jobs, provide workforce training, and expand vendor and infrastructure opportunities. Today, Illinois is a leading filmmakers' destination.
In April 2022, Governor J.B. Pritzker signed Senate Bill 157 into law, expanding the existing tax incentive. The Illinois Senate and House just recently extended that law to stay in effect until January 1, 2033. Peter Hawley, Director of the Illinois Film Office, and Adjunct Professor at Loyola University, sees long-term impact in this win, "For such a long time, productions have come to basically rent Chicago and Illinois, both from a backdrop perspective and from a crew perspective. I want people to come and live here and create an organic film community. And I think that the expanded tax credit is going to help that."
About the newly expanded film incentive
Illinois offers a 30% to 45% transferable tax credit, with no annual cap or project cap. Previously in Illinois, only residents – crew, actors, and vendors – were eligible for the film tax credit. Now, eligibility has expanded to include nine non-resident crew positions (Writer, Director, Director of Photography, Production Designer, Costume Designer, Production Accountant, VFX Supervisor, Editor, and Composer) and up to four non-resident actors for projects exceeding $25 million, or two non-resident actors for projects $25 million and less. In addition, Illinois' compensations cap was increased from $100K per person to $500K per person.
"It's significant for two main reasons," explains Hawley, "because it signals a change in Illinois that we're finally opening to non-residents with the aim of securing more features. And secondly, it says that Illinois is here for the long haul. We have grown consistently over the years. In 2018, we saw about $470 million in production spending. Last year, we had $660 million, and this year, we are going to be north of that as we inch closer to $1 billion a year, which is certainly a goal of Governor Pritzker's and mine."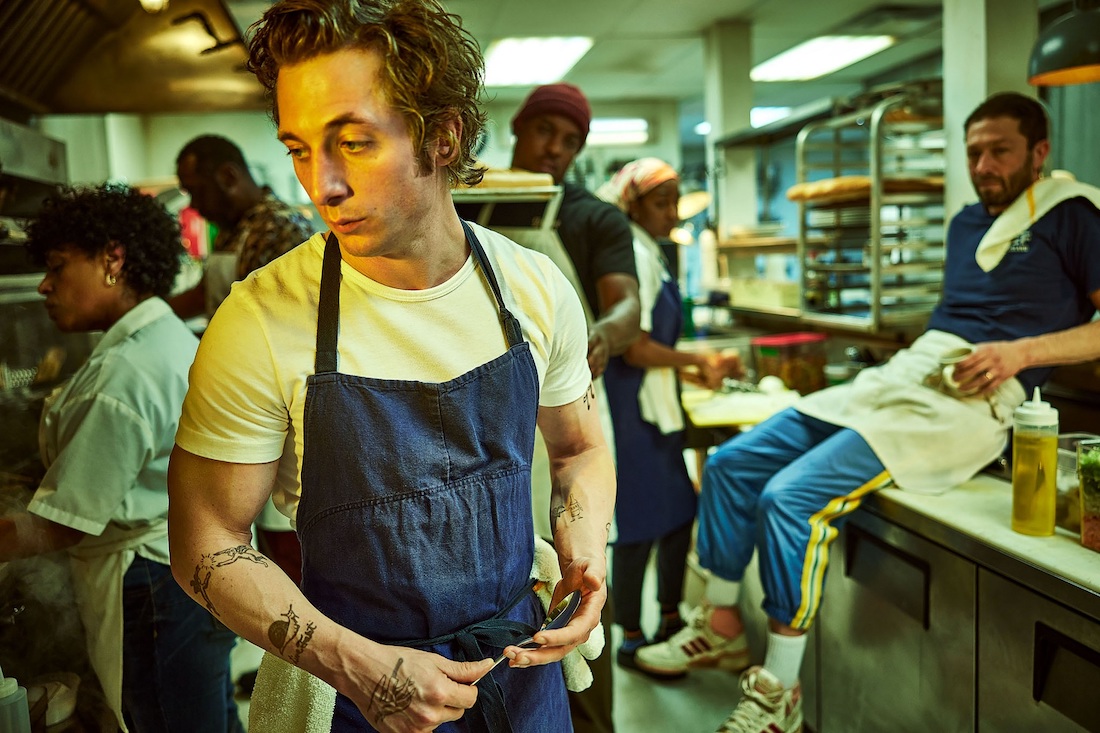 'The Bear' / FX
How did Illinois take their film tax incentive program to new heights?
Christine Dudley, Executive Director of the Illinois Production Alliance (IPA), who recently served four years as Director of the Illinois Film Office, was one of the key proponents in pushing the legislation forward. Together with a coalition of colleagues, like the Motion Picture Association and the Chicagoland Chamber of Commerce, she worked in concerted effort with LA and New York stakeholders, local industry partners, vendors, and labor and government officials by "pulling together all the puzzle pieces, identifying the strategic goals, and putting together a lot of research that is translatable to the public, press and government officials."
Dudley is confident in Illinois' film future and the IPA is now focused on marketing the behind-the-scenes of how the film tax incentives are going to transform the state overall. "We're going to start pivoting this year – to start shining a brighter light on Illinois and the assets that we have here," she says.
To explore a more in-depth look into the recently expanded program, visit the Illinois Production Office website.
Illinois Production Workforce Development
One of the highlights of the new incentive program is the creation of the Illinois Production Workforce Development Fund, with a focus on grant funds allocated for historically underrepresented communities.
The Illinois Film Office, under Peter Hawley's leadership, piloted the beginnings of this program in 2019 where they awarded seven grantees with $500K to train individuals for crew positions that include lighting, electrical, and accounting departments. The program had an expected a start date of March 2020, but due to COVID-19, the program was postponed. By fall of 2022, the program commenced and 80+ individuals participated. Today, over 80% of them have been placed on jobs. With the newly expanded tax incentive funding, the program is continuing through into 2023, with another 120 students expected to be trained (and then placed) in the first half of 2023.
Hawley projects that they can add 2,500 to 3,000 entry-level crew members to the Illinois film production workforce over the next decade. Their goal is to equip incoming candidates with the skills to grow beyond entry-level jobs and work their way into department head positions. In turn, these department heads can help educate future incoming classes and hire them upon graduating. Hawley emphasizes that all the grantees who are receiving funding for the workforce training actively recruit women and minorities,
"Many of these potential students can tour soundstages and they can look around and go, 'wow, people that look like me can do this, and I don't need to go to college, and I don't need to go to the coasts to make it in the industry.' And that's a really great thing, especially knowing that film industry jobs pay more money on average than jobs outside of the industry."
The Illinois Film Office is scheduled to put out another grant for winter of 2023 that's tied to the film tax credit expansion. This grant will be open to applications on their website beginning in July 2023. Chicago Filmmakers and Free Spirit Media are some of the current non-profit grantees awarded by the Illinois Film Office; universities and colleges are also recipients, including Southern Illinois University and Rock Valley College in Rockford, where Bing Liu, director of the Oscar-nominated documentary 'Minding the Gap,' studied prior to attending Columbia College in Chicago.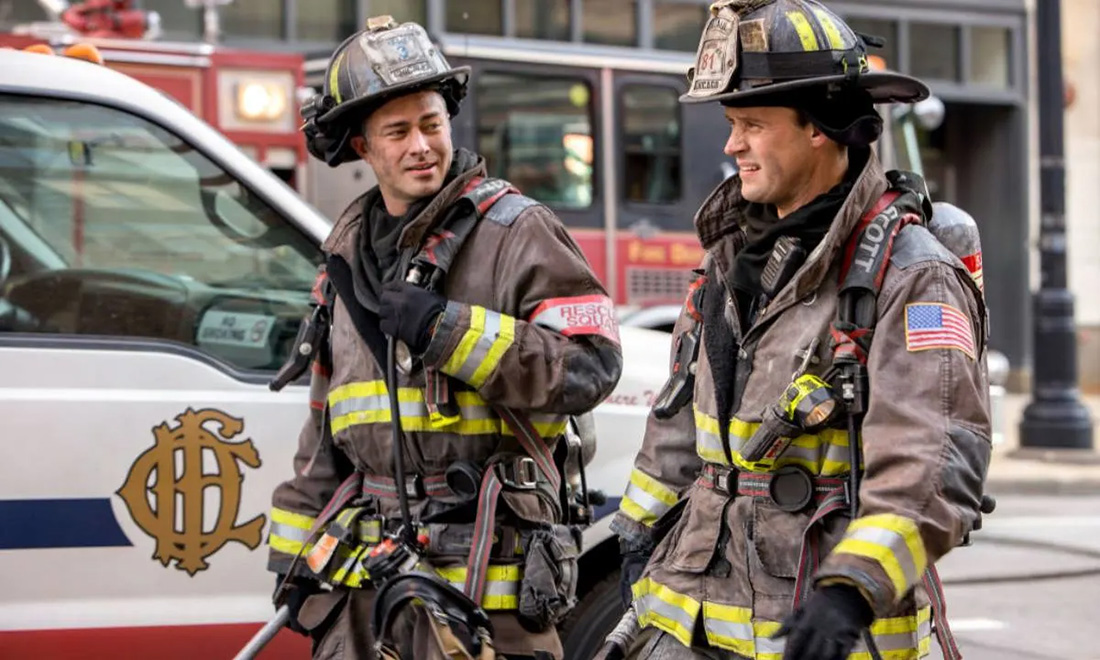 'Chicago Fire' / NBC
Hawley believes this program will not only diversify the workforce, but also the stories being told in Hollywood, "You have different points of view, different ideas, different ways to attack the work. That's all good. In terms of storytelling, once we start further developing an Indigenous Chicago and Illinois film community, we're going to see stories come out of that, and we already are in certain ways, like in the film 'Saint Frances' written by and starring Kelly O'Sullivan."
Illinois Film Resources
Grants, a growing workforce, and rising production means Illinois is not slowing down, and there are expanding resources for filmmakers who choose to make Illinois their production home. Is your production considering Illinois? To begin, connect with the Illinois Film Office or the Chicago Film Office. Both teams are quick to assist with concierge services:
The Illinois Film Office

led by Peter Hawley is your go-to for pulling permitting outside of Chicago, processing tax credits with their reputable accountants, and assisting with finding locations using their vast locations database. They also help filmmakers solve problems and interface with state agencies, such as the Department of Transportation, Department of Natural Resources, or Department of Corrections. 

The Chicago Film Office

works with permitting in Chicago. So, if a production needs more police on the set or shutting down streets, this office and their team are your allies.
These film offices serve as mediators between the state, the public, and the production to ensure a safe and smooth experience. As Hawley recounts, "On the HBO Series, 'Somebody Somewhere' they filmed outside of the 30-mile zone in a western suburb. A lot of those areas had never seen a film production there, certainly not a film production of that size. Locals would call our office and say, "I have a location scout coming to my door saying they want to use my storefront for an HBO show. Is this serious or are they going to rip me off?'"
Hawley and his team were ready to provide a scout letter to verify the authenticity of a shoot and assure locals it was safe to work with the production. That's just one way the Film Office can help both filmmakers and the local communities. The other way, Hawley says, "is interfacing with state agencies." For example, to use explosives and fireworks, one must go to the Department of Natural Resources for a permit, a process still in place from the height of Illinois' coal mining days.
On the show, 'Chicago Fire,' Hawley says, "We interface with the Department of Natural Resources and the fire marshal quite a bit. If you need to shut down a piece of a major state road, a highway, or you just want to have a camera car, we will work with IDOT in our Department of Transportation to help plan it out." Another, somewhat unexpected interface comes in the form of the DOC. "We [also] work a lot with the Department of Corrections (DOC) because a lot of productions want to film in jails, prisons, and other detention facilities," Hawley recounts. "COVID has made the process more difficult because of safety purposes, but we can help cut through the red tape and facilitate filming safely."
Education and Community
Except for mountains, Illinois can give filmmakers almost any look: modern and historic architecture, rolling farmlands, and wildflower-filled prairies. Lake Michigan can double for an ocean and Chicago can stand in for New York City! When the perfect terrain and location can't be found, stages are on the rise, and their most popular is the ever-growing Cinespace Studios, which was founded in Toronto more than 30 years ago, and later added a campus in Chicago. The global platform of production facilities is now led by a new management team: Ashley Rice, President & Co-Managing Partner whose title prior to Cinespace Studios was Executive Vice President of Production at Legendary Television; Eoin Egan, COO & Co-Managing Partner; and Keith Gee, CFO & Co-Managing Partner.
Cinespace Chicago boasts 1.6 million square feet of stages, support, and office space. 'Fargo,' 'Divergent, 'One Chicago,' and the first and forthcoming second season of 'The Bear' are just a few of the projects who have found a home at this massive, multi-campus studio just 15 minutes outside of downtown Chicago.
CineCares, a division of Cinespace Studios, is dedicated to building initiatives that promote equity and inclusion in the Film and TV industry in communities where the platform operates.
In 2017, CineCares launched a workforce training program, placing trainees on actual productions for 24 weeks, allowing them to learn their respective departments and learn what it is to work on and off set. This is made possible through the Cinespace clients who shoot on their lot.
The program has seen over 80 trainees through its doors – with over 50% of those trained in union positions receiving their union card and over 80% of the program trainees still working in the industry today.

The local unions, both state and local film offices have been supportive since the beginning of our program and are actively working with Cinespace Studios on enhancing the program.
The program has seen so much success that Cinespace Studios recently hired Michael Scott Jr. for the newly created position of Director of Industry and Community Relations to build on the program. In this new role, Scott will provide strategic management for industry and community relations and develop local philanthropic and early education programs for Chicago. He will oversee the job training program that has been providing residents from underserved communities on the west and south sides with hands-on experience on productions filming at Cinespace Studios in below-the-line departments including Electric, Prop, Costumes, Locations, and Sound.
To support Scott in these efforts, Ashley Rice and the Cinespace Studio team are working closely with the local unions to design the foundation of the program to include everything from set etiquette to how to read a call sheet. "I think people don't realize that the film industry culture is not always cut and dry. It's always different. It's always changing. There can be a rhythm to it, depending on which department you're in. The CineCares workforce training program creates visible pathways for job opportunities to ensure equal access in the film and TV industry.  It's not a traditional career path and the job training program offers hands-on experience to different below-the-roles on set."
While the expanded tax incentive is growing Chicago's film industry in a more robust way with new funding, it was only made possible because of the fruit of the hard work put forth from people like Christine Dudley, Peter Hawley, and Ashley Rice, together with their teams and colleagues. Their vision is to see a thriving filmmaking community in Chicago that can have lasting impact for years to come. Charlie Chaplin may have started the beginning of cinema in Chicago, but the end is nowhere near. It's just getting started.
How EP can help your Illinois production
Looking to sell your Illinois Transferable Film, TV and Commercial Tax Credit? Then contact EP's Tax Incentive Team, North America's leading provider of film and TV tax credit placement services. EP's expertise is an unmatched resource for productions. We service all jurisdictions and can help you find the perfect incentive location to film your next project. When you're ready to start scouting, check out our incentive map to get an idea of what kind of tax credit programs are available. Then, contact EP's U.S. Tax Incentive Team, and we'll take you from budget to the monetization of your production incentive.