Blog Home
5 Reasons to Consider Canada for Your Next Production
Here's why Canada deserves a spot on every producer's shortlist.
July 12, 2022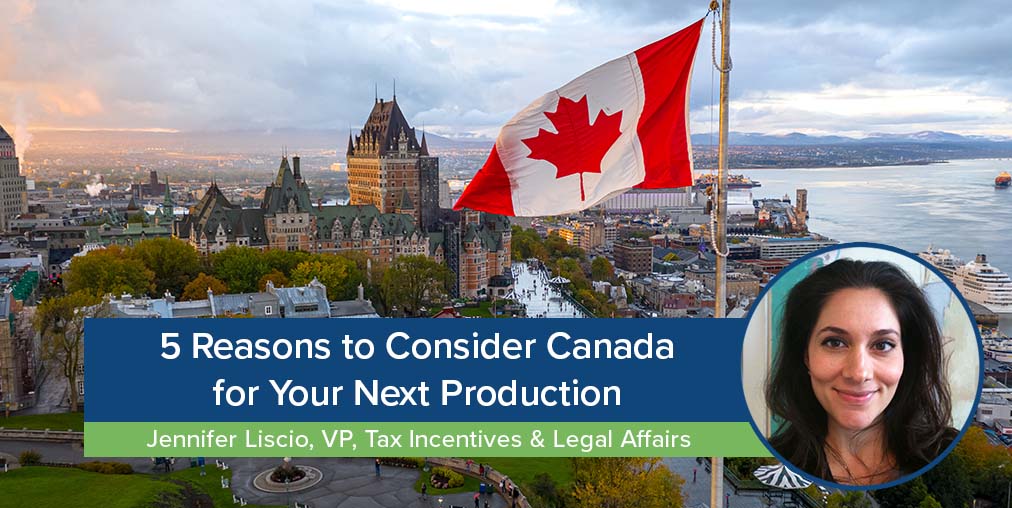 Producers are always on the lookout for locations that provide a combination of top talent, geographic versatility, and financial incentives. Canada checks all the these boxes – and then some. As a profoundly production-friendly country, the US's neighbor to the north offers many tools and resources to help projects reach their optimal potential.
Why is Canada such an enthusiastic supporter of the industry? Entertainment is big business! Film and TV productions generate 117,000 full-time jobs and $5 billion in revenue for the country each year. As a result, local governments have implemented extensive incentive programs to attract projects to the country's many diverse provinces.
Here's a detailed look at what Canada has to offer producers.
A robust network of experienced talent and crew
When deciding on a location, producers often first consider where the highest concentration of talent in their particular project genre is located. Luckily for producers, Canada has built an amazing talent network of highly skilled workers.
Canada has created an 'if you build it they will come' situation. Years ago, national and provincial governments made it a priority to build out great incentive programs. As a result, we attracted a lot of incredibly talented people to the area.
Today, productions filming in Canada have access to exceptional acting talent, seasoned crew members, and other skilled workers ready to take on the next project. There's also very specialized talent available for hire. Because British Columbia, Ontario, and Quebec all have well-established animation and visual effects bonuses, in addition to the basic tax credit rate, productions benefit from tax incentive uplifts for hiring resident talent in these categories.
With these incentives in place, drawing in projects over the last decade, several digital service providers have set up shop in Vancouver, Toronto, and Montreal, and hired experienced animators and top-of-the-line visual effects artists. As a result, there's been a huge uptick of talent coming into the country for years. Having access to this niche talent, all concentrated in one area, can be very advantageous for producers with extensive digital art and special effects needs.
Easy access to diverse locations
Thanks to shared physical and cultural proximity, US productions can effortlessly create authenticity when filming in Canada. There are no language barriers to overcome and no complex cultural rules to navigate.
The country also offers fantastically diverse geographies. No matter what type of scenery you need - expansive great outdoors, big-city metro, or sleepy rural town - at least one province has what you're seeking. So, where are US producers taking their projects?
Ontario (Greater Toronto), Quebec (Montreal), and British Columbia (Vancouver) make up more than 88% of the country's total production volume. Sometimes referred to as 'Hollywood North,' these three areas are globally well-known in the production community. Each province serves as a great 'stand-in' for well-known destinations. For example, Toronto serves as a solid proxy for New York and Chicago, Vancouver can sub for Seattle or any other coastal city or town, and Montreal frequently represents popular European and international locales. In addition to providing versatile shooting locations, these areas also have a wide variety of infrastructure in place to support physical production.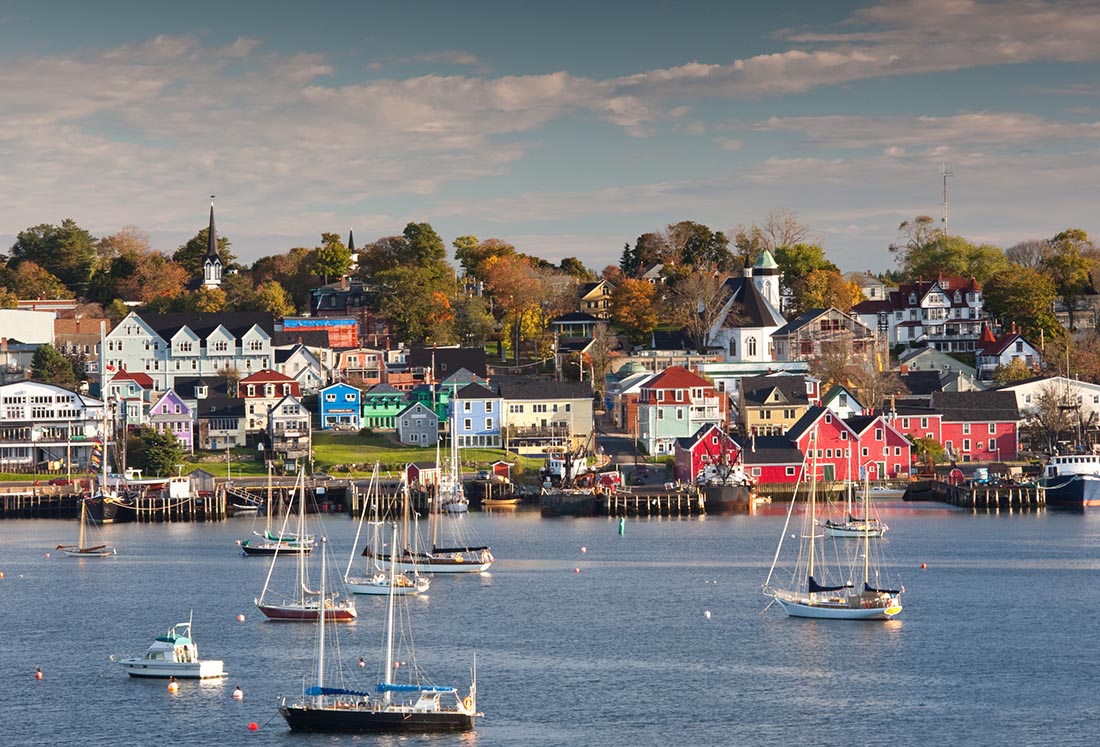 Producers can find even more niche geography outside the three dominant production areas mentioned above. For example, Nova Scotia (which makes a great copycat Cape Cod or other quaint coastal town) and other eastern coastal regions provide stunning maritime scenery. Ontario's neighbor, Manitoba, is another solid option. Need help with scouting locations? Just reach out to the team at Manitoba Film & Music.
Now that location, location, location is covered. What about money, money, money?
Attractive federal and provincial incentive programs
Canada uses incentive programs to attract film and television projects to its provinces. Both federal and local governments have committed lots of time and resources to build advantageous tax credit programs for productions.
Canada takes a very 'what you see is what you get' approach to incentives, which are deeply rooted in both federal and provincial legislation. Each incentive's structure is evergreen and very stable. That means programs don't face cuts based on budgets or wind up undergoing massive changes on the whim of a particular political party's preference.
What else makes Canada's incentive programs unique? Clearly defined eligibility criteria and a simple application process resulting in minimal barriers to entry. From a structural standpoint, programs are set up for lending against tax credits. No brokering or tax credit sales are involved, which dramatically simplifies budgeting and reduces administrative headaches.
Since eligibility criteria are relatively minimal, incentives can apply to a wide variety of projects. You don't necessarily have to be involved in 'boots on the ground' filming to take advantage. For example, many projects land in Canada solely for visual effects and post-production services because they want access to incentive bonuses and our robust talent pool. There are also opportunities for unique content creators to take advantage of incentive program funding.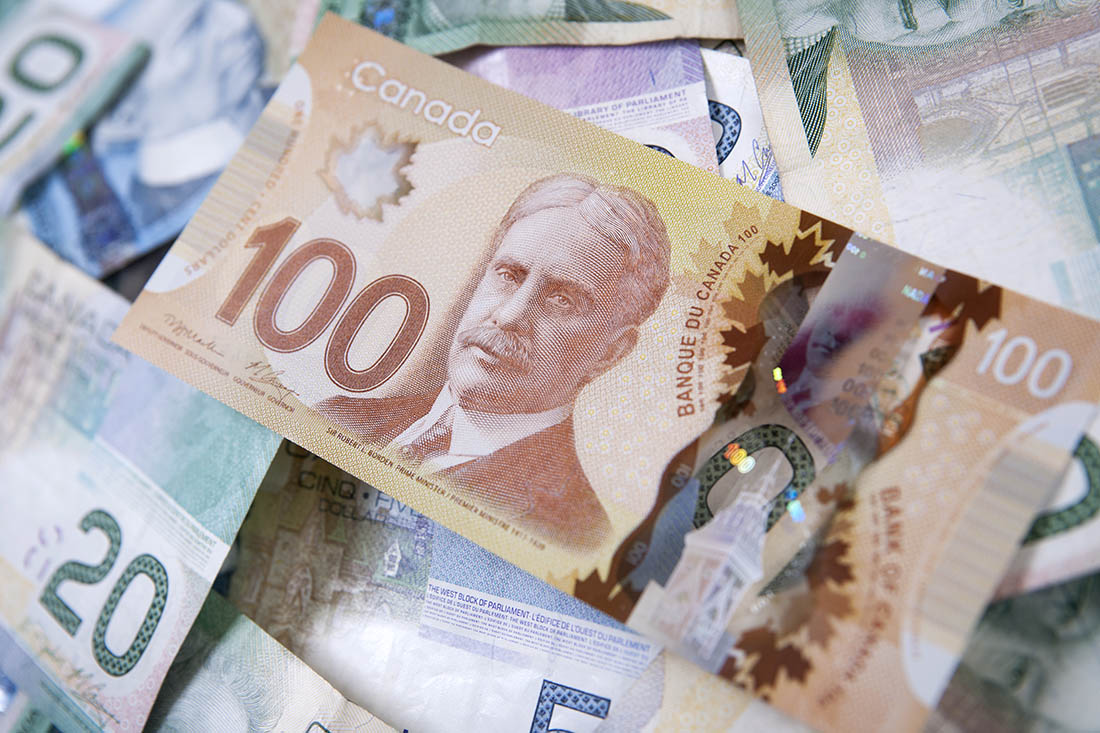 Some provinces also offer unique incentive opportunities. For example, Manitoba is a smaller jurisdiction with a strong infrastructure in place. The province's incentive program allows producers to choose between a labor or all-cost structure based on which option provides the biggest benefit. Being a smaller jurisdiction looking to attract and develop talent, their tax credits are among the most favorable in the country and allow for non-residents to be 'deemed' resident for incentive qualification purposes provided there is training provided on-set to resident crew looking to build up their skillset.
Budget-friendly economic conditions
The United States, the United Kingdom, and Canada are the three most popular countries to film in. However, there are several monetary benefits to selecting Canada over the reigning first and second-place holders.
The exchange rate is more favorable in Canada than in the UK or the US. That means producers can stretch their dollar further. One US dollar is currently worth $1.27 Canadian dollars. In contrast, $1 US dollar is currently only worth $0.78 Great British Pounds, the currency used in the United Kingdom.

There's often little to no wait to access incentive money. Canadian incentives are bankable, allowing production teams to use the funds to cover expenses in real-time. Provinces rarely impose incentive caps, sunset clauses, or expiration dates, and credits are fully refundable. And provided all filing requirements are met, the turnaround time to receive a refundable incentive can be as short as a 4 to 6 months after wrap, and often less than 1 year from the start of a production.

Productions can 'stack' incentives. That means producers can take advantage of multiple incentives at one time. Having the ability to secure financing to film across multiple geographically close locations has the potential to provide a huge financial benefit. Location fees also tend to be lower in Canada than in the US or the UK.

Rates are generally very favorable for productions. Most provinces structure their incentive programs to either give you a break on labor costs or issue 'all-spend' credits, which provide cost savings on a wide variety of expenses incurred during shooting. Some provinces also offer bonuses for particular types of projects.

Eligibility thresholds are minimal. Some areas only offer incentives for high-net-worth projects. In Canada, most incentives are available to any project with a budget of at least $1 million, meaning smaller-budget projects also have an opportunity to take advantage of incentive funds.
A concierge team to help you maximize all Canada has to offer
The best thing producers can do to utilize optimal incentives is start scouting and budgeting early. You need to have time to learn about different programs and what's available before deadlines start coming hard and fast. It's good to get out in front of incentive options because they truly can make or break a budget. If you know which jurisdictions you have a creative interest in, we'll help you compare incentives so you can find financial advantages. If you're early in the planning process, you can also use our incentive planning tool to get a ballpark idea of your options as a starting point.
Any creative team interested in pursuing incentives should reach out to EP's team in Canada. There are many funding opportunities, but it can be easy to leave money on the table if you don't have a resource available with firsthand knowledge of all the nuanced programs. EP is here to make sure that doesn't happen.
Our dedicated tax incentive team knows all the ins and outs of various programs, at a federal and provincial level. We'd love to connect with you to learn about your project and will help you put together a custom mix-and-match incentive program designed to make sure you get access to as much money as possible to fund your production.
We'll provide guidance on the best incentives to apply for and take care of all the legal, financial, and administrative tasks involved in the process – including things like getting your production set up with a Canadian sole-purpose production corporation, submitting incentive applications on your behalf, and filing all tax forms to claim the incentives at the end of the year. With EP, there's no need to hire an outside law firm or tax accountants for your incentives needs. We employ in-house experts to provide a truly seamless experience.