Blog Home
Film Festivals: Online or In-Person?
Producers weigh in on the state of festival season post-pandemic, featuring Divi Crockett and Mike Drake
November 9, 2021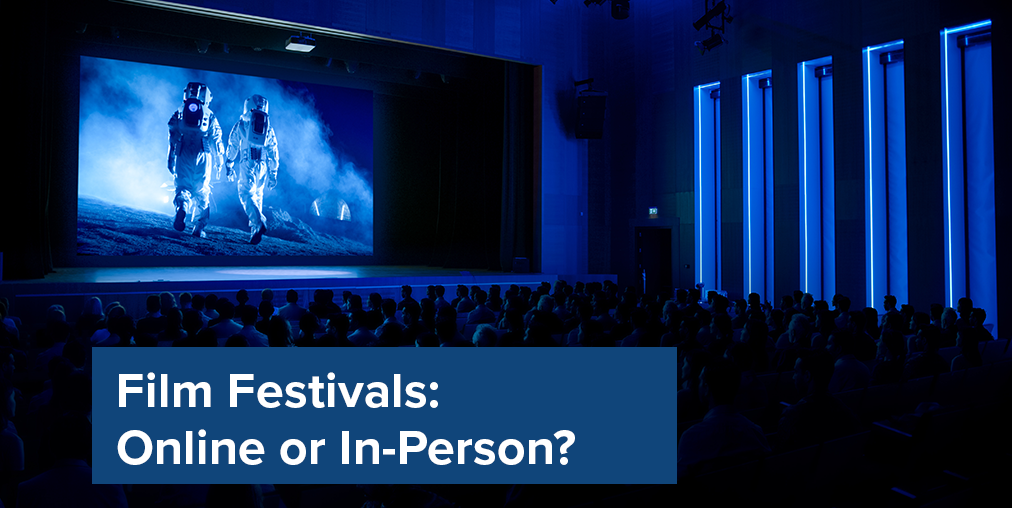 Before the pandemic hit, film festivals were going through a transition. The explosion of streaming services has changed film distribution, creating a high demand for content, leading to the introduction of new financiers and buyers to the festival circuit. And our increasingly connected world meant festivals began dipping their toes into online film programming and events.
Then the pandemic happened and accelerated everything. Lockdowns and fears of infection made the prospect of packing audiences into a crowded movie theater a no-go. In order to maintain their mission to celebrate film, festivals stopped being in-person events and went remote. Services like Shift72, Eventive, and Cinesend helped migrate programming online, and Zoom became the means to have filmmaker Q&As.
That transition revealed both benefits and challenges, which begs the question now as life slowly returns to normal: where do film festivals go from here?
The Benefits of Online Film Festivals
Online festivals may have initially seemed strange – perhaps even sacrilege – but the shift to remote and hybrid models quickly demonstrated one major improvement over pre-pandemic festivals: accessibility. A poll conducted by the Whistler Film Festival, which surveyed filmmakers and creators about their experiences since March 2020, found that 71% considered this a chief benefit.
That's because, for many, festivals pre-pandemic were becoming inaccessible. "Attending in person has become an exclusive experience," Nicole Guillaumet, a former long-time Sundance co-director told Indiewire. "It is very expensive and excludes many, many young people who cannot afford to pay for travel, lodging and passes." When regular film screenings at places like the Toronto International Film Festival cost $25, it's not just young people who have struggled to afford it either.
Remote festivals, with digital programming, demonstrated the possibility of democratizing access. Suddenly anyone, anywhere can attend, allowing film buffs to take part in an experience they couldn't before – at a far smaller cost. "It's good that there's an online presence because not everybody can see things when you're far away," says Mike Drake, a producer whose film Just Mercy was a Toronto International Film Festival gala premiere in 2019.
The year 2020 didn't just reveal benefits for audiences, but filmmakers too. Festivals show dozens – if not hundreds – of movies. "There's so many movies that go that don't get bought," says Divi Crockett, a producer whose film Shithouse won the Grand Jury Prize for Best Narrative Feature at South by Southwest Festival in 2020. "You may never get to see them anywhere else. So, the value of showing them remotely is that you can show them to a broader audience." In other words, not unlike a casual scroll on Netflix may lead a viewer to discover a hidden gem they'd never have encountered otherwise, remote festivals can help films reach a larger – more curious – audience.
The Challenges of Online Film Festivals
Such a fundamental change to how festivals work came with benefits, but there have been challenges too – especially for filmmakers. Festivals have long been hubs for networking and distribution, with bidding wars breaking out over much-hyped films. Some of that activity has moved online, coming at the expense of the interpersonal connections that happen in-person at festivals between filmmakers and distributors – be it at industry screenings, parties, or spontaneous encounters. Many a director has been approached by a buyer who has said, "I love your movie, let's talk." That isn't possible with online programming. "You don't get to participate in the experience where people come up to you and they give you their card," says Crockett. "I don't know how that's going to work for the future."
"It's a human experience," Mike Drake agrees. That goes too for the relationship between filmmakers and audiences. "The whole purpose is not only your own personal gratification in making something that you love, but getting to share it with audiences," Crockett says. "The best thing about film festivals is not only getting to show your work, but also just the engagement." Zoom may have been a lifesaver for many people since 2020, but we've all encountered its idiosyncrasies. Connection issues can easily sabotage a filmmaker Q&A, and the ability for a director and audience member to interact outside of the Chat box are limited. In fact, the Whistler Film Festival survey found that 64% of respondents identified audience engagement as a key challenge.
The loss of that connection could hit indie filmmakers especially, since their work counts among those that don't often get purchased to be seen more widely. "We put our heart and soul into something where nothing ever happens. But those people at that film festival, at that time, get to see it."
Another potential pitfall is that while, in theory, online programming may make them more accessible to watch, the WFF survey found that – not unlike how overwhelming choice can become on Netflix – it can be harder to stand out in a crowded online space.
The Future Ahead
Despite the challenges that have been exposed over the past year as festivals shifted online, remote elements are likely to stay. 74% of respondents in the WFF survey said they attended (or hosted) a virtual festival since March 2020. The virtual 2021 Sundance Film Festival had the largest audience it's ever had, in over 40 years. And, according to a Film Festival Alliance survey, among the filmmakers polled who released a film in 2020, 94 percent participated in a virtual festival. All of this suggests the industry has reached something of a point-of-no-return. Especially since the benefits – like accessibility – are so difficult to turn away from now.
It's likely that future film festivals will offer both physical and virtual attendance. At least that's a middle ground Crockett hopes can be found. "Maybe we can combine it where we have the ability to have remote festivals for people who can't afford to travel but want to see films and want to engage with filmmakers online," she says. "I just don't want to lose 'being present' film festivals because they are so much more rewarding for filmmakers and for audiences."
If you're looking to funding your next film festival-worthy project, be sure to consult our EP experts on everything from financing to payroll.