Blog Home
Streamers and the Changing Landscape of Film Distribution
Director/Producer Daniel Farrands on strategies for success in the time of VOD
September 14, 2021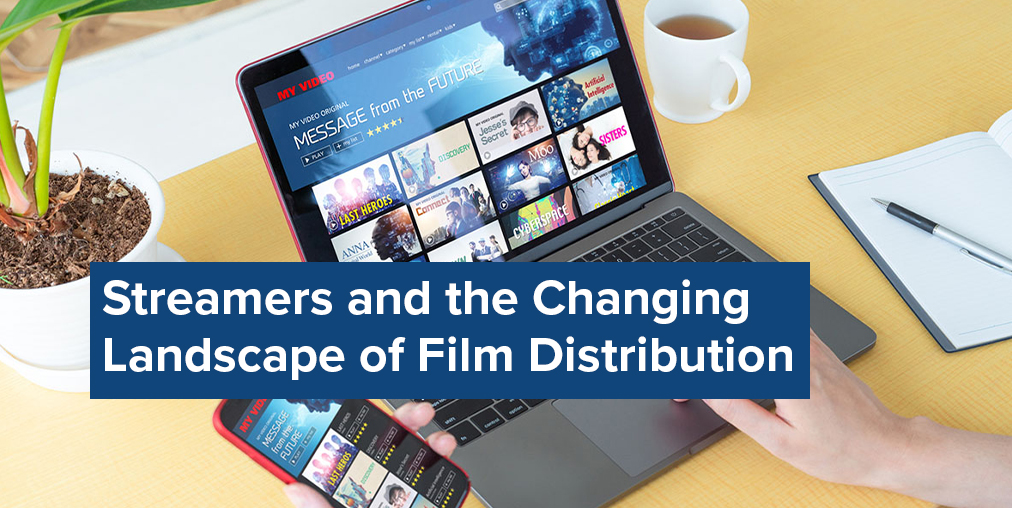 Releasing films direct to streamers versus the movie theater is one of the hottest debates in the entertainment industry right now, as filmmakers forge a new path in the world of distribution.
Popular streaming contenders, Apple TV+, Disney+, Netflix, Amazon Prime, HBO Max, and Hulu are vying for audience's attention while brick and mortar theaters work to re-imagine the theatrical experience. But, will it be enough to entice us from our comfy couches and exchange a homemade bag of popcorn for a giant tub of it at the theater?
Independent film director and producer, Daniel Farrands, is at the forefront of this conversation with a slate of upcoming new releases, and shared with Entertainment Partners his thoughts on the current climate and how it is shifting his release strategies.
Movie Theaters vs. Streaming
When it comes to going to the theater, Daniel points out "There is something communal about watching a movie together with strangers sitting in the dark with you. It's just having that energy of an audience around you. Nothing can compare to that. And I think that will always remain part of our culture... The goal [for filmmakers] is to get your movie in theaters. A lot of times it's that dream you've always had."
On the other hand, he admits, "But I don't think that's the end all be all anymore. I think there is such a market in video-on-demand that the stigma of it has worn off, and they [the streamers] are seen as just as viable."
2018 and 2019 were some of the most groundbreaking box office years — each one bringing in nearly 12 billion in domestic revenue. Will it ever go back to that?
Daniel believes, "Having that choice for people who don't or can't have that experience [of going to the theater], should also have the opportunity to experience films in a home venue... I think we will eventually figure out a way where we will have a nice balance of both the theatrical and streaming world."
The Challenges
The big question still lies in how movies are going to make back their money, especially now that sales are split between streamers and box office tickets. Business models for pricing are changing all the time as different streamer platforms experiment with how to release their slate of films. According to the Hollywood Reporter in comparing polls, it found that audiences are more willing to pay a higher subscription and additional fees to have access to new movie releases at home.
Yet, releasing films direct to streaming doesn't always work. The industry is seeing backlash, as in the case of 'Black Widow', which was released both online and theatrically at the same time, potentially drastically impacting theatrical sales and the revenue due to its cast.
Movie theaters need help, but the changes they need may not be what we are expecting. Farrands had this to say: "We all want to go back to normal... movie theaters need the product of big movies to sustain them. And if you can just click a button and watch it at home, you are putting a big segment of the entertainment business out of work."
He also notes that rampant piracy issues impacting streaming sales is yet another challenge to combat when new films are released directly online.
The Opportunities
While the industry is still figuring out a viable working model where theaters and streamers are both invited to the party, Farrands says we can't deny the benefits of streaming, "It's opening us up to very interesting opportunities on how to get our films shown and seen by audiences who might not have otherwise seen them before... I might have seen an interesting trailer on my streaming platform, and then may want to rent that movie. It never came to theaters and I never heard of it, but I think it looks really interesting."
Ultimately, audiences want to choose where and how they want to experience a movie, and the industry is trying to play catch up on the way we consume content.
"I think the whole market can't be denied at this point. We can't turn back time and make it the way it used to be" Farrands says, "we just have to find that place where the business model makes sense for those who are marketing and distributing films, but also making it accessible to audiences now who want choices."
What could be a solution? "A lot of it is marketing," Farrands admits, "and I think we have to be more creative in the way we market and sell movies."
Director and Producer, Daniel Farrands
Marketing for Streamers
Whether a film is released for us to watch on our personal devices or the big screen, it comes down to getting audiences excited so they want to click "play" or buy the ticket.
Daniel's advice to filmmakers to cut through all the noise:
Create buzz through social media: Actors are becoming their own marketing platforms. Use their social platform to spread the word. You really do need the people who have developed a following and name for themselves. It's going to be a struggle for movies to get noticed and turn a profit if they don't have a social presence prior to their release.

Make it interactive

: Turn the streaming experience into an event. Some companies are creating shipped kits and designing pop-up

experiential marketing

tactics to accompany the release of new films to get audiences excited about the story. We're even seeing the resurgence of drive-in movies.

Get a publicist: If you have a budget of any kind, get a publicist. You need someone who can get behind your movie, put you on the red carpet of film festivals, and blitz the internet with as much content about your project. The more visibility you can bring to your project, the more it can be a success, and then word of mouth can then take over.

Submit to film festivals: Film festivals are seeing more engagement since it's getting increasingly popular to earn the spotlight that way and build hype for a project before it is released. As studios are starting their own streaming platforms, there is an increased demand for new content, and we're seeing bidding wars go down to pre-buy films in the festival circuit. We're even seeing studios forming partnerships with production companies, so they can have first dibs on their award contenders.
The Future of Distribution
While streaming has changed the game for the studio business model, it could open up so many more opportunities for independent players to have a seat at the table, and expand their audiences. Farrands says, "I hope there is more of a resurgence in smart, independent films — because some of that stuff has gotten squeezed out by these giant tentpole comic book movies."
Palmer, released directly on Apple TV+, is a great example of an independent film that turned into a hit.
With every network now offering its own streaming services, we are still drawing out the map of film distribution, and Daniel admits that the destination is unclear, "Now, it's more about choice, which is a good thing, but we don't want to go so far that we are inundated with content, and our attention is diverted in so many ways... it's a big question and nobody has a good answer yet. Everyone is dipping their toe in the water right now."
In this wild west of building a new world, where streamers and theaters can go-exist together? Where do you see us headed as a collective entertainment industry? The future remains to be seen, but we will all be watching.
Are you looking to get started on your next project? Reach out to the expert team at EP. From incentives and financing to production technology and payroll, we'll help you every step of the way.