Blog Home
35 Production Accounting Terms You Should Know
Ready to test your production accounting vocabulary knowledge? See how many of these 35 common terms you know.
January 11, 2022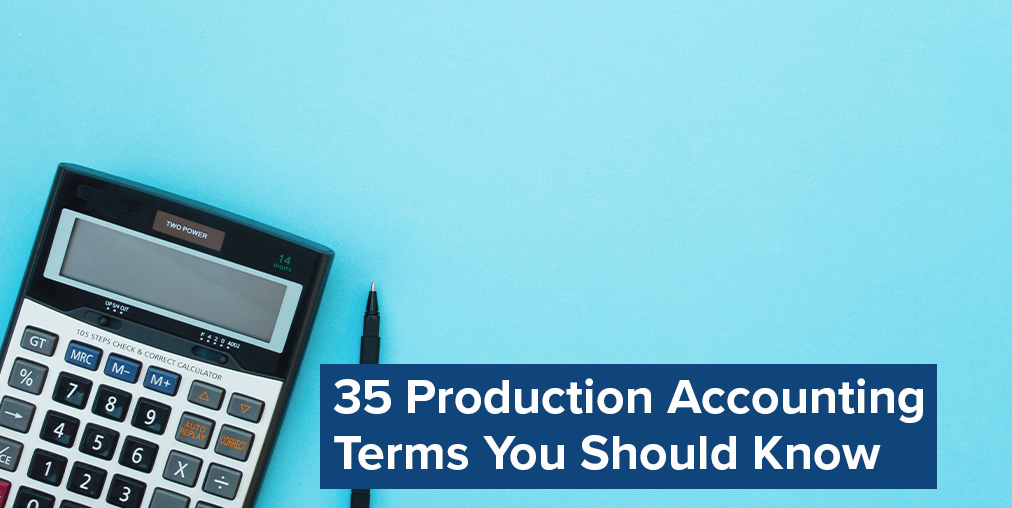 Every department of a film or television production crew has a unique set of vocabulary words specific to their role in bringing a script to life, and the production accounting team is no exception. Here are 35 common terms every production accountant should know.
Production Accounting Positions
1. Production Accountant (Key or Lead): Head of the accounting department; acts as the financial controller of the production. This person reports to the Line Producer or Unit Production Manager (UPM) and works with them to ensure the project is on track. Responsibilities include helping prepare the production budget, running weekly reports and flagging any variances in the budget, applying for completion bonds and tax incentives, validating cash flow, approving crew timecards, creating hot cost reports, and liaising with the studio, financiers, and producers. 
2. 1st Assistant Accountant: An accountant who manages the production accounting office and ensures the appropriate forms, tools, and processes are in place to make all financial transactions a success. Responsibilities include ordering cash and maintaining petty cash, issuing departmental petty cash and per diems, ordering purchase cards and monitoring their use, setting up vendor accounts for the departments (with studio approval), assigning purchase orders (POs) to the departments, providing oversight to the accounts payable (A/P) process, and approving audits. This position may also lead a team of 2nd Assistants and Production Clerks.
3. 2nd Assistant Accountant: Accountants who report to the 1st Assistant accountant. Responsible for performing day-to-day department functions, including but not limited to ensuring PO approval, recording, logging, and filing POs, and managing the invoice process which includes sending invoice packets for approval, entering approved invoice packets into the accounting system, and running audit reports.
4. Production Clerk: The go-to person for any information on the production logistics. Responsibilities include booking talent, hiring crew, renting equipment, providing call sheets, and completing production reporting.
5. Payroll Accountant: An accountant with comprehensive knowledge of guild and union contracts who is in charge of employee onboarding and making sure the cast and crew get paid on time. Responsibilities include completing start paperwork for all employees, ensuring the accurate completion of timecards, and submitting approved timecards to the payroll processor.
General Accounting Terms
6. Advance (also known as float): Money advanced to an individual for petty cash or disbursements for items such as per diem and other accountable expenditures. Talent advances are paid per contract, *please ensure they are properly taxed!
7. Amortization (Amort) Account: Many productions use episodic budgeting, which means budgets are set for a particular episode or block. However, some production costs are not related to the length of shooting. These costs remain the same even if the number of episodes changes. An amort account holds costs that are not linked to an individual episode or block.
8. Above the Line (ATL) Costs: ATL costs, which are determined before shooting begins, are one of two main production budget categories. These costs include things like actor salaries, screenplay rights, and costs associated with others involved in the high-level creative direction of the film.
9. Balance Sheet: A financial statement summarizing assets, liabilities, and net worth of the production at a given date. In this report, the sum of assets equals the total of all liabilities plus the production's net worth.
10. Below the Line (BTL) Costs: BTL costs are associated with day-to-day shooting elements of a production and are one of two main production budget categories. These costs include things like salaries for daily or hourly crew, catering, studio costs, and the cost of materials.
11. Completion Guarantee: A contact between a bonding company and a producing entity that ensures a motion picture will be completed and delivered in accordance with certain specifications related to time, cost, conformity to the screenplay, and adherence to specific creative elements. A completion guarantee may allow the guarantor to take over the production if the production goes off the rails (over schedule or over budget).
12. Journal Entry: The record of a business transaction related to the production. Each entry generally includes the date, amounts debited or credited, a description of the transaction, and a unique reference number. Journal entries are posted to the production's general ledger (GL), where they're sorted by category and can be compared to other entries to identify any variances.
13. Loan Out: Some individuals - including but not limited to writers, actors, hair and makeup professionals, and directors - set up a corporate legal entity and elect to be 'loaned out 'rather than hired as an individual. Salaries are paid through a solely owned corporate entity, and in some cases, utilizing a loan out offers the individual unique legal protection.
14. Locked Budget: The final approved production budget; is used for cost reporting and variance comparisons. This budget has been signed off on by the producer, unit production manager (UPM), studio, and production accountant. If the budget includes different currencies, exchange rates are finalized when the budget is locked.
15. Per Diem: Payment of anticipated daily living expenses to cast and crew on location. Per diem is not considered wages and is not taxable if recipients are at least 50 miles from home. However, if they're closer to home or are on location for more than a year (at which point 'travel 'becomes an 'indefinite work assignment'), per diem is fully taxable. Additionally, any per diem payments that exceed federal allowable amounts will be taxed.
16. Petty Cash: Petty cash is used to pay for smaller purchases of goods and services needed to get the job done in a circumstance where processing a purchase order doesn't make sense. It's held in a revolving cash account used by individuals to pay for expendables on a film set. This can include things like set construction or repair materials, an actor prop, or a light bulb.
17. Production Budget: A document that involves the identification and estimation of cost items for each phase of filmmaking (development, pre-production, production, post-production, and distribution). The goal of building a production budget is to accurately determine how much money will be spent on the entire film or television production.
18. Rights: Intellectual property rights that allow the holder of the rights to create a film based on an existing property or idea. Before a movie is made, the producer, director, writer, or production company must obtain film rights from the copyright holder in order to legally create a derivative work meant for the screen. Rights are usually paid directly by the production company, contact Tax Support if you need a Rights payment to be processed by EP.
19. Syndication: The act of showing movies or tv shows as reruns on different television stations that have paid for the privilege to do so.
Reporting
20. Bible: The complete report containing transactions for all the year periods entered into a computer accounting system. Also referred to as the full general ledger.
21. Chart of Accounts: A master list of all accounts used to track production costs, expenses, assets, liabilities, and income. Also known as the "string."
22. Cost Report: A detailed weekly report that summarizes production costs compared to budget.
23. Daily Production Report: A daily report that itemizes all the elements that were used for the day's shooting. Includes details on which crew members and actors used, what scenes were shot, how many pages of script were completed, the amount of footage exposed, and information on any penalties that were incurred with explanations as to why.
24. Deal Memo: A short, written outline of the terms of a contract that is fully binding to all parties.
25. General Ledger: The final detailed book of record for all production accounting transactions.
26. Hot Cost Report: This report takes information from the daily production report - which includes labor-related variable costs - and translates it into an estimated financial status for a production. It compares the current days shooting costs to the budgeted costs and gives a cumulative picture of how the production is tracking to budget in real-time.
27. Trial Balance: An account summary that gives an overview of a production's financial condition. This summary highlights money in vs. money out and groups debits and credits into one of three categories; funding, expenses, and assets.
Payroll and Tax Terms
28. 1099: An IRS reporting form for all payments made to crew members and unincorporated businesses (loan outs). The 1099-MISC form is required for all payments made to any unincorporated business in excess of $600 in a calendar year.
29. Federal Unemployment Tax Rate (FUTA): Unemployment insurance is funded by employers via payroll tax. Every employer who meets certain criteria must pay unemployment tax on a portion of each employee's wages. States use this money to pay unemployment insurance claims. FUTA is the federal portion of the unemployment tax collected. 
30. State Unemployment Tax Act (SUTA): Also known as State Unemployment Insurance (SUI), this state equivalent to FUTA is another unemployment payroll tax that employers who meet certain criteria must pay. administers unemployment claims via the FUTA guidelines. SUTA rates are determined by individual states, and rates can change each year due to credits, penalties, and statutory increases activated by state solvency issues or by state regulatory law changes.
31. Residuals: Additional compensation equivalent similar to an author's royalty. Residuals are paid to talent (actors, directors, etc.) in amounts that are defined in the talent's union contract. Unlike royalties, residuals are, by statute, deemed wages and are fully employment taxable unless the original work was contracted through a Loan Out.
32. Royalties: Companies that license a film to earn revenue from it must pay royalties to the rights owner of the film, most often the producers.
33. W-2C: An IRS wage and tax statement used to correct any information that was incorrectly reported on a W-2. This form can be used to update things like an incorrect employer or employee address. It can also be used to adjust incorrect income tax withholding. wage reporting. Once the year has ended, it is very difficult to refund federal and state withholding taxes, the IRS (and the states) requires the withholding remain recorded on the W2 and the individual must file a tax return to recover unnoticed (in the year paid) erroneous withholding.
34. W-4: An IRS form that is required to be filled out by every production employee. This form tells employers how much tax to withhold from each paycheck.
35. Fringe: A word used to communicate the total compensation of a salaried employee. Employee perks like health insurance, vacation days, sick days, 401k contributions or matches, and so on are referred to as 'fringe benefits.' These benefits often make up a significant percentage of a person's salary.
That's a wrap!
Now you're familiar with a good starter set of production accounting vocabulary words. Want to keep learning? Check out our beginner's guide to film production financing or peruse this handy production incentives overview. Also, be sure to bookmark the EP blog and visit often for more great content.