Newsroom Home
The Production Guild of Great Britain Announces New Scotland Committee
Producer Brian Donovan ('His Dark Materials', 'The Rook') chairs the fifth of PGGB's National & Regional Committees
March 23, 2023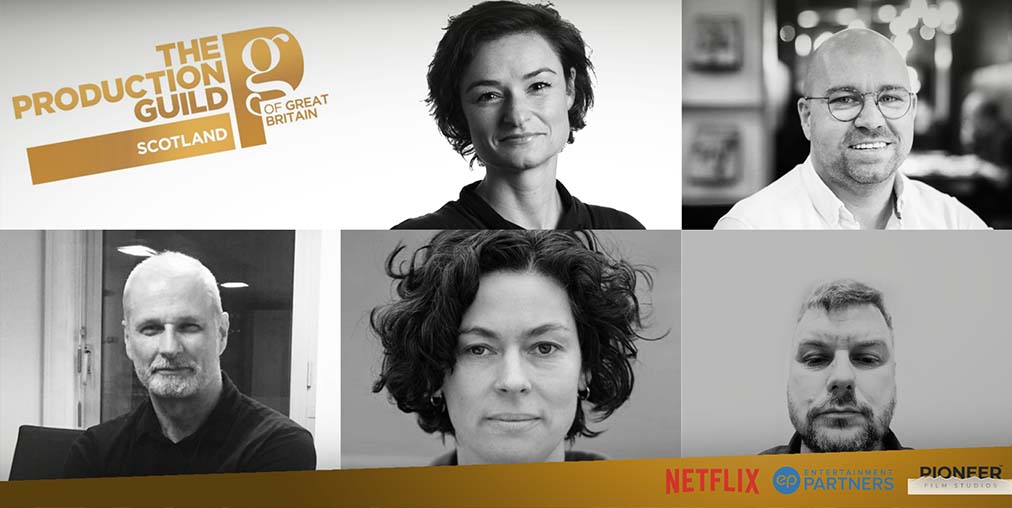 As seen on The Production Guild of Great Britain.
The Production Guild of Great Britain (PGGB) has announced the members of its new Scotland Committee, the fifth of six National and Regional Committees being established by the leading UK membership body for production professionals, in response to the continuing boom in film and High-end TV production across the UK. 
The PGGB Scotland Committee is sponsored by Entertainment Partners, Netflix and Pioneer Film Studios. It will be chaired by experienced Scottish Producer/Line Producer Brian Donovan, whose recent credits include series two of HBO/BBC's His Dark Materials, Starz drama The Rook and feature film PRINCESS SWITCH 3: ROMANCING THE STAR. Vice Chair is First Assistant Accountant Kathleen Lambie who has recently worked on hit thriller The Rig and upcoming fantasy series Anansi Boys, both for Amazon Prime, as well as upcoming Netflix series Good Grief. Committee members are: Line Producer Stephen Burt (Good Omens, Annika); Edinburgh Film Commissioner Rosie Ellison (Film Edinburgh); and Jamie McCoy, Digital Director & Co-Founder of Pioneer Film Studios.
Producer Brian Donovan says: "I am pleased to be chairing PGGB's new Scotland Committee which acknowledges the importance of Scotland and Scottish PGGB members' contribution to the overall successes of the UK industry at home and our contribution to filming abroad."
Lyndsay Duthie, PGGB CEO, says: "The launch of our penultimate Nations & Regions Committee is an important milestone for PGGB. Scotland's crews play a vital role in bringing world-leading content to screen each year, from international big-budget titles like Amazon's The Rig to homegrown hits like Oscar-nominated Aftersun. With a thriving industry that continues to expand, we look forward to being able to better support and advocate for professionals working behind the camera in Scotland. Thank you to our Committee members and sponsors for lending their expertise and enthusiasm to help us improve engagement across the UK."
Joe Francis, SVP, Digital Transformation & EP International, says: "Entertainment Partners' sponsorship of the PGGB Scotland Committee reflects our strong commitment to supporting and growing the entertainment industry in Great Britain across its nations and regions.  As the industry continues to expand in Scotland – benefitting from the outstanding local creative talent and stunning, iconic locations – it is crucial that we invest in the next generation of production professionals and provide the training and resources that they need to succeed.  We are honoured to support the Scotland Committee and look forward to helping champion the Scottish film and television industry."
Kelly Philips, Senior Director, EMEA Studio Finance & Strategy, Netflix, says: "Scotland is home to some of our most loved content and the industry's best creative talent. As a champion of the UK creative industry, we're proud to be supporting the PGGB Scotland Committee and the important contribution its members are making to behind the camera professionals, as well as the wider film and TV industry at large."
Jamie McCoy, Digital Director and Co-Founder of Pioneer Film Studios says: "Scotland is busier than it's ever been with productions, the industry here is alive with a buzz of creativity, training and placement programmes, and sees continued growth in interest from international productions. While the industry works hard to tell their stories through production, we're excited to, with the help of PGGB, help continue to tell Scotland's story and what we have to offer internationally."
PGGB's Scotland Committee is the fifth PGGB National and Regional Committee to be established, following the launch of the Bristol and South West England Committee in 2021 and the Northern Ireland, North West England and Wales Committees in 2022. Locations have been chosen in line with the British Film Commission's Stage Space Support Development hub centers. A Yorkshire Committee is set to launch in the coming months.
Each committee will meet a minimum of four times per year and deliver a variety of activities within their area including forums, masterclasses and networking events. PGGB's Chair and CEO will meet with the six National and Regional Committee Chairs annually as a steering group.
For more information about PGGB's Scotland Committee, click here.
For more information or images, contact Tara Milne (07532 134020 / taracmilne@gmail.com).
PGGB Scotland Committee Members
Chair: Brian Donovan
As a Line Producer, Brian has experience of a wide range of budget levels from low budget features and High End TV up to and including US major features both at home and abroad. His career has covered a wide range of the grades represented by the Production Guild having worked as location manager, assistant director, UPM, Line Producer and Producer. His UPM credits include feature films ALLIED, KING ARTHUR: LEGEND OF THE SWORD and PAN. Brian was recently Producer on the second series of His Dark Materials for HBO/BBC and PRINCESS SWITCH 3: ROMANCING THE STAR and Co Producer on The Rook for Starz. He is committed to training and skills development and regularly teaches both in the UK and abroad.
Vice-Chair: Kathleen Lambie
After ten years in Production, Kathleen acknowledged the inevitable calling of the Accounts Dept. Starting from the bottom in a new department isn't easy, but with training from NFTS Scotland's 'Diploma in Production Accounting for Film and Television' and 'Stepping up to Production Accountant' from ScreenSkills and PGGB, it was an enjoyable and worthwhile experience! Recently, Kathleen has worked as 1st Assistant Accountant on The Rig and Anansi Boys for Amazon and Good Grief for Netflix.  She is currently a member of ScreenSkills' Leaders of Tomorrow 2022 three-year programme. Kathleen is delighted that PGGB is building their presence in the regions and hopes to work with members to tailor the PGGB's support to match the needs of the industry in Scotland.
Stephen Burt
Stephen has worked in the film and television industry for almost 30 years. He has recently line produced Good Omens (Amazon Prime), Annika (Alibi) and upcoming Apple TV+ drama The Buccaneers. As Production Manager his credits include Into the Badlands (AMC), Penny Dreadful (Showtime/Sky) and Jon S. Baird feature FILTH. His projects have filmed in Scotland, Ireland, Hungary, Spain, Sweden and Germany for studios and broadcasters such as the BBC, Showtime, Amazon, Apple, AMC.
Rosie Ellison
Rosie Ellison is the Film Commissioner at Film Edinburgh. With nearly 20 years at the Film Office, Rosie has a wealth of experience and knowledge in facilitating and coordinating film and TV productions in Edinburgh, East Lothian and the Scottish Borders. Prior to Film Edinburgh, Rosie spent time as a development producer with Saltire Films, Programme Coordinator at the Edinburgh International Film Festival, Coordinator of the EU's MEDIA Antenna Scotland and International Programme Coordinator for producer training outfit Initialize.
Jamie McCoy
⁠Jamie McCoy is Digital Director and Co-Founder of Glasgow's Pioneer Film Studios. Jamie spent over a decade designing global growth marketing strategies for the likes of Google, Dell, Microsoft and several other household brands, while also volunteering for several years as Digital Marketing Expert in residence for the Business and Intellectual Property Centre in Glasgow, mentoring business across Scotland. As Scotland's largest Film Studio campus, Pioneer Film Studios in Glasgow stands at just over 1.2million ft sq. With a rapid expansion plan already in motion, Pioneer will soon offer nine stages ranging from 16,000 ft sq to 30,000 ft sq. Pioneer have started to build a full industry community on site with Supply 2 Location, Film Hawk, Freakworks postproduction, Facilities by ADF, Location One, Screen Facilities Scotland & Panalux all joining to date.
About The Production Guild of Great Britain (PGGB)
Founded in 1999, PGGB is the UK's leading membership organisation for those working in film and TV drama production. It represents experienced production professionals active in the fields of accounts, production, location management, assistant directing, VFX and post-production.
With 1,050 members and more than 150 company affiliates, it provides members with industry advice, employment opportunities, training, networking and seminars. Its availability service provides members' availability for work to UK and international film and TV productions and HoD's, detailing their credits, skills and production history. Delivering informed and expert knowledge on key production issues to members, government and as part of industry consultations, The Production Guild of Great Britain is the leading voice of the UK production industry.
HRH The Duke of Edinburgh KG GCVO was named Royal Patron of The Production Guild of Great Britain in 2022. www.productionguild.com.