Newsroom Home
PayTalk: The Recipe for a Successful Payroll 2022 (Part One)
Davida Lara joins the PayTalk podcast to share strategies for leading successful teams
January 13, 2022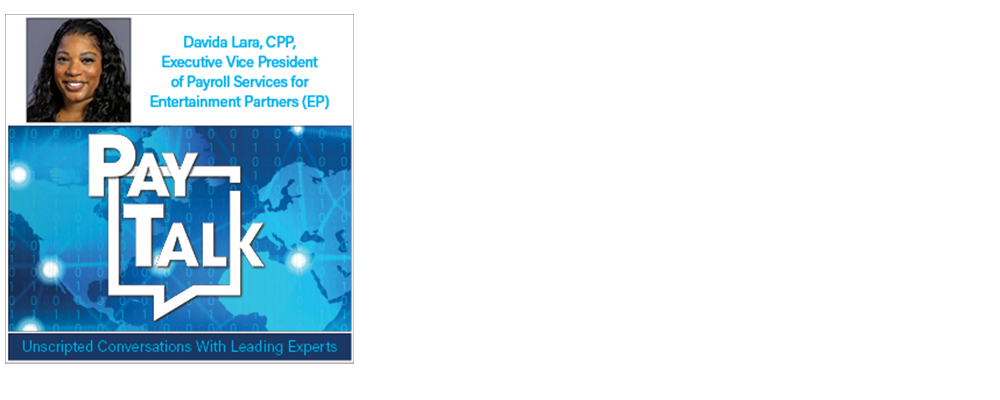 As seen on American Payroll Association
PayTalk is a monthly podcast created by the American Payroll Association (APA) and the Global Payroll Management Institute (GPMI) with the goal of sharing earned knowledge from high-level payroll professionals to the greater industry at large. Join us each month as we take a look at the leaders behind the payroll processes. Whether you're just starting out in payroll or are a seasoned professional, PayTalk will help uncover the insights needed to unlock the next stage of your career.
EPISODE 21: The Recipe for a Successful Payroll 2022: Part One
It's our first episode of the new year and we're kicking things off with GPMI's 2021 Global Payroll Titan, Davida Lara, CPP, Executive Vice President of Payroll Services at Entertainment Partners. In part one of this two part conversation, we discuss how payroll leaders can best set themselves and their teams up for a successful 2022 and beyond! Tune in for tips on preventing burnout culture, guidance on managing global payroll relationships, and new lessons being added to the payroll playbook.
In this podcast:
What team leaders can do to help a hesitant team prioritize self-care

The secret ingredients to a successful payroll team

The importance of relationship management in global payroll operations
Listen on Apple Podcasts, Spotify, or Stitcher