Legal & Compliance Home
Pre-employment Checks to Consider Before Contracting Crew on UK Productions
A comprehensive overview of the checks you may like to consider when crewing up on UK productions and what to keep in mind when doing so.
August 18, 2023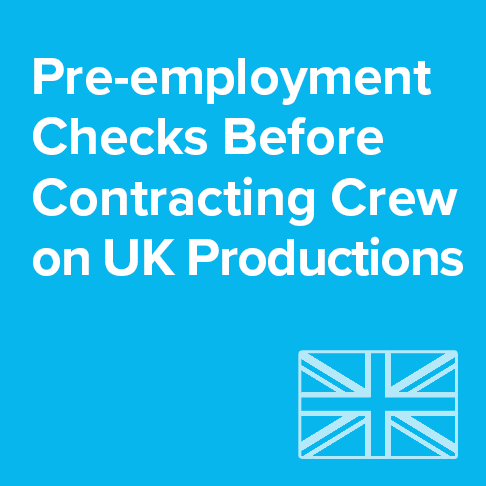 Anyone working in the film and TV industry knows the importance of strong, cohesive crews. In a pressured work environment where teamwork is essential, picking the right person for each role is crucial. And conducting the right employment checks can be an essential part of that process.
Carrying out checks on prospective employees not only helps to create a safer working environment; it can also mitigate risks to a production company's reputation.
Some checks, like right to work checks, are a legal obligation for employers. Other checks are optional and can reassure productions that they've chosen the right people to join their team.
However, these optional checks must be approached with caution. While it may be tempting to carry out more extensive checks for your own peace of mind, there are laws in place to prevent this from happening and to protect individuals' rights.
Below are some of the employment checks you may like to consider when crewing up on UK productions and what to keep in mind when doing so.
Right to work
The first thing to establish in any working relationship is whether the individual has the legal right to work in the UK. All employers must legally check a candidate's right to work before they start any job – with the exception of independent contractors who are responsible for ensuring their own right to work status.
Under Home Office requirements, each crew member must provide proof of their right to work in the UK using one of the prescribed documents, which includes a passport, UK birth certificate or certificate of British Citizenship.
The right to work check must be carried out before employment begins. If an individual's right to work is time limited, you should also do a follow-up check shortly before it's due to end.
It's important to make sure that you don't discriminate with your right to work checks – you need to perform checks for all workers, regardless of where they are from, and be consistent in how you conduct the checks.
Employment status
In an industry like film and TV, individuals are hired in multiple ways – some may be on fixed term Pay As You Earn contracts, while others may be self-employed or hired as consultants or service providers.
When choosing which contract to use, it's important to first determine an individual's status (ie, employed, self-employed or worker). In turn, this will determine how the working relationship will operate and whether the production company or individual will be responsible for paying income tax and national insurance contributions under the IR35 rules.
But remember, just because a contract states that a person is self-employed doesn't necessarily mean that they are from a tax viewpoint. HMRC will want to look at the actual working relationship to see if that differs from the contract.
Reference checks
Productions are not legally obliged to obtain an employment reference for a prospective employee, but they may choose to do so. However, note that if you choose to request a reference from a candidate's previous or current employer, you do not have an automatic right to receive one. Further, you should avoid asking questions about an applicant's attendance or sickness absence record as this could lead to disability discrimination if the absence was disability related. Questions about maternity and paternity leave should also be avoided to avoid the potential risk of discrimination.
Instead, references should focus on an individual's start and end dates, their position and key job responsibilities and their reason for leaving employment. You can also ask whether the previous employer would be willing to re-employ the individual and their reasoning.
In the film and TV industry, these references are often given informally and verbally, so it's a good idea to follow up with an email confirming what's been said.
Driving licence checks
Checking the driving licence of anybody who will receive a car hire allowance or drive as part of their role is important. Regular driving licence checks should be a key part of your health and safety policy in any situation where employees need to drive. The checks are made against the DVLA database and should uncover whether the crew member holds a current driving licence and whether they are entitled to drive the type and size of vehicle they will be driving as part of their employment.
Under the Road Traffic Acct 1988, it is an offence to drive without a valid licence. It is also an offence to permit a driver to drive without a valid licence, so it's essential that you perform these checks. It's worth considering including in your employment contracts that drivers must report all driving offences to their employers immediately to make sure that your records stay up to date.
DBS checks
A DBS check is a criminal record check that helps employers to make safer recruitment decisions. In film and TV production, they are often used for crew who will work with children or vulnerable people.
Production companies have the right to ask any cast and crew to declare any criminal convictions, but under the Rehabilitation of Offenders Act 1974, an individual is only required to disclose unspent convictions.
Further, as criminal information is protected under UK law, employers should request a DBS check only when they have the legal right to do so. There are several types of DBS checks.
Basic checks
Anyone can apply for a basic DBS check as there are no eligibility requirements. The check will only show any unspent convictions.
Standard checks
Standard checks can only be performed for certain roles, as listed in the Rehabilitation of Offenders Act 1974 (Exceptions) Order. These checks will show spent and unspent convictions, cautions, reprimands and warnings.
Enhanced checks
As well as showing full details of a person's criminal record, an enhanced check searches the DBS Children's Barred List and the DBS Adult Barred List, where appropriate, to determine whether the applicant is prohibited from working with either group.
An enhanced check can only be requested for candidates who will be engaged in regulated activity with children or adults and it's crucial to understand when this applies. For example, the mere fact that children will be present on set does not give you a legal right to request an enhanced DBS check if the children will be accompanied by an appropriate adult and will not have unsupervised contact with the crew member in question.
Even if crew will have direct contact with children, this may be incidental and not the main purpose of their role (eg, in the case of directors or make-up artists). As the children would likely be chaperoned during contact with these crew, you would typically not be entitled to carry out an enhanced check.
Ultimately, an enhanced check will be suitable only if the crew member will be directly employed to undertake regulated activity with the child – for example, a chaperone employed to accompany children on set or somebody who will be teaching or training children without supervision.
When it comes to any type of DBS check, it's important to note individuals' legal rights. In particular, employers cannot refuse to employ (or dismiss) someone because they have a spent caution or conviction unless an exception applies.
To avoid discrimination, productions should seek specialist legal advice before conducting DBS checks.
Social media checks
Checking prospective crew's social media may be tempting because it's easy to access this information. While social media checks are legal when performed correctly, there are pitfalls and whether their use is ethical has been the subject of debate. In particular, this kind of investigation of a candidate's life can lead to a slippery slope of legal implications regarding hiring bias.
When looking through a candidate's social media profiles, you are likely to come across protected information, such as their age, gender, religion, skin colour, race, disability, sexual orientation or citizenship. You are not allowed to use any of these protected areas of information as a basis for making your hiring decision, but once you stumble across this information, it can be hard to prove that you weren't influenced by it.
As with DBS checks, productions should seek specialist legal advice before conducting social media checks.
Top tips for confident hiring
Pre-employment checks can give you the confidence that you're putting together the strongest crew possible. And having a strong crew – and a fluidly working team – is what every film and TV production aims for.
It may be tempting to carry out as many checks – on as many crew – as possible. However, as discussed above, overchecking comes with its own risks in terms of discrimination and data protection law.
For that reason, it's important to ensure that any pre-employment check is relevant to the specific role and that you're not conducting blanket checks for all crew. Productions should also seek specialist legal advice before carrying out any checks to ensure that they are meeting their obligations.
For more information on contracting crew, see our guide for UK productions.