Legal & Compliance Home
Contracting in a COVID-19 World  
The pandemic has affected how UK production companies contract crew. Here's how to reduce the impact of any future restrictions or a COVID-19 case on set.
May 3, 2022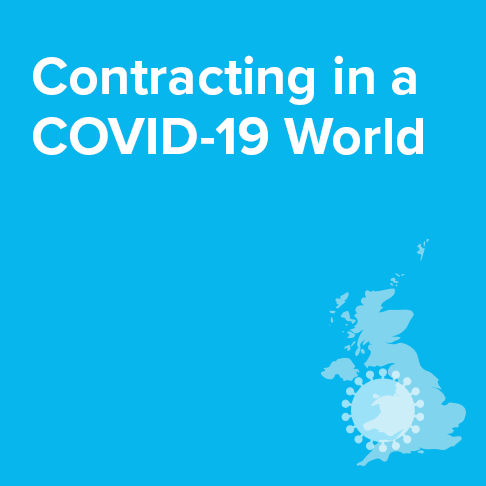 With COVID-19 restrictions easing across the UK, there is cause to feel optimistic. But if the pandemic has taught us anything, it's that nothing is certain and it's essential to be prepared for the unexpected.
All of this uncertainty has given production companies even more to think about when it comes to contracting crew. Fortunately, there are a number of ways to minimize the impact of any future restrictions or a COVID-19 case on set.
Terms to include in your contracts
Force majeure
It's important that crew contracts include a comprehensive force majeure clause which states that in certain events beyond the parties' control (e.g., pandemics, natural disasters or strikes), both parties will be relieved from having to perform the contract for as long as the interference continues.
Without these clauses, a producer could be liable to pay or engage crew members despite the fact that production has stopped due to circumstances outside their control.
Suspension and termination
Despite everyone's best intentions, producers must have the option to suspend or terminate a crew member's contract in certain circumstances, including in the event of a breach, incapacity, or force majeure, or without cause on notice.
A robust suspension and termination clause is now even more important in light of the COVID-19 pandemic. Crew contracts should include a suspension and termination clause which enables production to be suspended due to COVID-19 restrictions or a positive case on set.
Suspension and termination provisions should set out:
How they will work (e.g., whether notice will be given).

The effect of the suspension (e.g., the crew member must still comply with the terms, the maximum length of suspension, and the circumstances in which the crew member will be entitled to payment, if at all) or termination (e.g., rights are retained by the production company and payments are due only up to the point of termination or suspension).
Other COVID-19 requirements
To help keep your crew safe, you may wish to impose additional COVID-19-specific requirements, such as:
An acknowledgment that your crew have read and will comply with your COVID-19 safety policies
A requirement that all crew wear a mask on set and provide a negative COVID-19 test at the beginning of each working day
COVID-19 addendum and protocols
It may also be appropriate to attach a COVID-19 rider or addendum to your contracts which expands on the above points. This is because the additional requirements for crew to comply with COVID-19 measures are not enshrined in law, so they must be established on a production-by-production basis.
Productions should consider having the following in place:
COVID-19 protocols relating to behavior, which aim to reduce or limit the level of infection. Industry bodies - such as

ScreenSkills

- also release various guidance which you can adopt.

COVID-19 riders or addendums which address the risks associated with working during the COVID-19 pandemic, potentially set out testing requirements and require crew members to promptly notify the production if they test positive for COVID-19. These may also contain requirements that crew members provide a health declaration or state whether they have recently been outside the UK (and, if so, when and where).

A requirement for crew members to complete daily health declarations to ensure the daily monitoring of COVID-19 risks on set. (Remember that special rules apply to the

collection of health data

. See our

guide to information security

for more details on how to secure your production data).
For more information on contracting crew, see Getting your crew contracts in place: A guide for UK productions.