Blog Home
Uncovering Lost Treasures of Independent Film
How IndieCollect is preserving Black independent films to reflect a more honest view of America and of American cinema
February 23, 2022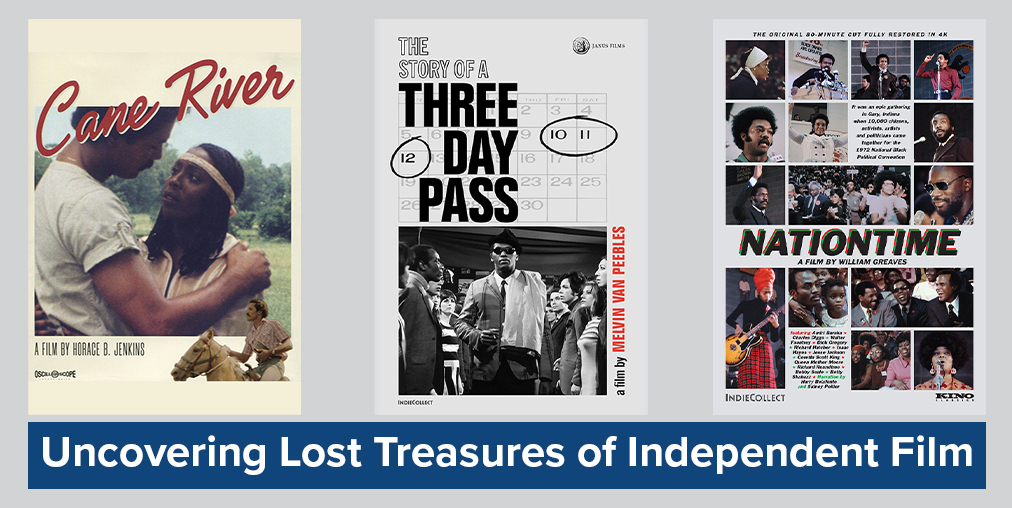 Stepping into the past informs the present, and film can be the bridge that connects these two realities. As Morgan Freeman reminds us in his powerful statement, "I don't want a Black History Month, Black history is American history", Black storytelling is woven into the fabric of our collective American history. One way in which we can experience that history in greater depth is through the avenue of cinema, which can also serve as an important tool to spark change.
Rescuing, restoring, and reactivating historic Black independent films is a priority for Sandra Schulberg, the founder of IndieCollect, a non-profit that believes indie film is the lifeblood of an open society. As she explains, "Since the start of indie filmmaking, it has represented a much more diverse demographic [than mainstream filmmaking], and therefore, a broader range of artistic styles and subject matter, whether fiction or nonfiction. This is part of the reason why I'm so fierce about the need to keep indie films from being lost from view. Because in many cases, they hold up a mirror to American society that mainstream films don't."
Among the numerous works Sandra and the team at IndieCollect have rescued are the iconic films of Black American directors Horace B. Jenkins, best known for directing the sweeping landscapes and thoughtful narrative of Cane River; William Greaves who created Nationtime, capturing the action of the 1972 National Black Political Convention in Gary, Indiana; and Melvin Van Peebles, who moved to France in the early 1960's and made a name for himself by directing The Story of a Three Day Pass (aka La Permission) in 1967, which won the Critics' Choice Award at the San Francisco film festival, and eventually earned him recognition in Hollywood.
Thanks to IndieCollect, these historic film treasures are now available to stream so you too can experience the work of Hollywood changemakers who played an important part in American cinema history.
Cane River (1981)
Filmed in Louisiana, Cane River is a poetic love story featuring all Black actors and crew members. It depicts a forbidden romance, beset by differences in religion, class, and color, between an ambitious young woman (Maria) who dreams of going to college in New Orleans, and an athlete (Peter) who turns his back on a football career to fight for his family's land in Natchitoches Parish. The director, Horace B. Jenkins, died shortly before the film's intended release in 1982, and the film lay dormant in the DuArt laboratory vault until it was discovered there in 2013 by Academy Film Archive curator, Ed Carter and IndieCollect's Sandra Schulberg. IndieCollect and the Academy teamed up to create a new 4K version of the film with support from the Roger & Chaz Ebert Foundation and Tulane University's Amistad Research Center.
Richard Romain and Tommye Myrick in Cane River by Horace B. Jenkins
Cane River has since changed our understanding of the history of Black cinema. The film has earned numerous accolades, including extraordinary reviews by New York Times film critic, A.O. Scott, and the late, acclaimed film critic, Roger Ebert, who wrote graciously about its tender storyline and stunning scenery. Additionally, the recently published book by Wil Haygood, Colorization: One hundred years of Black Films in a White World, devotes multiple pages to Cane River's recent impact, both in and out of Hollywood.
Sandra takes pride in the film's revival, explaining, "This is a tangible and important result of our work. Film historians talk about a film being in or out of the canon. IndieCollect has managed, in partnership with the Academy Film Archive, to put this film squarely in the middle of this canon and thus to change it. The fact that there's now a major hardcover work of scholarship [about the film] is proof of our concept. We will continue to dedicate more resources, assuming we can raise the funds, to this vein of films that we consider treasures of African-American cinema.'"
Watch Cane River on Amazon.
Nationtime (1972)
Another historic film that Sandra and her team discovered and restored is William Greaves' feature-length documentary, Nationtime, the only film made about the 1972 National Black Political Convention in Gary, Indiana.
Describing the circumstances under which the Nationtime reels were discovered, Sandra recounts, "Emily Davis, one of our archive colleagues in Pittsburgh found the film in a dilapidated warehouse where the contents of the WRS lab had been saved by collector Jeff Aikman after the lab went bankrupt in 2001. On the day we first visited in February 2018, it was raining with water coming through the roof. We could see mold on the paper cartons that held ¼-inch tapes. The film elements, in cans, were somewhat better protected, covered in plastic sheeting and stacked in teetering piles – an estimated 70,000 elements. So finding all 10 reels of Nationtime in the midst of that mess was miraculous. And the fact they were in fairly good condition was another miracle. The feature-length version of that film had never been released. It was an extremely timely find." 
Amiri Baraka in Nationtime by William Greaves (Courtesy of IndieCollect)
Following this discovery, Sandra sought funding from the HFPA Trust and Jane Fonda so the film could be restored and shared with the world in a time which the culture may have needed it most. "On behalf of Louise Greaves, Bill's widow and filmmaking partner, we negotiating a deal with [distributor] Kino Lorber, so they could release it widely. We also facilitated their cooperation with the Movement for Black Lives to help get the film into the hands of Black activists to use as an organizing  and educational tool today. I feel so lucky that Emily found it and IndieCollect was able to revive it." 
Watch Nationtime on Amazon.
The Story of a Three Day Pass (1967)
The Story of a Three Day Pass (known in France as La Permission) is another iconic film in the IndieCollect archive. Set in 1967, it follows a Black soldier (Turner) in the U.S. Army, recently promoted, who's granted a three-day pass to visit Paris. Cutting a dashing figure in a nightclub, he and the lovely Miriam, who is white, hit it off, and she agrees to spend the weekend with him. During their idyllic few days in Normandy, Van Peebles pokes fun at the racial stereotypes that play out in their imaginations. But the film's dissection of racial prejudice is otherwise subtle. It comes to a head with a seemingly innocent remark that Turner takes for a racial slur. Miriam can empathize with his pain though she cannot understand the nature of the insult. In the end, no matter how much affection they feel for each other, external forces conspire to keep them apart. Turner returns to base, where he is demoted by his captain. Word has gotten back about his tryst with a white woman.  
Harry Baird and Nicole Berger in The Story of a Three Day Pass by Melvin Van Peebles (Courtesy of IndieCollect) 
Melvin Van Peebles had made this first movie in France because of racial prejudice in the American film industry. After it was acclaimed at the San Francisco Film Festival, Van Peebles  secured studio financing for his second movie, Watermelon Man.  
Sandra explains how IndieCollect got involved, "Melvin's family had asked us to assist with inventory of his archive and films. We found the elements for The Story of a Three Day Pass in Melvin's storage unit and were fortunate to obtain a grant from the HFPA Trust to restore it. Subsequently, we were able to help the family enter into a multi-film distribution deal with Criterion." 
Watch La Permission on the Criterion Channel.
IndieCollect's Ongoing Work
IndieCollect's aim is to bring to life films and filmmakers who may have been forgotten or left out of cinema history, especially stories told by Black filmmakers that can spark change. Jenkins, Greaves, and Van Peebles faced many obstacles, but they forced open doors and created new opportunities for those in their wake.  
Schulberg says, "Their narratives are an important part not just of Black history, but of American history, and that's why we are so excited to bring them to new audiences." 
But Schulberg goes on to caution, "Thousands of independent films are at risk of extinction unless we can bring much more philanthropic and corporate support into the field." 
Sandra Schulberg, IndieCollect & IFP Founder (Photo by Barbara Katz)
For prospective donors who might wish to support the restoration of more films by Black directors, visit this initiative created by IndieCollect.
Read more about IndieCollect at indiecollect.org and watch our recent Master Series webinar for a deeper dive into their efforts to rescue and restore Black independent films, one reel at a time.