Blog Home
The Race to Net Zero is On for Big Studios
Film and television studios are embracing the green movement in a big way. Here's what you can expect to see in 2022 and beyond.
April 20, 2022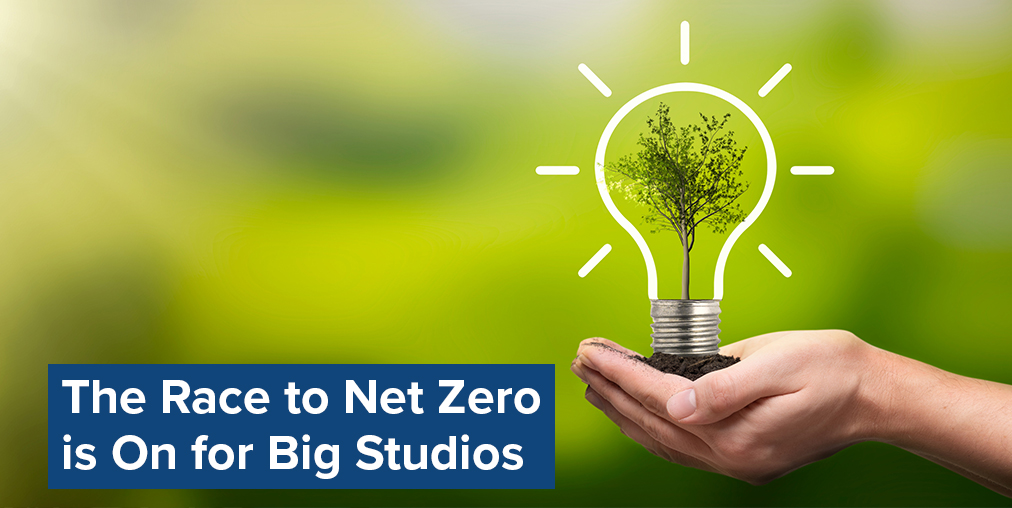 It's not easy being green, but it's so crucial to the future of our planet.
Every year, the film industry holds itself to increasingly higher standards for building sustainable production practices - and for good reason. A report released in March of 2021, titled Close Up: Carbon Emissions in Film and Television Productions, reveals that big-budget films average a total carbon footprint of 3,370 metric tons. That equates to 33 metric tons per shooting day.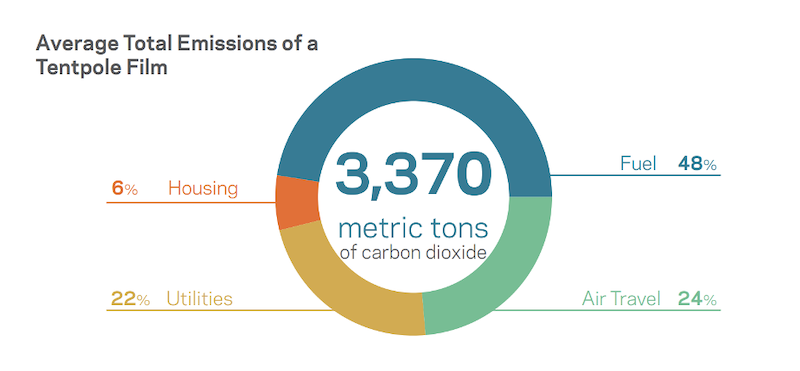 The data in this chart, by the Sustainable Production Alliance (SPA), was compiled using an analysis of 161 feature films produced between 2016 and 2019. Their Green Production Guide website provides free templates and resources designed to help productions incorporate sustainability practices on set. SPA members include Amazon Studios, Amblin Partners, Disney, Fox Corporation, NBC Universal, Netflix, Participant, Sony Pictures Entertainment, ViacomCBS, and WarnerMedia.
What makes carbon emissions so dangerous?
Fossil fuels create more carbon dioxide than the environment can absorb, leading to increased levels of CO2 (carbon dioxide) in the atmosphere. The United States has been tracking carbon emissions since 1957. As our reliance on fossil fuels like coal, petroleum, and natural gas goes up, so does the amount of CO2 in the air we breathe - which you can see illustrated below: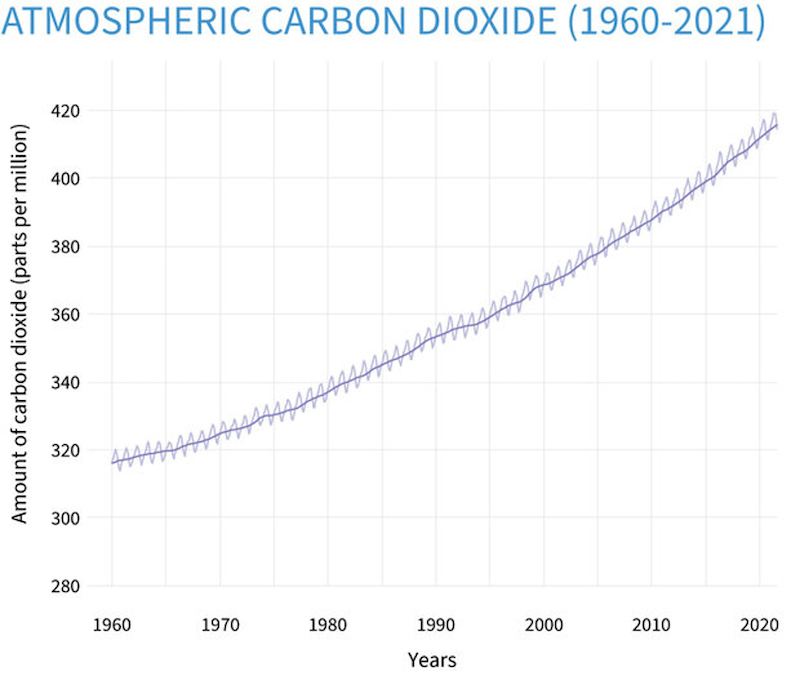 This rise in carbon emissions, tracked on climate.gov,  is directly related to global warming, a phenomenon that causes extreme weather events, the disruption of natural habitats, rising sea levels, and a whole slew of other dangerous ecological issues.
Now, big studios are holding themselves accountable for the impact productions have on our planet. 
Big Studios are committing to net zero carbon emissions
Studios first started implementing eco-friendly practices into day-to-day operations years ago. Some went so far as to create an on-set 'green lead' position - a person or people dedicated to setting environmental goals, tracking progress, and encouraging cast and crew participation.
Today, some of the biggest names in media are upping the ante by committing to high-visibility campaigns. These initiatives are designed to hold production studios accountable for specific outcomes as they work to achieve dramatic carbon footprint reductions.
Below, we'll share how Netflix, NBC Universal, and Sony Pictures plan to achieve their environmental goals in the coming years.
Netflix: Net Zero + Nature
Netflix had a carbon footprint of roughly 1 million metric tons in 2020. By the close of 2022, they aim to achieve net-zero greenhouse gas emissions by using "science-driven carbon reductions plus the power of nature." The company plans to dramatically reduce carbon emissions and strike a zero balance on all greenhouse gas emissions by removing as much greenhouse gas from the atmosphere as they put into it.
The team behind the brand explains, "Approximately half of [our] footprint (50%) lies within the physical production of the stories you watch on Netflix, followed by our corporate operations and purchased goods (45%). We use cloud providers like Amazon Web Services and our Open Connect content delivery network to stream our service, which accounts for 5% of our footprint."
Netflix has a website dedicated to its sustainability efforts that describes its path to more sustainable productions. The site explains that the company set a goal to achieve a 45% internal emissions reduction by 2030. They'll do this by following a 'reduce, retain, remove' formula and using science-based targets to track progress.
Here's what that looks like:
REDUCE internal emissions on a 1.5°C pathway (aligned with climate science) and address indirect emissions in partnership with suppliers. For emissions we can't avoid, we will…

RETAIN nature's existing carbon storage, protecting ecosystems like forests that prevent carbon from entering the atmosphere, and investing in other high-impact projects aligned with climate science.

REMOVE carbon from the atmosphere by restoring and regenerating natural ecosystems. Focus on projects that advance sustainable livelihoods, biodiversity, climate resilience, and environmental justice.
In addition to implementing their Net Zero + Nature plan, Netflix plans to continue to use the art of storytelling to create compelling content that educates viewers on the importance of environmental issues and their impact on the world. As their website states, "In 2020, 160 million households chose to watch at least one story on Netflix that helped viewers better understand climate issues and highlight hopeful solutions around sustainability, or both."
NBCUniversal: Environment program
Spearheaded by parent company Comcast, NBCUniversal has committed to an action plan that will make them carbon neutral by 2035 in Scope 1 and 2 emissions across their entire global operations. This means they plan to achieve carbon neutrality across their productions, theme parks, and facilities. 
NBC Universal's website divides its green campaign efforts into multiple categories:
Repurpose Sets as Often as Possible: A multi-state program allows productions to store set walls, props, and wardrobe pieces so they can be re-used for future filming. If an item is no longer useful on set, it's donated whenever possible.

Invest In and Increase the Use of Energy-efficient Set Lighting: NBCU recently acquired LED light company, Cineo Lighting. With the upgrades that came along with that purchase, the production company now uses up to 70% less set lighting energy. Today, many sets are using 50% LED lighting or more.

Continue to Donate Excess Food: Productions generate literal tons of food waste, but NBCUniversal aims to reduce the amount of uneaten catering that goes to the landfill by putting it to much better use. In 2019, they donated nearly 50,000 pounds of excess food to local people in need.

Minimize Fuel Burn: The studio uses strict no-idling policies, and the use of fuel-efficient vehicles and solar-powered trailers helps reduce vehicle emissions. Diesel generators are being replaced with grid power whenever possible, and the team is dedicated to implementing new technology, like battery-electric mobile power units, as it becomes available.

Purchase Sustainable Products: Multiple departments across the lot are making an effort to source environmentally friendly goods. Productions use a tremendous amount of raw materials to build sets; to help protect forests, the studio is committed to purchasing FSC certified plywood and recycled paper. Some productions are also building sustainability into their catering menu by replacing red meat with lower-carbon proteins and more vegetarian options.

Minimize Waste and Single-Use Plastics: The team is phasing out plastic bottles, increasing recycling, composting, and digitizing paper processes to help reduce the amount of material being sent to the landfill.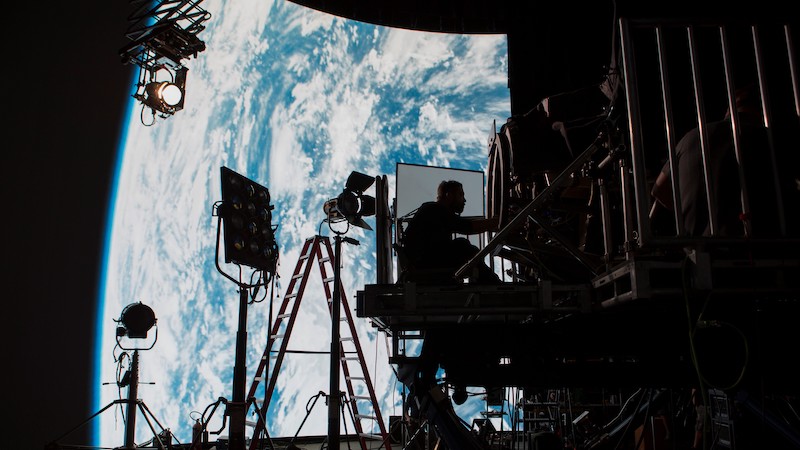 NBCUniversal
NBCU's efforts are paying off. In 2021, the production group received 46 Environmental Media Association (EMA) Green Seals awarded to honor progress in building more sustainable productions. And much like Netflix, NBCUniversal's eco-program also includes a storytelling component. The team behind the lens is highly aware that their characters' choices and habits impact viewers. With that in mind, staff writers and producers make a deliberate effort to highlight environmentally conscious behaviors.
Sony Pictures: 'A Greener World'
Perhaps the most forward-thinking, Sony Pictures had sustainability in mind way back in 2009, when they committed to planting one tree for each production day in whichever city they were shooting in. Today, their efforts have grown significantly.
Sony Corporation's global environmental plan, Road to Zero, aims to achieve a zero environmental footprint throughout the lifecycle of the company's products and business activities by 2050. They've set science-based goals, which will be measured every five years to ensure the program stays on track. Sony Pictures plays a major role in this initiative and also has their own campaign, titled A Greener World, which highlights how they're taking action. 
 Areas of Sony Picture's environmental focus are divided into three categories:
Awareness: Sony Pictures highlights content focused on going green and encourages site visitors to log environmentally conscious actions daily on the

ActNow app

. Act Now is the United Nations' global call to individual action on climate change.

Productions: The production group

regularly highlights

individual productions that are taking specific steps to reduce their negative environmental impact. For example, while filming

The Possession of Hannah Grace

, the crew "constructed some sets entirely from Emagispace blocks — fiberboard panels similar to Legos that can build entire multiroom sets, then come apart and be fashioned into new ones." The 2014 film,

The Amazing Spider-Man 2

is touted for being Sony Picture's most eco-friendly production to date. As an added bonus, efforts put in place to make the film more environmentally friendly saved the production over $400,000 - illustrating that green initiatives are a true win-win.

Operations: Sony Pictures focuses on sustainability

in the office and on set by

"minimizing environmental impacts in all of our facilities and engaging employees in efforts to create a greener world." This is achieved by implementing water-saving processes into their buildings, reducing energy consumption, implementing zero-waste recycling and waste minimization programs, and using low-emission and electric vehicles.
Sony Pictures also holds itself accountable by releasing progress reports on how their efforts are impacting consumption and emissions each year. They're proud to be the first major studio to be certified by ISO 14001 - an "internationally recognized systematic framework for managing the impacts an organization has upon the environment.
Across the pond, UK studios have also made ambitious commitments to reduce the environmental impact of film and TV production. 
BBC Studios
BBC Studios – a commercial subsidiary of publicly funded broadcaster the BBC - is a global leader in sustainability, championing change both on and off screen. Both the BBC and BBC Studios have approved ambitious science based targets to support the delivery of Net Zero greenhouse gas emissions.
The BBC is a founding member of the BAFTA albert Consortium and Directorate (affectionately known as "albert"), a collaborative organisation which aims to:
Inspire: empowering the industry to create content that supports a vision for a sustainable future; and

Restore: enabling the industry to make positive contributions to the environment while actively eliminating waste and carbon emissions from production.
One of albert's most-used resources, the albert carbon calculator, was originally developed by the BBC and gifted to the consortium in 2011. This online tool - which is available free at the point of use - has been used by more than 200 production companies and broadcasters to forecast the carbon footprint of their productions so that they can take steps to reduce it.
Similarly, certified albert carbon action plans - a rating system which scores productions based on the green initiatives they implement - have played a significant role in lowering the carbon footprint of the UK production industry as a whole.
As for its own commitments, BBC Studios has had an ambitious target of 100% albert certified carbon action plans in place since 2020. A leader in innovation, BBC Studios is also thinking outside the box: in 2021 the popular nature show Winterwatch was the world's first large-scale outside broadcast to be powered solely by green hydrogen and batteries.
BBC Studios is also committed to educating audiences about sustainability on screen. In 2018 its original wildlife documentary series Blue Planet II, which shone a sobering light on the effects of plastic pollution, was the most-watched series of the year, sparking a global campaign which led to changes in government policy and EU legislation.
Sky Studios
The Sky group was the first media company in the world to achieve carbon neutrality in 2006. As well as becoming a leading campaigner for healthy oceans, it has since committed to hitting net zero carbon emissions by 2030 through a combination of initiatives aimed at reducing the carbon footprint of its operations, suppliers and tech products.
Like the BBC, Sky is a founding member of the BAFTA albert Consortium and Directorate. All UK-commissioned Sky original productions must measure their emissions using the albert calculator and Sky has set a goal for all of its UK-commissioned Sky original productions to attain albert certification.
In line with this group commitment, all Sky Studios productions must follow a set of sustainable production principles and undertake a "Planet Test" aimed at encouraging commissioning, production and editorial teams to consider the environment and champion sustainability on and off screen. These standards include:
Providing sustainability training to production teams. 

Reducing travel and choosing public transport wherever possible.

Using renewable energy where possible.

Recycling what can be recycled. 

Cutting waste.

Consuming food, coffee and water consciously, avoiding single-use plastic and donating leftover food.

Avoiding hidden habitat destruction through the use of sustainable materials.

Choosing suppliers who care about sustainability and are advocates for change.
In addition, Sky Studios' new state-of-the-art film and TV studio - Sky Studios Elstree - which is set to open later this year, will become the most sustainable film and TV production site in the world. It will be powered purely by renewable energy (with up to 40% generated on-site through solar panels). Rainwater will be collected for use around the site, and there will be no single-use plastic.
What about indie production companies?
Indie films are also making strides towards a more sustainable production future. However, smaller projects have smaller budgets, which can be limiting when it comes to going green. To combat this, indie groups are getting creative on and off-screen when it comes to building sustainability practices. Many are utilizing free resources and taking a more prescriptive approach to how they source materials, consume energy, and manage waste.
Additionally, dedicated indie production company leaders passionate about making an impact are using education as a tool to teach film students about the importance of sustainability on set. They're working with universities to create a curriculum that gets students thinking about environmentally-friendly filmmaking early in their careers[3] [4] , and schools are banding together to support this initiative. So far, eleven top film schools have become a part of the Green Film School Alliance (GFSA), launched in 2020. Together, they've committed to integrating industry-level sustainable production practices into their programs, ensuring ecoconsciousness stays top of mind from greenlight to post.
Sustainability is a whole-industry effort
Today, big studios, indie productions, television shows, feature films, film schools, and corporate offices are making commitments to protect our planet. At EP, we're supporting this initiative by digitizing processes that help studios reduce paper waste. For example, our digital timecard solution, SmartTime, has eliminated 3.6 million paper timecards since 2021!
Every time someone makes a decision that contributes to a healthier world - be it an individual opting to use a metal water bottle instead of a plastic one or a studio swapping traditional set lights out for energy-efficient LEDs - we advance industry-wide efforts to build sustainable productions. As we make eco-friendly practices a habit, a greener world comes into focus.