Blog Home
The Psychology of Terror
How our deepest personal fears inspire cinematic monster makers Todd Masters and Steve Wang
October 29, 2021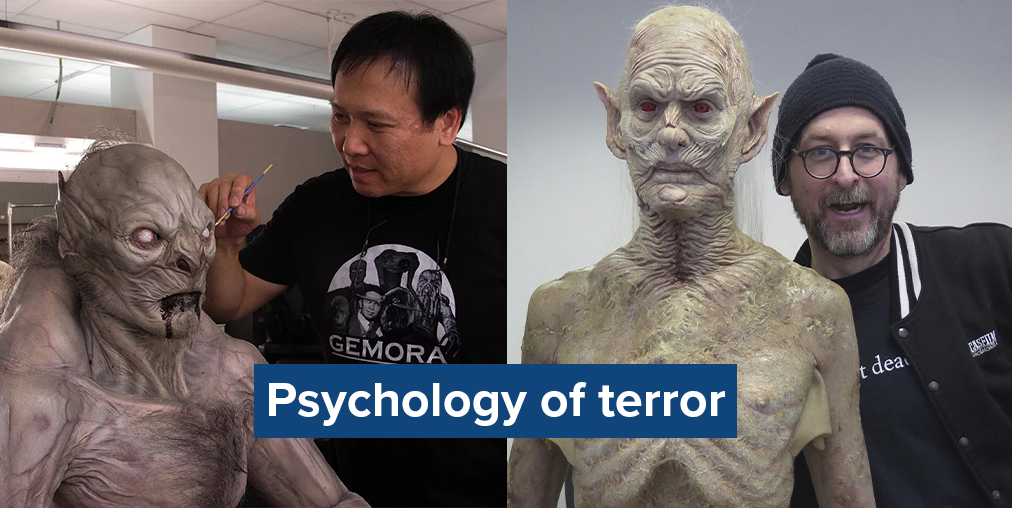 Monster making is no small feat -- it's part science, part art, part engineering, and part storytelling. And it takes a special kind of skill to blend these elements together in perfect proportions to achieve the realism that will leave audiences squirming. Special effects wizards, Steve Wang and Todd Masters have been spooking moviegoers for years and invite us into their process, discussing both the psychology and craftsmanship of what goes on behind the gory details.
Todd Masters, President and CEO of ​​the world-renowned and award-winning character FX company, MasterFX, and founding board member of the Visual Effects Society, is known for bringing haunting scenes to life for horror classics, psychological thrillers, and tent-pole superhero franchises. He credits his early inspirations to Ray Harryhausen, Jim Dan, and Craig Reardon, pioneers in visual effects and stop motion animation, who worked almost entirely by themselves creating creatures.
Steve Wang, owner of  Onyx Forge Studio, is an award-winning special effects character creation artist, painter, designer, sculptor, and respected monster maker, renowned for projects that span from video games to feature films, including the classics: Batman Returns, Beetlejuice, and Predator. He also teaches with the Stan Winston School of Character Arts where he originally started working 30+ years ago in 1985, developing new techniques in special effects where he created iconic creatures for films such as, The Evil Dead and Gremlins.
Understanding What Makes Something Scary
Everyone has a different fear factor based on their life experiences, so designing monsters requires deconstructing our primal fears as humans and building on that fear with an added twist. According to Wang, "As makeup artists and creature creators, we want to create a fictitious character that looks real to the eye, so people believe that it's actually a real living creature. If we're able to achieve that, it's quite rewarding for us as artists."
Specifically, he continues, "When I design something scary, I try to reach deep into what are all the things that really creep us out. For instance, [take] people with arachnophobia -- a fear of insects... dark colors and long spindly legs. Or some people have trypophobia, where they're afraid of holes...I try to extrapolate all the elements of what naturally make people scared in general. And then I incorporate all those elements together into the creature designs."
Todd Masters, Courtesy of Todd Masters
Masters explains his approach to creating scary elements: "This is art, so there are no rules, but there are some kind of guidelines that have been set up by previous artists to create horrific images. Typically, if you're designing something cute, it's more round with colors, so creating something scary is the opposite of that. Evil looking is sharp angles, asymmetrical features, and dark shadows... not all of us are perfectly 50/50, so if we really exaggerate that when creating a monster, and then compare it to the beauty of a human that once was, it just transforms that character into something hideous and usually triggers pretty scary."
I try to extrapolate all the elements of what naturally make people scared in general. And then I incorporate all those elements together into the creature designs.
Wang agrees with this idea, "I think a lot of things start with the human face. Somehow, to me that is more terrifying than a big monster."
For the film, Darkness Falls, Wang gives the example of how he transformed a human face into one that horrified, "I created a tooth fairy, and my version of that tooth fairy was [with] long hair, a pale face with translucent skin, with all the stretch lines in it, and you can kind of see inside the skin. There was a skull-like face of a woman underneath that was very scary-looking with all these weird tattoo lines. [She] had big multi-claws and six wings that unfold like leaves. It was kind of beautiful and terrifying at the same time. At one point, the face melts off for you to see her real face underneath, and she has no eyes, it's just a big cavity. She has no lower jaw, it's just a big throat full of hundreds of human teeth."
But scary doesn't always need to be shown, as Masters clarifies, "The monster that's scary for me is probably not the same monster that is scary for you... we make our own monsters out of lifelong experiences. So, whatever we can kind of tease the audience with and find those triggers, and allow them to create the monster, the better off. That's why sometimes seeing the monster isn't as satisfying as not seeing it."
Consider older film examples, such as Jaws. The technology wasn't as advanced as it is today, yet the film still nails the suspense factor. As Masters explains, "You're so invested in the story because it created fear by using filmmaking techniques hinting at the unseen, allowing the audience to be a participant. So, when they used a big rubber mechanical shark at the end, it still created shock value."
Masters expands on the concept of leaving room for the imagination, "Your experiences are really what makes you scared. Most people are scared by sharp needles, oozing liquids, shadows of an unseen face, and skull iconography… the designer is trying to use those [triggers] to tease you and get inside your own personal monster, and they have to be dramatic to actually make an impression. But the less of that the better, because nobody's going to design your monster as perfectly as you are [in your mind]."
The Design Process
Once Todd and Steve research and come up with a concept for their monster, and how it's going to add to the story, the next step is the design and fabrication process. This stage is where they determine how it's going to function as a practical, CGI effect, or prosthetic -- or a combination of all three.
Wang explains, "There are so many different ways you can create something otherworldly, but the process always starts with design. First, design and function, in the case of a prosthetic. If you're limited to the person's face, you know you can design a mouth only so big that when the guy opens his mouth the prosthetic won't move correctly, so you have to decide if you go with a mechanical mask or get an animatronic device. Based on those designs, that tells us exactly how we need to build it."
Steve Wang with Patrick Tatopoulos; Batman vs Superman: Dawn of Justice
According to Wang, the special effects department is "very much like a film production, just a little bit smaller and more department specific." The roles in this department may include the following crew members who help Todd and Steve's monsters come to life:
The Prosthetic Designer | This role could consist of two different people or one person who designs the special effect and then sculpts and adapts that design into a real functioning prosthetic that fits on a limb or the face. They also break down all the pieces of the prosthetic and how the makeup is going to blend together to make it seamless on the actor's body. 

Makeup Effects Designer | The art director of a project and an extension of the makeup department. There may be a prosthetic on an actor's face that needs to squirt blood and requires specialty functionality or animatronics, or perhaps a transition from full makeup to a fully animatronic head. The makeup effects designer manages how that effect is going to work on set.  

Key Makeup Person | This individual is always on set, applies the makeup, and supervises a supporting crew, guiding how to execute the various special effects.

Makeup Effects Producer | The person who manages all of the administrative parts of the department, including budgeting. 

Coordinator | This supporting role helps with scheduling and ensuring that a project stays on track.

Special Makeup Effects Artists | These are the engineers who sculpt, paint, and apply makeup to create an effect by mold making, prepping all the pieces to be made, along with building all the technical and mechanical aspects of a piece.
Using CGI in Special Effects
Technology has certainly advanced special effects over the years, but practical effects are just as important. Overdoing CGI impacts a filmmakers' ability to suspend the disbelief of the audience, so finding the right blend of both worlds creates a believable creature or environment.
"When it comes to using CGI in special effects" Masters explains, "I like mixing practical and digital, when appropriate, just because it seems to fool most audience members a little more. It's like something that's supposed to be organic suddenly changes into something that is magical or unreal."
Todd Masters; Fallen Skies
Triggering the fight or flight mode in each of us delivers an emotional impact which is ultimately the most important element of any scary scene. Too much CGI can impact that emotion as Masters continues, "I think that we as humans, especially as we evolve with so much information coming through our eye holes, learn really fast, and even if we don't know anything about effects, you know the common person can be taken out of a film by an overdone CGI effect."
Wang approaches special effects as a "Collaboration with the visual effects department, meaning that some parts will be CGI enhanced and other parts will be practical, depending on the shot. Which is how the old masters used to do it." His advice to filmmakers today: "Don't choose one way to do all the effects. You first look at what the shot requires, and then you decide whether you need to create a forced perspective and add a matte painting or some green screen compositing. The primary goal at the very end of the day is to suspend the audience's disbelief."
Monster-making is both a rewarding and challenging artistic career that calls for innovation, problem solving, and working under tight deadlines.
As Masters explains, "People call us up all the time to deliver the impossible. They may need an invisible robot by Tuesday, or a whole bunch of aliens for a show, or a bunch of big muscular arms and no time... we're people that accept challenges to help productions figure it out and so the creative challenges are spiced with the practical challenges which, of course, are budget and schedule and artist availability... We have coordinators that manage each project and try to make sure that every producer and every director is getting what they're expecting."
Steve Wang; Predator
Wang, who pioneered some of the most iconic creature costumes, including the Yautja in Predator and Abe Sapien in Hellboy, continues to challenge himself and his art studio today, saying, "We're constantly innovating in the shop... always creating new techniques to try new things, and this is why the industry can grow and become better and better."
Despite the challenging project timelines and requests, both Masters and Wang continue in their craft that allows audiences to escape the ordinary moments of life for the thrill of facing the unknown, impossible, and otherworldly.
To continue reading more on the art of scary filmmaking, check out the Designing for Horror feature on the EP blog to learn how filmmakers create fear through visual techniques.