Blog Home
Returning to Production: Hair and Makeup Teams Apply COVID-19 Protocols to Life on Set
Getting back to work: a look inside set life during COVID-19
February 26, 2021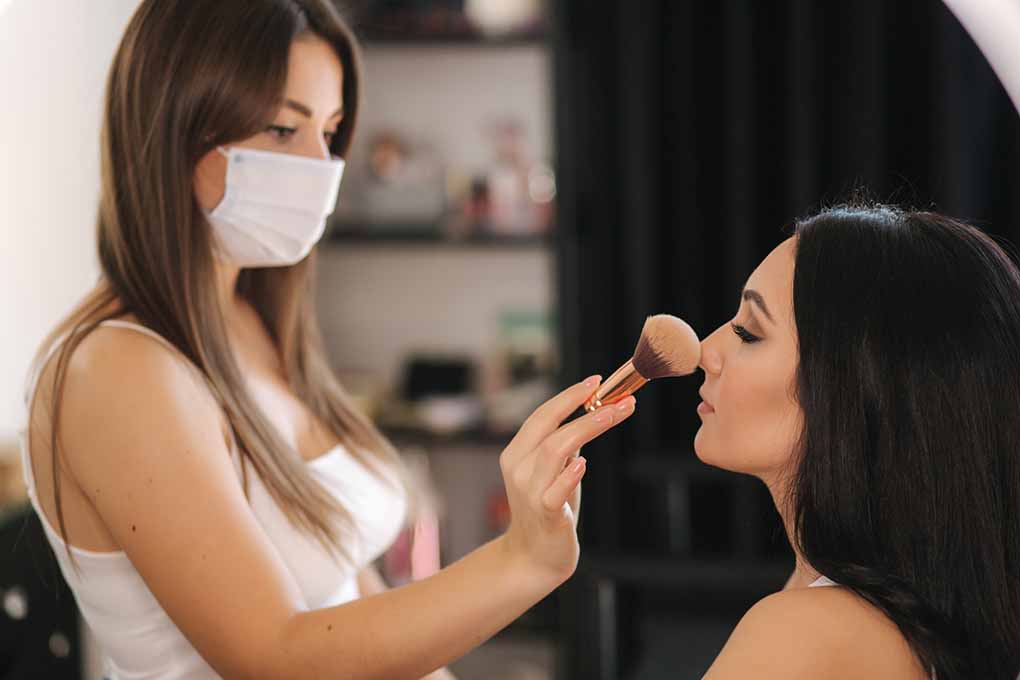 Filmmaking is looking a lot different these days as productions mask up and design safety protocols so cameras can get rolling again.
Claire Mahony, Hair Department Head, and Samantha Wiener, First Call Additional Hair Stylist, are two crew members who shared with us what it means to "get back to work" safely.
Given that the hair department works extremely close to the actors, Claire and Samantha are on the front lines of production, and work together with the COVID Department to keep the production moving forward and avoid outbreaks. Since last March, crew members around the globe have wondered when they would be able to get back to work, and Samantha was no exception, "This craft [hair] that we do is so important. I spent six months being unemployed...and now, the fact that we are able to do this again, feels so precious and fragile."
In many highly-affected industries, COVID-19 has led workers out of a job to explore different roles, or new industries all together. While pivoting may work for some, for many who work in film and television, that's not an option. Industry professionals, like Claire and Samantha, have spent years perfecting their craft, and can't easily pivot to a new career. They have to trust that work will keep coming, and when they are hired, uphold safety protocols with extreme caution to stay healthy and employed. As we have seen throughout the past year, one outbreak can shut down an entire production for a minimum of two weeks, so following protocols is not optional.
A day on set
When Samantha and Claire get to set, they check in with the COVID department. The size of this department changes from production to production, but can consist of a COVID-19 Compliance Supervisor, a crew of set medics, the safety department, and locations. Vital to maintaining safety on set, the COVID department is responsible for compliance with established safety protocols. Duties of this team include: testing all persons upon entry to set, ensuring tests get to the testing facility, distributing proper PPP (personal protective equipment, such as masks and eye protection), and handing out wristbands to easily identify crew members who are associated with the zone they are working in for the production. Different zones on sets indicate how often crew members get tested - Zone A, B, C, etc.
For example, Zone A is the area where masks have to come off for filming. Only a limited number of people are allowed in this zone, and these cast and crew members are prohibited from interacting with the other zones. Individuals in Zone A are tested three times a week, while additional zones are tested less. Find more information about zones and testing in the Return-To-Work Agreement.
As Claire explains, her position as the Department Head has changed since the pandemic hit, "I'm left delegating from afar. I have to rely on my team so much more."
The fact that we are able to do this again, feels so precious and fragile.
To keep cleanliness transparent, Claire and her Department Key, Emily Rosko, pack kits for every cast member. As Claire points out, "Our standards of cleanliness are very high because we are touching people." Echoing this sentiment, Samantha affirms the seriousness with which she approaches her job, "I'm personally invested in someone's lifeline. This virus is killing people without real choice."
When Samantha arrives at the hair department trailer, she picks up the sanitized kits and any notes on maintaining continuity of the characters associated with them. At the end of the day, she brings the kits back to the trailer to be sanitized again for the next day of filming. And the cycle repeats.
It's a tedious process, but necessary to prevent a shutdown. Having previously worked on a production forced to shut down to do COVID-19 outbreaks, Samantha knows first-hand how frustrating the ordeal can be. Aware of what's at stake with her job, she doesn't cut corners, often wearing a combination of multiple masks and face shields, even when the extra work and information to process on a daily basis is exhausting.
Just like before Covid – we take joy in the small moments and victory of an entire crew getting along. That existed before and it still exists today.
6 Ways Set Life Has Changed
Knowing morale can suffer with all these new protocols, Claire, as the Department Head, works consistently to keep her team motivated, "I do my best to create a good work environment...make sure my team gets a good turnaround...have increased levels of cleanliness...listen to my team's concerns...ensure meals are on time."
Adjusting to life on set with the new "back to work" protocols, Claire and Samantha share other and unexpected ways things have changed:
Prep Areas. The main trailer for the hair department where Claire works is reserved for the principal actors. Day players and Background cast, including crew like Samantha, prep in an additional separate holding space.

PPE. Right after "cut" is called on set, actors put their masks on right away before returning to their trailers.

Accessing the set. Writers and producers are much more purposeful about who they are bringing to set, and often request that Day Players to do their makeup and hair before coming into work.

Communication and socializing have changed. With social distancing in place, cast and crew are speaking louder and using more hand gestures, and many departments are not socializing outside of their own group. The sense of community still exists, but it's not as casual as it once was. Samantha notes her circle of contact is limited to actors, PA's, and the hair department crew.

Eating is not longer a social experience. Lunch rooms are now in large warehouses with individual areas separated by plexiglass on either side. Despite this, and given her close contact with the cast, Samantha takes extra precaution, and chooses to eat outside by herself or even in her car to stay healthy and avoid any potential spreading of the virus.

Constant testing. Claire has standby crew members within her department who are paid to take COVID-19 tests on a weekly basis. In the event one of her current crew members tests positive, this backup crew can quickly replace them in a moment's notice.
While COVID-19 compliance is adding more levels of safety to productions, Samantha reminds us, "Just like before Covid – we take joy in the small moments and victory of an entire crew getting along. That existed before and it still exists today."
Together, Claire, Samantha, and Emily are supporting each other and everyone on their crews as peers in an industry which cares about their craft, the people, and the chance to create movie magic once again.