Blog Home
Meet the Stunt Coordinator
A Conversation with Jason Rodriguez ('Yellowstone,' 'The Last Castle,' 'Iron Man')
May 2, 2023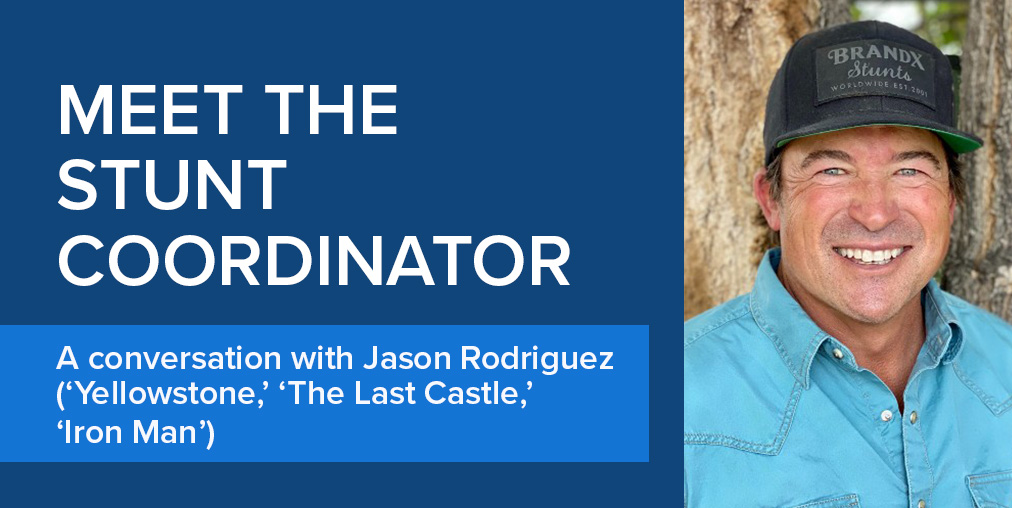 If going to work means jumping out of helicopters, climbing aboard runaway trains, and maneuvering car chases, then stunt performers might just have the most exciting job in Hollywood. Although undetected by audiences (which is a good thing!) stunt performers go through rigorous training to execute the action sequences that are too dangerous for actors. With years of specialized training, highly-skilled stunt performers can give viewers a thrilling yet realistic edge-of-their-seat experience.
Today we highlight the work of Jason Rodriguez, a versatile and professional stunt performer who for the last 30 years has performed and choreographed some of Hollywood's best action scenes. He is well-versed in typical stunt roles like car chases and fight scenes, but as an award-winning cowboy and stuntman, Rodriguez is especially known for his experience with horses and ranch work. His cowboy skills of roping, riding horses and cattle driving have been featured in an extensive resume of films, television series and commercials.
Amongst his impressive list of credits is his stunt work for box-office hits such as 'The Last Castle' (Dreamworks), 'Iron Man' and 'Mission Impossible' (Paramount), and 'Jason Bourne' (Universal Pictures). He has also worked as a stunt coordinator for many television series, including '1883' (Paramount+), 'Outer Range' (Amazon), and most recently 'Yellowstone' (Paramount Network).
Rodriguez won the Taurus World Stunt Award in 2002 for "Best Fire Stunt" in 'The Last Castle' and was later nominated for "Best Work with an Animal" in 'American Outlaws' (Warner Bros). On three separate occasions he was nominated at the Screen Actors Guild Awards for "Outstanding Performance by a Stunt Ensemble in a Motion Picture" for 'Iron Man,' 'Cowboys & Aliens' (Universal Pictures) and 'The Matrix Resurrections' (Warner Bros). He is also recognized by the National Intercollegiate Rodeo Association as one of the Top 20 in Calf Roping/Team Roping.
A modern cowboy
The need for professional stunt performers originated in the early 1900s when American filmmakers hired rodeo stars and former cowboys to fill roles in western-themed action films. A hundred years later, there is still a need for modern-day cowboys, and fortunately for Hollywood, Jason Rodríguez fits that role seamlessly.
Rodriguez originally gained his experience while working at his family's horse and cattle ranch in Paso Robles, California. As the son and grandson of Pro Rodeo hall-of-famers, it was inevitable that Rodriguez would start team roping (at the early age of 7!) and continue in his family's legacy, except this time on screen.
He moved to Los Angeles in 1992 to pursue a career in acting but after a few years got back in touch with his ranching skills when cast as an extra on 'Dr. Quinn Medicine Woman,' doing horse work and driving wagons. He later worked as a wrangler on 'The Adventures of Brisco County Junior' and as a double for lead-actor Bruce Campbell.
In addition to his membership in SAG-AFTRA, Rodriguez is also part of a larger network of stunt performers named Brand X Stunts. Becoming a member in this association requires sponsorship and full support from all members, and in return, members have access to exclusive opportunities and promotion within the group. When casting stunt performers for productions, Rodriguez first looks to hire colleagues from within this network of stunt professionals.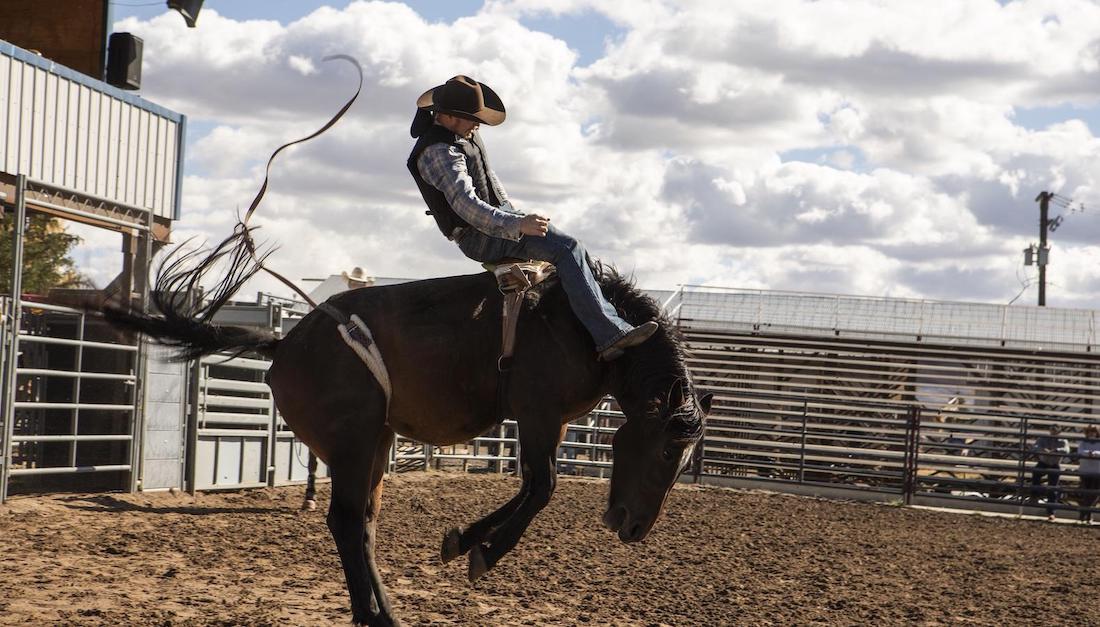 'Yellowstone' / Paramount
Depending on the production budget and complexity of the scenes, Rodriguez can either work alone with a co-coordinator or have multiple performers on his team. "On Yellowstone it's just me and another of my co-coordinators and we both work as a team," says Rodriguez, but on other occasions, "we bring in additional support as needed. I've worked on shows where my teams have up to ten people assisting with stunt work."
Stunt co-ordinator training & specialties
A stunt coordinator's responsibilities go beyond choreography. Rodriguez participates in the scouting of locations and supervises the casting of stunt performers and doubles. Choosing the perfect stunt team means keeping in mind the many specialties needed for certain action sequences.
Stunt performers receive basic training in a variety of disciplines, including different forms of martial arts, stage combat and stunt driving. Although stunt performers are usually cast for work in their specialty, it is advantageous for them to be well trained in multiple fields. "Once you're in with your specialty, then you start learning other aspects of stunt work and move in the direction of being a well-rounded stunt person who can work on anything," he explains.
In addition to specialty work, some stunt performers are also trained in acting and can fill in as a cast member's "double," even to the point of copying their mannerisms. For that reason, many actors request the same stunt doubles across multiple films. "In the pre-production process you're figuring out how you're going to make scenes work and how you're going to put the actor in the scene so that the audience believes it's actually the actor doing it – otherwise, it's not great!" says Rodriguez.
Throughout his career, Rodriguez has doubled for actors including Paul Rudd in 'Role Models;' Jason Bateman in 'Arrested Development' and 'Identity Thief;' Colin Farrell in 'Winter's Tale;' and most recently as Josh Brolin in Amazon's 'Outer Range.'
Technology in the stunt world
With increasing technology used in the filmmaking process, many action sequences today are supplemented with CGI (Computer Generated Imagery), meaning stunts that may be too physically challenging or dangerous for actors are now shot on a green screen stage. As Rodriguez explains, "Superhero-type movies are heavily CGI in order to have a more controlled environment, and directors can have shots where the actor is doing all the stunts safely."
Rodriguez shares that the filming process of 'Yellowstone' is unique in the sense that there are no green screens or CGI effects. "It's gritty stunt work. You go out there and take the bruises as they come," he explains.
In one episode of 'Yellowstone,' Rodriguez had to coordinate the stunt work for a scene involving four people sitting around the table while a bull was released into the arena. The winner at the table was whomever could sit the longest. "There's really no way to rehearse that scene or prepare for that kind of action," says Rodriguez, "You just hire the right people. All my doubles were bull riders or bull fighters that were doubling the actors. You just see where the scene takes you."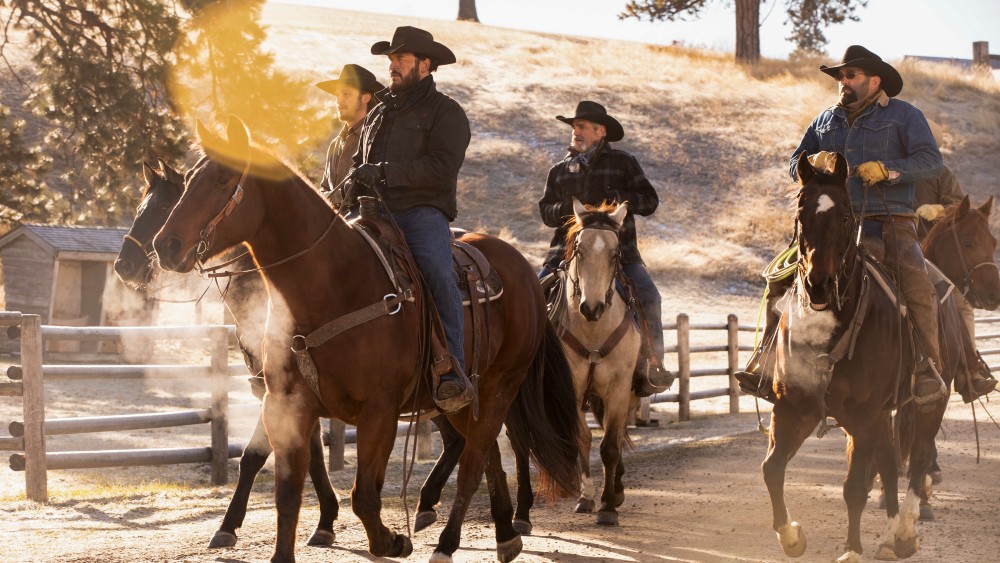 'Yellowstone' / Paramount
Because 'Yellowstone' is filmed outdoors in Utah and Montana, Rodriguez has had to prepare both the actors and stunt performers to work in that type of environment. "We go into training the actors a lot – they go through a cowboy camp where they train on the horses, learn to rope, and do other outdoor activities," says Rodriguez, "They're prepared to be in a live environment, and we don't have to rely on special effects."
Advice for future stunt performers
Working as a stunt performer requires discipline and continuous physical training. Those who are interested in becoming stunt performers must have quick reflexes and the natural agility to learn new stunts and techniques. A successful stunt performer must also continue to train in their specialty so that they are always ready to take on the challenge of a rigorous action sequence. In later years when strenuous stunt work has taken its toll on the body, stunt performers have the opportunity to then transition to behind-the-camera work as stunt coordinators.
Another marker of success, according to Rodriguez, is being levelheaded. Stunt performers need to be physically and emotionally prepared for the job, especially when they're working in such dangerous conditions. "Having a cool head under pressure is very valuable," says Rodriguez, "it's great to see someone who can think through problems and react to all kinds of challenges."
As a stunt coordinator, communication, attention to detail and preparation are all necessary attributes. Scenes are oftentimes dangerous if not planned correctly, so it is essential for stunt coordinators to give detailed instruction to actors. But more than guiding actors, coordinators must be able to communicate with the director and producers to provide solutions. "Even if directors have a clear idea of what they want, you still need to offer options of how to accomplish what they envision."