Blog Home
Meet the Prop Master
From script to screen, the creative mind behind the props from film and television; featuring Prop Masters Theresa Corvino ('Freakish') and Paul Byers ('SWAT')
July 28, 2021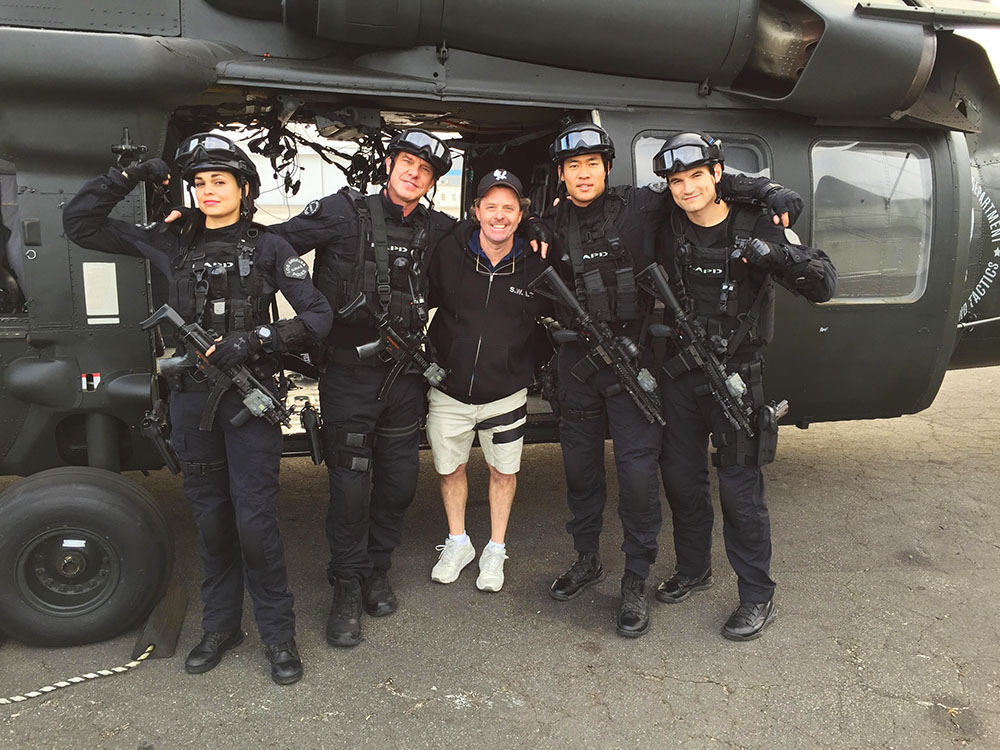 Prop Master, Paul Byers, on the set of S.W.A.T.
Captivating an audience with a compelling story requires a variety of skilled departments and their crew members working tirelessly together behind-the-scenes.
The Prop Master leads one of these crews, the Props Department, and is responsible for creating authentic scenes to bring a production to life. Their job is to read in between the lines of the script, and re-imagine what physical items would be there in a real-world setting through highly detailed research, sourcing, and fabrication.
What Does the Prop Master Do?
Prop Master, Theresa Corvino, of Hulu's Freakish, and Amazon's upcoming biopic based on the life of Mary Pickford, explains her role this way: "We help the director and actors take something that starts as a written medium and translate it into the mechanics of how they see it on screen. Then we have to figure out how that's going to work from a physical standpoint."
Paul Byers, Prop Master of the iconic film Nightmare on Elm Street, and TV series, CSI: Crime Scene Investigation, explains his role as, "We take a script and break it down into what's needed for each actor and background actor to use during each scene. It can be anything they hold, wear, eat, or see. The scope of these items can be very diverse. It can range from watches [to] rings, sunglasses, weapons, police gear, food, high tech devices, and down to the most trivial things like license plates on vehicles."
Working with Costume and Set Decorators
Prop Masters work closely not only with their own crew, but also with other departments, as Paul points out, "We work a lot hand-in-hand with the costume designer to help create the look of a particular character or group of characters. If my take on the story is different from the costume designer, and we never discuss it beforehand, we will show up with vastly different looks, and it can be a disaster. So I make sure that we are really in sync."
Paul adds, "And we work closely with the set decorator as well. The set decorator could have a whole idea of the set tone or color palette. So, if the production designer and the set decorator have discussed at great lengths different hues and tones for a set, and I show up with something neon green, they are going to be very displeased. So I make sure that we have that open source of dialogue to avoid that mistake, and make sure we are on the same page."
Day-in-the Life on Set
The prop master is typically first to hit the ground running, long before 'action' is called by the director. Days typically begin with a first rehearsal, as Theresa shares, "we have to get a feel for what everything needs to look like, so we can prep and shoot the scene... and if we have any last-minute requests [by the producer or director] we have to problem solve on how to get it or make it."
Theresa Corvino, Propmaster and Armourer, on the set of Guidance (Hulu)
Prep and organization are key to keeping up with fast-paced schedules and managing unexpected last minute requests as Paul explains, "We make sure every prop is assembled and ready the night before shooting. We get them displayed on a table, and once the talent and crew arrives, we jump right into a rehearsal for the first scene, and then accommodate any last-minute requests. Once we establish that things are good with the scene, I immediately start working on the next episode by meeting with the director, so I can begin acquiring the props for it."
Aggressive scheduling is one of the biggest differences between working on movies compared to television, and can make it challenging from a production standpoint for prop masters working on television productions.
Paul points out that, "Television shows are now mini movies and the speed has increased tremendously. Not everything that is scripted can be bought-- sometimes it has to be built, and that requires time to design and fabricate. Trying to get that fact into the writer's mind is important, because they might wait until the last minute to put out a script when they've known all along of things that need to be acquired, but that's not always possible for us."
Knowing that every detail in the storyline impacts the prop master's job, it's important that writers, producers, and directors are consistently communicating with them as far in advance as possible to ensure an efficient production experience.
The Props Crew
The prop master leads a highly organized department with the following crew members working closely alongside them:
Assistant Prop Master, Set Master, or Lead On-Set Person: Assist the prop master all through prep, and physically run the implementation on set. Their jobs require them to work directly with the actors every day and they have to have a giant mental continuity library of everything that was talked about, along with ensuring that every prop is mechanically up and running. If the prop isn't working as it's supposed to, then they have to figure out how to solve it.

Second Person: Assistant to the lead on-set person, and who sets up all the props for the actors to put on while maintaining the props area on set. The second person can be in charge of 1 or 1,000 people for background, working directly with the assistant director on set to ensure they are ready and outfitted according to schedule.

Third Person: Assists the second person, and is the lead in handling the weapons.

Shopper: These individuals know where to source anything and everything for a production, with a mental rolodex of every prop house, big box retailer, small mom and pop shop, and antique show booth in town, and have store owners' contact numbers on speed dial for last-minute emergencies. They also know which websites are reliable and which won't ship on time, and can direct you to a specific prop and availability even in obscure locations. Shoppers an irreplaceable resource with years of cultivated experience and knowledge that's often very hard to come by.

Fabricator: They handle anything from set walls to faux bomb remotes and specialty prop fabricators can make anything from foam hammers for stunts, to electronic trackers, to lightsabers and robots. They have both an engineering and an artist brain, and can create molds, 3D print, and do electronic wiring. They're magicians as much as craftspeople.
Sometimes, the prop master will routinely schedule a second or "splinter" props unit that works side by side at the same location. Additionally, Paul points out, "props have become so specific to the show that we carve out specialty roles. For medical shows, we will bring on a medical tech to work with the actors to make sure all background actors look accurate and it looks like a busy hospital, [and] ensure all of our medical devices are correct and show what they are supposed to show. For a cop or military show, we'll bring on technical advisors in the same capacity. Or for food scenes, we might bring on a food stylist who makes everything unique to the needs of the show, like paint that won't melt on camera but it's still edible".
Skills of a Successful Prop Master
Read Between the Lines.
Theresa says, "We have to be able to extrapolate beyond what is written on the script. Know what's in between the lines. For a baseball movie, it's not just baseballs, bats, and gloves, they also have chewing tobacco and things they keep in the dug out for good luck charms. These are props that never end up on the page, but they do so much to make a scene feel authentic."
Think Ahead
Paul advises that, "Having the forward thinking scheduling mindset is crucial, so you are always looking ahead of what's coming."
By staying one step ahead, Theresa explains, "Anything that needs to change, or is needed last minute is usually the prop master's responsibility. We have to be there to step in and figure out how to facilitate, so that the actors have what they need. We don't get to say 'no,' we get to say 'what's the solution?'"
Be Ultra Organized
Working on fast-paced schedules and problem solving on-the-fly requires staying organized. One of the ways prop masters keep their department running smoothly is with the help of industrial Contico Bins, labeled by type of prop with a photo on the front, carefully organized in their truck.
Paul advises, "We have to move so fast, and not always in the most ideal of conditions. If you're spending too much time looking around to find something that should be right in front of you then you have an organization problem."
Another key way to stay organized and maintain seamless continuity is through SyncOnSet; and Paul raves "It's a great program and I use it often!"
I love the job and the department because it changes and flexes with every show. It allows you to do something new every time.
Additionally, understanding product placement is another important skill for prop masters. Theresa credits her previous career with adding value to her job now on set; "I worked in marketing and advertising for a while, which plays into the technical side of props when it comes to clearance, product placement relationships, and contractual obligations that inform what we are allowed and not allowed to do with brands on screen, or how things are represented."
While leading the Prop Department requires demanding, long days, the role is rewarding for the industry professional who thrives in building realistic worlds and compelling characters.
And Theresa will attest, "I love the job and the department because it changes and flexes with every show. It allows you to do something new every time. I also love getting to be the creative problem solver on set that people look to for solutions when things change at the last moment, and I love creatively working with costume and production designers to find those details to help an actor feel they can embody a character."
Ultimately, Prop Masters are dedicated to the job because they excel in creating scenes so real that audiences forget they are streaming a show on their couch, and instead find themselves in a smoky saloon in the Wild West or on a spaceship headed to the moon.