Blog Home
Meet the Paymasters
This National Payroll Week we celebrate the hard-working payroll professionals behind Hollywood's paychecks: the EP Paymasters.
September 5, 2023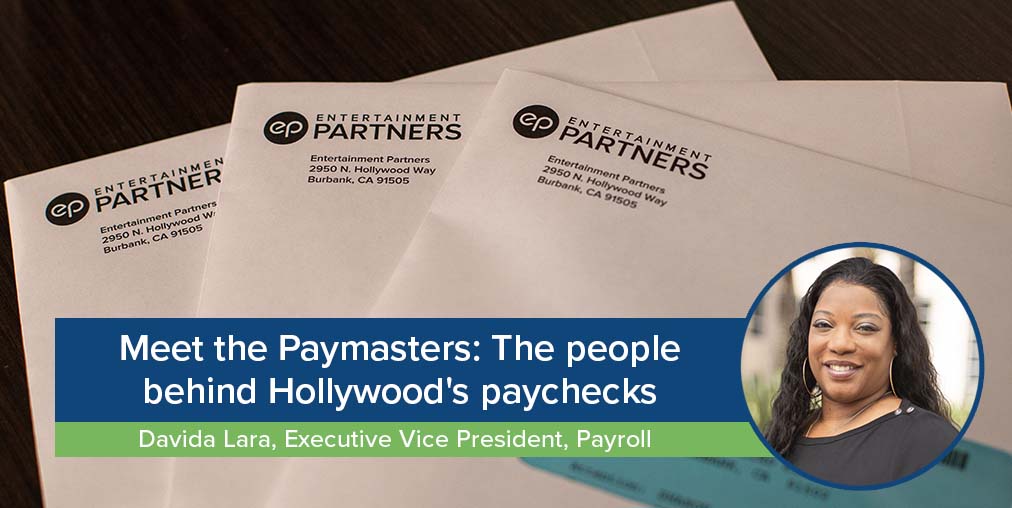 It's National Payroll Week and to commemorate this important time in the payroll industry, we at Entertainment Partners are celebrating the hard-working people who make sure that Hollywood gets paid accurately and on time: the EP paymasters!
Here at EP, our team of dedicated payroll professionals work tirelessly to service our payroll clients and to deliver people's pay, support their livelihoods and provided critical stability to the talent and crew who depend on them.
What does a paymaster do?
To put it simply, the paymasters are the first and last line of defense in processing production payroll. They make sure that everyone that works on a production, whether it's a film, television show, or a commercial, and whether they're an actor, a crew member, or someone working in the production office, all get paid on time and correctly.
A paymaster's day to day job can vary. With clients in all stages of production, our paymasters have to be ready for any number of tasks including entering start cards, interpreting and processing timecards; calculating, reporting, and auditing; and inputting above and below the line payroll in accordance with client, employee, union, state and federal requirements. All of this culminates in running weekly payroll and ensuring accurate and timely delivery to the client. But it's so much more than that.
Entertainment payroll is in a class unto itself. There are contracts, union agreements, provincial, state and federal requirements, and policies unique to each studio and production company. As well as factors like where a production is shooting, the length, the time-slot (if a television production), if the project is a drama, comedy, sitcom, or live event, and the medium of distribution (streaming, theatrical, etc.) just to name a few. All of these (and more!) go into paying a show and it is the paymaster's job to navigate these variables for each of their payroll clients with confidence and skill, safeguarding that no obstacle stands in the way of delivering payroll.
The paymasters at EP are experts at deciphering how to comply with all of these complex elements, and they do so with the utmost expertise and professionalism. With over 40 years of experience as the industry's leading payroll provider, no one knows more about entertainment payroll than the EP paymasters. As the subject matter experts, they've even written the book on entertainment payroll, the most complete guide to wages, union rates, schedules and more.
In addition to knowing the ins and outs of complicated contracts and policies, our paymasters also have exclusive access to and knowledge of best-in-class digital payroll solutions. Technologies like SmartStart, SmartTime and other Production Finance solutions are changing the industry for the better, and revolutionizing the way payroll in the entertainment industry is done. Advocating for clients and helping them get the most out of the payroll team and the technology EP offers, are what makes the EP paymaster indispensable.
Paymaster is a job that gives you a sense of accomplishment. In a week there could be over 1,000 timecards, and knowing that you serviced the client, and all those people were getting paid - that was because of you.
Hollywood is a 24-hour a day business, and we have to operate on that same schedule. Being a paymaster isn't always easy. Clients can be demanding, and sometimes it can be hard. But it is one of the most important jobs in the industry, and any paymaster can attest that their career is rewarding.
Pedro Cuervo, Vice President of Payroll Services, has spent over 20 years as part of EP payroll team and began his career as a paymaster. "Being a paymaster was my favorite part of my career. Paymaster is a job that gives you a sense of accomplishment. In a week there could be over 1,000 timecards, and knowing that you serviced the client, and all those people were getting paid - that was because of you" he says.
What makes a successful paymaster?
The people who make the best paymasters are the ones who understand the value of the job. The payroll department at EP is not comprised of one type of person or one type of background, and it may be a surprise to some, but you don't need an accounting degree or an MBA to become a paymaster. You just need two basic things: a passion for numbers and a passion for people. 
These two drivers are at the core of every good paymaster, and regardless of your experiences, if you possess passion and determination, the rest can be learned with time and training. And for those who choose to learn with Entertainment Partners, the training and experience you gain will make you the best in the industry.
Pedro Cuervo's advice to anyone considering a career in production payroll is to take the leap: "If you're an analytical person and you have an affinity for numbers, you'll find this a very rewarding career. And if you're looking for a career in entertainment, this is the perfect place to start!"
Careers can go down many different paths; all you need is a starting point. If you're a finance professional looking to break into the entertainment industry, or a new graduate coming right out of school, consider a job in entertainment payroll. When you have payroll knowledge, you understand how the entertainment industry works, and while many who become paymasters choose to stay on the payroll side of things, other doors will also open to exciting opportunities; you can go on to become a production accountant, a producer, or something else! It's completely up to you.
In recent years we have seen entertainment industry faced with many significant obstacles, yet through it all, the hard working people of Hollywood have perservered with strength and determination. With so much activity happening in the sector, new opportunities are opening up everyday. At Entertainment Partners we help to power Oscar-winning films, Emmy-winning shows, and Clio-winning commercials, so if you love numbers, people, and the entertainment industry, check out our careers page. You might be the next paymaster!