Blog Home
Meet the Music Supervisor
Kasey Truman ('Grey's Anatomy,' 'The Sandman,' 'Fire Country') on the art of creating cinematic soundtracks.
January 4, 2023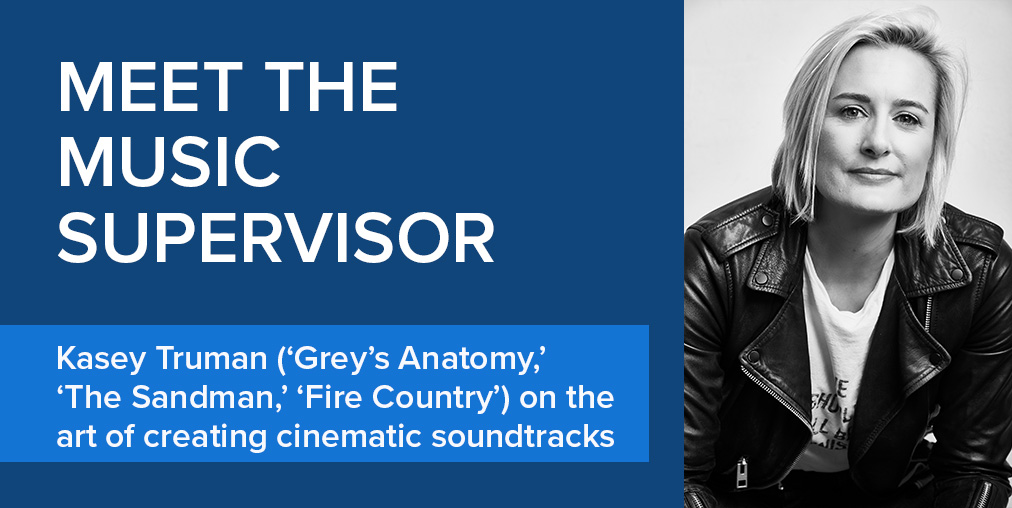 From All-ACC Division 1 College Soccer player to Hollywood music supervisor, Kasey Truman has channeled her athletic persistence into the high-stakes game of creating award-winning soundtracks for film and TV.
Truman began her career working with music supervisor, Mary Ramos, researching music for the Quentin Tarantino film 'Death Proof,' before breaking into the television world at Chop Shop Music Supervision where she worked for 13+ years alongside three-time Grammy Award-nominee, Alexandra Patsavas. Today, her credits include 'Hart of Dixie' (CBS), 'Veronica Mars' (Hulu), and 'Grey's Anatomy' (ABC/Disney).
In 2020, Truman started her own business, Superfecta Music Supervision, and is currently working on 'Fire Country' (CBS), 'Shining Vale' (STARZ), 'Gotham Knights' (CW) and 'The Sandman' (Netflix) which was just picked up for a second season.
A former captain of the women's soccer team at Duke University, with a Masters in Sports Psychology from Cal-State Fullerton, sports shaped Truman's college years, but music was always part of her life.
Like many budding audiophiles, Truman grew up going to concerts with her mom and hanging out at the local record stores. In between soccer seasons, she even squeezed in a three-week internship at Cat's Cradle, an independent music venue in Carrboro, North Carolina.
"A big reason why I got into this business is because I love music, and wanted to share that," explains Truman. "Growing up, I would create a mixtape of obscure artists I stumbled across in a record store and give them out to my friends and family. Much like today, as a music supervisor, I have the opportunity to pluck people from obscurity. And then, seeing them get a lot of streams from that deal, that leads to a record deal, is an awesome and rewarding feeling."
The role of a music supervisor 
A music supervisor curates found music for the soundtrack of a film or TV show, along with any visual vocals, such as an on-camera band performing in a club, or a couple singing to a song on the radio. Once the music is selected, the music supervisor negotiates the license for each song with the songwriters and record companies to ensure the production can legally use it, and most importantly, stay on budget.
While some of Truman's work begins in prep, where she might have to license a song for a visual vocal that's been written into the script, most of her work is done in post-production.
After a project wraps, Truman reviews footage and reads the script to begin building a library of music for the showrunner and producers, sending sound compilations for them to choose from. This typically means creating six different versions of mixtapes with roughly fifteen songs on each to capture the tone of the show musically.
Once the showrunner picks a direction from a sound compilation, Truman will use that as a starting point to begin selecting music for the rest of the project.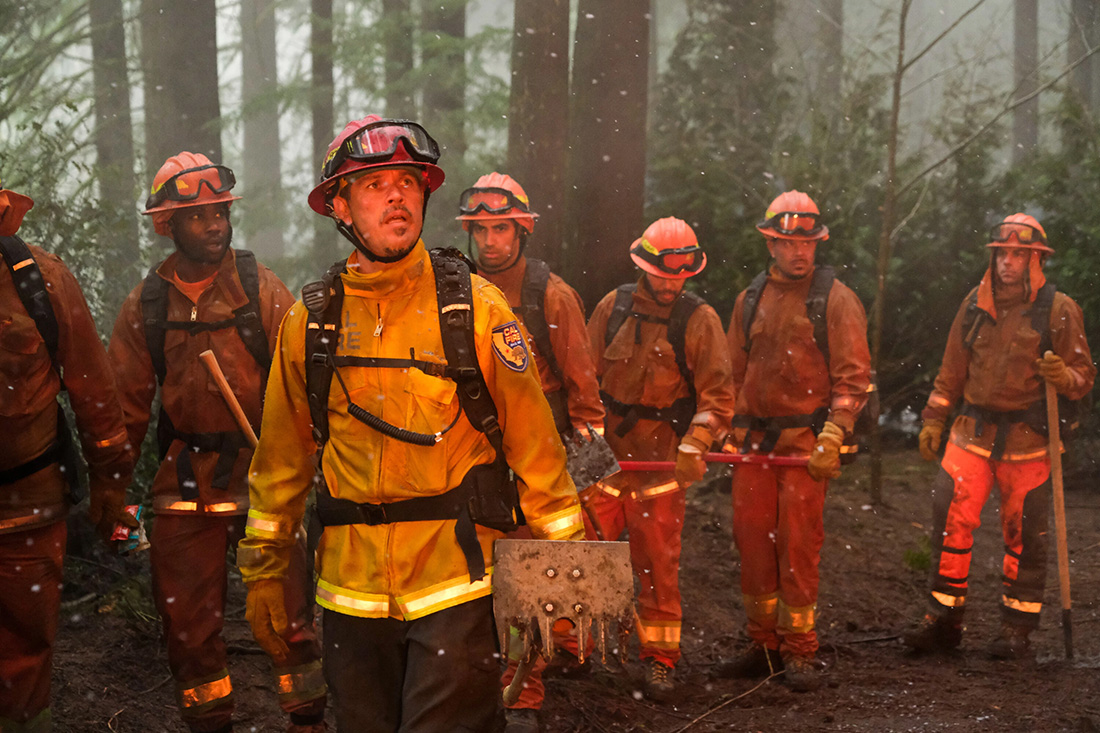 'Fire Country' / CBS
Her current project, 'Fire Country,' is set in a small town in Northern California, which influences the range of musical genres she is exploring. "The showrunner wants to incorporate different tangents of country music into it. So, it can be rock country, pop country, or even Americana. Knowing this landscape helps me avoid hip hop, electronic, or the top 40," she explains. "So, I'm putting together a collection of different artists that are aligned with the story's theme and setting. I could use songs from Chris Stapleton, Ray Lamontagne, Lord Huron, and Wolfmother for starters. Once I narrow down the collection of artists, I can branch out from there for specific songs."
Working with composers
There are two different approaches to adding music to a project: found music and composed music. In many cases, music supervisors will work side-by-side with composers. 
When working with a composer, it is the music supervisor's job to source music that already exists from bands, artists, and musicians, while the composer writes and arranges an original instrumental music bed, called the score. This score connects the licensed music that Truman sources together for specific scenes into a cohesive soundtrack. 
Occasionally, Truman will discuss a scene with the composer to determine whether it should be a composed instrumental or a licensed song, but generally, the music supervisor and composer will focus on their respective elements and supplement each other in the final picture.
How to source music for the job
Technology has transformed many processes in creating film and television. From digital cameras, to special effects, to audio mixing, many roles in production have had to evolve, including the music supervisor. Since the digitization of music and the launch of music sharing sites like Spotify and Soundcloud, new platforms offer wide availability for any musical artist to enter the playing field. This dramatic shift has made the job of the music supervisor even more challenging.
When she first started in 2004, Truman received mailers with CDs in them, burning the music onto her computer and bringing them over to iTunes to create compilations. Opening the CD, seeing the artwork and lyrics, and reviewing the songwriters and publishers helped her visually absorb the content and create a mental catalog to keep her finger on the pulse of the industry.
Nashville singer/songwriter, Aron Wright, was one of those artists who sent her his CD in the mail. "I remember listening to it and falling in love with the music," she recalls. "We used his song, 'And Still, the Darkness Comes,' in 'Grey's Anatomy.' Wright has since become one of the most licensed artists in the history of the show. This is an example of an artist who had no record deal, and today, has soundtracked hundreds of scenes and ads. You might not know his name, but I guarantee you have heard his music!"
Reading about rising artists was also a way for Truman to stay on top of the music industry. "I used to religiously read the music magazine 'Q' from the United Kingdom. Once they wrote about two rising artists in the UK, Adele and Florence + The Machine. I found manager contacts and emailed them for music on each and they both wrote me back. I was floored when I heard 'Hometown Glory' by Adele. We then used it in the season 4 finale on 'Grey's Anatomy.' The manager for Florence + The Machine sent me 'Kiss With a Fist' and we used that song in season 4 of 'Chuck.'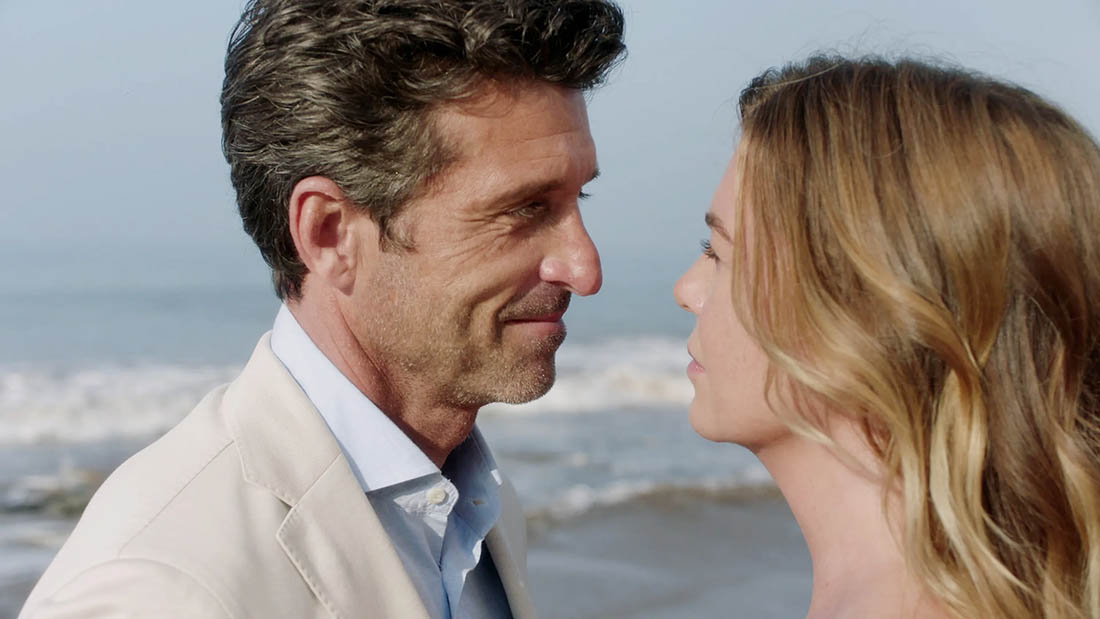 'Grey's Anatomy' / ABC
Today, Truman's experience of finding new music has changed, "I'll get an email with ten links to ten different albums that I click to download on my desktop. I'm not looking at artwork. I'm not looking at credits," she explains. "So, it's hard to remember it all because I'm not getting that tangible visual reference."
With music so readily available to her now, Truman doesn't have the bandwidth to keep up with reviewing every piece of music on the market. Instead, she relies on her relationships with labels and publishers to help her source new artists and releases for a specific genre. "We get music all the time now from publishers, record labels, management companies, and third-party pitch companies who represent either songwriters or artists for film and TV specifically," she explains.
Still, Truman stays on top of new releases through the radio and her Spotify playlists. Categorizing by style helps her know where to start when she's given a tone for a show, and how to find the artists to match.
"A colleague of mine once sent me unreleased music from a band called, The Lumineers," she recalls. "I LOVED the album and sent the song 'Ho Hey' to my showrunner on 'Hart of Dixie' and they used it during the mid-season finale and it catapulted the band into mainstream music."
The process of clearing a song to use in a project 
Once a song is chosen, clearing it to use legally is a complicated process that requires an agreement between the producers and the rights holders (e.g., the artist, record company, songwriter, publishing company, the estate, or all of them!)
Even if a song is perfect for a particular scene, Truman can never guarantee whether the clearance rights will be approved. Sometimes musicians will deny the clearance if the content includes drugs, sex, or violence that they don't want their music associated with. But most of the time, the clearance depends on the status of the artist and how protective they are about their brand.
The clearance and approval process for high-profile artists generally depends on:
a) The amount of money a production has to offer them
b) How protective they are of their brand
Many big artists approve of the clearance process, but they don't necessarily need the money, so they either raise their fees, or simply deny the use, as it might not fit their brand or it's just something they are not interested in at the time.
Once a song is cleared, the budget is another factor to consider. If the musician approves, but with a hefty price tag attached, Truman will have to go back to the drawing board to select a different artist with a similar style.
Lesser-known or new artists are typically excited to have their music licensed for a film or TV episode since it's one of the few ways for them to make money with broad exposure. Finding these artists and offering them an opportunity to "make it" is when Truman finds her job especially rewarding.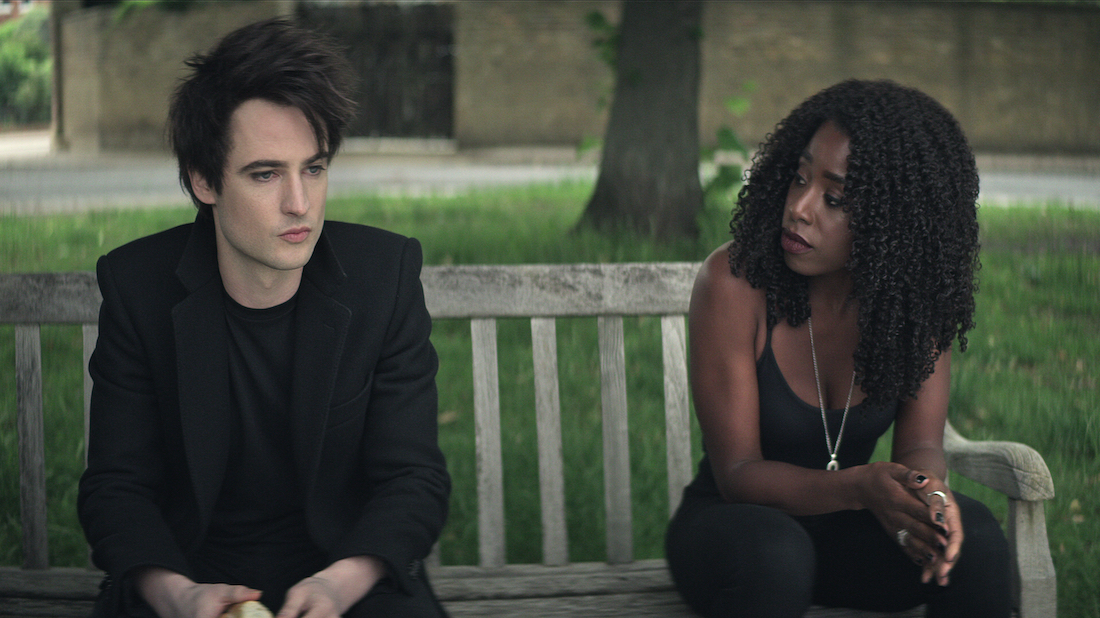 'The Sandman' / Netflix
"In this business, musicians have a potential platform that could propel their careers," shares Truman. "So, being such a music fan, it's exciting to play a small part in their story. It's fulfilling especially with good people who just need a break because they've been grinding it out for so long. When they get that win and you hear them say, 'thank you so much', it's like, oh wow! That's a really cool feeling. And then beyond that, it's also fulfilling when somebody watches a show and says, 'I love the music on that show' and you know that you were part of creating it."
An alternative country/country fan, 'Hart of Dixie' was a career highlight for Truman. "I was able to be involved in providing opportunities for a genre of songwriters and artists that historically didn't get much sync licensing love and that was very fulfilling!" she explains. Now, on 'Fire Country,' she continues channeling that passion saying, "We just used 'Background Music' by Maren Morris, one of my favorite songs of the year!"
Vance Joy is another artist Truman has admired for over a decade. She used his music in 'Hart of Dixie' and continued using his work in a pivotal 'Grey's Anatomy' episode in 2021 with his then pre-released single, 'Missing Piece.'
'Grey's Anatomy' is especially known for breaking new artists, and their songs have become known as "classics" on the show. These songs include: 'How to Save a Life' by The Fray, 'Chasing Cars' by Snow Patrol, and 'The Story' by Brandi Carlile.
One of Truman's favorite episodes she's most proud of while working on the show was the 400th Episode (EP 1820). "I sourced songs from some of my favorite artists, covering the Grey's Anatomy 'Classics.'" she explains. One of these covers was Brandi Carlile's, 'The Story,' sung by Davis Naish which elevated the emotional impact of one of the scenes."
Mentoring the next generation of music supervisors
In addition to launching the careers of rising musicians, Truman also gives back on the other side of the industry by mentoring youth interested in pursuing a career in entertainment. She volunteers with Diversify the Stage, an organization of artists and industry professionals who invest their time to teach historically marginalized and underrepresented communities. The organization's mission is designed to foster more diverse, inclusive, equitable, and accessible concerts, events, and touring workforces.
With the discipline of sports paired with her love of music, anyone would be lucky to have Truman as mentor, coaching them through a career in this fast-paced business. "I'm so grateful for being an athlete because you must have a certain mentality in this industry that requires persistence. Do you want to be great? Learn to understand people, put in the time, and keep going after it!"