Blog Home
Meet the Composer
A conversation with award-winning orchestrator and composer Penka Kouneva ('Revenge,' 'Pirates of the Caribbean: At World's End')
August 2, 2022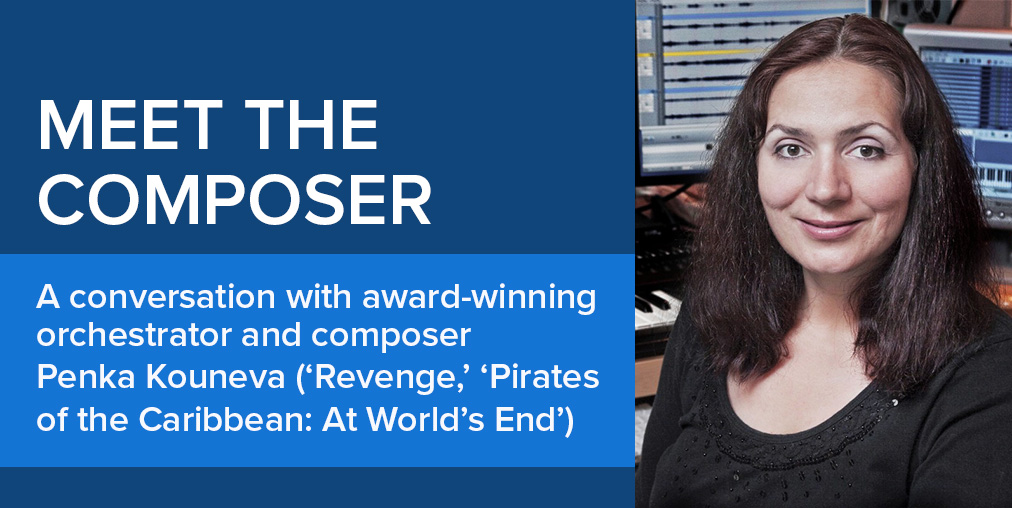 "Music is essentially an emotional language," Oscar-winning composer Howard Shore once said; and there are few tools in a filmmaker's arsenal that evoke feelings in and audience quite like music. Whether it's movies, television, or video games, the pairing of powerful images with resonant music can elevate a project to new heights. Try to imagine 'Jaws' without John Williams' ominous score or 'Lawrence of Arabia' without the grandeur of Maurice Jarre's music.
For all of music's importance to visual mediums, those who create the music can often remain enigmatic figures. We spoke with award-winning film, television, video game orchestrator and composer, Penka Kouneva ('World of Warcraft,' 'The Matrix Reloaded,' 'Sims 3') to learn more about the profession and her career.
What is a composer?
"The composer's most important job is to feel and deeply understand the director's overall vision of their film," says Kouneva. Before any musical note is ever written, a director's musical tastes and where music should appear in the finished project are discussed.
With that creative foundation established, the composer's work begins. For the contemporary composer, this means  "music that is both modern and timeless, that resonates with audiences," Kouneva says. "The timeless qualities come from using memorable melodies and orchestral arrangements." A few tentative themes for characters or scenes are composed, recorded, and shared with the director. If they're a hit, the composer moves on to create the entire score, making sure the music is enhancing the emotion of every scene.
When the score is finished, it is either arranged for and recorded by an orchestra or by using special keyboard software. Throughout the process, the composer typically receives revision notes from the director, helping to finesse the music to where the director wants it. On bigger projects, more people may be involved. "On studio films, there is a complicated approval process – not only must the director must fall in love with the score, but also the producers, the music supervisor, all studio music executives," she says.
When everything is approved, the music is handed over to post-production to become part of the project's sound mixing and finishing process.
How do you become a composer?
Most musicians develop early, and Kouneva is no exception. She began playing piano at six, and by the age of 12 was already identifying as a composer. By the time she was 17, she was winning international young composer competitions, and soon landed at Duke University with an already healthy interest in theater, films, and documentaries. After obtaining a master's and Ph.D. in composition, she moved to Los Angeles, with the intent of becoming a career composer.
Hers is a path that many aspiring composers may find themselves echoing. Success in the endeavor to become a composer largely depends on a strong background in musical fields (film, or otherwise), a demonstrable understanding of music and composition, and the level of expertise that can only be achieved by putting in the time. Something Kouneva advises no matter what. "Compose tons of music over a long period of time. A craftsman takes decades to become a Master – compose about 100 hours more music than you think you'll need."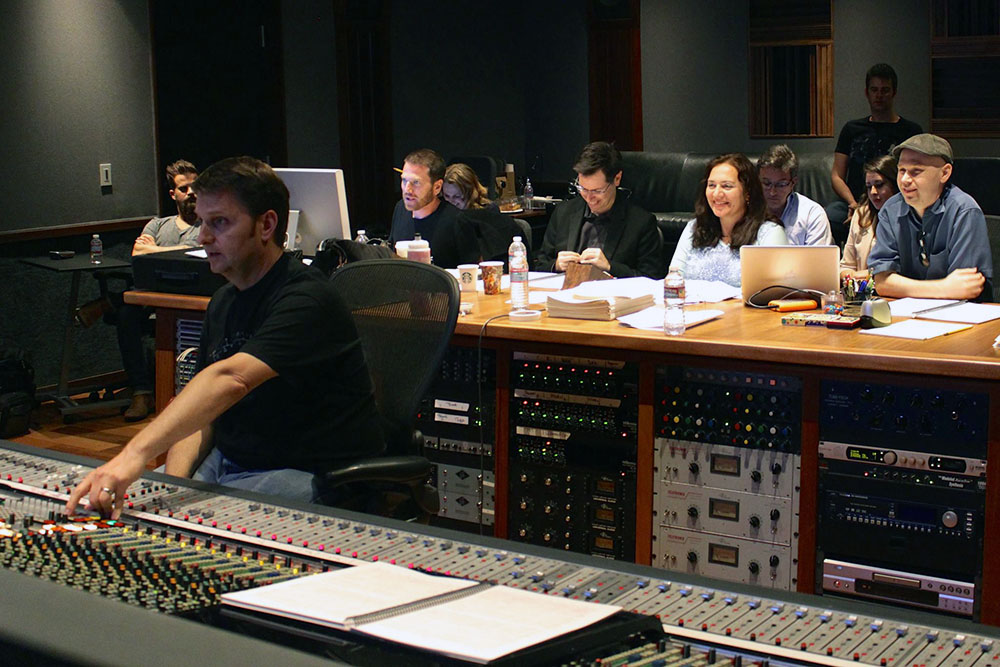 Courtesy of Penka Kouneva
Once in Los Angeles, Kouneva started off by orchestrating – translating and arranging scores  to be played by live musicians – for television movies and series. "Having a vast knowledge of the orchestra was a skill that was useful to my clients," she says. It got her breaks orchestrating for the Wachowski Sisters ('The Matrix Reloaded'), Robert Rodriguez ('Once Upon a Time in Mexico'), and within the video game industry ('The Sims 3', 'World of Warcraft').
She quickly learned what most aspiring composers are likely to. "We - all creative people - work in the business of someone opening a door for us. All my scoring jobs have come through a referral by a friend, or a composer client for whom I've orchestrated," she says. It's why she stresses: "Make tons of friendships. Not just 'networking' but meaningful, personal, genuine," she says.
Still, not every referral is a guaranteed job. If a composer is recommended to a director they've never worked with before, there will often be an application process with dependent factors. "Hiring a composer is a combination of a strong referral, the music being a fit, credits, and the composer's enthusiasm about the project," Kouneva says.
For women, the path to becoming a composer can, unfortunately, include additional hurdles. According to a University of Southern California study, among the top 100 films at the U.S. box office from 2007 to 2017, only 16 were scored by women. In 2018, only 6 percent of the highest grossing 250 domestic films were scored by women, according to the Center for the Study of Women in Television and Film. Kouneva has experienced the struggle to breakthrough in her own career too. "Intuitively I felt I must be super-professional and better than most, even to be given a chance in the entertainment business," she says.
Helping change the industry are Organizations like the Alliance for Women Film Composers, founded in 2014, which has pushed for progress with advocacy, support and education. An Alliance-organized 2016 concert called "Women Who Score," which featured the work of over 20 composers, was a particular turning point – for the organization, but also Kouneva who participated. There she met writer-director Amy Andersson, with whom she would collaborate on the award-winning 'Women Warriors: Voice of Change', a concert highlighting social activists throughout the decades who have pushed for change. Kouneva worked on musical sections covering the AIDS crisis, the Native American protests at Standing Rock, the marches by Israeli and Palestinian women for peace, #MeToo chapter, an Epilogue titled "Honor Her," and the End Credits.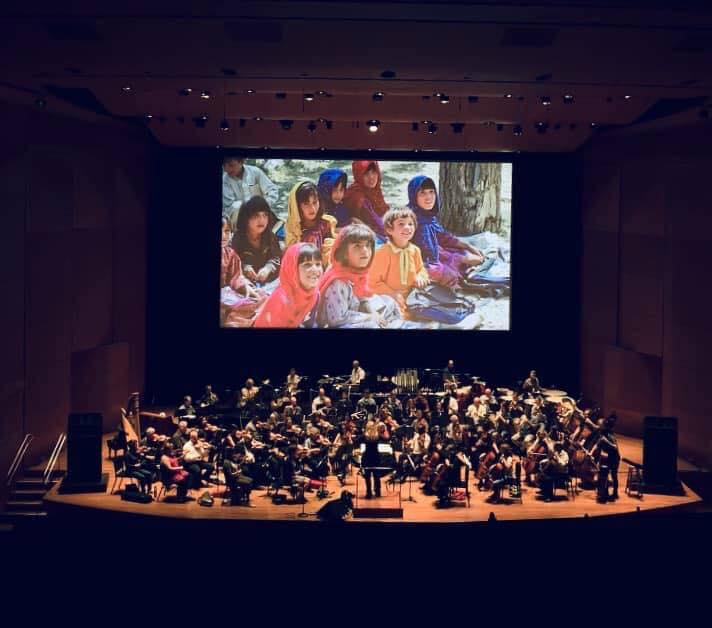 Courtesy of Penka Kouneva
There are signs of progress for women composers, too, such as Hildur Guðnadóttir winning Best Original Score at the Academy Awards in 2019 for 'Joker' or Germaine Franco being nominated in 2021 for 'Encanto.' "I've seen positive developments in the last few years. A number of women composers are scoring studio feature films, TV series, games, award-winning documentaries. Their work is getting major awards and recognition. They participate in industry panels and events and have become members of AMPAS, the Emmys. These are all great indicators for women composers," she says.
What makes a composer successful?
There are three qualities that Kouneva believes makes a successful composer. "[Be a] great human, great collaborator, great composer – in that order," she says.
By being a "great human," she means having good people skills, something that goes hand-in-hand with being a great collaborator, as composers must navigating working with different tastes and expectations, and a variety of fellow creators.
As for what makes a great film, television or video game composer? One must have an understanding of the medium. "A great dramatic sense, vast knowledge of all musical genres and styles, genuine love for storytelling, understanding how film and drama work," are all critical, says Kouneva. Less obvious qualities are required, as well, such as technical fluency (in software, virtual instruments, music production and mixing) and also an entrepreneurial spirit. "We are all freelancers building our own clientele," Kouneva says. For example, Kouneva has released several albums not just to cultivate her own artistic growth, but to generate new clients and new jobs.
A successful composer should never be stagnant, but driven forward by what Kouneva calls an "insatiable thirst for continuous learning and growth." That thirst is best quenched with an abiding love for the work. "I'm very intuitive and follow my heart and my passions. Every day, I still ask myself the essential question, 'What is the meaning and purpose of what I do?' I seek projects that are aligned with my sense of purpose as an artist."