Blog Home
Meet the Assistant Director
A conversation with Myron Hoffert ('Nightmare Alley')
March 16, 2022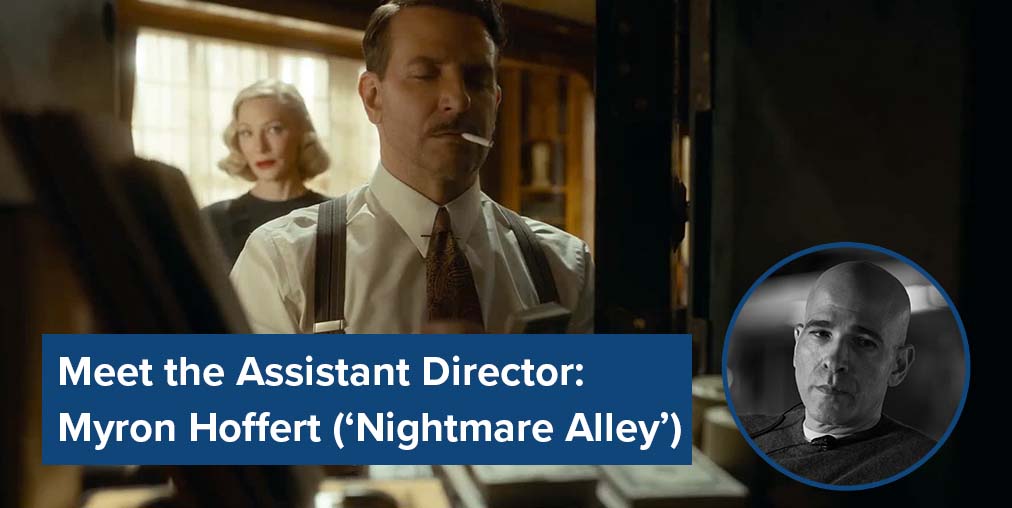 "If I could live next to the camera, that would be my life," says assistant director (AD) Myron Hoffert. And his 30-plus-year career as an AD is a testament to that desire. He loves what he does, and has made his life's work supporting some of the best directors in the world, including the likes of Guillermo del Toro, Darren Aronofsky, Rob Marshall, Paul Feig, Ava DuVernay, and more.
For those outside the entertainment industry, or those aspiring to become a part of it, first assistant director may be one of the jobs that is less understood than other roles. It is, however, a vital position among a team of creators. If the primary artistic vision of a film or TV project is driven by a director, that vision can't be truly realized without an assistant director. They oversee all the logistical and creative details a director – and project – needs during principal photography.
We spoke with Hoffert about what an AD does, how he became one, and how others can successfully follow in his footsteps.
What does an assistant director do?
An assistant director is, in effect, a director's second-in-command. They assist in logistically and creatively bringing movies in on time, and budget, by supporting the director, coordinating with crew, and more. It can be a high stakes job. "When a studio or network gives you millions of dollars and says that your operating cost is between $100,000 and $250,000 a day, depending on the location, the AD is responsible for these costs. We have an amazing amount of pressure to do what we have to do." And Hoffert does this well.
Whatever is happening on a given shoot day, the first AD helps make it happen. "Everything passes through the first AD. Lots of decision making goes through the first AD, in concert with the line producer, producer, and director."
Bradley Cooper in Guillermo del Toro's 'Nightmare Alley' (20th Century Studios)
The first AD job requires good oversight and management, having to ask oneself – with the creative teams – things like "What do I have to do, and what target and scene moments do I have to get on this day?" The answers to those questions then need to be made clear. "I explain and outline to the crew that we have to shoot X, Y, and Z. We want to be out of this one by this time, we want to be out of that one by that time. And hopefully, we'll finish it by [our projected] time, because that is the shooting plan for today. With this planning and knowledge, everybody has the ammunition, both professionally and emotionally, to accept what's about to be handed out to them during a given shoot day."
None of this should give the impression that being an AD is only about logistics. That may be the means, but in the end it's about the creative: working closely together with the director to realize their visions.
How do you become an AD?
Hoffert graduated from a film studies program where he relished being exposed to a broad range of film. Valuable as that was, he stresses that it's not comparable to actual industry experience. "You learn a lot [in school], but it's not the real thing. It's not until you get out there," he says. Fresh out of school he quickly pursued work, landing jobs as a runner and producer's assistant. As he observed others on set, he realized he wanted to be an assistant director and asked himself: "How do I get there?"
Continuing to pursue jobs, Hoffert progressed up the assistant director ladder. In 1986, he became a third AD, moved on to a second AD, and then, on the set of a 'Friday the 13th' television series, he met J. Miles Dale ('The Shape of Water', 'Nightmare Alley'), who asked him "Why don't you become our AD?" It was then, in 1988, that Hoffert established himself as an AD.
The passion for me is helping directors find their way through the production maze. And that's what a good assistant director will do.
Hoffert has helpful advice for those looking to pursue a similar path, "You have to get jobs on set," he says. "You have to decide if you want to get closer to the on-set production action. You start befriending the producers. You start befriending fellow ADs. You start befriending location managers, production managers. And every time you work with somebody, make it a positive experience." This advice rings especially true today. Thanks to the content boom the industry is currently seeing, there is an abundance of opportunity available and productions are hungry to fill much needed roles.
Sally Hawkins in Guillermo del Toro's 'The Shape of Water'
Investing in time, networking, and experience can provide an advantage to aspiring ADs – especially now as the industry experiences labor shortages. "The biggest problem we have is we don't have enough skilled people to support the shows that are coming in," Hoffert says. He's optimistic that will change soon, however. "Like any other territory, that's just absorbing growth. It just takes some time to get the personnel on the crews trained and better."
What makes a successful AD?
When Hoffert was early in his career, he had a particular idea of what being a successful AD meant. "I used to be a hard-nosed 'my way or the highway' guy," he says. Over time, however, that changed. "It took me years to understand what works and what doesn't work." And what do people appreciate? He had a realization. "People want to be treated with respect and with kindness." In other words, he became a diplomat, not a tyrant. Now, it's important for him to create a happy set. "We're human beings first, and then we're filmmakers," he says. "Because when you're [part of] a filmmaking machine, you're a family."
Another important attribute of a successful AD is leading by example. How they approach their work dictates how others will do theirs. How they tell the crew what they need to know – what number of script pages will be shot that day, what safety measures are required for an upcoming scene, when to approach the director with questions – also dictates everyone's mood. Will their work be calm or stressed? "The AD team is the first team that all crews look to for any change of cadence or rhythm on the set. Because we deliver the information for the crew. We always have all the information," he says. "You never want to show what you're feeling inside as a person because crews pick up on that immediately," he adds, which is why Hoffert always keep his temperament even keeled.
Mark Povinelli and Ron Perlman, 'Nightmare Alley' (20th Century Studios)
A set relies on a good assistant director not just for tone, but also problem solving. "People are looking for the AD to find solutions all the time," Hoffert admits. For example: "Weather is always an obstacle, and the weather is never what it says it's going to be. Weather wreaks havoc with assistant directors and you just never know what it's going to give you."
He saw that happen once while shooting the 2012 film 'On the Road', when a scene called for an idyllic wheat field in the fall-time in Calgary. The night before it was beautiful weather. When Hoffert woke up, it had snowed. "The AD has to find the solution to reschedule something immediately." Sying "I don't know" or "Well, that didn't work, I'm sorry" aren't solutions. "You're always trying to get out of trouble. You're always trying to get out of traps," he says.
Doing that in service of the director is what's most important of all. "The passion for me is helping directors find their way through the production maze. And that's what a good assistant director will do. Come up with plans that will allow directors to get what they want and be happy with getting what they want. There's nothing more satisfying then when your director knows that you really helped create a fantastic moment in his or her cut. I live for those moments. Making great shots, moments that are appreciated by your director, and ultimately the audience is what's most satisfying to me as an assistant director," Hoffert says.
"I'm grateful for my career and all those co-workers and filmmakers who helped me every step of the way. Being an AD is high-stress, yet the dividends are rewarding and gratifying. Don't become an AD because it's a cool job. Become an AD because you love making incredible cinematic moments."