Blog Home
Film Industry Booms in Buffalo
Western New York draws top filmmakers with expanded tax incentives, new soundstages, and architectural treasures.
September 20, 2022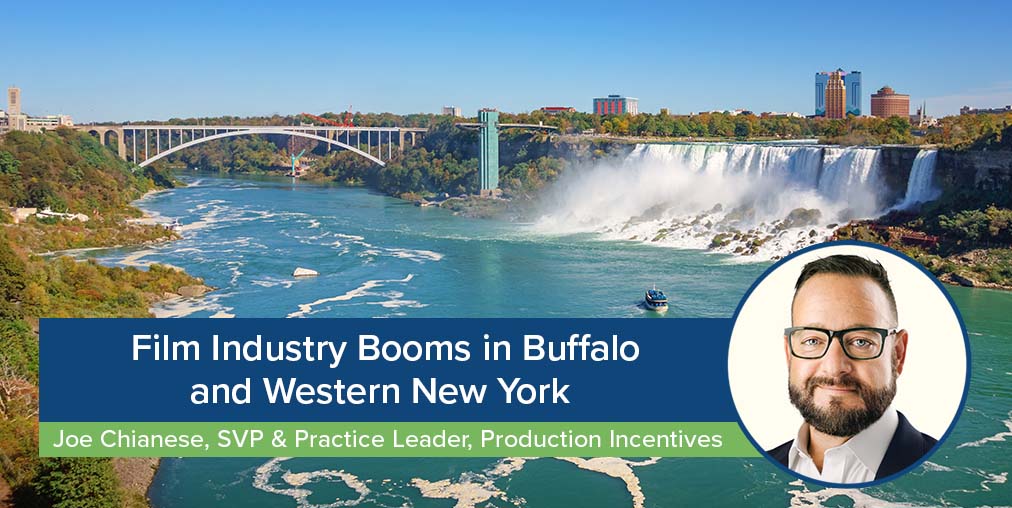 Where is Guillermo del Toro's favorite place to film that features one of the largest sound stages in the world?
Buffalo and Western New York!
With direct flights to LA and NYC, and an additional 10% uplift on top of the 25% New York tax incentive on film, television, and commercial production, Western New York is quickly growing to be one of the top places to film on the East Coast for studios and independent filmmakers alike! An alredy film-friendly region, the recently announced New York Empire State Digital Gaming Media Production Credit, effective January 1, 2023, offers a refundable tax credit of 25% of qualified digital media production costs, with an additional 10% of eligible costs incurred in the state outside the of metropolitan commuter transportation district (e.g., Buffalo and Western New York).
"The repeat business is through the roof!" says Tim Clark, who has served as the film commissioner in Western New York for over a decade. He adds, "You come here, you shoot here, and then you realize how inexpensive stuff is here. Then, you want to come back because it's too easy of an experience."
The ease of logistics is just the beginning. The Buffalo and Niagara communities embrace the filmmaking industry, willing to open their homes for filming and even, on occasion, bring lawn chairs out to watch the action. "There's a nicety about the people here," Clark says.
When a producer approaches Tim Clark with their vision and needs for a project, he and his colleagues at the Buffalo Niagara Film Office are ready to help. Whether it's finding a working steam train or closing off a freeway (which they did for 'A Quiet Place 2' and 'Teenage Mutant Ninja Turtles'), Clark will connect you with the community and bring you the right resources to get the job done.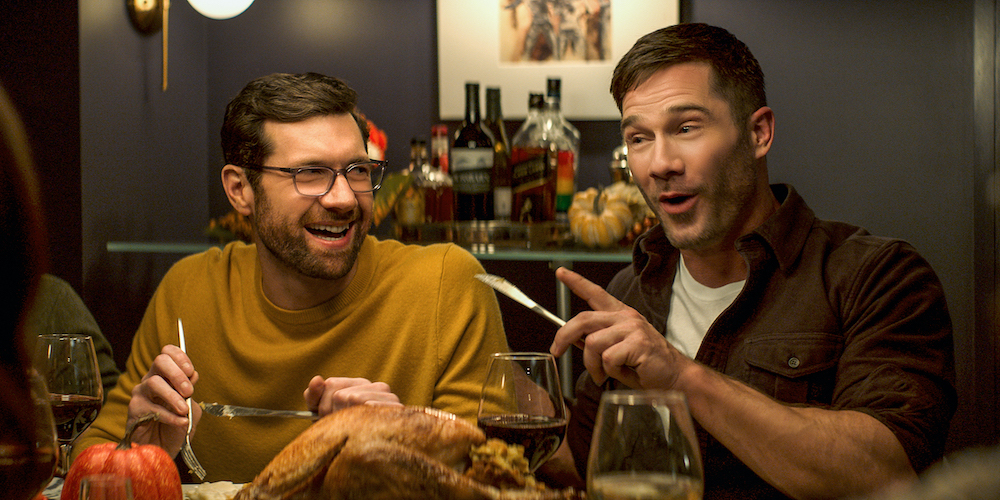 Billy Eichner and Luke Macfarlane in 'Bros' / Universal Pictures
A board member of AFCI (Association of Film Commissioners International), Clark is known in the film community not only in New York, but around the globe, as a trusted ally for every production who calls him, including the soon to be released feature film 'Bros', the first LGBTQ+ romantic comedy released by a major studio.
Buffalo and Niagra landscapes and architecture
Western New York boasts an abundance of diverse landscapes, including two of the Great Lakes, which often double for the Pacific or Atlantic Oceans, historic metros, and rolling acres of farmland. The iconic state park, Niagara Falls, is also an easy filming location since it doesn't require the additional permitting and paperwork of a national park.
When it comes to filming in the city, Buffalo is second to none. "Originally, it was built to be a very large city; one of the top ten in the nation," says Clark, "So, the infrastructure supports a lot of industries and municipal resources." Architecturally, it resonates with people too. "There are buildings from every period of American history that date back to before the 1800's," Clark explains, "Today, there is a blend of modern mixed with the historic which makes it attractive for filmmakers shooting all different time periods."
In addition to architecture and landscapes, there are a variety of resources that service the film industry, from the art department to camera and lighting. Some of these businesses include Buffalo Expendables and Sloan's Antiques, where production designers from across the Northeast can source from a wealth of salvaged goods found in old churches, buildings, and homes in Buffalo and beyond.
Expansive sound stages and production resources
In addition to shops for renting camera equipment and refurbished vintage signage, sound stages are also popping up throughout the Buffalo area, including a $50 million facility that is currently under construction, and set to be the largest in the entire state of New York: Buffalo FilmWorks.
Buffalo FilmWorks features over 120,000 square feet of stage space and 60,000 square feet of flex space for production support. And Expressway Cinema Rentals, originally based in Philadelphia, just opened another shop inside the sound stage facility.
Jennifer O'Neill, one of the co-owners of Buffalo FilmWorks, bought the property in 2016 with two other partners. In 2018, productions began filming in the space, including Universal's 'The First Purge' and Guillermo del Toro's, 'Nightmare Alley,' featuring Bradley Cooper and Cate Blanchett. Today, O'Neill and her partners have plans underway to complete a fourth stage, making Buffalo FilmWorks one of the largest sound stages in North America.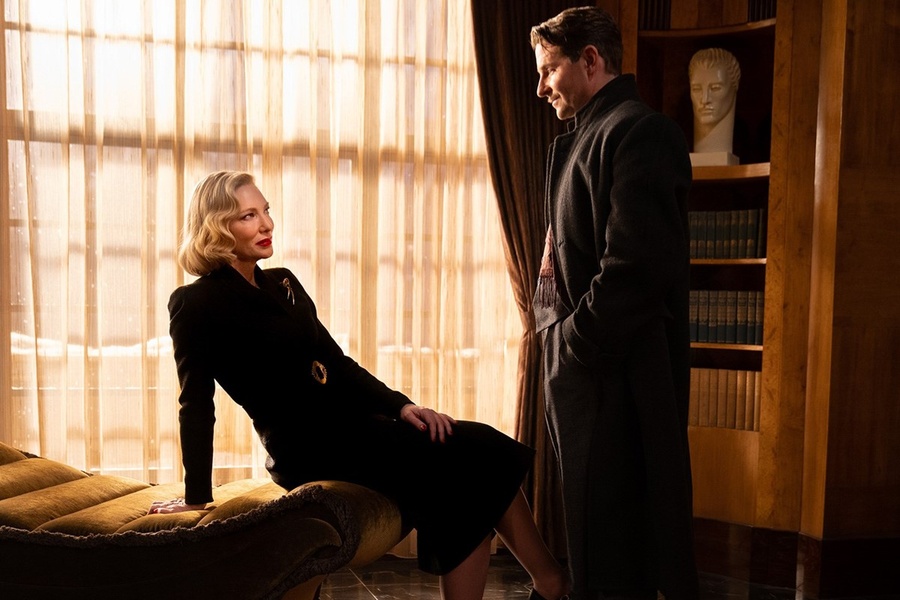 Cate Blanchett and Bradley Cooper in 'Nightmare Alley' / Searchlight Pictures
While the growth of the film industry is contributing to the economic health of Western New York, it also "changes lives here," according to O'Neill. "Big filming will never go away in New York [city] and LA, but the industry here is a little different. People are willing to help. It's easier to get things done quicker. You get concierge service, it's easier to block off roads and find locations, and it's overall a lot cheaper."
O'Neill and Clark are both invested in supporting every filmmaker who crosses their path, whether it's connecting them with fire and police departments, or working in partnership with the Amish or Native American communities in the region. Between O'Neill's background working in finance and accounting, and Clark's in government and news, they have the network to get your crew and cast members connected with the right people. Clark's even been known to set up dental appointments for actors!
Western New York's film industry workforce development
As more productions move to Buffalo and the sound stages expand, the opportunity for film crew continues to grow. Clark and his team are careful not to grow so fast, however, that the workforce can't keep up with demand. "We just want to do it on pace with the opening of our stages. But the crew base here went from virtually nothing when I first started, to over 200 members today!" he says.
IATSE Local 52, The Teamsters Local 817, the DGA, and SAG are all thriving unions in Western New York, supporting Clark and O'Neill in their efforts to create jobs.
"The unions have been unbelievable in training people," says Clark. "They've taken in a lot of people in Buffalo and continue to help our growth rate here. We'll have had four or five projects shooting at the same time and no problem at all getting crew."
In addition to partnering with the unions, the film office has also partnered with the County of Erie workforce development program and several schools, including the television and film arts program at Buffalo State College, SUNY Fredonia, and the private school, Villa Maria College, to give crew the opportunity and the training to continue developing their technical skills.
"The schools realize where the future is at," Clark says, "We're in the middle of building a very tactile workforce developmnt program that also centers on diversity. And we're getting into some of the underserved areas of Buffalo with training programs." With the industry booming, Clark is confident that the timing is just right, "I have a feeling that once all the studios are open and episodic shows routinely film here, we'll be ready for all of that because the crew will continue expanding and refining their skills."
Finding exceptional talent in Buffalo can also be surprisingly easier than one might expect. Producers often find that they don't have to look outside of the area to cast their productions. Need extras for background? No problem. On Universal's, 'Best Man Holiday,' filmed at the Buffalo Bills Stadium, the production put out a casting call for extras, not expecting a large turnout. To their surprise, nearly 3,000 locals showed up!
Back in the sixties and seventies, Canadians from the Toronto area would make the hour-long trip to Buffalo to visit the thriving theater district. Today, there is a wealth of talented actors, both non-union and union, available for incoming productions because of this built-in theater community.
How the Buffalo Niagra Film Office will help filmmakers
Whether you're a student filmmaker on your first shoot or Guillermo Del Toro directing a multi-million dollar period drama like 'Nightmare Alley,' Tim Clark, Jennifer O'Neill, their staff, and the community at large treat everyone the same. As Clark reminds filmmakers, "We close roads for small movies or big movies. Our film office itself is very much involved with the production if they want us to be. I don't want to intrude on anybody's movie, but if they want us, we don't tell them who to call. We call for them. If they want police or fire, we'll arrange it for them. If they want streets closed and parking, we typically just get it done for them. I think they appreciate it because it's a little more value added to come in here."
If you're scouting filming locations for your next project and curious to know more about the New York tax incentives, visit our NY production incentives page. And then reach out to Tim Clark and the team at the Buffalo Niagra Film Office to learn more about what this beautiful and diverse jurisdiction has to offer.