Blog Home
Film Community and Industry Jobs Grow in Washington State
Thanks to new funding and a continuous effort by Amy Lillard, Executive Director of Washington Filmworks, WA becomes a sought-after filmmaker's destination with diversity and opportunity
October 25, 2022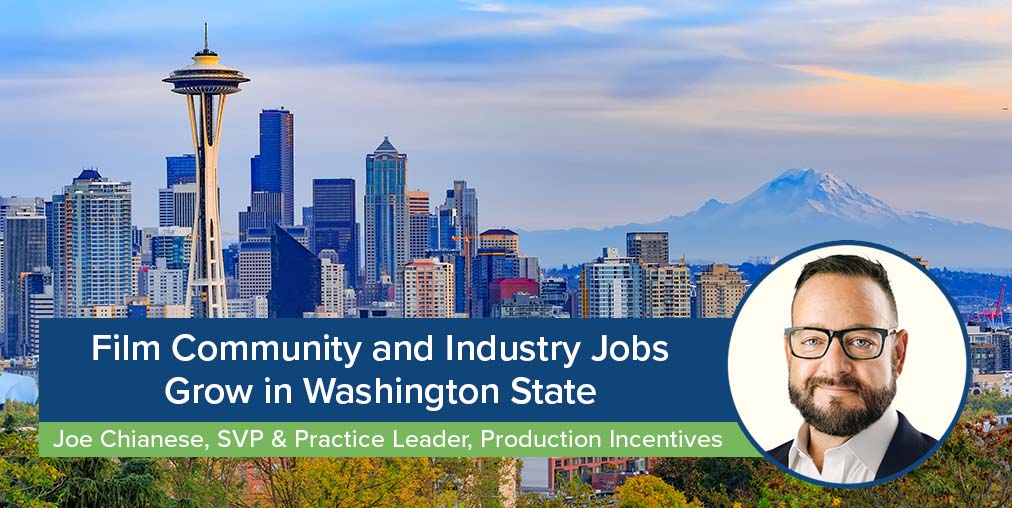 The Washington film community celebrated a huge win earlier this year when legislation ESHB 1914 increased the Motion Picture Competitiveness Program tax credit from $3.5 million to $15 million! It also increased the individual tax credit that a film can receive from $750,000 to $1 million.
This financial leap will expand Washington's resources and create new opportunities to put their Northwest terrain, filled with rich rainforests and coastal metros, on the map as a filming destination for independents and studios alike.
Amy Lillard, Executive Director of the non-profit, Washington Filmworks, is the driving force behind the new legislation. After working as an independent film publicist in New York and Los Angeles for groundbreaking films such as 'The Blair Witch Project,' 'American Psycho,' and 'Lock, Stock, and Two Smoking Barrels,' she shifted her career toward supporting rising filmmakers. Today, she is dedicated to igniting a thriving film community across the entire state of Washington.
"I know the community. I care about these people. I always ask people what their superpower gift is, and I think mine is being a good organizer and creating programs," says Lillard. "The business side of film is my jam. And so, I'm inspired by this community, and I love this community. It's just a joy to work for them."
Amy Lillard, Executive Director of Washington Filmworks (photo by J Ferguson Photos)
This passion flows through Lillard's work and it shows. Over the past 15 years, she's helped to grow Washington's film industry, boosting the economy and creating 24,800 jobs for local actors and crew members. Now, with the newly passed legislation and added funding, she's ready to build on that foundation and make Washington a sought-after filmmaker's destination.
What kind of films are best fit for Washington? No massive budgets are required. "We're not trying to be Atlanta," says Lillard, "We're not trying to get the next Marvel movie. We're looking at that mid-level project and making sure that they have an exceptionally good filming experience."
What Washington's new funding enhancements will offer filmmakers
With 4x the funding she had previously been given, Lillard and her team at Washington Filmworks are focused on extending a large part of the incentives toward building up historically excluded and rural communities throughout the state. The expansion of the Motion Picture Competitiveness Program also gives Washington Filmworks the legislative authority to provide career connected learning. Lillard and her staff plan to work toward funding projects that align with their values of telling stories from different perspectives, and helping young people realize that film is a viable employment path.
How else will the enhanced funding support Washington's filmmaking community? Here's a breakdown of what the enhancement offerings will provide:
10% uplift if a project is telling the story of a historically excluded community

10% uplift toward rural communities

$3 million reserved for films produced in Washington, by residents

Funding assistance for qualified in-state expenditures of up to 30% for motion pictures and episodic series with less than six episodes

Up to 35% for episodic series with at least six episodes

Funding assistance for qualified in-state expenditures of up to 15% for commercials
Some non-resident labor may qualify for a return of up to 15% if the production meets all eligibility criteria as detailed in the full Guidelines and Criteria, including but not limited to, utilizing at least an 85% Washington resident labor force.
Washington terrain and resources
Filmmakers who choose to shoot in Washington are fortunate to experience the rich terrain available to them!
"We have rainforests out on the Olympic Peninsula. We have deserts in the middle of the state. We have a huge agricultural section in Yakima in the middle of the state," explains Lillard. "You can be on the water during the day and the snow in the mountains in the afternoon."
The 2019 Sci-Fi Indie film, 'Prospect', starring Jay Duplass and Pedro Pascal, was filmed on a private land trust adjacent to Washington's Olympic National Park and was considered a love letter to Washington locations when it debuted. Directed by Seattle duo, Zeek Earl and Chris Caldwell, the sci-fi western began as a short film that went on to sell out showings at SXSW and receive nearly half a million views on Vimeo.
Earl and Caldwell are now part of Washington's filmmaking history, alongside other successful independent filmmakers, including Megan Griffiths, Lacey Leavitt, and the late two-time Emmy Nominated Lynn Shelton ('Humpday,' 'Your Sister's Sister'). Building on her legacy, the Lynn Shelton 'Of A Certain Age' Grant offers a project-based award to a woman, non-binary, or transgendered US director, aged 39 or older, who is creating their first feature film.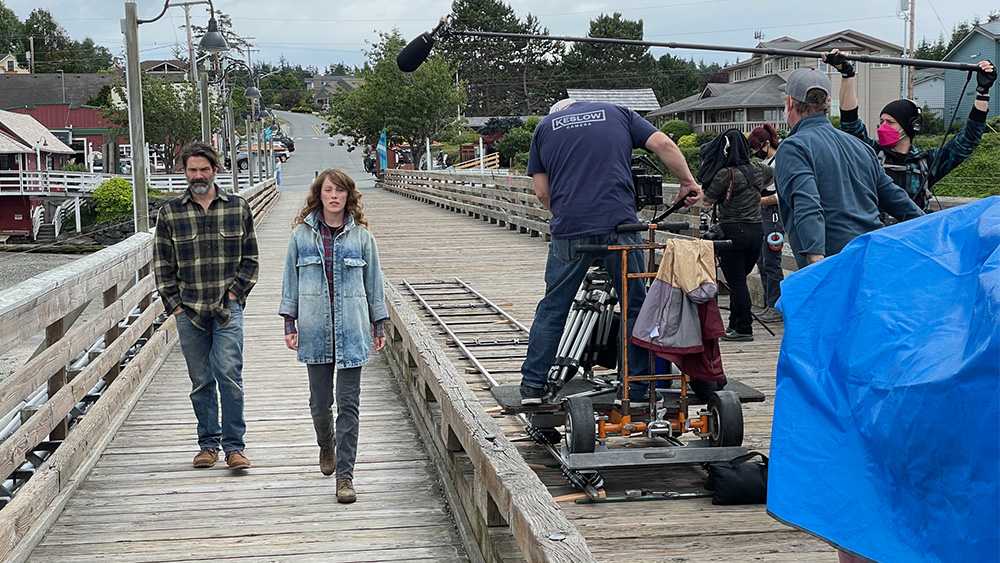 Behind the scenes photo from 'Midday Black Midnight Blue' (photo by Lovell Holder and Seal Tree, LLC)
Since 30 of Washington's 39 counties are considered rural, Lillard was adamant about including enhanced incentives within the legislation to drive work within these communities. The 10% uplift for filming in rich rural lands around the state "allows [Washington Filmworks] to do infrastructure development to ensure that the communities where these productions are going to set up basecamp and shoot will be film-ready," explains Lillard.
For filmmakers seeking soundstages, two main production facilities with soundstages are available in Washington: Studio A and Harbor Island Studios.
Studio A is a privately owned building which houses two soundstages with a total of 36,000 square feet of production space as well as production offices and post-production facilities.  Most recently, Studio A hosted the PureFlix episodic series, 'Going Home' starring Washington's own Cynthia Geary ('Northern Exposure'). 
Managed by King County in the greater Seattle area, Harbor Island is the largest space in the state, at 117,00 square feet, and recently hosted 'Three Busy Debras' starring Sandy Honig, Alyssa Stonoha, and Mitra Jouhari that went on to be featured on Adult Swim. With their recent $1.5M renovation, Harbor Island has plans to expand for larger productions to film there in the future.
In addition to these production facilities, Lillard takes pride in how welcoming the locals are,  supporting the needs of filmmakers who come to scout locations, "We have over 100 film liaisons across the state," she explains. "These are people in communities across Washington that act as ambassadors for incoming projects. When we get an inquiry like, 'I need a cabin in the woods,' we'll go out to people [in the community] who might have that collateral to help the filmmaker find the land and location that best fits their request."
Mentorship and workforce development
An important piece of the enhanced legislation includes additional funding for job training and professional development. Prior to the bill passing, Lillard piloted The Media Mentorship Program to kickstart workforce development. With the infusion of new funding, Washington Filmworks can now allocate $500,000 over the next two years, and $750,000 for the duration of the program until 2030, to advance what they started. The improved program initiative will be focused specifically on supporting rising filmmakers from underrepresented communities to engage in the Washington film industry.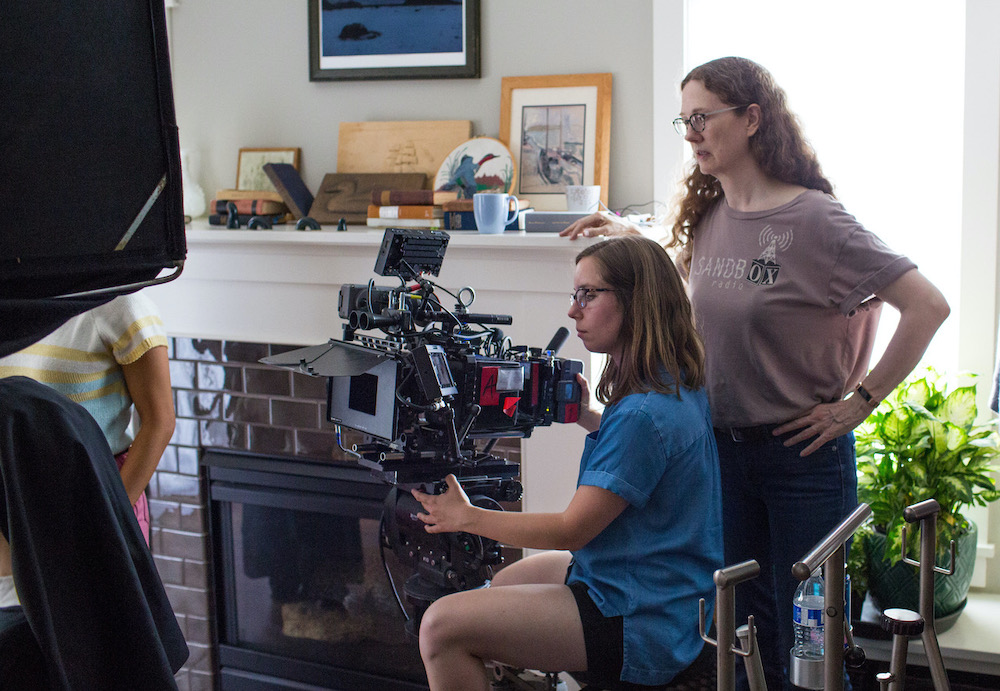 Behind the scenes photo from 'Language Arts' (photo by Annabel Clark)
"In a couple of years, all of these programs will be up and running in meaningful ways, and we will be supporting the next generation of Washington filmmakers through the small budget production initiative," Lillard confidently explains. "We're going to have more inclusive film sets and funding for different communities with diverse stories. We'll see them on screens, meanwhile making an economic impact on Washington state overall."
Fueling the economy and aiding new perspectives of storytelling is the heart of Lillard's mission at Washington Filmworks, "There's no gatekeeper here because we believe in bringing different people into the community. We believe that more diverse film sets make better projects" she says. "We're going to build that and change the dynamics. When you're looking at the 5-to-10-year plan in Washington, we want to be known as a filmmaking community of inclusivity."
Empowered by her mission and the recently expanded funding, Lillard is rolling up her sleeves with renewed motivation and a greenlight from the state to grow the resources, opportunities, and talent to put Washington on the map as the next rising filmmaking destination in the US.