Blog Home
Building on Oregon's Cinema Legacy
How improved tax Incentives, job training, and production infrastructure is expanding the filmmaking industry in the Pacific Northwest.
July 19, 2022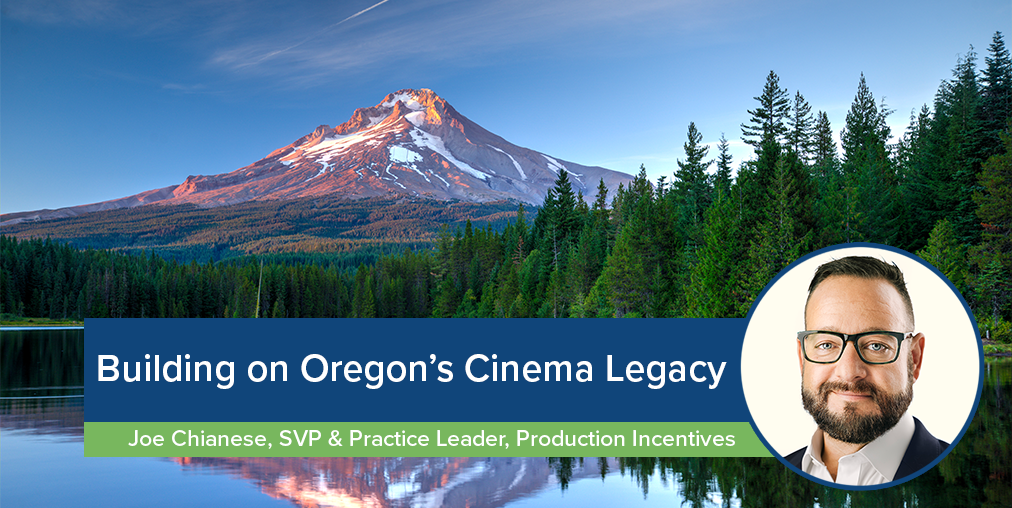 Tim Williams, Executive Director at Oregon Film, is taking the legacy of filmmaking in the Pacific Northwest to new heights. While it may seem that Oregon is a new filmmakers' destination, Oregon's rich filmmaking history dates back to the first feature-length film, 'The Fisherman's Bride' in 1908, just as the silent-film era took off. For the next twenty years almost 50 silent feature films were shot in Oregon, including one of the greatest silent films of all time, 'The General' (1926) starring the iconic Buster Keaton. Today, Oregon is building on this history with increased tax incentives to capitalize on its growing world-class talent and production resources.
Oregon's wide-reaching appeal covers the gamut of entertainment: TV, feature films, commercials, visual effects, animation, and beyond. The location also makes it an ideal destination, as Williams explains, "The terrain is second to none. You have oceans, mountains, snow, rivers, deserts. We have the landscape, talent, and resources of Canada, but you don't need a visa and you don't need to go through customs. It's easy to work here and then get back to LA quickly."
Steven Spielberg's 'The Goonies,' 'Wild' starring Reese Witherspoon, and NBCUniversal TV series 'Grimm' are just a few of Oregon's notable projects, but one of the best kept secrets? Oregon is home to several of the top stop-motion production houses in the world.
Academy Award-Winning Director, Guillermo del Toro, in partnership with Netflix, chose to create his upcoming stop-motion film, 'Pinocchio' in Oregon. Del Toro worked with stop-motion animation studio Shadow Machine, who recently expanded their studios from LA to Portland and are known for hits like 'BoJack Horseman' and 'Robot Chicken.' Another leading stop-motion studio just outside of Portland, Laika ('Coraline,' 'Boxtrolls,' 'Kubo,' 'Two Strings,') is soon to release 'Wildwood,' based on the young adult fantasy series by Colin Meloy.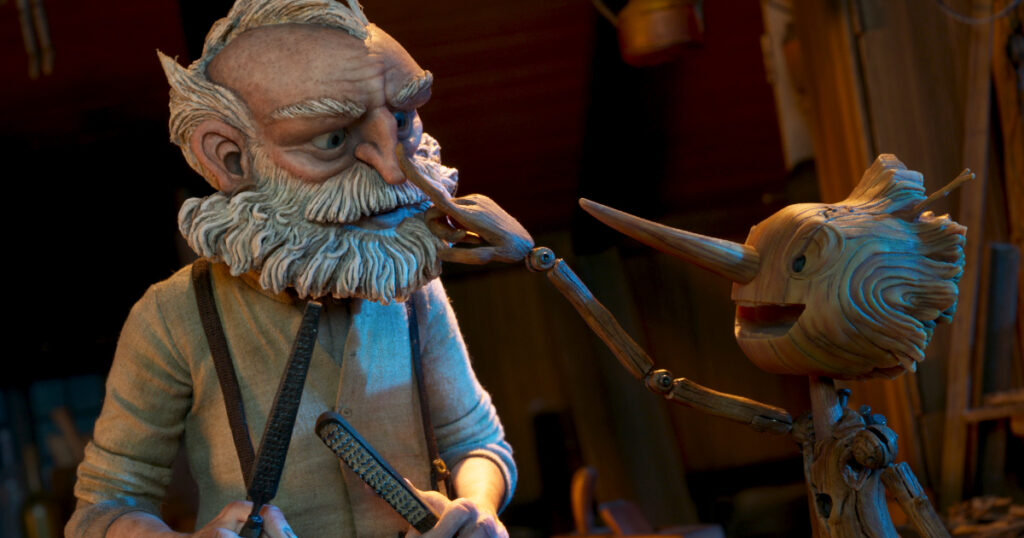 'Pinocchio' (2022) / Netflix
Storytelling is rooted in Oregon's history as Williams explains, "If you look at the films that come here to Oregon, you'll notice they celebrate story, location, character, and a kind of quirkiness. We know what we do well, and we really want to maximize that."
Oregon's newly increased tax incentives
During the pandemic, Governor Kate Brown saw the film industry thrive in Oregon as more and more productions came in from out of state; even long-running reality cooking competition 'Top Chef' filmed their 18th season there. Brown, recognizing filmmaking as one of the leading pathways to economic recovery, worked with Williams to increase funding and push forward legislation to invest in the future of Oregon's filmmaking culture.
Like Oregon, many states and jurisdictions across the globe have and will benefit from growth in the entertainment sector, as shown in the Olsberg S.P. I economic report, Global Screen Production – The Impact of Film and Television Production on Economic Recovery from COVID-19. To learn more about this impact study, you can also watch our recent Master Series episode featuring Jonathan Olsberg, Leon Forde, and report contributors producer, Steve Clark-Hall ('Sherlock Holmes'; 'The Man from U.N.C.L.E.'), and former AFCI President, Jess Conoplia.
Solidifying the commitment to grow the film business in Oregon, newly increased tax incentives will go into effect this month, through two main programs: 
The Oregon Production Investment Fund (OPIF): Productions receive a rebate of 20% for in-state labor and 25% for goods and services bought or rented from Oregon registered companies.

Greenlight Oregon Labor Rebate program (GOLR): Productions received a 6.2% rebate on payroll labor costs.
Both programs are available to projects spending more than $1M in the state of Oregon (no minimum number of episodes or shoot days required).
OPIF, combined with the GOLR fund, offers productions non-transferable cash rebates totaling 26.2% on payroll labor, including the 25% cash rebate on goods and services bought or rented from Oregon registered companies.
Within the OPIF program, two additional incentive programs are available for smaller projects: the "local" OPIF (or L-OPIF) and the "regional" OPIF (or R-OPIF).
L-OPIF can be utilized by projects spending less than $1M (with a minimum spend of $75k) in the state. To qualify, projects must be produced by a local producer or production company and utilize at least 80% Oregon residents among crew members and actors.  

R-OPIF is available to any OPIF or L-OPIF participating project that is shooting some or all its production outside of the Portland Metro Area.
The OPIF program is capped each year at $20M. Williams encourages all interested parties to contact the Oregon Film Office about the application process early, and send a budget estimate so they can get a projection of rebates to weigh against the project's schedule and the available funds in the OPIF program. Out-of-state productions have access to this funding if they register their company with the secretary of state, and physically shoot the entire production within Oregon.
Film, TV, Interactive games, documentaries, and animation all qualify for OPIF incentives, except for commercials, which only GOLR covers.
Participating projects that film outside of Portland may receive additional financial boosts through the Regional Oregon Investment Fund (R-OPIF) and the Oregon Made Creative Foundation, a grant, incubator, and job placement program.
Building Oregon's workforce
Packed with production resources, new funding avenues, and adaptability to the changing entertainment industry, Oregon is giving new storytellers the opportunity to enter the Hollywood scene without the pressure to move to bigger production hubs.
"You don't have to hire locally through our programs, but everybody does," explains Williams, "I would say every project over the last ten years has hired between 85-96% local crews, because not only is it cheaper to hire locally, but their skills are on par with the crew on the coasts."
Williams, who worked as a producer for 25 years in LA, New York, and London, knows that it takes a team to get things done. He's a proponent of working in partnership. Much like departments on a film set, he and the small team at Oregon Film partner with other organizations throughout the state to propel ideas forward, including Oregon Media Production Association (OMPA), IATSE 488, Portland Film Office, Oregon Made, and Outside the Frame.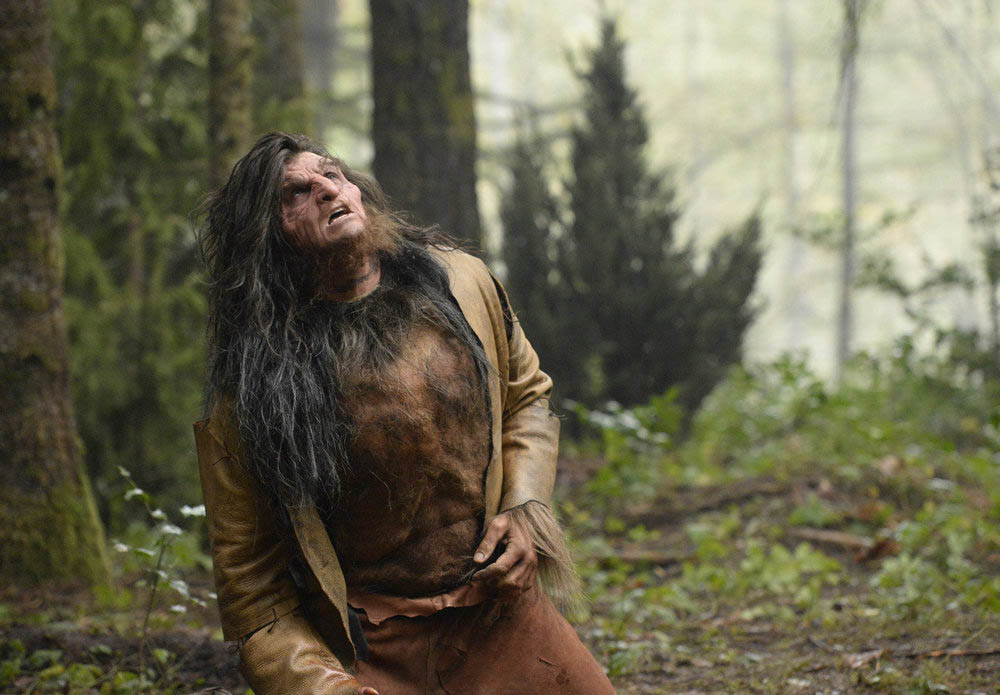 'Grimm' (2011) / NBC
And diversifying and educating a new workforce are leading to unique perspectives that Hollywood is lacking. Oregon Media Pathways aims to train and place future filmmakers from historically underrepresented communities, and Outside the Frame trains and places homeless and at-risk youth from Portland to jumpstart their careers in film, giving them a sense of purpose through the craft of storytelling.
After training through Outside the Frame, "Production companies interview these graduates," explains Williams. "Once the company hires someone from the program, we [Oregon Film] subsidize that placement so the production doesn't have to add on to their budget to include them. So, these youth become part of their call sheet, they become part of their payroll, and they become insured by that company."
These young filmmakers, with a unique worldview, receive paid placement in an entry level position they might never have had access to without the financial support, training, and mentorship to help them get there.
The future of filmmaking in Oregon
One of Oregon's popular production hubs, Vision Stages, located in Troutdale, opened just before the pandemic started in 2020. It is a locally operated 36,000 square foot space where HBO's, 'The Rehearsal' by Nathan Fielding filmed. Its popularity continued to grow as producers sought larger spaces outside of the usual coastal hubs, ensuring crews and actors could stay healthy. Today, the stage continues to be a go-to space for studios and indie producers alike, and is just another example of how Oregon is expanding filmmaking resources to accommodate industry growth in the state.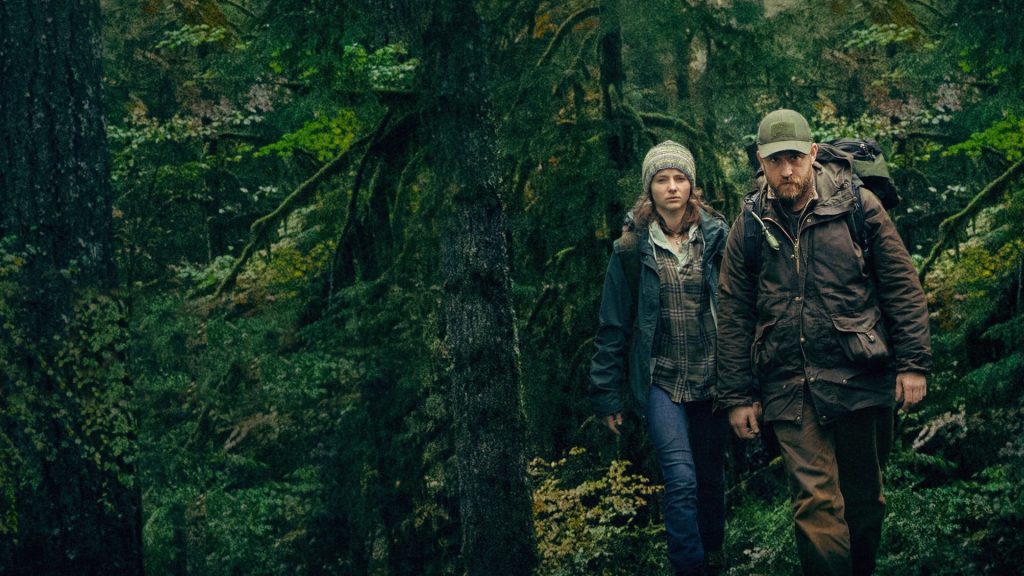 Ben Foster and Thomasin McKenzie in 'Leave No Trace' (2018) / Bleeker Street
When it comes to filming in Oregon, William notes that the productions which tend to do well are, "$8-$15 million feature films and medium-to-small budget episodic features that are character-driven pieces." Indie projects like 'Leave No Trace' by Academy Award-Winning writer/director Deb Granik ('Winter's Bone'), and episodic television like 'Grimm' (NBC), 'Portlandia' (IFC/AMC), and the recent 'Trinkets' (Netflix) have also capitalized on the resources and terrain that the Pacific Northwest has to offer.
To experience the full impact of Oregon's film history, guests can tour 32 iconic film locations around the state though the Oregon Film Trail, and see where classics like 'The Goonies,' 'Stand by Me,' and 'Animal House' rolled their cameras.
According to Williams, "The Oregon Film Trail is driving tourism around the state and reminding everyone that storytelling and filmmaking has been part of Oregon culture for a very long time. We're supporting an industry that was born here, and we need to claim that."
To find out if Oregon is the best location for your next project, and to connect with Tim Williams, visit EP's Oregon Production Incentives page for a comprehensive overview of all this gorgeous state has to offer.