Blog Home
Authentic Latinx Storytelling Starts with Inclusion
Christine Dávila, Jairo Alvarado, and Sonia Gambaro work to amplify the talents of underrepresented filmmakers
September 22, 2021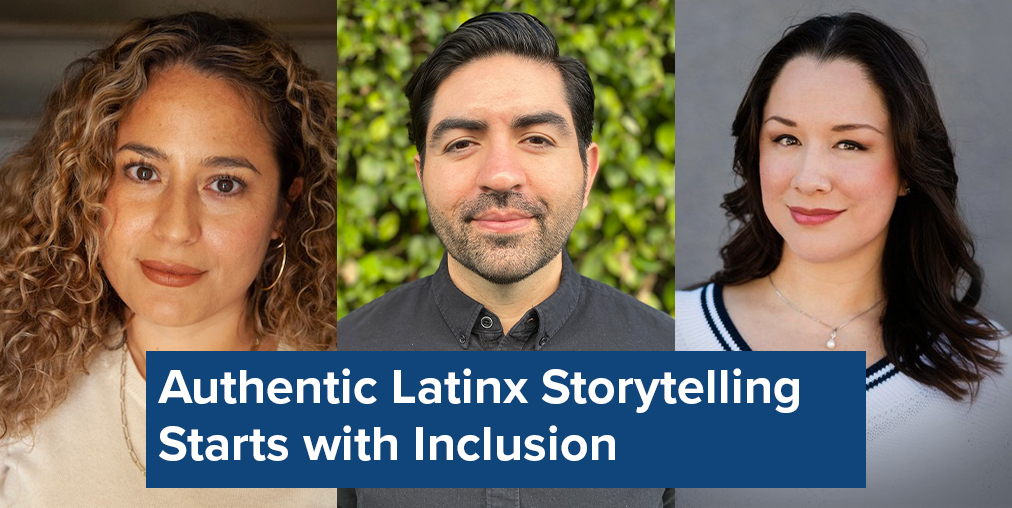 In celebration of Latin Heritage Month, we met with three different leaders in Hollywood who are dedicated to providing opportunities for Latinx creatives in front of and behind the camera, to discuss their important work, and how they are affecting change for the next generation of creators.
Christine Dávila is currently developing and producing television and films for Tanya Saracho's Ojalá Productions and Ignition Lab, a working peer writing lab that includes storytellers from film and TV, documentaries, playwrights, and poets, in order to expand the pool of Latinx talent.
Jairo Alvarado is a producer and manager, currently working on 'Blue Beetle' for DC Films, and represents the director, Angel Manuel Soto with CAA at Redefine Entertainment.
Sonia Gambaro is VP of Television of 3Pas Studios, which focuses on Spanish and English-language films targeted at Latinx and crossover audiences in the US.
Each shared a unique perspective on why Latinx voices bring a fresh approach to storytelling and how they will propel the entertainment business forward.
Creating Opportunity
For the first time, a Latin actor will star in a major comic book movie: the DC Films and Warner Bros. forthcoming feature, 'Blue Beetle', which will focus on Mexican-American teenager Jamie Reyes. Streaming platforms are making film and television accessible to communities across the globe in entirely new ways, and giving voice to a global audience that is craving authenticity on the screen now more than ever before. Jairo Alvarado recognizes this desire and shares how he and his team on the project are working toward breaking the stereotypes of how Latinx characters are portrayed,
"When I think of something commercial and Latino-related, it always has to be something revolved around salsa dancing or a family that owns some kind of restaurant...maybe there's room for those stories, but I think what we really wanted to do is show a look where the heroes of our stories can be big in an intergalactic way."
Alvarado further goes on to explain why a Latin character, starring in a major superhero movie, carries an impact in shaping the perspectives of younger audience-goers,
"[O]ne of the reasons I got into [the entertainment business], and I think a lot of work has gone into it, is there's aspiration and inspiration... And I think that's organically what a superhero movie brings to the table. It's something that we can all aspire to… I mean the value and impact that can have on the imagination of kids everywhere; of all of us, growing up, who ran around wanting to be Superman, Iron Man, Batman, and now to have a character in someone that looks like you. I think about how much that will change things."
'Blue Beetle' is a milestone in Hollywood, but it didn't come easy. There are still many changes that need to happen to open the door to these kinds of impactful stories, and Christine Dávila believes that change lies in developing diverse talent,
If you want to make some innovative content, then you have to have creators who have a very unique point of view driving that content. I think it's a missed opportunity if you're not leveraging voices that need a little more development and more opportunity.
The Hollywood system, however, can present a difficult road. For diverse talent to make breakthroughs in major positions, especially roles as producers, directors, writers, actors, and cinematographers, it is not easy. Oftentimes, their voices, which could be shaping the storytelling, are lost along the way.
"Climbing the ladder," is a financially challenging route. Sonia Gambaro believes Hollywood should be providing more opportunities for new talent to develop their craft. "[B]y the time you get a director to the point where they're a pilot director or a producing director, they have dozens and dozens of episodes under their belt. How do you get more Latinos their first episode? It's a cost-prohibitive pursuit. You have to put a lot of your money into shorts, perhaps a feature. It can be a long haul, so it's not typically a road that's been easy for us [Latinx creators]."
In the risky business of movie-making, getting projects greenlit is a challenge, especially when it comes to Latinx content. Studio executives often choose the safer decision of known actors instead of expanding the pool of talent. As Gambaro points out, "With casting, there's very few actors with Latino backgrounds that are deemed value adds when we're packaging, and oftentimes, they might not have the right background for the character. Wouldn't it be lovely if we could just really take the chances on the talent that we know?"
Authentic Storytelling
While major roles are just beginning to open up for more diverse talent during production, it's equally important that these projects are told through the lens of a Latinx writer from the first word of the script. But that's not always the case. Dávila points out that many BIPOC writing opportunities are often made available, "at the very end as a rewrite, or to take some white IP and make it brown or black, or Asian." This practice is problematic because it not only impacts the overall integrity of the story, but it treats BIPOC writers as pawns to "sell" the movie to their specific audience.
Because cultural specificity plays a crucial role in authentically shaping the world of the story, it's also essential, from a language perspective, to incorporate Latinx talent from the inception of a project. Alvarado explains:
"[A] lot of the times, when you're reading something, I say it's not just about the dialogue it's about the description, it's about all these other things...the setting...the music...so many things add a layer to the storytelling... [that adds to] the authenticity of what you're trying to say, whether you're telling it from all aspects of culture, not just race, it could be religion, sexual orientation, class...there's a big difference between if you're going to tell a story that takes place in lower class middle America versus lower class Los Angeles."
To educate his clients on a Latinx project, Alvarado will invite linguistic professors into the writer's room to "talk about the importance of language and how it creates an impact" because it helps the audience to code switch and "tell the difference when you're at a cocktail party with your friends or a cocktail party with the parents."
Understanding the nuances of the language during the development stage will help to avoid scripts from becoming, "watered-down, almost cannibalized," as Dávila believes is happening when Latinx talent is left out from the beginning of a project. "[L]et's just continue to hit home by hiring the [Latinx] creators and making them a real part of the entire process of the creation, whether it's a TV series or a film. I think it starts there."
Advocating for Change
As streamers continue to dominate, content needs to adapt to an ever-expanding global audience. The future of filmmaking can't afford to leave out diverse voices because consumers demand authenticity on screen. Recognizing the importance of Latin contributions from development all the way to the red carpet, needs to come from leadership within the DNA of Hollywood, as Gambaro points out,
"Now, we have more streamers who will have multiple projects from multiple Latinx creators. That's extraordinarily encouraging, but we also need more Latinx executives at the networks, at the streamers, who are going to be in the room, in the moment, listening to these pitches and saying 'yes,' 'this is great,' and 'why, I like this show!' We don't typically have enough voices, advocating on the inside, for us [Latinx creators], but it is something that we see changing day to day."
Encouraged by the growth in Latinx content and creators — it's still just the beginning. Alvarado believes it's about executives and the Latin community working together toward a more authentic Hollywood,
"For me, and for a lot of us as a team here, we are always trying to figure out how do we approach the conversation and come up with a business plan at the end of the day that studios and networks can actually understand, as opposed to just saying, 'hey there's a problem here, you need to figure it out' and then leaving it in their hands to kind of redo… I think that it's asking a lot of the other side, which, to be honest, has no clue. [W]e have to kind of guide them a little bit."
Change will come by continuing to put in the work and pressing onward, despite the barriers. Gambaro recognizes this, and shares, "Invariably, there will still be those unseen biases that kind of rear up ahead. It's something that we're very aware of, and we put them aside immediately. We're always looking for something that's going to not be too on the nose, but still have an emotional intelligence to it that is going to help continue to push the nature of storytelling forward."
In this spirit of progress, here at Entertainment Partners, we are encouraged by the work Jairo Alvarado, Sonia Gambaro, and Christine Dávila are doing to advocate for change and foster new talent. Keep the conversation going with them all month long as we share clips from our interviews on social media, highlighting opportunities of how we as a collective industry can all work together to amplify Latinx voices during every part of the production process.